This ain't your average dogs, this is a chorizo dogs! Stuffed with cheese, wrapped in bacon and topped with salsa + guacamole, this recipe will keep you coming back for more! This epic cook is easy to make for a fast dinner or a great fall campfire! Here's how to turn these pictures on your screen into this Cheesy Bacon Wrapped Chorizo Dogs dinner.
Who Let the Cheesy Bacon Wrapped Chorizo Dogs Out?
If you heard the early 2000s Baha Men singing that title to you, we would definitely be friends. Hot dogs & sausages are a fall family classic that can be easily scaled up or down. In other words, they can be transformed from a child's "hot dog on a stick" cookout, to a baseball appetizer, to a full fledged dinner icon.
We started leveling up this recipe by using chorizo sausage. Then we sliced them lengthwise down the center and stuffed them with monterey jack cheese. Important to note that we cut one long strip of cheese as opposed to using shredded cheese. This helped the cheese stay inside the Cheesy Bacon Wrapped Chorizo Dogs while they were cooking.
A Serious Question
Does adding bacon make everything better? Well, we think so! Another way we ensured the cheese stayed inside the sausage was by wrapping the entire link in not one but two strips of bacon! We then used a couple toothpicks to secure the ends of the bacon to the Cheesy Bacon Wrapped Chorizo Dogs. Once we had finished stuffing cheese and wrapping up the bacon, we had 6 sausages ready for the grill!
Sizzle, Sizzle Cheesy Bacon Wrapped Chorizo Dogs!
As always, I'll mention that we started up our charcoal chimney and let those hot coals preheat the grill. Who doesn't love to hear a good sizzle when setting the initial dog onto the grill? Answer: no one! So make sure you're leaving plenty of time to let that grill grate get hot.
Once the grill is up to temp, set your Cheesy Bacon Wrapped Chorizo Dogs on to the grill grate. With pre-cooked sausages, all we really need to do is cook the bacon wrapping and melt the cheese. If that is not the case, then cook your sausages over low & slow heat to crisp up the bacon, cook the meat and not burn everything else. Once ready, flip and turn the dogs as needed to make sure all areas of the bacon are cooked to your liking.
Guac Me
When you have grilled the Cheesy Bacon Wrapped Chorizo Dogs to your liking, pull them off the grill and set aside. Grab your buns, salsa, guacamole and let's get to topping! Make sure to take the toothpicks out of the sausages before placing it in the bun. Carefully top with a couple spoonfuls of salsa and a dollop of guacamole. You are ready to devour. Enjoy!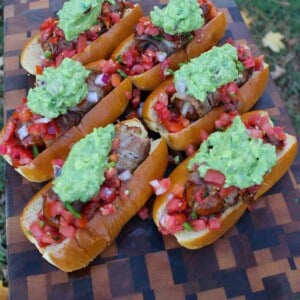 Cheesy Bacon Wrapped Chorizo Dogs
These Cheesy Bacon Wrapped Chorizo Dogs ain't your average grill out food. Stuffed with cheese and wrapped in bacon, they are everything you are missing right now.
Ingredients
Sausage Ingredients:
6

Chorizo Sausage Links

12

Slices

of Bacon

Monterey Jack Cheese

sliced in long thin sections

6

Brioche Hot Dog Buns
Salsa Ingredients:
3

Roma Tomatoes

diced

1

Small Red Onion

diced

¼

cup

of Cilantro

chopped

1

Jalapeno

diced

2

Limes

juiced

1

tsp

of Sea Salt
Guacamole Ingredients:
3

Ripe Avocados

2

tbsp

of Cilantro

finely chopped

2

tbsp

of Red Onion

finely chopped

2

tsp

of Sea Salt

2

Limes

juiced
Instructions
Begin by slicing your chorizo sausage in half lengthwise but not fully cut through. Add between the slices some monterey jack cheese and push the two halves back together. Begin wrapping the sausages with two slices of bacon and securing the ends with two toothpicks. Set the aside when done.

Preheat your grill to a medium temperature (around 350F) for direct cooking.

Add the bacon wrapped chorizo sausages to the grill and cook for about 15-20 minutes, flipping occasionally, until the bacon is crispy, the cheese has melted and the internal temperature is 165F. When done, pull off the grill and rest for 2-3 minutes.

Mix together the ingredients for the salsa in one bowl; and in another bowl, mash together the guacamole.

Remove the toothpicks from the sausages, and place into a warmed brioche hot dog bun. Top with salsa & guacamole. Enjoy!