Lets just all agree the beer makes everything better. From hot summer afternoons to backyard grilling, adding a good beer like Yuengling to your life can turn any day into a better one. Plus when you pair a good beer with an amazing brat from Smithfield, then you are bound to have the perfect meal! That is what you get when you try my Skillet Beer Brats recipe.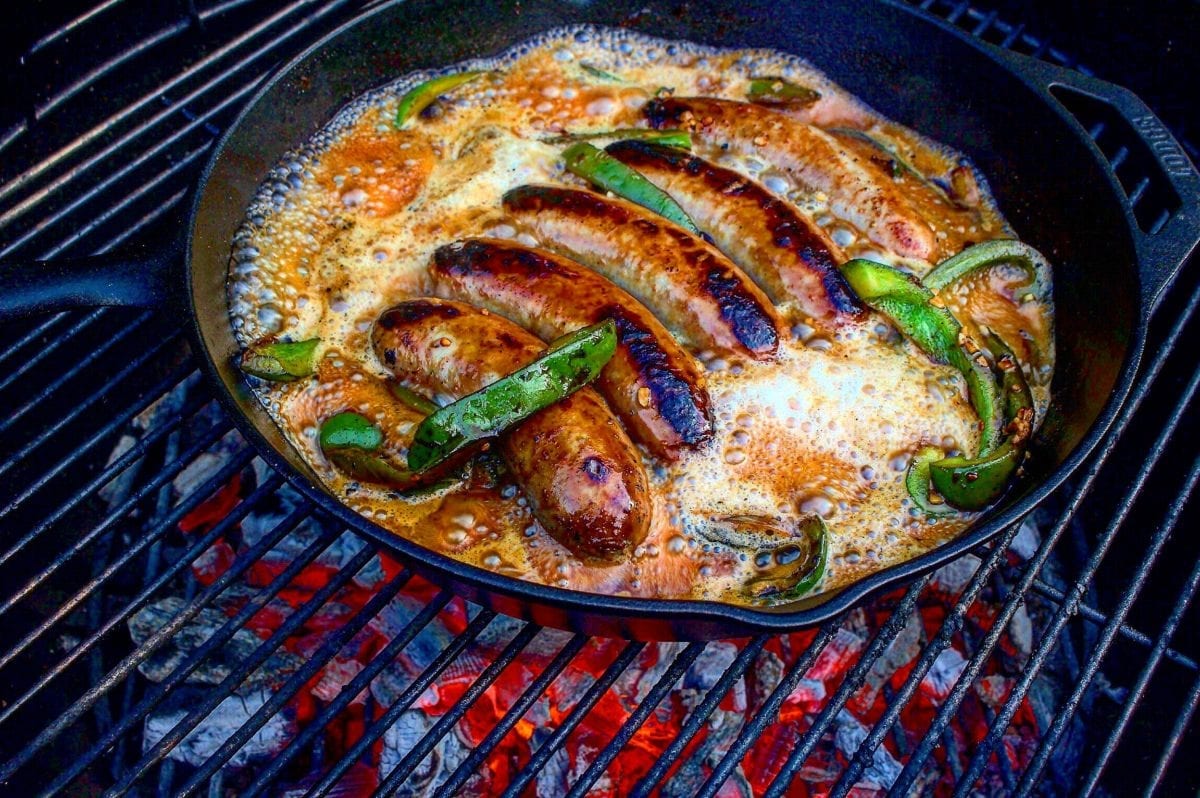 Why are beer brats so good?
First off, what is not to love about beer brats? This is about as American as it gets when it comes to grilling. Beer brats are essentially the perfect combo of savory pork and sweet beer.
They help you maximize all of those flavors by letting you simmer the brats in beer so that they absorb all of the malted flavors. You also add veggies to the mix so that they are caramelized, sweet and crunchy all at the same time.
Add a little bit of mustard, sweet bread bun and another glass of beer to these beer brats for maximum effect!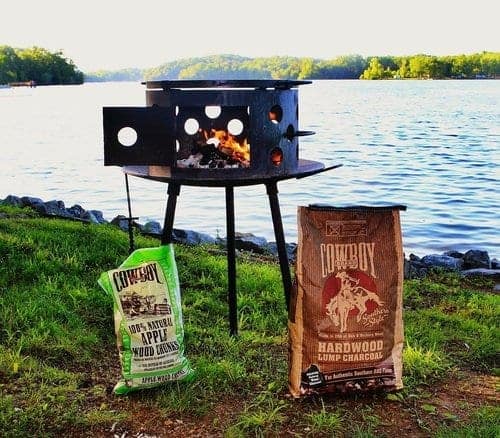 When should I use this recipe?
This brats recipe is great for any family get-together, holiday, Oktoberfest or tailgate. Not only is the recipe extremely simple, but it also does not take forever to cook.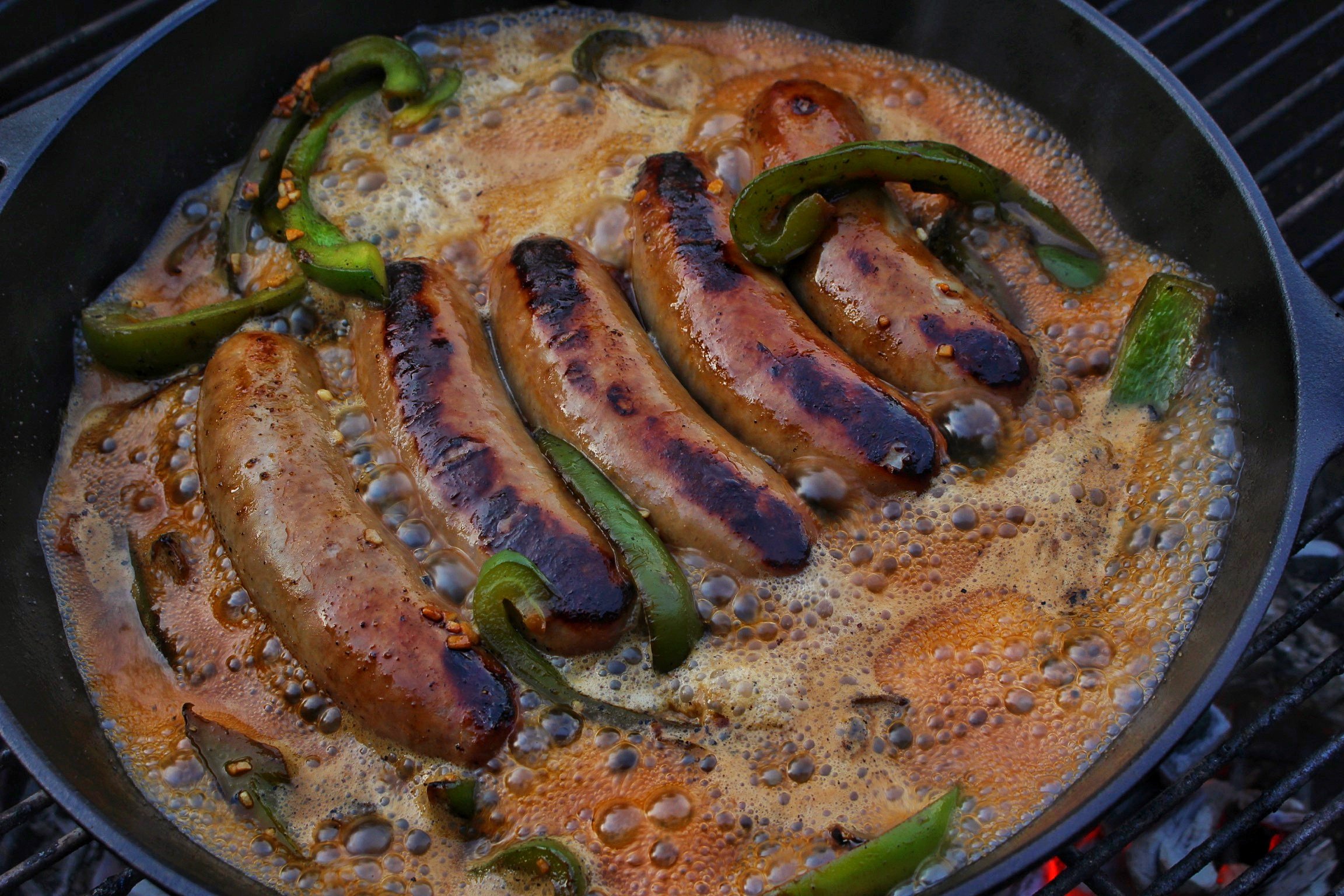 Just add the skillet to the grill, add beer and other ingredients and cook over fire for a bit. You should have tasty brats for all those hungry mouths in under 20 minutes with the recipe below.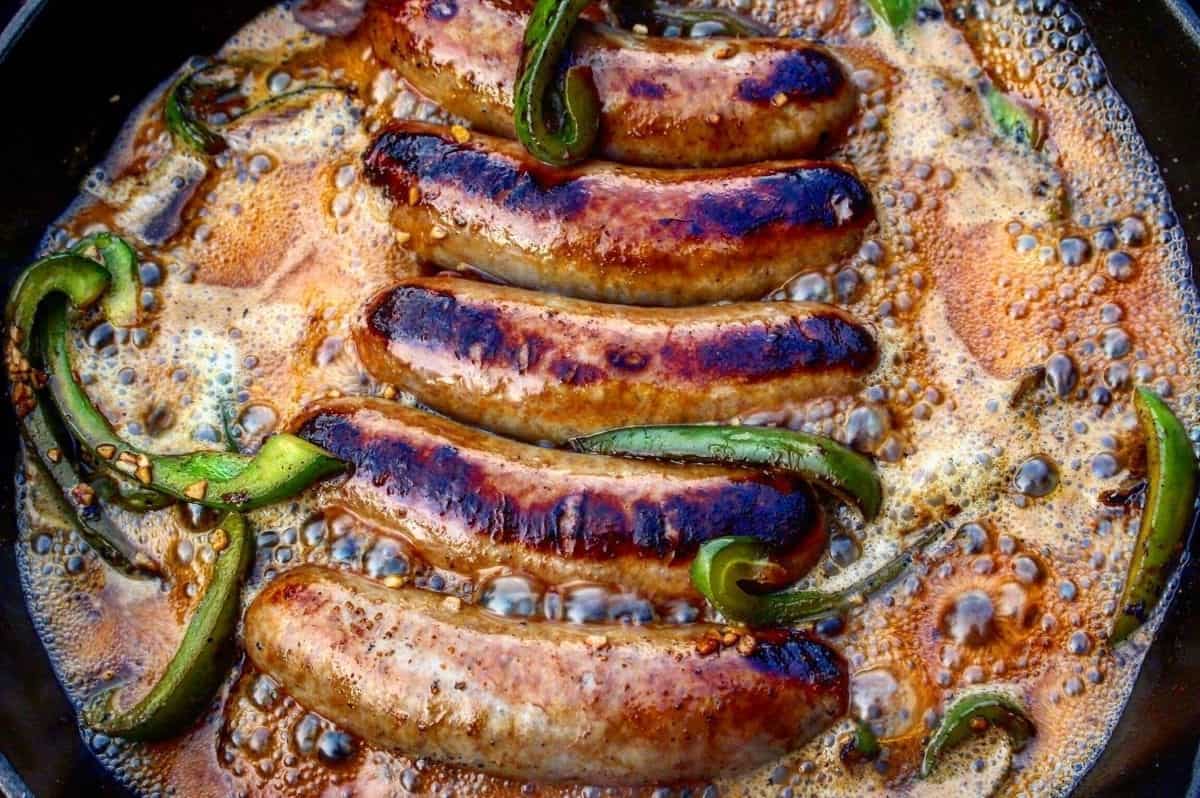 Backyard Skillet Beer Brats
Beer brats made in cast iron over the fire. Perfect backyard cooking.
Ingredients
1

package of Yuengling/Smithfield Traditional Beer Brats

1

bottle of Traditional Yuengling Beer

1

green bell pepper

sliced into thin strips

1/2

cup

of diced white onion

2

minced garlic cloves

1

tbsp

of brown sugar

Salt & pepper to taste
Instructions
Light the charcoal in a charcoal chimney or mound inside your grill and let burn for 10-15 minutes.

Place cast iron skillet on top of grill 2-3 minutes before cooking.

In skillet, add brats, beer, onion, bell peppers, garlic, brown sugar, salt & pepper. Let brats roast in skillet for about 10 minutes.

Once brats have cooked, pull out of skillet and grill on the grill grate for another 2-3 minutes per side or until done. Add a little more beer to the skillet with veggies and let simmer till most of the liquid is gone.

Serve and enjoy!
This article does contain affiliate links to products that we personally use and support. Purchasing an affiliate product does make us a small commission at no cost to you. This helps us continue creating for our website. All words and opinions are our own, and we appreciate your support!