Short rib burgers?! Yes, please! Today we're prepping for summer with a Cheesy Onion Smash Burger Recipe. Short rib patties with sliced onions smashed on top made the perfect cornerstone for this burger recipe. Then I added some spicy pepper jam to my toasted buns and topped it all with some bacon. Delicious is an understatement. Let me tell you how it all smashed down.
Not Your Ordinary Cheesy Onion Smash Burger
Like any burger, it all starts with the meat used for the patty. I cubed up some short rib meat and pulled out my meat grinder. I actually ran the meat through the grinder twice to obtain a finer grind and ensure a less gritty burger. Then I rolled the ground short ribs into evenly sized spheres and placed them in the freezer for 15-20 minutes.
Let's talk about why I put the patties for the Cheesy Onion Smash Burgers into the freezer. First, it helps the patty stay intact when you go to actually cook it. The meat is easier to grill when the patties are colder. Secondly, and more importantly, it slows and prevents the spread of any possible bacteria within the meat. If meat is contaminated while you're grinding it, the bacteria will spread throughout all the ground meat. This makes it much more difficult and unlikely that it will all get cooked out. If the meat is cold when you grind it, the bacteria is more likely to stay localized. For more information on this, you can check out what the USDA has to say.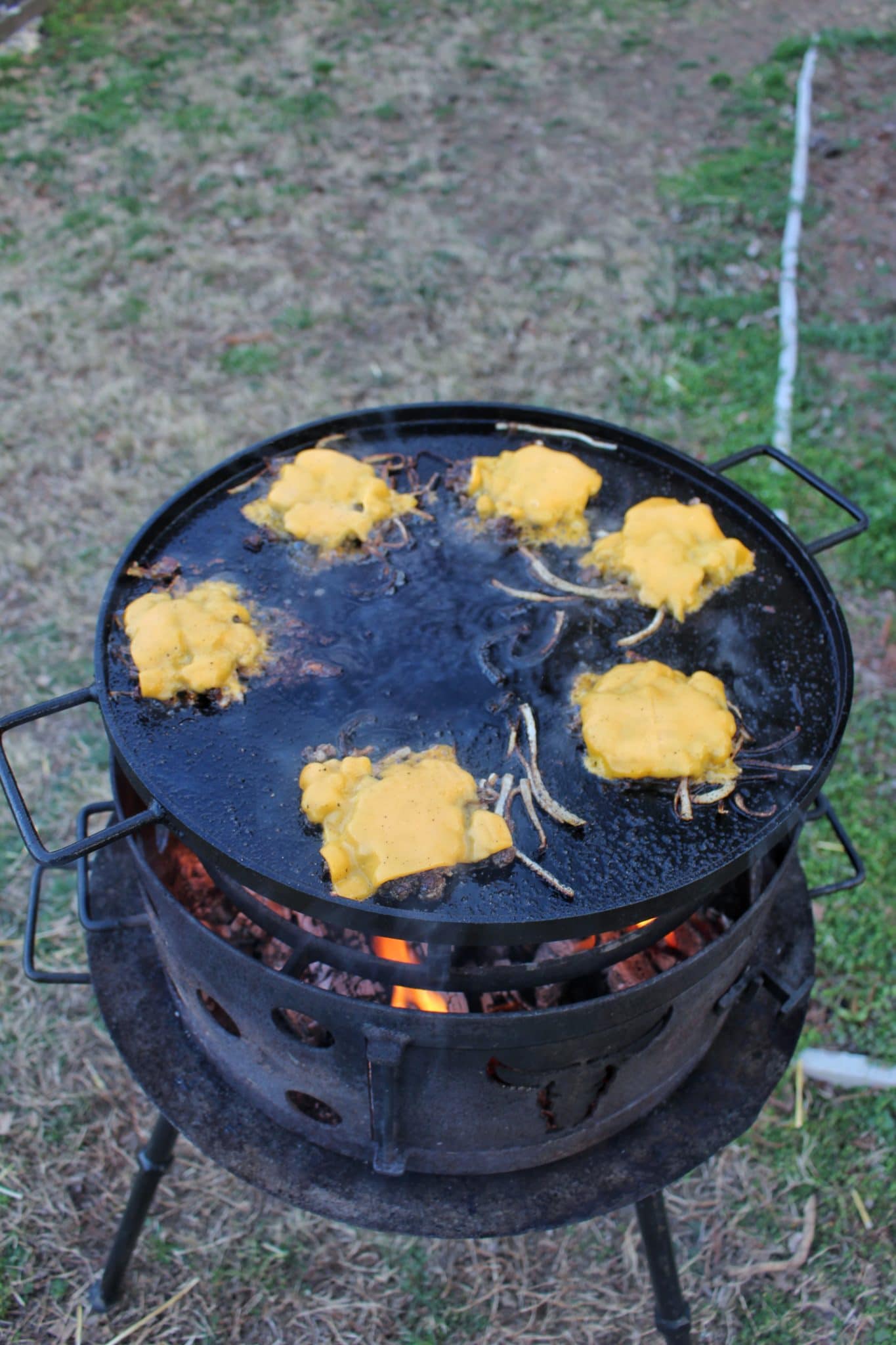 Smash the Onion Smash Burgers
Back to the fun as in the fire cooking stuff. I fired up the grill and waited until the skillet was nice and hot. Then I placed each patty onto the grill and topped each with a handful of sliced onions. From there, I grabbed one of my large spatulas and smashed each beef sphere into a flat patty embedded with onion slices. The onion slices worked amazingly in this recipe. I kept the slices long and thin so they fired up a bit while the burgers were cooking.
Once they were completely smashed, I seasoned them up with some salt, pepper and garlic right over top. Let them cook for about 1-2 minutes, and then flip them back over to cook the other side. I topped these Cheesy Onion Smash Burgers with American Cheese, but you are welcome to top them off with any cheese that you like. Personally, I think that American Cheese melts the best with a burger, but that is just my opinion.
Time to build these Burgers
Once the cheese is melted and the burgers are done, I pull the skillet off to build my burger. Base layer of the bun will have some spicy pepper jam on there for a nice little savory sweet kick. Next, you can add one or two patties topped with bacon and then the other burger bun with mayo in it (don't forget to add the bacon like I also did…). That is it! Serve them with a side of fries and dive right into that juicy deliciousness. These Cheesy Onion Smash Burgers are quite the epic burger for a large party of a night you just want to treat yourself. Cheers and enjoy!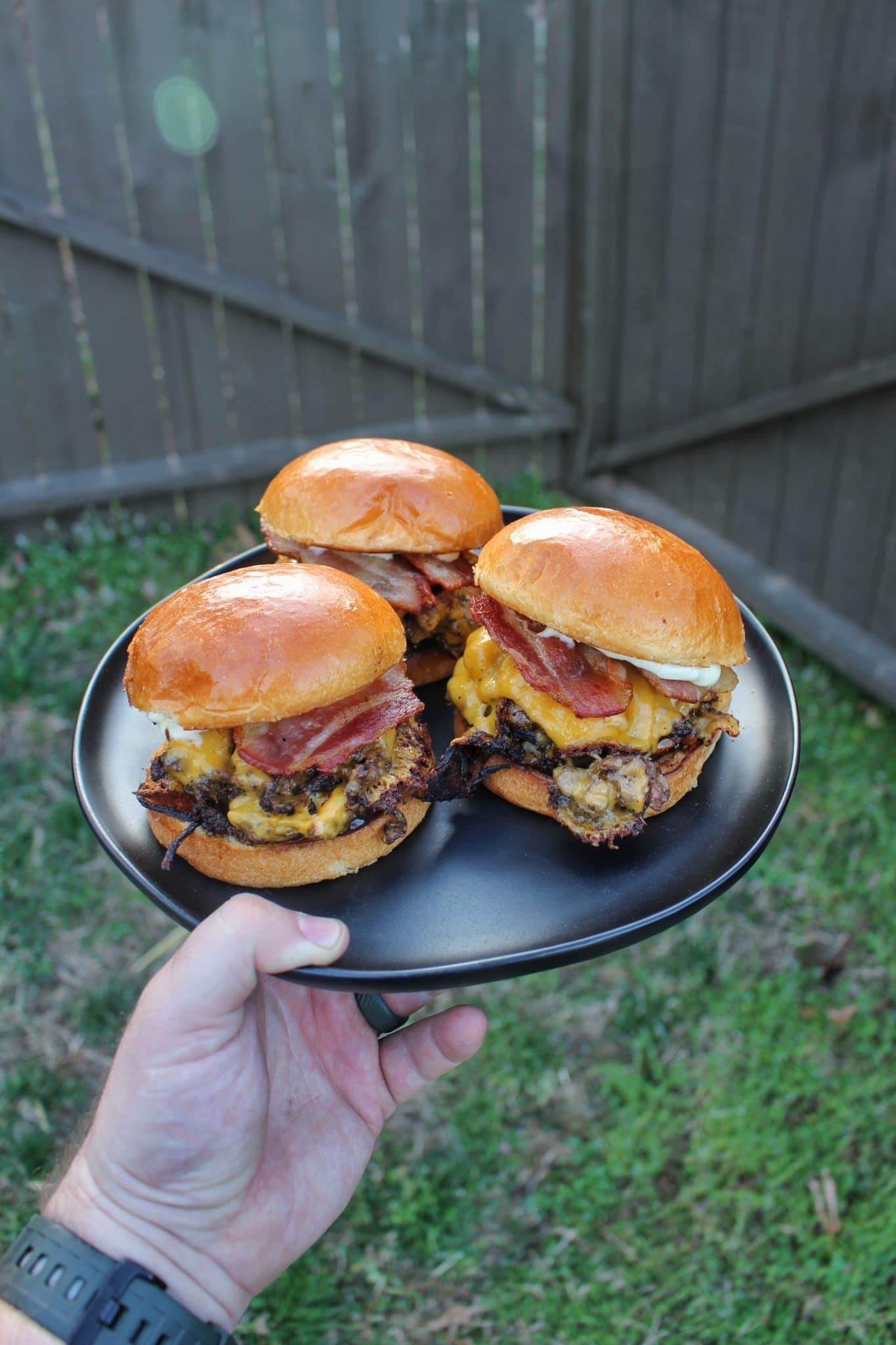 Cheesy Onion Smash Burgers
Today we're prepping for summer with Cheesy Onion Smash Burgers. Short rib patties with onions smashed for the perfect burger recipe.
Ingredients
Burger Patty:
2

lbs

of Short Rib

cubed or already ground

1/2

of a White Onions

Finely Sliced

1

tsp

of Kosher Salt

1

tsp

of Black Pepper

1

tsp

of Garlic Powder
Toppings:
6

Slices

of Bacon

cut in half

6

Slices

of American Cheese

2

tbsp

of Spicy Pepper Jam

2

tbsp

of Mayonnaise

Burger Buns

toasted
Instructions
(If grinding your own meat, start here): Cube up your short rib meat and then place in a bowl into the freezer for 15 minutes. Keep your meat cold as much as possible in order to prevent contamination. Set up your meat grinder to a medium size grind, and when ready, pull the short rib out of the freezer. It should be cold and firm, but not frozen. If it is frozen, then let is thaw till it is firm.

Add your meat to the grinder hopper and carefully push it in. Place a cold bowl at the end of the grinder for the meat to fall into. Once the meat is ground, throw it back into the grinder for a second grind. This will help to get it finer and less gritty. Once it is ground the second time, place the meat in a bowl and add to your freezer for 20 minutes.

(If you are not grinding your meat, start here:): Preheat your fire to a medium high temperature (around 375-400F). Add a cast iron skillet or plancha over the fire about 2 minutes before cooking.

First, add you're bacon to the skillet and cook until they are done to your liking. Once done, pull them off and set aside. Next, add your burger burgers and let crisp up for 1 minute. Once done, pull off and set aside.

Pull the ground meat out of the fridge and let thaw for a minute if needed. Grab a handful of meat (around 1/4 lbs… ish) and gently roll it into a ball. Repeat this for 6-8 balls or until your out of meat. Add the ground meat balls to the skillet, top each with a small handful of sliced onions, then season with salt, pepper and garlic powder.

As the meat sizzles, get out a small piece of parchment paper and a larger spatula/burger smasher. Place the parchment over one ball and then firmly press with the spatula until the burger is "smashed" on the skillet. Repeat this for each burger and let cook for another 1-2 minutes. Carefully flip each burger over and then season the new side with salt, pepper and garlic. Top each burger with a slice of cheese and let melt for 1-2 minutes. Once melted, pull each burger off and rest.

Now let's start building the burger. Add the spicy pepper jam to the base burger bun and then add a single or double patty burger on top. Next, add the bacon slices and then mayo to the top bun. Serve and enjoy!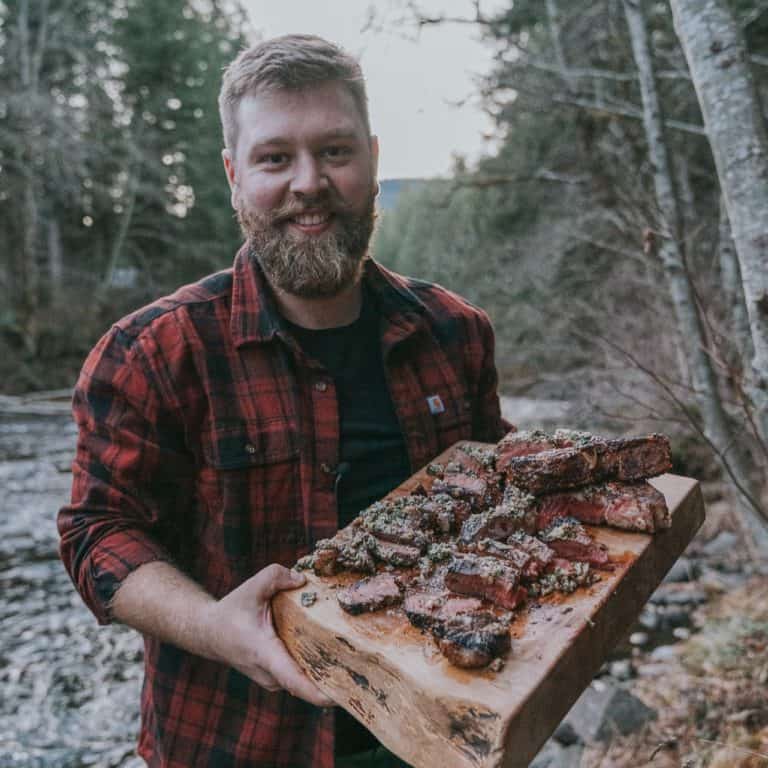 Derek is the driving force behind Over the Fire Cooking. He started cooking with live fire in 2016 and decided to start a social media page so his friends and family could follow the journey. Fast forward to today and Over the Fire Cooking has spread across multiple platforms with millions now following Derek's fire cooking journey. He's a southern fellow who enjoys everything from classic BBQ to Central and South American inspired dishes. Whatever he's cooking up, it's guaranteed to be so freakin' delicious!