Newsflash, it's now June. June means summer, and summer means burgers! Today we're coming at you with a new Elvis Smash Burger recipe! Does this recipe include peanut butter? Yes. Does it also include bananas? Yes! Before you turn your nose up at it just remember, this recipe was inspired by The King. You wouldn't tell the King he's wrong… Would you? Let's get swinging to these details below.
Elvis Burger
Living in Nashville, we pride ourselves on music. Yes, it's mainly country music, but what most people don't realize is that there are all types of music produced in Nashville. With Graceland being so close by (hi Memphis!) it only seemed right that it was time to make a burger fit for not a King, but THE King.
Believe it or not, Elvis Smash Burgers are actually a thing. If Elvis was going to have a burger, it was going to contain three staple ingredients: bacon, bananas and peanut butter. I can see how this could get you All Shook Up, but it's actually incredible. Sometimes you'll see pickles added to the burger, but I opted for some hot pepper jelly. No real reason for this outside of the fact that I like hot pepper jelly and thought it would pair well. I was right. It was delicious.
This is Bananas
I kick this recipe off by caramelizing the bananas. Start with a hot cast iron skillet and toss in some butter. Throw the bananas and brown sugar in as the butter finishes melting. It's important to stir this continuously, burning will happen fast otherwise. Once the brown sugar thickens and sticks to the bananas, pull them from the fire and remove them from the skillet.
Up next for these Elvis Smash Burgers is the bacon. I placed my plancha over the fire to preheat. Once it was hot, I placed the bacon down to cook. This is another item I would recommend staying close by while it cooks. This is because bacon also cooks pretty quickly and no one wants burnt bacon on their burger. Flip the bacon as needed and remove from the skillet once the bacon is your desired level of cookness.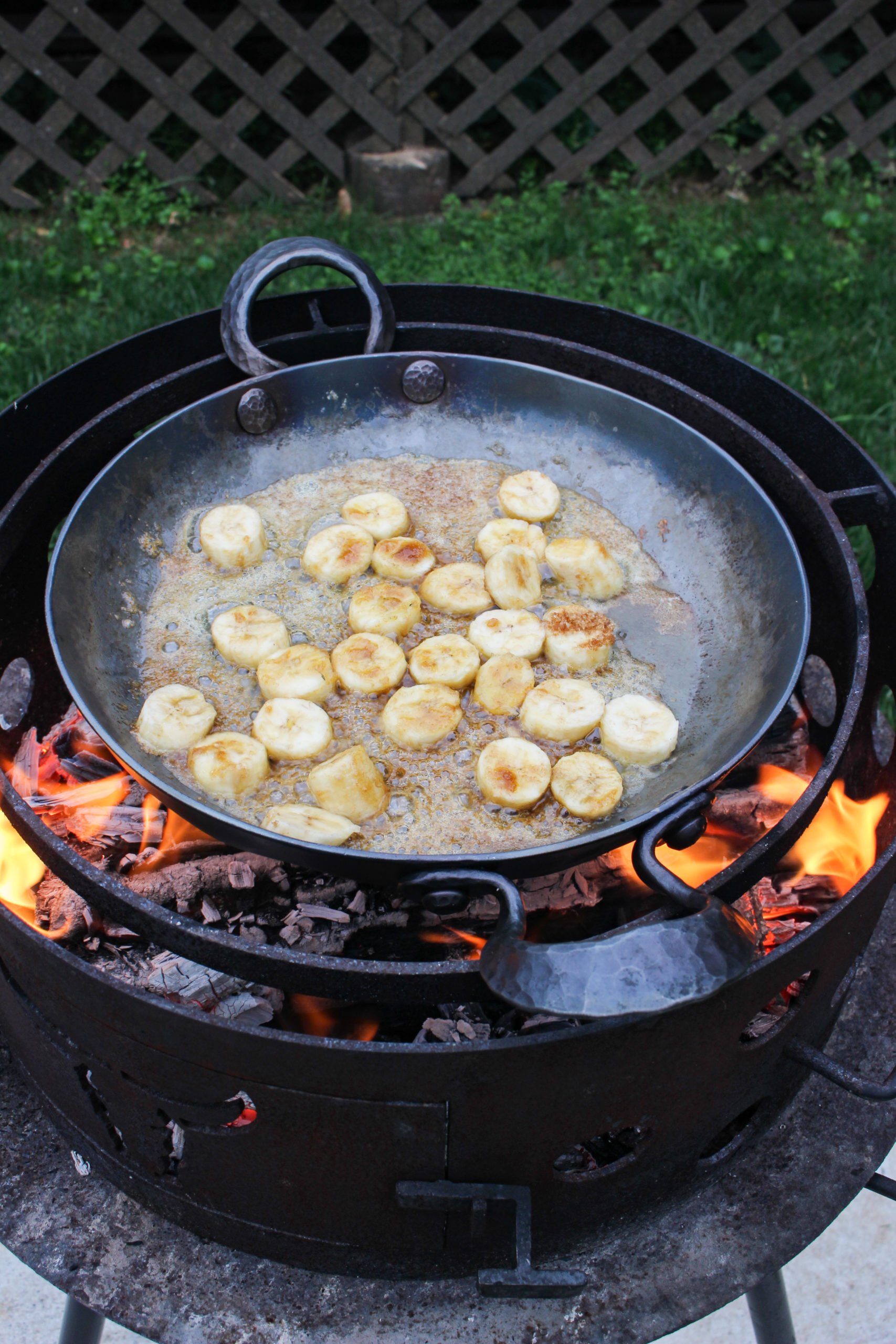 Let's Smash these Elvis Smash Burgers
All that's left are the burgers. Place each burger around your skillet, leaving enough room for them to not touch each other after they're smashed. Then, I shook some salt, pepper and garlic onto each burger while it began cooking. Shortly after seasoning the burgers I started smashing them.
Smash Burgers pro tip: place some wax paper between your spatula and the patty. This will keep the ground meat from sticking to the spatula as you smash the burger patties. After smashing all the burgers, I flipped them and seasoned the other side of the patty with my salt, pepper and garlic blend again.
A Meal Fit for A King
As the burgers finish cooking pull them from the grill. Now, let's assemble these Elvis Smash Burgers! I quickly toasted the buns and then covered the inside of one bun with my hot pepper jelly. Up next was the patty, followed by a tablespoon of peanut butter and then two slices of bacon. Who's up for a double? I'm always up for it, so I topped the peanut butter with another patty, another tablespoon of peanut butter and more bacon. For this recipe, it's not about the cherry on top, but the caramelized bananas! A spoonful of golden bananas on top of that last layer of bacon was the ticket.
From here, you know what to do. Grab your family, ask Alexa to play Elvis on Spotify and chow down on these burgers. Cheers!
My cookbook is out! Order your copy of Food X Fire today!
Elvis Smash Burger
Newsflash, it's now June. June means summer, and summer means burgers! Today we're coming at you with a new Elvis Smash Burger recipe!
Ingredients
Meat:
2-3

lbs

of Brisket Flat

cubed

2

tsp

of Kosher Salt

2

tsp

of Black Pepper

2

tsp

of Garlic Powder
Bananas:
2

Bananas

sliced

2

tbsp

of Brown Sugar

2

tbsp

of Butter
Burger:
8-10

Bacon Slices

cut in half

1.5

cups

of Peanut Butter

2

tbsp

of Red Pepper Jelly

3-4

Burger Buns
Instructions
(If grinding your own meat, start here): Cube up your brisket flat and then place in a bowl into the freezer for 15 minutes. Keep your meat cold as much as possible in order to prevent contamination. Set up your meat grinder to a medium size grind, and when ready, pull the brisket out of the freezer. It should be cold and firm, but not frozen. If it is frozen, then let it thaw till it is firm.

Add your meat to the grinder hopper and carefully push it in. Place a cold bowl at the end of the grinder for the meat to fall into. Once the meat is ground, throw it back into the grinder for a second grind. This will help to get it finer and less gritty. Once it is ground the second time, place the meat in a bowl and add to your freezer for 20 minutes.

(If you are not grinding your meat, start here): Pull the ground meat out of the fridge and let thaw for a minute if needed. Grab a handful of meat (around 1/4 lbs… ish) and gently roll it into a ball. Repeat this for 6-8 balls or until you're out of meat. Place back in the fridge until ready to use.

Preheat your fire to a medium high temperature (around 375-400F). Add a cast iron skillet or plancha over the fire about 2 minutes before cooking.

First, caramelize your bananas by adding some butter, the sliced bananas and brown sugar. Let them cook for 1-2 minutes until browned, then pull off and place on a piece of waxed paper or non-stick foil. Clean off your skillet and add it back to the fire. Next, add your bacon to the skillet and cook until they are done to your liking. Once done, pull them off and set aside.

Add the ground meat balls to the skillet then season with salt, pepper and garlic powder. As the meat sizzles, get out a small piece of parchment paper and a larger spatula/burger smasher. Place the parchment over one ball and then firmly press with the spatula until the burger is "smashed" on the skillet. Repeat this for each burger and let cook for another 1-2 minutes. Carefully flip each burger over and then season the new side with salt, pepper and garlic. When burgers are done, pull off and rest. Next, add your burger buns and let crisp up for 1 minute. Once done, pull off and set aside.

Now let's start building the burger. Add the red pepper jelly to the base burger bun and then add a single topped with a dollop of peanut butter and 2 slices of bacon. Add another burger layer, if you like, with another dollop of peanut butter and bacon. Top with the caramelized bananas. Repeat for the rest of the burgers. Serve and enjoy!