In honor of the Tennessee Titans Game, I am showing everyone how to make an epic burger: The Steakhouse Smash Burger. This burger, seasoned with a few of my Spiceology spices, is a double patty smash burger covered with horseradish mayo, maple bourbon onions and slow smoked prime rib.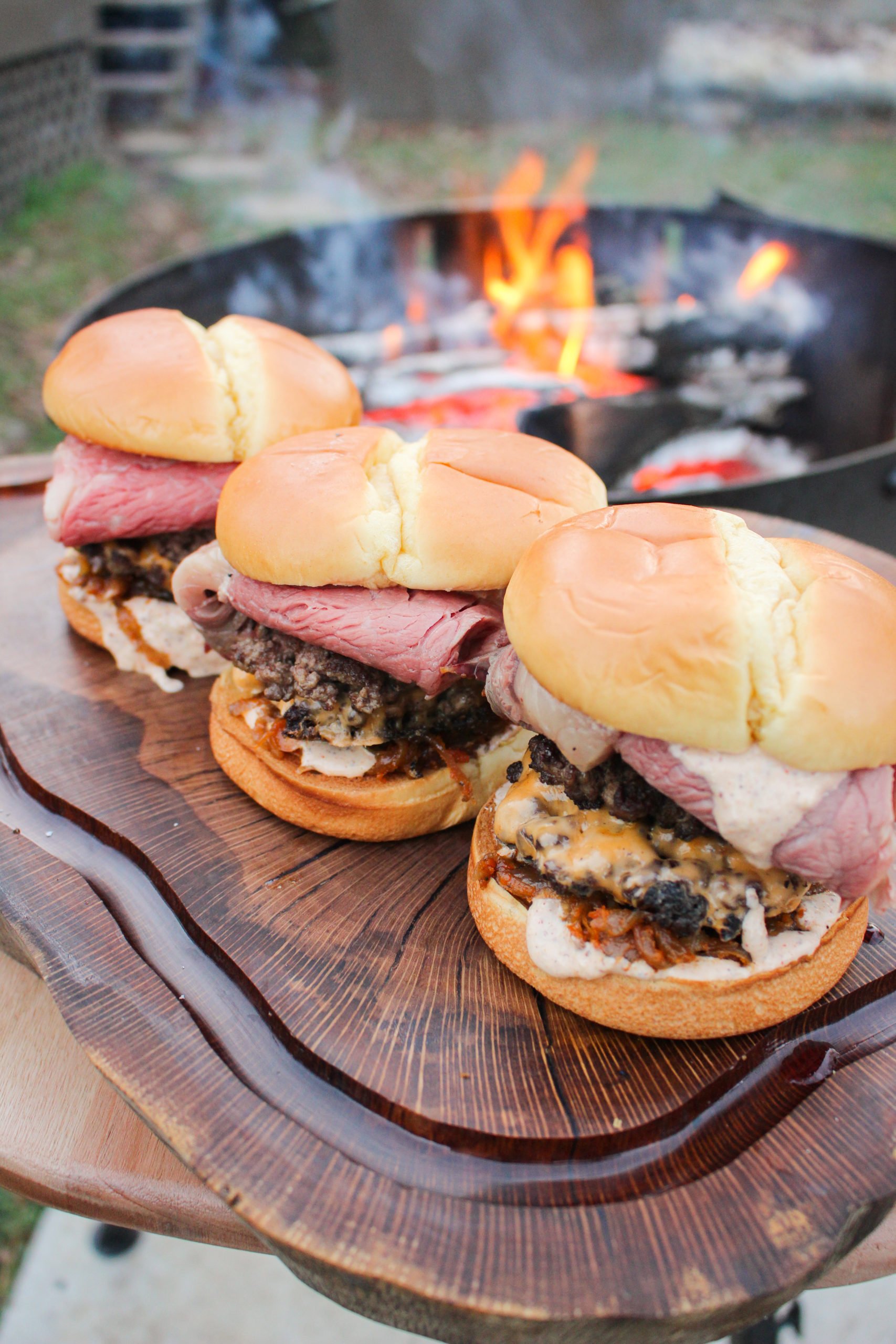 Grinding your own Meat
We are going to start the Steakhouse Smash Burgers by grinding our own burger meat. Now, you do not need to do this! I usually use a blend of chuck roast and short rib for my own personal burger meat, but classic 80/20 ground beef will do just the trick.
That being said, if you do grind your own meat then make sure to keep everything super cold. I like to cube up the meat and add it to the freezer for 10 minutes so that it firms up. This not only helps the grinding process to run more smoothly but also helps to get gross bacteria away. 
Once we have cubed up the chuck and short ribs, add it to your grinder at a medium grind setting. I like to double grind the meat so that it makes it a little smoother and easier for molding. Once ground (or if you have classic ground beef, then start here), we will shape the burger meat into balls about ¼-⅓ lbs in size.
Make enough for double patties for the whole family to enjoy the Steakhouse Smash Burger, then set this on a tray and place in the fridge until you are ready to start making the burgers. Now, let's move to the next piece!
For more smash burger recipes, check out my Chorizo Smash Burgers, Elvis Smash Burger and Cheesy Onion Smash Burgers!
Prime Rib + Smash Burger
Once the burger balls are ready, we will move on to smoking the prime rib. Seasoned with my Tennessee Smoke seasoning, this prime rib will cook at 275F until 120F internal. If you are like me, then you might have a ton of leftover prime rib from the holidays. Feel free to use that instead! Once the prime rib is done, we will pull it off and rest for 30 minutes.
For more prime rib recipes, check out my Shotgun Prime Rib, Hanging Prime Rib and Peppercorn Herb Rotisserie Prime Rib.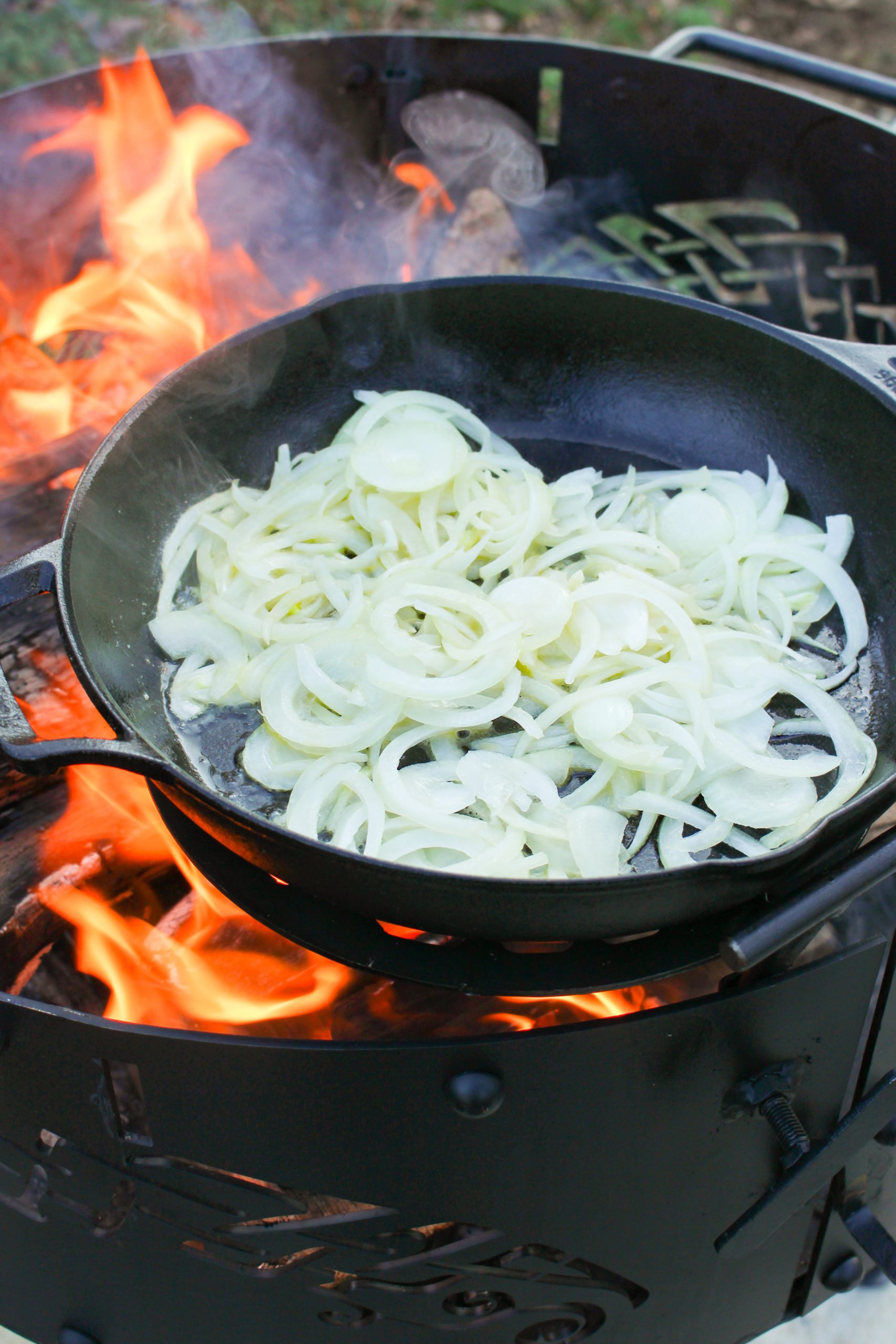 Another key piece to this Steakhouse Smash Burger recipe is making the Maple Bourbon Onions and the Horseradish Mayo. The onions will be slowly cooked over the fire in a cast iron skillet until they are deep brown in color. The maple bourbon seasoning and extra brown sugar will help to give them a sweet and savory flavor that will really compliment the spiciness from the Horseradish Mayo. We will make the mayo right before serving. Mix together everything in a bowl, cover and place in the fridge. Feel free to increase or decrease the heat level on the sauce depending on your palate.
Let's Get to Cooking
Next, let's make the burger patties. Now word of warning, make sure everything is ready to go for the patties as they will cook really fast. I am speaking from experience. Have you cheese, spatula and gloves ready.
First we will add some oil to our skillet to get it really hot and grease. Next, we add the burger balls and let sear for 30 seconds. Grabbing a large spatula or smash burger press, place some non-stick wax paper over the ball and press down firmly. Once smashed, season with salt then repeat with all the other burgers. We will flip The Steakhouse Smash Burger over and look for that deep brown sear. Add some cheese to the top and we are ready to eat!
The Steakhouse Smash Burger
Now, let's build the Steakhouse Burger. Adding some mayo to a toasted bun we will top with caramelized onions, 1 or 2 smash patties, thin slice of prime rib, mayo on the top bun and enjoy! This is an epic recipe to have with any steak (does not need to be prime rib) or with some leftovers! Don't forget to tune in Thursday December 23rd for an epic tailgating experience with Spiceology. Cheers!
For more delicious recipes, check out my cookbook Food X Fire!
Needing more spice in your life? My spice line can help with that. Check them out here.
Print Recipe
Steakhouse Smash Burger
Steakhouse Smash Burger for a fun, new way to enjoy prime rib and smashed patties!
Ingredients
Instructions
(If grinding your own meat, start here):
Cube up your short rib & chuck roast meat and then place in a bowl into the freezer for 15 minutes. Keep your meat cold as much as possible in order to prevent contamination. Set up your meat grinder to a medium size grind, and when ready, pull the short rib out of the freezer. It should be cold and firm, but not frozen. If it is frozen, then let it thaw till it is firm.

Add your meat to the grinder hopper and carefully push it in. Place a cold bowl at the end of the grinder for the meat to fall into. Once the meat is ground, throw it back into the grinder for a second grind. This will help to get it finer and less gritty. Once it is ground the second time, place the meat in a bowl. Grab a handful of meat (around 1/4 lbs… ish) and gently roll it into a ball. Repeat this for 6-8 balls or until you're out of meat. Place the rolled meat into the fridge until ready to use.
(If you are not grinding your meat, start here):
Prime Rib: Begin by lathering your prime rib with oil and seasoning with Tennessee Smoke seasoning. Preheat a smoker for indirect cooking at 275F. Add the prime rib to the smoker to cook until it reaches 120F (around 2.5-3 hrs). Once done, let rest for 30-45 minutes. This can also be done with leftover prime rib!

While the prime rib rests, preheat your fire to a medium high temperature (around 350-375F). Add a small cast iron skillet over the fire about 2 minutes before cooking.

Maple Bourbon Onions: To the skillet, melt the butter then add the thinly sliced onions and let cook for 10 minutes. Once the onions have begun to brown, add the brown sugar and maple bourbon seasoning. Let caramelize over lower heat for another 5-7 minutes, then deglaze the skillet with the bourbon. Simmer until the bourbon has reduced (about 2-3 minutes), then pull off and keep warm.

Smash Burgers: Next, kick up the heat on the grill to high heat (around 400F). Add another skillet or large plancha with some oil to the heat. Pull the burger balls out of the fridge and let thaw for 1 minute. Add the ground meat balls to the skillet and season with salt. As the meat sizzles, get out a small piece of parchment paper and a larger spatula/burger smasher. Place the parchment over one ball and then firmly press with the spatula until the burger is "smashed" on the skillet. Repeat this for each burger and let cook for another 1-2 minutes. Carefully flip each burger over and then season the new side with salt. Top each burger with a slice of cheese and let melt for 1-2 minutes. Once melted, pull each burger off and rest.

Horseradish Mayo: In a bowl, mix together all the ingredients for the Horseradish Mayo until fully mixed.

Now that everything is ready, let's start building our burger. Add the Horseradish Mayo to the base burger bun, top that with Maple Bourbon Onions then add a single or double patty burger on top. Thinly slice some of your prime rib and add that next to the burger. Finish with mayo to the top bun. Serve and enjoy!
Nutrition
Serving:
1
Burger
|
Calories:
587
kcal
|
Carbohydrates:
31
g
|
Protein:
34
g
|
Fat:
34
g
|
Saturated Fat:
13
g
|
Polyunsaturated Fat:
7
g
|
Monounsaturated Fat:
13
g
|
Trans Fat:
1
g
|
Cholesterol:
115
mg
|
Sodium:
831
mg
|
Potassium:
653
mg
|
Fiber:
2
g
|
Sugar:
10
g
|
Vitamin A:
278
IU
|
Vitamin C:
7
mg
|
Calcium:
335
mg
|
Iron:
5
mg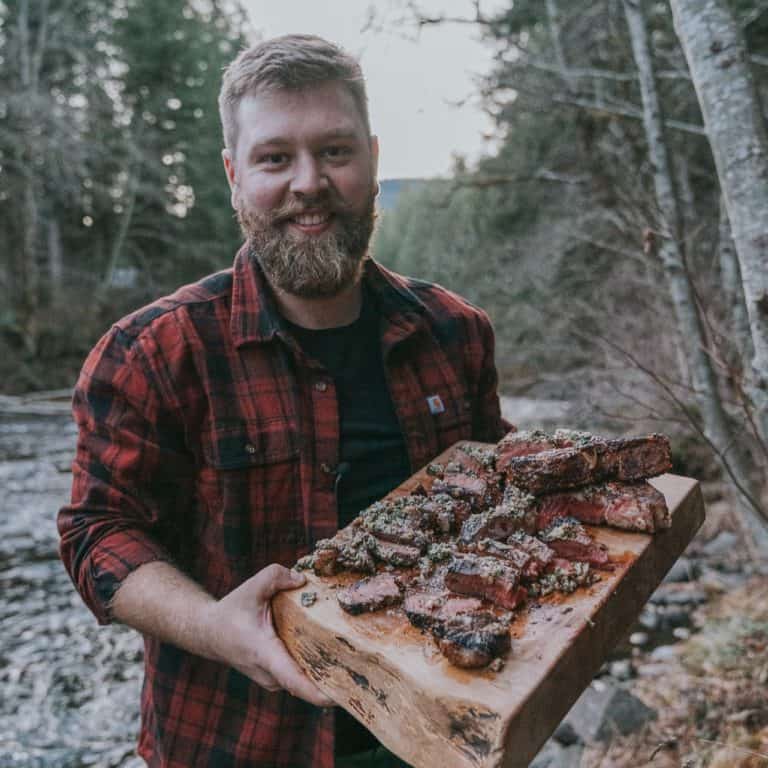 Derek is the driving force behind Over the Fire Cooking. He started cooking with live fire in 2016 and decided to start a social media page so his friends and family could follow the journey. Fast forward to today and Over the Fire Cooking has spread across multiple platforms with millions now following Derek's fire cooking journey. He's a southern fellow who enjoys everything from classic BBQ to Central and South American inspired dishes. Whatever he's cooking up, it's guaranteed to be so freakin' delicious!