Smoke frying is the pastime of scholars and gentlemen. It's right up there with water polo or buying fancy racing horses. So, it's only fitting that we smoke fry a prime rib and make the most epic steak frites on either side of the Mississippi. With that, let's get down to this Deep Fried Prime Rib recipe.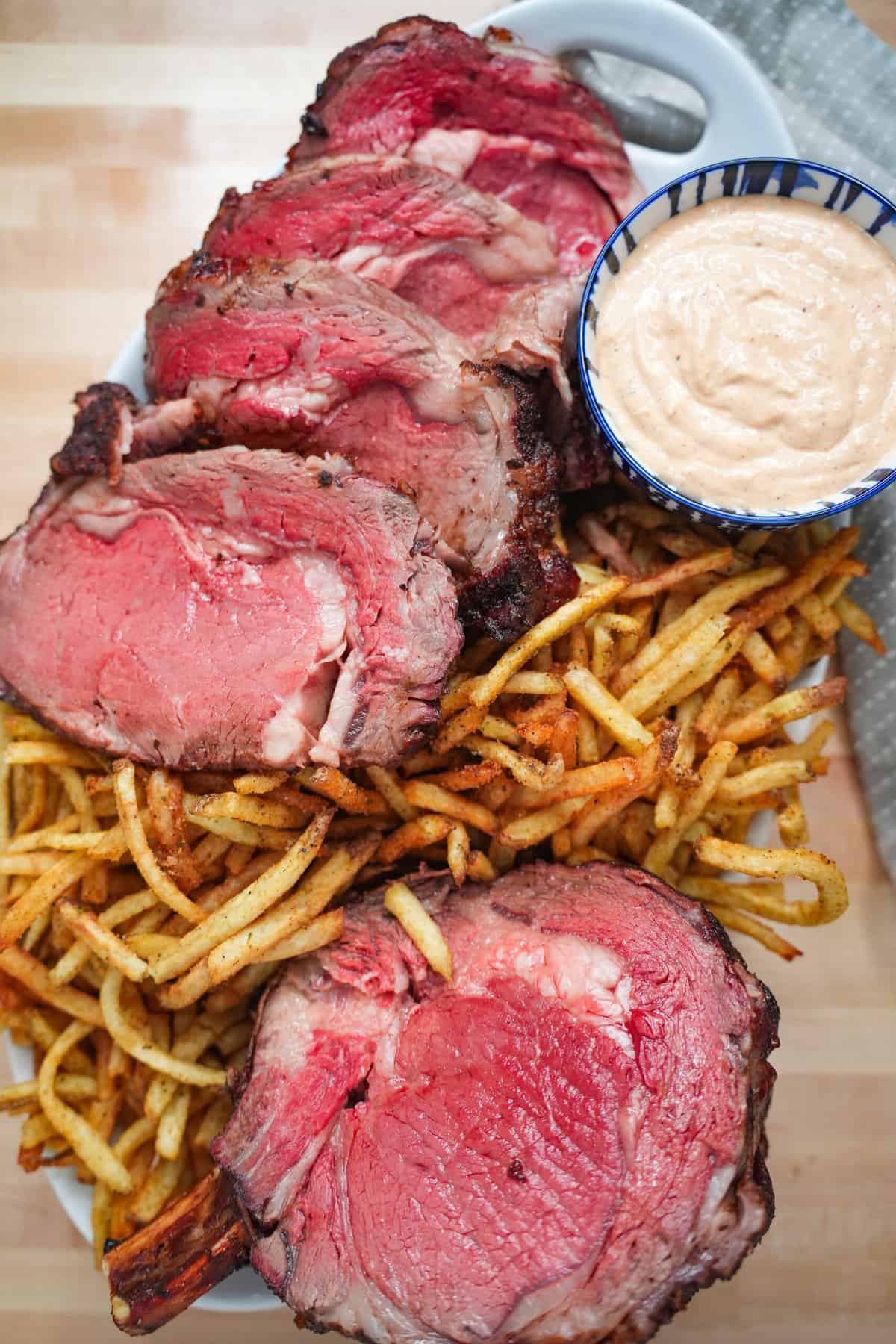 It's the holiday season. This is the time of year that we have bonfires and pull out the turkey fryer. But, a fun fact about turkey fryers is that they can fit more interesting things than just a deep fried turkey.
Pounds and pounds of French fries, for instance, or even a prime rib.
I know what you're thinking. I've thought it, too. Why do we have to smoke the Prime Rib? We have the fryer going. Let's just deep fry it. Rookie move. Not because it would be "greasy" (that's not how proper deep-frying works), but because it'll be simultaneously overcooked and undercooked.
Deep frying is way too violent for a steak, much less a prime rib. You'll wind up with a wide grey band around the outside and a very rare center. I've been there, I've seen it. A nice gentle smoke and a quick fry to get an awesome crust. This is the way of deep frying prime rib.
Why you'll love Deep Fried Prime Rib
A deep-fried prime rib roast is loved for its ability to transform a quality piece of meat into a savory masterpiece. The cooking process results in a crispy crust that seals in the juiciness of the meat, offering a mouthwatering contrast in textures. The result is a perfect medium-rare finish with seasoned perfection. Served as part of an old-fashioned Christmas dinner or at a special dinner party, it's a delicious experience for everyone. The deep-fried roast is a delicious and creative dish that will become your new favorite holiday meal.
Deep Fried Prime Rib Ingredients
Bone Prime Rib
Bourbon Prime Rub – The bourbon aspect can infuse a subtle, smoky sweetness that pairs beautifully with the meat's richness.
Russet Potatoes
Chipotle Garlic Seasoning – Contributes a spicy, smoky, and garlicky flavor profile, enhancing the overall taste of the dish.
Fry Oil – The oil is essential for deep-frying the prime rib. It ensures even cooking and helps create a crispy, golden brown crust on the meat.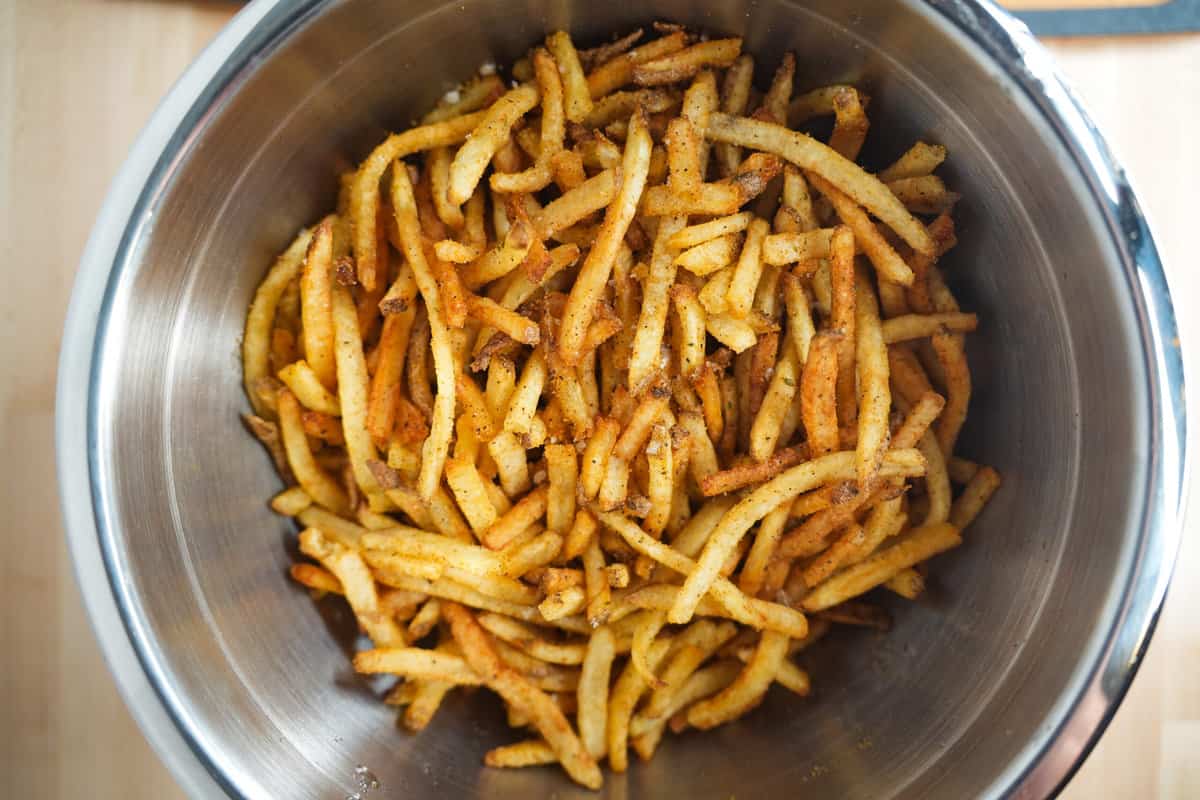 GARLIC SRIRACHA AIOLI
Mayo – Adds richness and creaminess and acts as a binder for the other ingredients.
Finely minced garlic – Adds a strong, pungent flavor to the aioli.
Lemon juice – Its acidity brightens the sauce and balances the richness of the dish.
Sriracha – Provides a fiery kick that adds excitement to each bite of the deep-fried prime rib.
How to Cook Deep Fried Rib Roast
The Prep & Smoking
To make the Garlic Sriracha Aioli, just mix all the ingredients in a bowl, cover it, and put it in the fridge until you're ready to use it. You can even make this a day ahead to save time.
Next, fire up your smoker and set it to 250F. While it's heating up, generously season the outside of the roast with the Bourbon Prime rub. Once the smoker is ready, put the prime rib in and smoke it at 250F until the internal temperature of the roast reaches 110 degrees. This is where a meat thermometer comes in handy.
Add flavor to everything you're cooking
shop over the fire spice lines

Now, while your prime rib is getting all smoky and delicious, get your deep fryer ready and heat the oil temperature to 350F. Don't forget to cut up your potatoes into French fries during this time. You can do this by hand or use a mandolin slicer. If you're feeling lazy, you can use frozen fries instead.
The Fry
When the prime rib hits that perfect internal temperature, it's time for the deep fryer. Deep fry meat for 1 to 2 minutes – this creates a nice crust and lets it finish cooking inside. After frying, cover it and let it rest for about 15-20 minutes.
While the prime rib is taking a breather, it's the fries' turn. Fry them in the 350-degree oil for about 10 minutes, then take them out. Heat the oil back up to 350F and fry the fries again for another 5 minutes or until they're nice and crispy.
Finally, grab a cutting board and a sharp knife. Then, slice up that mouthwatering prime rib and serve it with the fries and that Garlic Sriracha Aioli we made earlier. Enjoy your delicious meal!
Deep Fried Prime Rib Tips
Let the roast come to room temperature to ensure even cooking.
Dry the prime rib roast with paper towels, as this will help the crust to be even crispier.
If you don't feel like whipping up the garlic aioli, drop a nice big dollop of garlic butter on top of your Deep Fried Prime Rib instead.
How to Store Leftovers & Reheat
Storing
​Once you've enjoyed your deep-fried prime rib, allow any leftovers to cool to room temperature. Then, wrap the prime rib tightly in aluminum foil to prevent it from drying out and losing flavor. Store it in the fridge, where it can stay fresh for up to three to four days.
Reheating
​To reheat, there are a couple of good options. The first is in the oven. Preheat your oven to a low temperature, around 250 degrees F. Place the wrapped prime rib in an oven-safe dish and heat it for about 15-20 minutes or until it reaches your desired internal temperature. Be sure to use a meat thermometer to get it just right.
Another option is a microwave, which is quicker but might not maintain the crispy crust. If you choose this method, use a low power setting and heat in short intervals, checking frequently to prevent overcooking.
Regardless of the method, make sure to reheat it slowly to retain the meat's juicy tenderness.
What to serve with Deep Fried Prime Rib
Although we served up this Deep Fried Prime Rib with French Fries, you have plenty of other options for side dishes. For example, Yorkshire pudding, a classic choice, is a bread-like side that soaks up the juices of the prime rib, adding an extra layer of indulgence.
Another great side for Deep Fried Prime Rib is roasted root vegetables, such as potatoes and carrots, which offer an earthy and hearty touch to the meal. With these accompaniments, your deep-fried prime rib feast is sure to be a memorable holiday favorite.
For more steak and fries, check out Nashville Hot Steak Frites, Grilled Ribeye with Beef Tallow Fries, and Peppercorn Crusted Steaks with Duck Fat Fries.
Recipe FAQs
Why use prime rib?
This is the king of the beef. Easily the most sought-after cut. Sure, the brisket is the unanimous ruler of the barbecue scene. But when it comes down to it, the ribeye always wins. It's honestly an unfair fight.

So, what makes a prime rib? It's a rib roast, ribeye. This particular presentation gets its name because it's prime grade. The highest quality grade in USDA meat grading.

It's also bone-in for extra flavor and presentation. If this bone-in rib roast wasn't prime grade, it'd be a Standing Rib Roast. No bones? Just a boneless rib roast. These are all amazing roasts, but the Prime Rib is the highest quality of meat you can get.
How can I find the perfect prime rib?
You may be able to find the best prime rib at your local grocery store. But if not, your best bet would be to hit up your local butcher.

When talking to your butcher, there are a few things you can ask for to make your life easier. He can partially remove the meat from the bones and then tie, or truss, it back together. This helps when carving up the meat later. You can easily cut the ties and remove the meat from the bones.

Also, Frenching the bones makes for a better presentation. This is removing the meat from the tips of the bones and cleaning them off.
What type of fry oil should I use?
Choose an oil with a high smoke point such as vegetable oil, canola oil, avocado oil, or peanut oil. These are neutral oils that won't add much flavor to the prime rib but will still give it a good crust.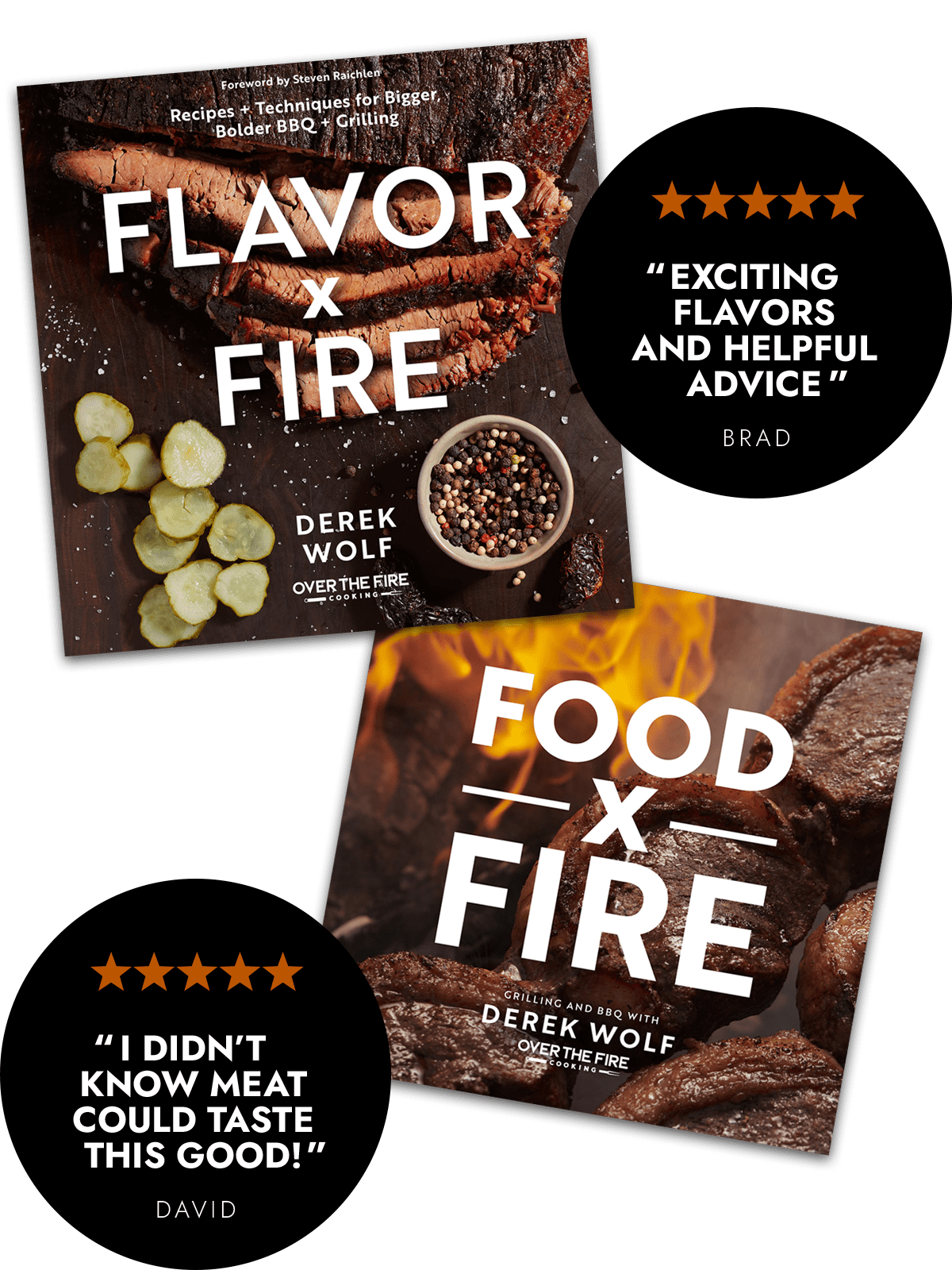 Get The Cookbooks!
Flavor X Fire & FOOD X Fire
All the major tastes—salty, sour, sweet, bitter, and umami—are explored in depth, along with an investigation of other components you should consider when it comes to flavor, such as aroma, heat, and texture.
Needing more spice in your life? My spice line can help with that. Check them out here.
Ingredients
4

Bone Prime Rib

5

Lbs

Russet Potatoes

3

Gallons

Fry Oil
Instructions
Garlic Sriracha Aioli

Combine all ingredients in a bowl. Cover and hold in fridge until ready. Can be made a day ahead.

Pre heat smoker to 250 degrees.

Season bone in prime rib roast generously with Bourbon Prime rub. Smoke at 250 degrees until Prime Rib is 110 degrees internal.

While Prime Rib is smoking, prepare a large deep fryer and pre heat oil to 350 degrees.

Also, while prime rib is smoking, cut potatoes into French fries. This can be done by hand of with the use of a mandolin. Frozen French fried can be substituted here if you don't feel like being extra.

Once prime rib has hit it's internal temp, deep fry for 1 to 2 min. This short cook time will make an amazing crust and give enough carry over heat to finish cooking the inside. Cover and rest for 15-20 min.

While Prime Rib is resting, fry French fries in the 350-degree oil. Fry fries for 10 min, then remove from oil. Heat oil back to 350 degrees and fry fries for an additional 5 min, or until crispy.

Slice Prime Rib and serve with fries and aioli.
Nutrition
Serving:
6
g
|
Calories:
16600
kcal
|
Carbohydrates:
71
g
|
Protein:
9
g
|
Fat:
1843
g
|
Saturated Fat:
281
g
|
Polyunsaturated Fat:
1057
g
|
Monounsaturated Fat:
419
g
|
Trans Fat:
12
g
|
Cholesterol:
16
mg
|
Sodium:
314
mg
|
Potassium:
1628
mg
|
Fiber:
6
g
|
Sugar:
3
g
|
Vitamin A:
74
IU
|
Vitamin C:
25
mg
|
Calcium:
95
mg
|
Iron:
5
mg