We can all agree that there is nothing quite like being in nature. Whether you're hiking a mountainous trail or camping out of your car, being in the great outdoors opens a whole new world of freedom, wild experiences & open fire cooking.
Yes, open fire cooking…
Being able to cook over open fire is an essential part of the outdoor experience. From coffee to steaks, campfires throughout history have not only warmed us up but have also cooked our food.
So how do we continue this tradition?
Well, it really starts with having the right gear. In order to cook quality food while camping, then you must have gear that is easily pack-able, durable, and lightweight. Below you will find gear that I suggest for open fire cooking while camping!
1. Having the Right Open Fire Cooking Skillet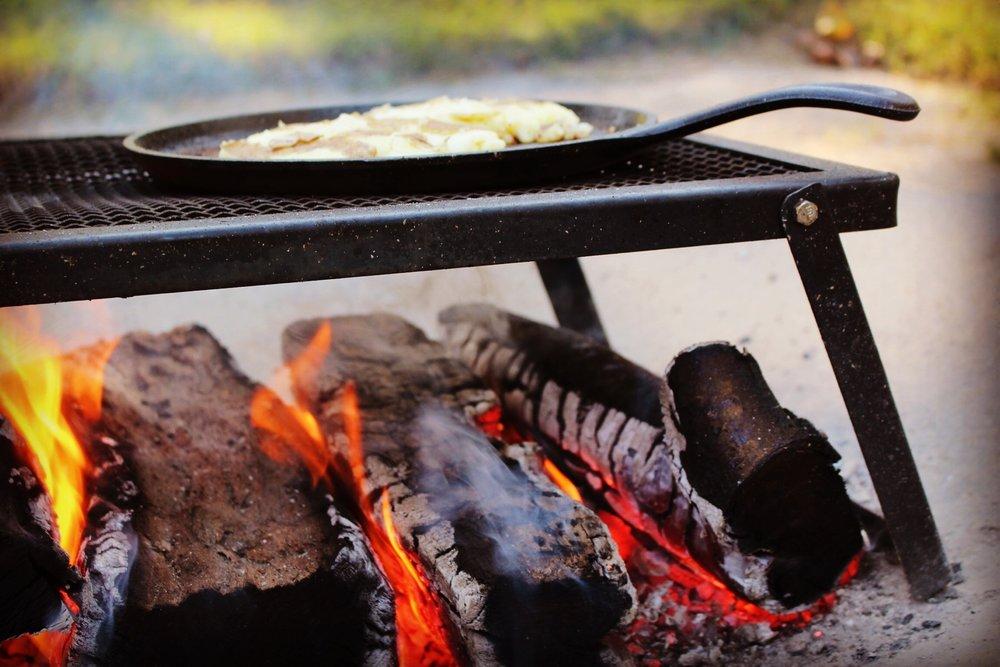 Having the right skillet for cooking is essential. The trick here is understanding which skillet you will need. This all depends on if you will be hiking or RV/car camping.
When hiking, many people want lightweight equipment that is easy and dependable. I highly recommend the Camping Cookware Mess Kit. This 9 piece cooking set is made of non-toxic anodized aluminum, which is high hardness, heat-resistance, abrasion resistance and conducts heat quickly. They are easily pack-able and are lightweight for those that worry about heaviness. Overall, this is a great skillet/cookware set that will help make any meal over an open fire.
For those that are RV/car camping, weight is not as much of an issue. That is why I recommend the Barebones Living 9″ Cast Iron Skillet or the Camp Chef 14″ Cast Iron Skillet. Cast iron is durable, consistent, and non-stick once properly seasoned. However, cast iron is heavy, but this helps to create a dependable piece of fire cooking equipment. That said, a great cast iron skillet is a fire cooks best friend!
2. Keeping the Food Fresh
When out in nature, it is vital to keep your food as fresh as possible! That is why having a dependable cooler is a must when wanting to cook over open fire.
There are a lot of quality coolers on the market these days, but not all of them are easy to bring when you go camping. That is why we use the Barebones Living Trekker Cooler. This amazing cooler not only keeps your meat and beer cold, but it's also camper friendly. Only 7x9x6 inches in volume, the Trekker Cooler easily packs in your car without taking up too much room. This can be great for those that have small campers and need to be conscious of space.
The cooler also has a soft shell so it is light and can be packed down when needed. The inside of the cooler has a washable liner that makes it easy to clean out when carrying raw steaks and chicken for cooking. It is great addition for any avid outdoorsman!
3. But first, Coffee…
One of my favorite parts about camping is the coffee in the morning. There is nothing quite like the smell of brewed coffee and the crackling of the fire to wake you up!
Our favorite way for brewing coffee over open fire is with our Stanley Adventure Percolator. This 6 cup coffee pot will make some of the most delicious and smoky cups of coffee you have ever tasted. Just grind up some of your favorite coffee beans in the portable JavaPresse Coffee Grinder, place it in the Percolator, add water, and let sit over the open fire. You will be happy I told you about this!
When drinking our morning cup of joe, we like to use either our 20oz Yeti Tumbler or our Nordic Wooden Kuska Mug. The Yeti is great to have when camping by RV/car as its durable and easy to clean. It also keeps the coffee warm for longer periods of time. The Nordic Wooden Mug is great to have on the trail since it is lightweight and multi-functional. We use our Kuska mug for coffee, water, wine or soup. Just hook it to the back of your pack and your ready to go!
Overall, getting a quality cup of coffee can make a major difference in your day. But then again, any cup of coffee over open fire is pretty darn good.
4. What About a Knife?
There are lots of different types of knives that you can bring while camping. My two favorite knives that I always bring are my Morakniv Garberg & my Opinel Folding Knife.
The Morakniv Garberg is a thick blade bushcrafting knife that really helps when cooking over open fire. This knife can do it all: split wood, cut meat, slice veggies, flip steaks and even start the fire. It is my go-to knife on the trail since I use it for pretty much every activity. If you are an avid fire cook and are out on the trails often, then I highly recommend getting this blade.
My Opinel Folding Knife is my second favorite knife to bring camping. This knife is stainless steel which is resistant to bacteria; therefore, you can easily prepare food for dinner or carve up a thick steak. The other nice feature about this blade is that it has a reliable built-in locking mechanism. Most foldable blades have locking mechanisms; however, over time they can wear down and lose stability. The Opinel Folding Knife beats that stereotype by having a trusted system that will rarely fail.
Another great feature about this knife is that it has a built-in wine bottle opener. Not only can you carve up a steak, but you can also open up your favorite bottle of red!
5. Picking the Grill
The perfect grill for camping really depends on what you plan on doing. For those who are doing backpacking then my go-to grill is the Firebox Foldable Stove. On the other hand, for those that are RV/car camping then my favorite grills are the Camp Chef Over Fire Grill Grate or the Kudu Grill.
The Firebox Foldable Stove is great for those that love to cook over open fire but need a compact grill. It is lightweight and easy to pack in any backpack. All you need are some small pieces of wood and some fire starters, and you will be cooking in no time. It is also very versatile so you can cook steaks or a skillet full of eggs. Pair it with a billy pot and you can slowly cook veggies, soups or even thick pieces of meat.
For those that are RV/car camping, the ideal grill is either the Camp Chef Over Fire Grill Grate or the Kudu Grill. The Camp Chef Grill Grate is very simple. Just a grill grate that goes over the campfire. Place some steaks and a cast iron skillet full of veggies on it and you have dinner. This grill grate is easy to pack, easy to clean, and very durable.
For those that want to be adventurous when cooking over open fire, then I recommend the Kudu Grill. This grill is a fully purpose campfire pit and grill all in one. Not only can you cook anything your heart desires, but it will also all be off the ground. The Kudu Grill sits about 3 feet above the ground so you do not have to worry about damaging the land due to your fire. It is easy to clean and breaks down into minimal space! Keep this grill in your backyard or throw it into the back of the car and take it on the road!
Overall…
Fire cooking and camping go hand in hand. From skillets to coolers, having the right gear makes all the difference. So the next time you plan on going camping, then make sure you have all the essentials in order to cook over open fire!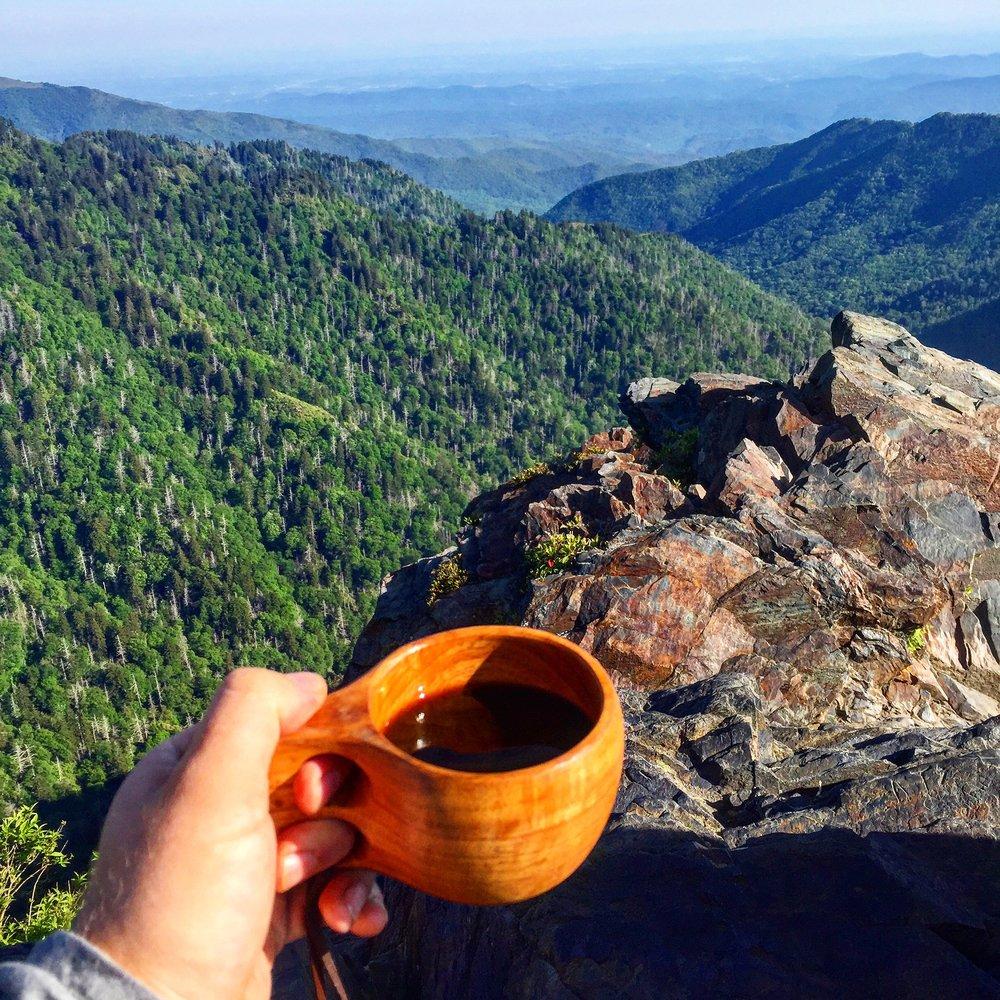 This article does contain affiliate links to products that we personally use and support. Purchasing an affiliate product does make us a small commission at no cost to you. This helps us continue creating for our website. All words and opinions are our own, and we appreciate your support!