It's another chicken wing throwdown for today's recipe. However, this isn't your typical chicken wings recipe. It's a Grilled Buffalo Chicken Wings with Melted Cheese recipe! Haven't tried melted cheese on chicken wings before? Well, let's just say you're missing out! Fire up those grills and let's get cooking!
Buffalo Meets Chicken
This recipe starts by seasoning up those grilled buffalo chicken wings. I turned to the MVPs of all my spices: salt, pepper and garlic for these wings. Tossed the seasoning into a large bowl with the wings and mixed thoroughly. Then, throw those wings into the fridge while we get the grill fired up.
I cooked these chicken wings with a grill grate directly over the coals. I first filled a charcoal chimney with charcoal and set it on top a couple of fire starters. While we're here, let me just say that I'm a big fan of charcoal chimneys!
"Fire only burns up," is what my dad used to say when I was growing up. It was sort of a joke, but also a reminder that a fire will catch much faster if it's allowed to burn vertically. It's going to take so much longer to catch a pile of coals (or wood) on fire if it's spread out, or if you light the top of the pile instead of the bottom. All of this to say, charcoal chimneys allow the fire to burn vertically. This helps your charcoal catch fire much faster, which saves you time, energy and gets you even closer to those buffalo chicken wings with melted cheese! When the coals have all caught fire, you can spread them out across your grill and you're ready to go.
Get your copy of Food X Fire for more delicious recipes!
Buffalo and Melted Cheese
Dump the chicken wings on the grill and flip as needed throughout the cooking process. Remember, chicken has to reach an internal temperature of 165 degrees Fahrenheit. While the chicken wings are cooking, let's make the buffalo sauce. It's only three ingredients! I used my cast iron sauce bowl and tossed in butter, cayenne hot sauce and some honey. Let the butter melt and mix it all together. Pull the chicken from the grill once it's cook and place in a large bowl. Then, pour the buffalo sauce over the wings and toss until the chicken wings have an even coating of sauce.
Now, for the final piece to this buffalo chicken wings with melted cheese recipe… the cheese! For this process I used a cast iron skillet. Drizzle a bit of oil and then toss in the shredded cheese. I used a mixture of three different kinds of cheese for this recipe to great a depth of flavor. We get the cheesy gooeyness from the monterey jack cheese, the sharpness from the cheddar and some nuttiness from the gruyere. I also shredded the cheese before throwing it into the skillet. This helps the cheese melt faster and more evenly.
Grilled Buffalo Chicken Wings with Melted Cheese are Served
I moved the melted cheese to one half of the skillet once it was all melted. This made room for the wings, which I dumped on the other side. I garnished the wings with some chopped scallions and then it was time to eat! Use a fork to scoop up a bit of cheese, wrap it around the wing and enjoy that cheesy chicken goodness! Best enjoyed with friends and family! Cheers!
Check out my Spiceology spice line here!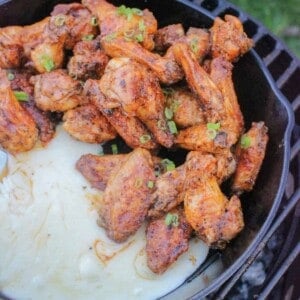 Grilled Buffalo Chicken Wings with Melted Cheese
Grilled Buffalo Chicken Wings with Melted Cheese for dinnertime deliciousness! Tossed in buffalo sauce and wrapped in cheese, you don't want to miss these wings!
Ingredients
Chicken:
1.5

lbs

Chicken Wings

1

tbsp

Kosher Salt

2

tsp

Black Pepper

2

tsp

Garlic Powder

1.5

tbsp

Canola Oil

Sliced Scallions

for garnish
Buffalo Sauce:
1/2

cup

Cayenne Hot Sauce

2.5

tbsp

Butter

2

tsp

Honey
Melted Cheese:
1/4

cup

Gruyere Cheese

grated

1/4

cup

Monterey Jack Cheese

grated

1/4

cup

Sharp Cheddar Cheese

grated
Instructions
Preheat a grill to a medium high temperature (about 375F).

In a food safe bowl, add your wings with oil, salt, pepper and garlic powder. Add the wings directly to the grill and cook for about 7-8 minutes per side or until they are 165F+ internal.

Just as the wings are about to be done, add a basting skillet with the ingredients for the buffalo sauce. Cook until mixed well and hot.

Once the wings are done, pull them off and place in a bowl. Adding the buffalo sauce on top of the wings, toss them until they are evenly coated. Place the wings in a place to stay warm until ready to eat.

Add a cast iron skillet over a low heat fire. Adding just a touch of oil to the skillet, begin to melt all the cheese while constantly stirring. Melt it until it is gooey and loose. Make sure to keep stirring in order to prevent it from burning.

Once the cheese is melted, push the cheese to one side of the skillet and the wings on the other. Garnish with sliced scallions and being wrapping your wings in the melted cheese. Enjoy!