I think we can all agree that a properly cooked tenderloin is the epitome of good eats. This Herb Crusted Bison Tenderloin recipe is a favorite! It's a simple meal made up of bison tenderloin, a simple spice rub and made-from-scratch spicy beer mustard!
This recipe takes a quick 30 minutes to prep and results in the most tender and flavorful meat!
Spicy Beer Mustard for Our Herb Crusted Bison Tenderloin
This Herb Crusted Bison Tenderloin recipe starts out with the spicy beer mustard. Made completely from scratch, this spicy mustard with a booze-y twist is exactly what grilled bison needs to go from amazing to extra amazing.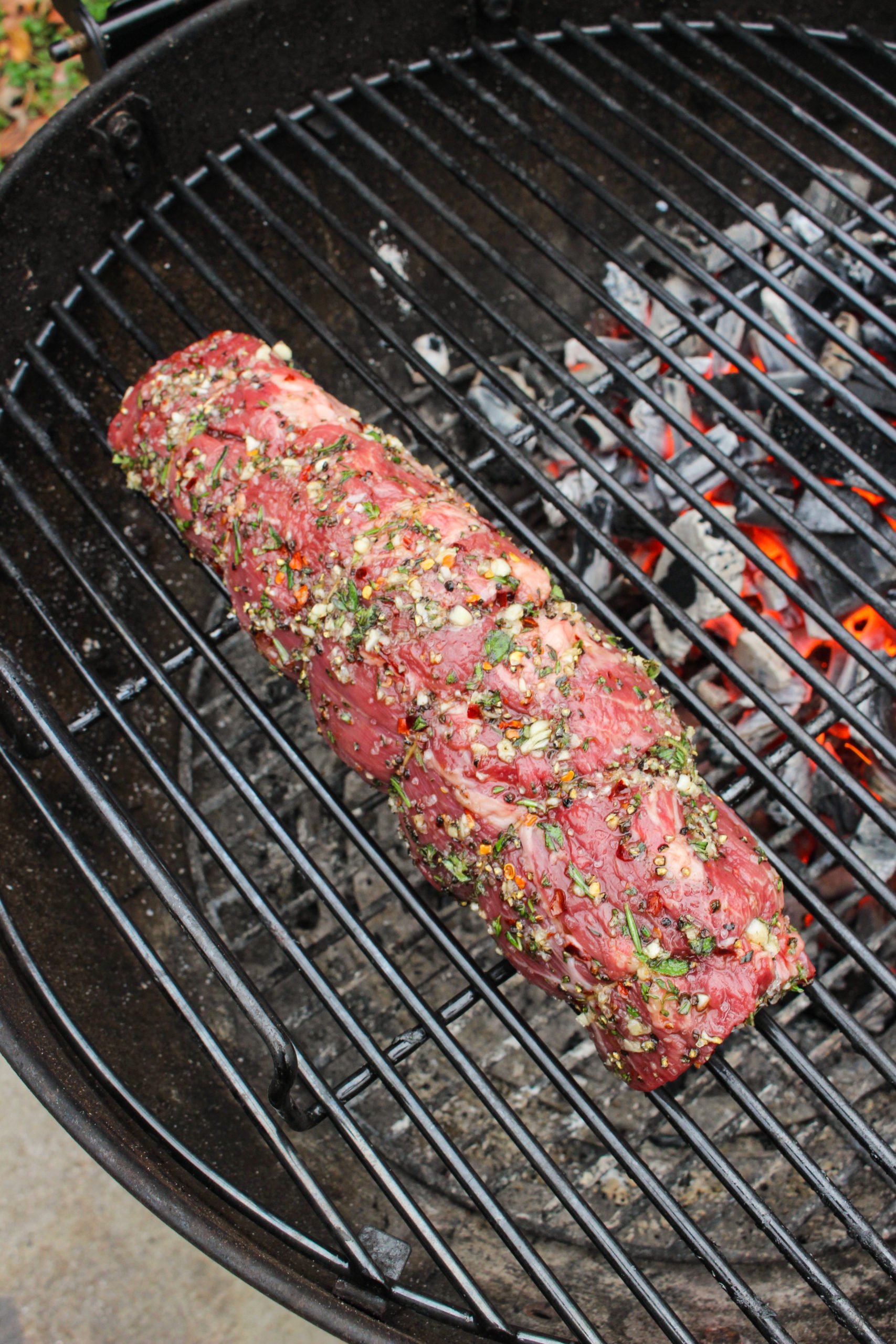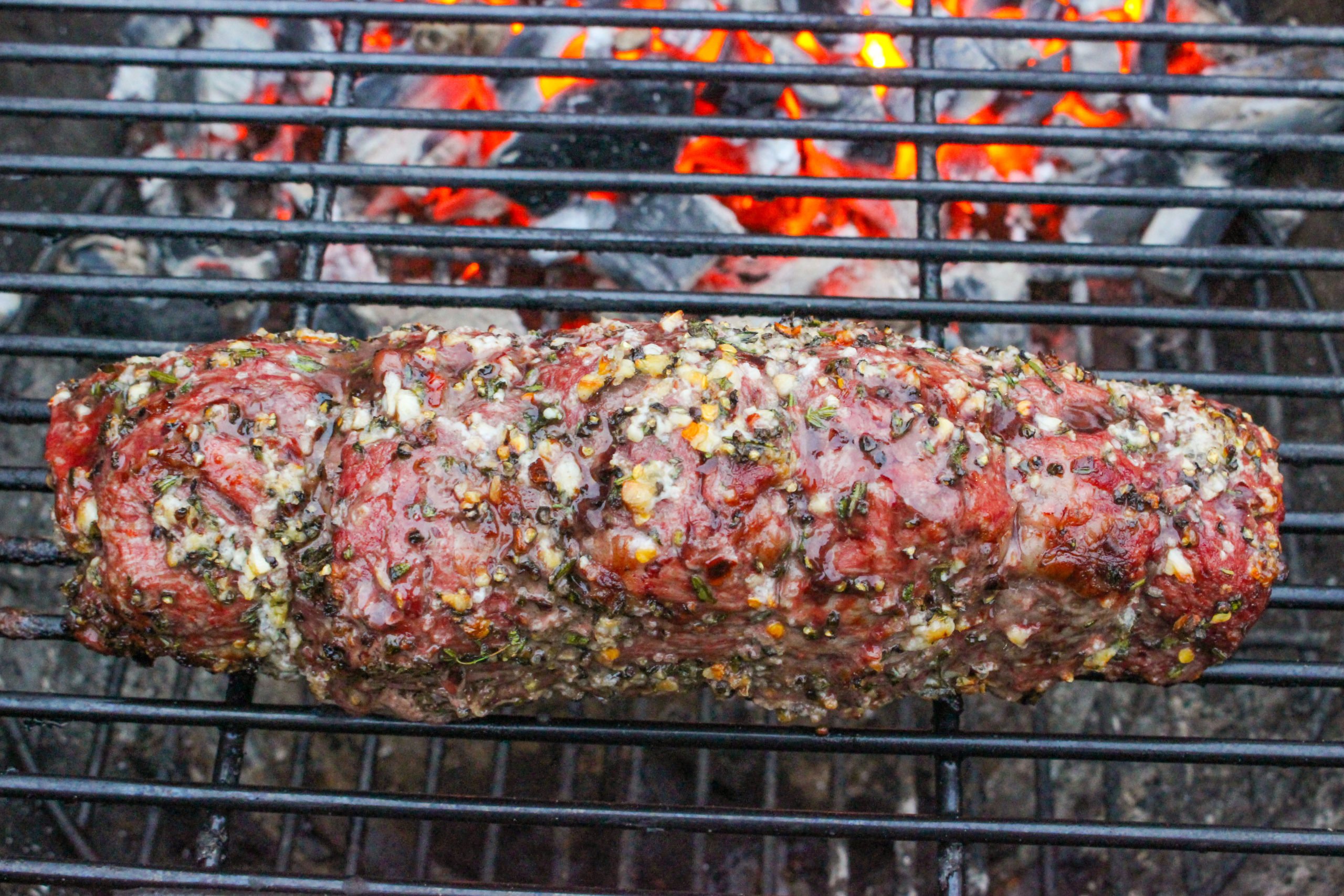 Start out by placing the dried mustard seeds into a jar. Pour in the beer of your choice, I'd recommend a lager or pilsner. Then set in the fridge overnight because the longer the mixture sits, the more beer flavor the mustard will have!
Finish the beer mustard out by blending the soaked mustard seeds up with garlic paste, apple cider vinegar, soy sauce, and horseradish. Add more soy sauce as needed until your desired texture is reached.
Feel free to eat this with a spoon. No judgement here!
For more on reverse searing check out my How To Reverse Sear a Steak article! Alternate recipes include Hanging Tomahawk Steaks and Reverse Seared Steak.
Tis the Seasoning
Next up: the MVP of all meat recipes. The spices! Because we all know meat is only as good as its seasonings.
This spice rub is the "herb crust" component of our Herb Crusted Bison Tenderloin recipe. It's a simple blend of canola oil, salt, pepper, garlic, fresh rosemary and thyme, and red chili flakes. It's sweet, peppery, earthy, spicy, and ties in the flavors from the mustard seamlessly.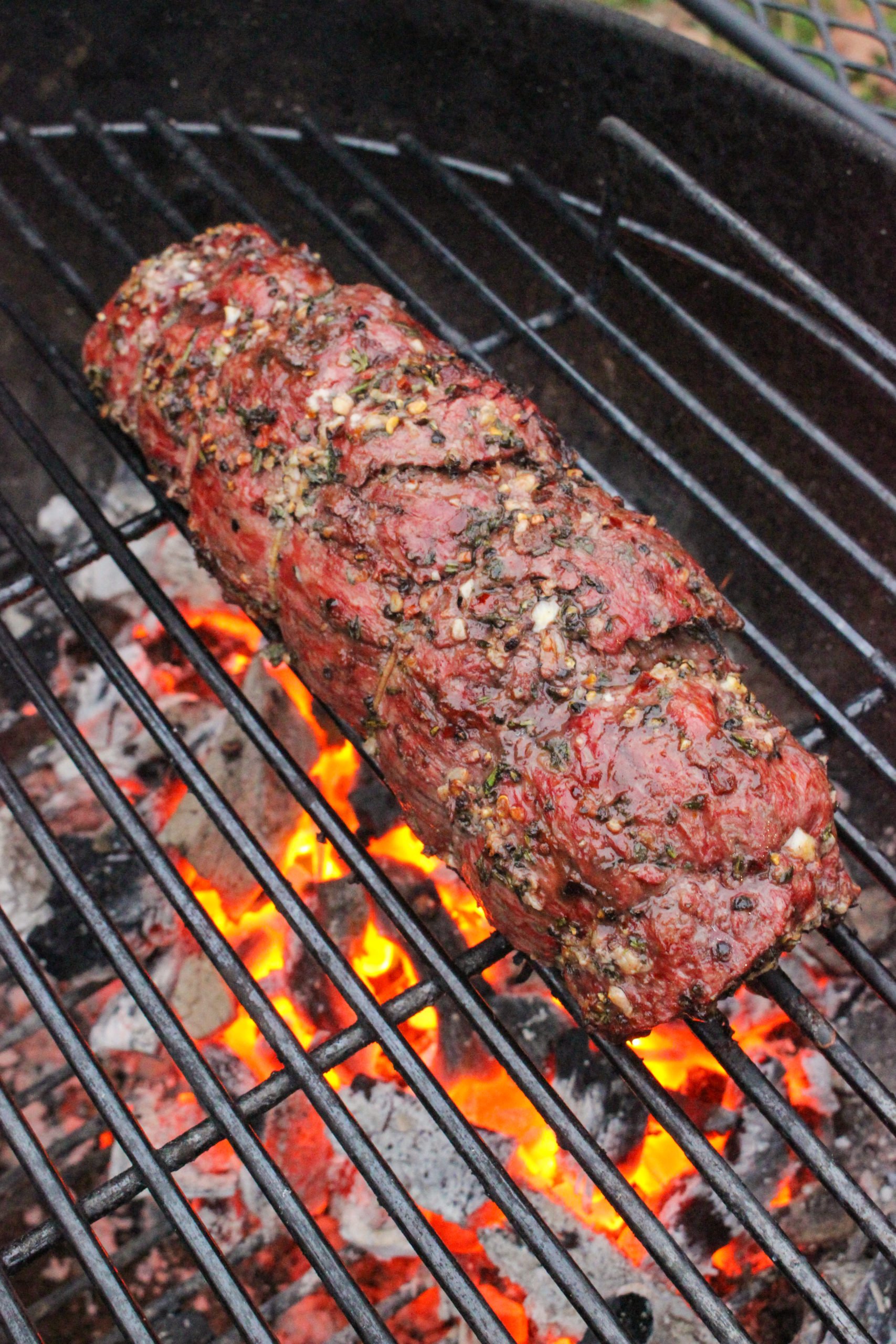 Herb Crusted Bison Tenderloin
First thing's first, prep the bison: trim, clean, and remove any silver skin, then use butcher twine to tie it every 1.5 inches so it retains its shape as it cooks. Don't skip this part! It helps the meat cook more evenly. Slather the bison liberally with the spice rub because we want to get that delicious flavor in every bite. Now, allow the meat to sit in the fridge for about 40 minutes to give the flavors time to soak into the meat. It's a quick brine, but it does the job!
Next, it's time to grill! Preheat the grill to an indirect two zone cooking at medium-high heat because we're reverse searing this bison! Add the bison to the cooler side and allow it to cook for 35-50 minutes or until it reaches an internal temperature of 120ºF. At this point, the bison is mostly cooked. You just need to char it to give it that crispy crust!
Remove the Herb Crusted Bison Tenderloin from the grill and let it rest for 10 minutes. Reset the grill for direct cooking at high temperature so that we can get a sear on the tenderloin. Add the bison back to the grill and cook for 1.5 minutes total. Move it around as needed to char it on all sides!
For more bison recipes, check out Bison Ribeye and Lobster Tails, Bison Tenderloin with Cognac Cream Sauce and BBQ Bison Burger.
Serve Up Your Herb Crusted Bison Tenderloin
Lastly, let the meat rest for a few minutes before proceeding to give the moisture and seasonings time to settle.
FINALLY, it's time to serve! Start by slicing the Herb Crusted Bison Tenderloin so that it's easier to fan across the serving platter. I used a spoon to spread the spicy beer mustard across the bottom of the cutting board because I wanted to use this as a board sauce. Not only is this a fun presentation of the dish, but you also get some of that delicious sauce in each bite!
For more delicious recipes, check out my cookbook Food X Fire!
Needing more spice in your life? My spice line can help with that. Check them out here.
Herb Crusted Bison Tenderloin
Herb Crusted Bison Tenderloin for a delicious tenderloin switch up!
Ingredients
Bison:
1

Bison Tenderloin

trimmed & trussed

1

tbsp

Canola Oil
Seasoning:
2

tsp

Kosher Salt

1

tsp

Black Pepper

1

tsp

Garlic

Minced

1

tsp

Rosemary

Chopped

1

tsp

Thyme

Chopped

½

tsp

Red Chili Flakes
Spicy Beer Mustard:
¼

cup

Dried Mustard Seeds

12

oz

Beer

preferably lager or pilsner

1.5

tbsp

Garlic Paste

1

tbsp

Apple Cider Vinegar

1

tbsp

Soy Sauce

1

tbsp

Prepared Horseradish
Instructions
Begin the night before by adding your dried mustard seeds to a jar along with the beer. Let them sit in the fridge overnight to absorb the beer. The next day, pull them out and add them to a food processor along with all the other ingredients for the Spicy Beer Mustard. Blend until smooth. Add more soy sauce if you'd like it thinner. Once done, place the mustard in a bowl in the fridge for later.

Next, make sure your bison tenderloin is trimmed & cleaned of any silver skin. Truss the tenderloin with butcher twine by tying it tight every 1.5". Add all the ingredients for the seasoning to a bowl along with the canola oil and mix until a paste. Lather the bison thoroughly with the paste, then place the tenderloin in the fridge for 40 minutes to quickly brine.

Preheat your grill to an indirect two zone cooking at medium high heat (around 350F).

After brining, pull the tenderloin out and let sit for 5 minutes. Add to the cooler side of the grill and let cook until it reaches 120F internal (around 35-50 minutes). Once it hits temperature, pull out and let it rest for 10 minutes. Reset your grill for direct cooking at high temp (around 400F). Once rested add the bison to the grill to cook for 1.5 minutes total in order to char all sides of the bison. Once done, pull it off and set aside.

Slice your tenderloin up, serve with the Spicy Beer Mustard and enjoy!
Nutrition
Serving:
0.25
Bison Tenderloin
|
Calories:
523
kcal
|
Carbohydrates:
9
g
|
Protein:
77
g
|
Fat:
16
g
|
Saturated Fat:
4
g
|
Polyunsaturated Fat:
3
g
|
Monounsaturated Fat:
8
g
|
Trans Fat:
1
g
|
Cholesterol:
241
mg
|
Sodium:
1614
mg
|
Potassium:
1302
mg
|
Fiber:
2
g
|
Sugar:
1
g
|
Vitamin A:
116
IU
|
Vitamin C:
4
mg
|
Calcium:
70
mg
|
Iron:
12
mg