How about a little surfin' and some serious turfin'?! We're coming at you today with a Bison Ribeye and Lobster Tails Recipe. This bone in, bison ribeye was incredible! I broke out the mortar and pestle to grind and smoothing a simple seasoning for the ribeye. Then I topped both the lobster and bison ribeye in a herb butter sauce. I hope y'all never get tired of herb butter… because I don't think I ever will. Let's chit chat a bit more about this delicious recipe.
Bison Ribeye Kinda Guy
Don't get me wrong, I love beef. Y'all know I love beef. Every other recipe I cook is a beef recipe it seems. However, hear me when I say that I believe bison is extremely underrated, especially in the states. My wife and I traveled to Jackson Hole, Wyoming some time ago and rediscovered our love for bison. It's actually pretty similar to beef, and can be treated the same as beef in most recipes. It differs from beef in the way that it actually has a lower fat content, making it a lean and tender option for those interested.
For this bison ribeye, I started by hand grinding a variety of spices together and covering the ribeye in my seasoning. More recently, I've been enjoying grinding some of my coarse seasoning into a more granular mixture. I've been testing a lot of new flavor combinations, textures and flavor profiles. Personally, I think I've come up with some fun new ideas that I'll hopefully be able to share in more detail soon (wink, wink).
Anyway, season up that bison ribeye. Then, grab the lobster tails. We'll cut those in half lengthwise. Then lather the lobster meat in a bit of oil and season it as well. Now come our favorite part, the part with fire.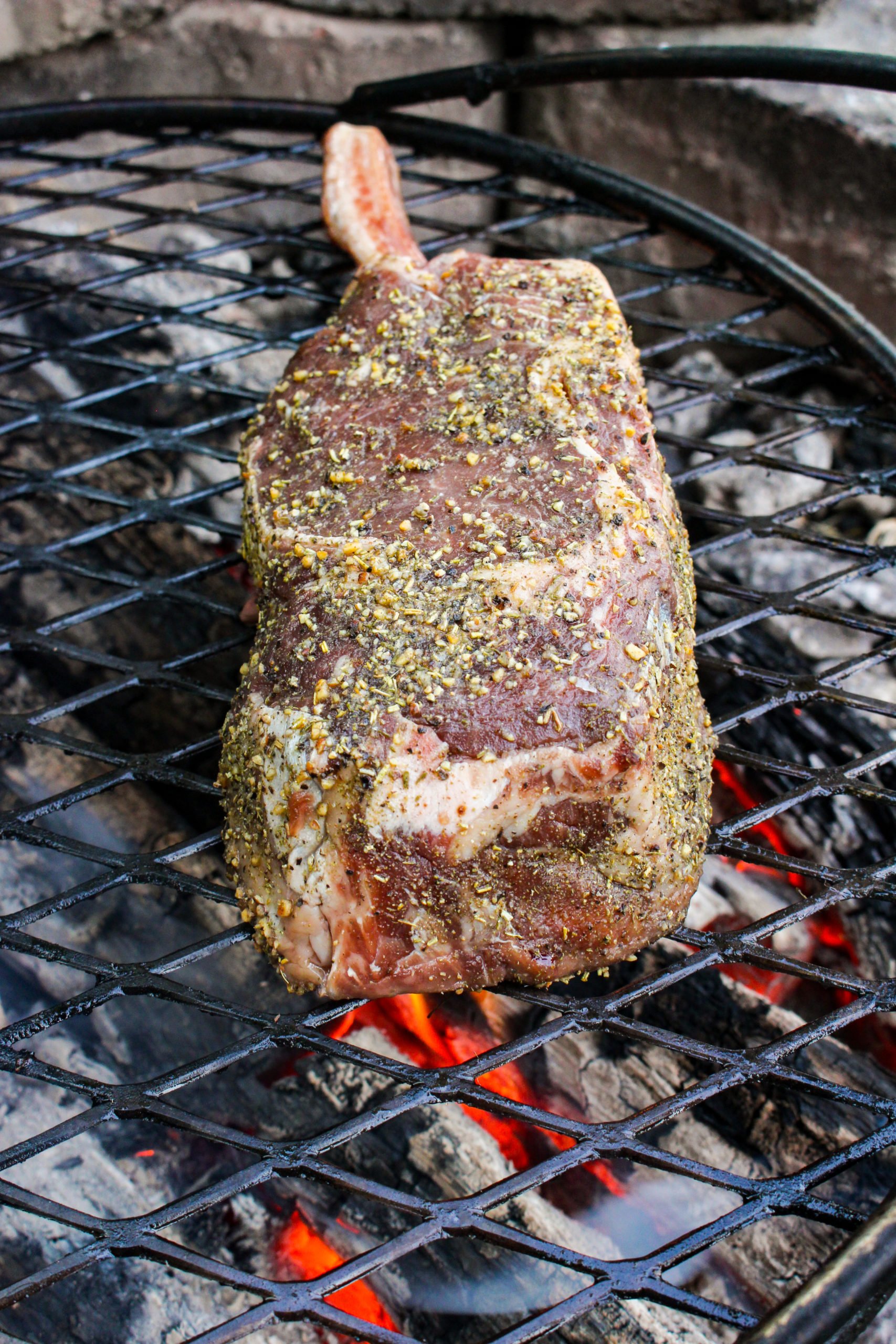 Bison and Lobster Tails Surfing Flames
Back at my original fire pit, I pulled out my Outpost and got the grill grate set up. The bison ribeye will take the longest to cook, so I placed it on the grill first. Then, for love of fun and flavor, I placed two halves of a lemon face down on the grill. Shortly after placing the bison ribeye down, I added a handful of asparagus. I know, a vegetable. They don't make an appearance on my page often, but when they do I make sure they're delicious. We'll squeeze some of the charred lemon juice on them after they've been fire roasted. They're pretty good!
Up next will be the herb butter. I added my cast iron sauce bowl onto the grill grate to preheat. Then toss in the butter and all the herbs and spices. Let them melt together, making sure to stir occasionally. Lastly, add the lobsters to the grill. I first placed the lobsters meat side down. These will cook fast, so stay close by to flip them when they're ready.
For more delicious recipes, check out my cookbook Food X Fire!
Bison Ribeye and Lobster Tails For Dinner
I used a spoon to spread the melted herb butter across the lobsters once I had flipped them. Then I spread some across the bison ribeye too. Lastly, remove all items from the grill and let the bison ribeye rest for a bit. Then, cut the bone away and slice up that ribeye! Time to dig in. Best enjoyed with friends and family. Cheers!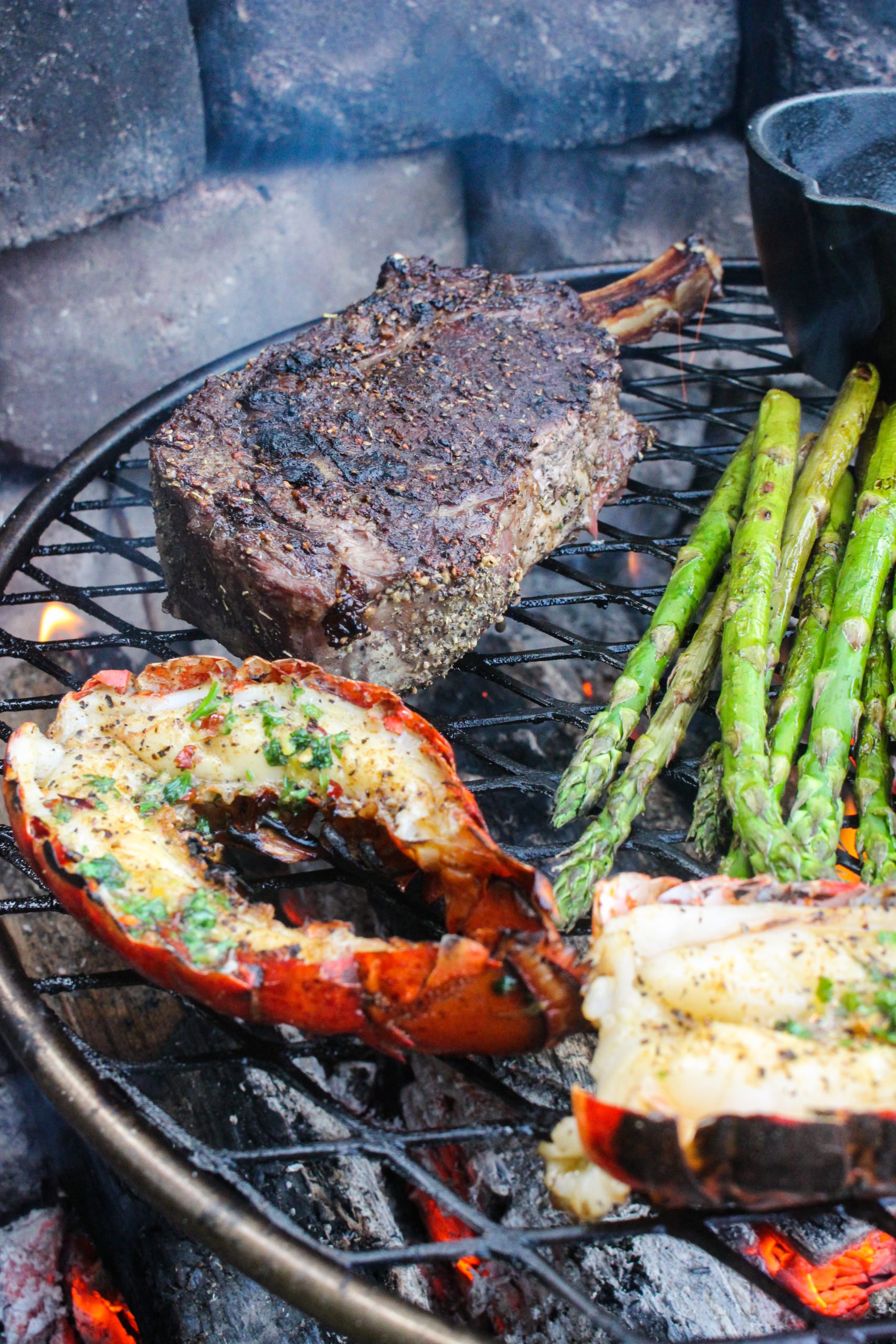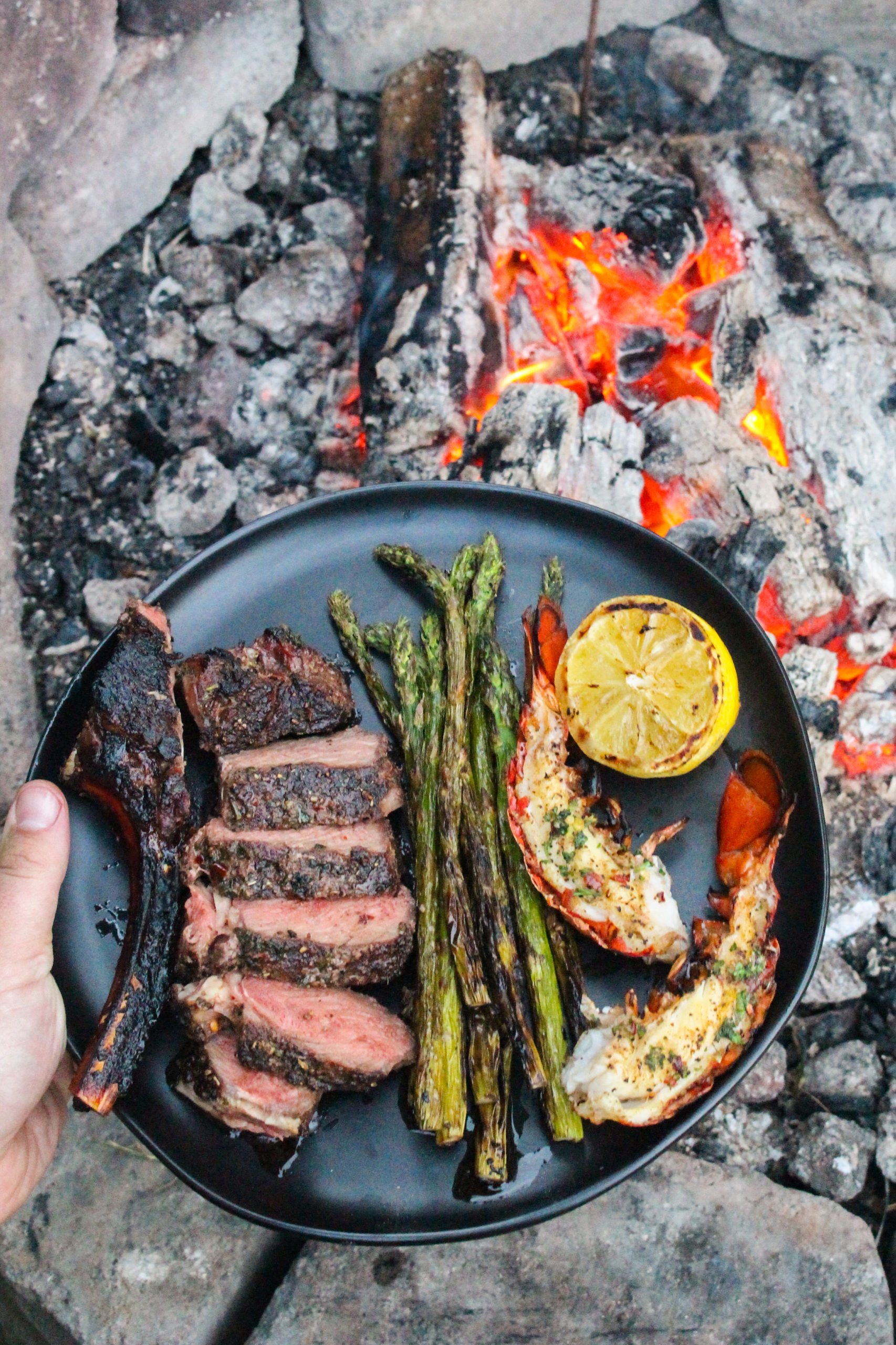 Bison Ribeye and Lobster Tails
How about a little surfin' and some serious turfin'?! We're coming at you today with a Bison Ribeye and Lobster Tails Recipe.
Ingredients
Bison:
2-3

Bison Ribeyes

Asparagus

as a side

Charred Lemon

for garnish
Seasoning:
1.5

tsp

of Black Peppercorn

1.5

tsp

of Sea Salt

1

tsp

of Dried Minced Garlic

1

tsp

of Dried Rosemary

1/2

tsp

of Dried Thyme
Lobster Tails:
2

Lobster Tails

1.5

tsp

of Sea Salt

1

tsp

of Cumin

1

tsp

of Ground Pepper

2

tsp

of Canola Oil
Butter:
3

tbsp

of Butter

1

tbsp

of Parsley

chopped

1

tsp

of Red Chili Flakes

1

tsp

of Dried Oregano

1

tsp

of Kosher Salt

1

tsp

of Black Pepper

1

Lemon

zested & juiced
Instructions
Add the ingredients for the seasoning to a mortar and pestle. Grind to a medium grain grind. Lather your bison ribeye in oil and seasoning thoroughly. Set aside until ready to use.

Split your lobster tails open by slicing down the spine. Lather with oil and season with salt, pepper and cumin. Set aside until ready to use.

Preheat a high heat fire (around 400F) for direct grilling.

Add a basting bowl with all the ingredients for the butter to melt. Add your bison ribeye along with the asparagus to the grill and cook for 4 minutes per side or until it reaches 135F for medium rare. Cook your lobster for 1.5 minutes per side or until they are no longer translucent. Before pulling the bison and lobster off, baste with the butter to create a strong crust. Pull everything off the grill to rest.

Slice your steak and serve. Enjoy!