America has known pastrami since the late 1800's, but it became popular in New York deli's in the 1920's and 1930's. It's a deli meat with a deep red color, cured and smoked with heavy spice from coriander and black pepper. Pastrami has historically been made from curing a number of different cuts of beef, but today we are pushing the limits and applying the same technique and making Pastrami Pork Belly Burnt Ends.
There really is no limit to what you can apply this technique to. Lamb, pork, sausages, even vegetables. The salty, savory flavors you develop during the cure, combined with smoke and heavy flavors from the coriander and black pepper lend itself to a wide variety of different ingredients. I encourage you to give this recipe a try because you may discover what you have been missing!
A Quick Note – Pastrami Pork Belly Burnt Ends
Before we begin though I want to quickly go over some safety precautions. We will be working with curing salts that contain Nitrites. Using the correct product in the correct quantities is critical to be sure you not only properly cure the meat and create a bacteria free environment, but also that you don't use too much which can be very dangerous.
For this recipe we are using Cure #1. Other names are Prague Powder or Instacure #1. Do not use Cure #2 which is used for longer cures over 30 days. You can tell the difference simply by looking at the ingredients. Cure #1 includes 93.75% salt and 6.25% nitrite. Cure #2 will have nitrate as an added ingredient. These are not interchangeable so please be careful.
Let's Begin With the Pork Belly
First we start by curing the pork belly. I'm using about a 5lb slab for this Pastrami Pork Belly Burnt Ends recipe. You will need an air tight, non reactive container, and enough fridge space to hold for 4-5 days. Add all the dry brine ingredients to the water and mix until fully incorporated. Two gallons is the necessary amount of water to use. I used one gallon of hot tap water to help fully incorporate the dry ingredients, then the other gallon as ice water to cool the water down before the meat goes in. Be sure the meat is fully submerged and place in the fridge for 4-5 days.
After 4-5 days of brining, it's time to start cooking. Start by firing up your smoker and bring the temp up to 250°F. While your smoker is warming up, begin making the rub. Toast the whole coriander seeds and the black peppercorns in a 275° oven for about 15 minutes. This helps the natural flavors intensify and create a more robust flavor profile. Add the toasted ingredients into a mortar and pestle and crush until all seeds are broken up into a coarse texture. Add the remaining ingredients and stir thoroughly.
For more with pork belly, check out my Fried Pork Belly Tacos, Crispy Korean Pork Belly Sandwiches and Smoked BBQ Pork Belly Recipe.
Pork Belly Turned Pastrami
Time to prep the pork. Remove the pork belly from the brine and rinse well under cold water to help remove the surface salts and any of the brine ingredients off of the pork. Pat dry with paper towels and place on a cutting board. I suggest cutting these into about 1.5" x 1.5" cubes. This is the ideal size to help render the fat and not overcook the meat.
Place the cubed belly into a bowl and use a squirt or two of yellow mustard to act as a binder to help the rub stick to the meat. Add the entirety of the rub mixture and mix thoroughly until you have a nice even coating of the rub on all sides of each cube of pork.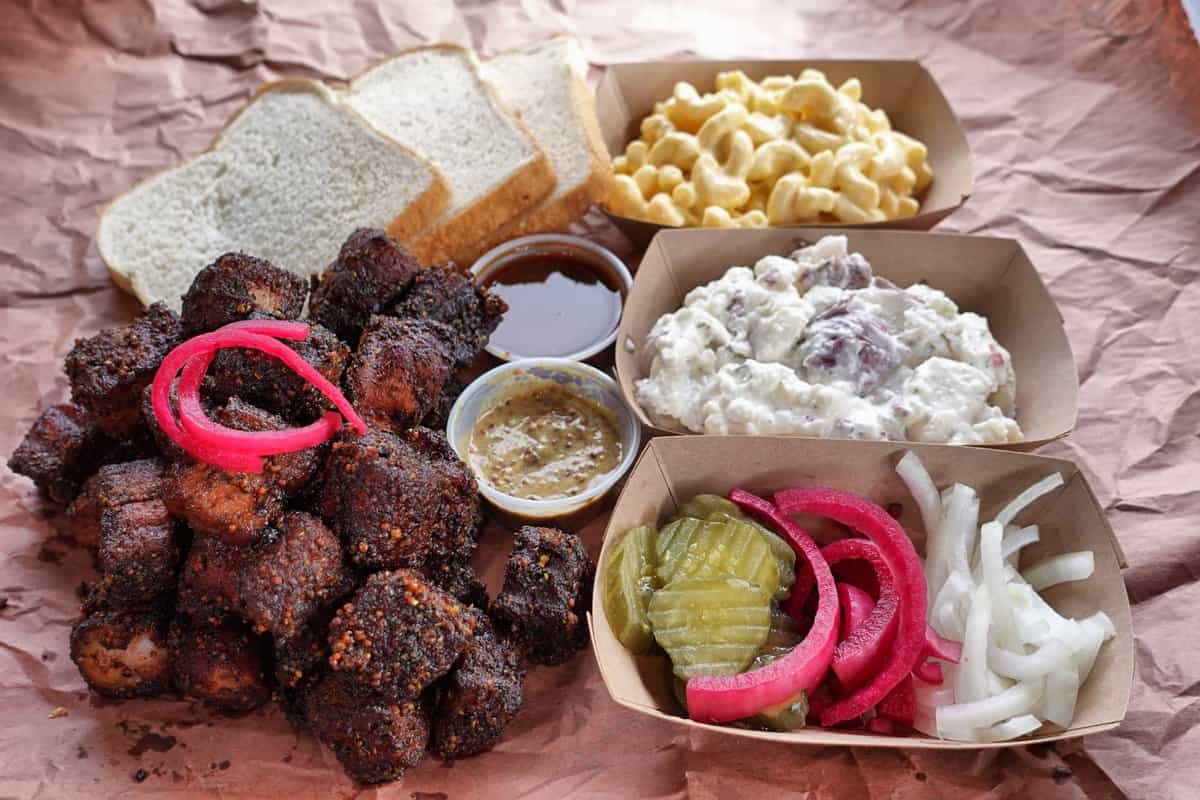 Place the Pork belly on the smoker so that you have a little bit of room in between each piece to allow that wonderful smoke to really build up flavor in each bite. You'll want to run the smoker at 250° through the entire cook. Once the rub has set on the meat and doesn't easily rub off when you touch it, it's time to spritz. I am using a dark porter beer as my spritz for this but you can use whatever you like. Lightly spritz the meat every 30 minutes or so for the remainder of the cook.
For more burnt ends variations, check out my Smoked Salmon Burnt Ends, Poor Man's Burnt Ends and Honey Garlic Pork Belly Burnt Ends.
Final Steps for Pastrami Pork Belly Burnt Ends
After about 4 hours on the smoker, it's time to wrap the pork belly. We'll wrap the pork belly because it helps to steam and more gently cook the meat to its finished temp of about 205°. Place all of the burnt end pieces into a disposable foil pan, cover with tin foil, pour about ¼ cup dark beer into the pan and put back on the smoker for about another hour to finish cooking.
After about an hour, remove the tin foil cover. Then, add the whole grain and dijon mustard to the bottom of the pan and mix thoroughly with the pork. Place this back on the smoker for about 20 minutes uncovered to help set the sauce.
All that's left to do now is let them rest for about 20 minutes and dig in. I suggest serving this with a coarse grain mustard as a dipping sauce.
For more delicious recipes, check out my second cookbook Flavor X Fire or my first cookbook Food X Fire!
Needing more spice in your life? My spice line can help with that. Check them out here.
Full Length Recipe Video on Facebook!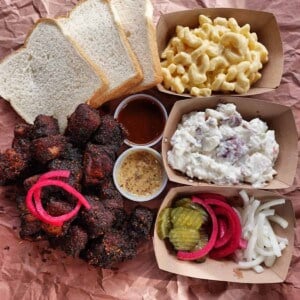 Pastrami Pork Belly Burnt Ends
Pastrami Pork Belly Burnt Ends for a delicious snack or all out dinner.
Ingredients
5

lbs

skin off pork belly

Yellow mustard

1

bottle dark beer

1 ½

Tbsp

whole grain german style mustard

1 ½

Tbsp

dijon mustard
Pastrami Brine
2 ½

TBSP

Pink Cure #1

1

cup

kosher salt

½

cup

white sugar

4

TBSP

pickling seasoning

2

gallons

water
Pastrami Rub
4

Tbsp

whole black peppercorns

toasted

2

Tbsp

whole coriander seed

toasted

2

Tbsp

ground coriander

2

Tbsp

white sugar

2

tsp

mustard powder

4

tsp

granulated garlic

2

tsp

granulated onion
Instructions
Combine all brine ingredients and 1 gallon of hot water into a large non-reactive container and mix until the salt and sugar has fully dissolved. Add the remaining 1 gallon as ice water to cool the brine before adding the pork belly. Once the water is cold, add the pork belly and fully submerge. Cover and place in the fridge for 4 days.

After 4 days, remove the pork belly from the brine and rinse with cold water to remove the surface salts and any of the pickling seasoning. Pat the belly dry with a paper towel and begin cutting the belly into 1 ½" x 1 ½" cubes, add a squirt or two of yellow mustard, mix thoroughly and set aside.

Preheat your smoker to 250° Toast the whole black peppercorns and whole coriander seed in the oven at 275° for about 15 minutes then use a mortar and pestle to grind up the seeds into a coarse powder. Add the remaining pastrami rub ingredients and use a spoon to mix until fully incorporated. Pour all of the rub onto the pork belly cubes and use your hands to mix until all sides of the cubes have a nice heavy coating of the rub.

Add the pork belly cubes to the smoker leaving at least ½" of space in between each cube to allow for airflow and smoke to hit all sides of each bite. Smoke uncovered for about 3 hours. Add about ¾ of the dark beer to a spray bottle and start to spritz the pork belly at the 3 hour mark. Continue to spritz every 20-30 minutes for one additional hour.

Once you hit about the 4 hour mark, place all of the burnt ends into a disposable tin foil pan, add about ½ cup beer and cover with foil, place back on the smoker for about an hour. Once the hour is up, remove the foil, add the whole grain and dijon mustard to the pan and mix well to coat each piece evenly with the mustard and rendered fat and juice. Back on the smoker uncovered for about 20 minutes.

Remove from the smoker and let rest for at least 15 minutes before digging in. Be sure to share with your friends and enjoy.
Nutrition
Calories:
2497
kcal
|
Carbohydrates:
35
g
|
Protein:
45
g
|
Fat:
242
g
|
Saturated Fat:
88
g
|
Polyunsaturated Fat:
26
g
|
Monounsaturated Fat:
113
g
|
Cholesterol:
327
mg
|
Sodium:
22960
mg
|
Potassium:
1057
mg
|
Fiber:
5
g
|
Sugar:
25
g
|
Vitamin A:
96
IU
|
Vitamin C:
3
mg
|
Calcium:
159
mg
|
Iron:
4
mg