Skillet Choriqueso coming at you today because, let's be honest, we all love to chow down on some melted cheese. This, however, is more than just melted cheese. It's oaxaca cheese with chorizo and beer *cue the Hallelujah chorus*. To top it all off, we're creating our own pico de gallo as a fresh centerpiece for this ooey gooey skillet of deliciousness. Let's dive into this!
Oaxaca Cheese for Our Skillet Choriqueso
You might be wondering, what is oaxaca cheese? Well, I'm here to tell you, you've probably had it before and you definitely loved it.
Oaxaca is a semi-hard cheese that originated in Mexico. It's similar to low moisture mozzarella cheese in texture, but more like monterey jack in flavor. Nonetheless, it's the "go to" cheese for making queso! That is why we'll be using it for this Skillet Choriqueso recipe.
For more recipes with oaxaca cheese, try my Mega Armadillo Egg and Campfire Quesabirria Tacos recipes.
Oaxaca Cheese and Chorizo = Choriqueso
We'll actually start this recipe with the chorizo, but first place a skillet over a hot fire to preheat. Once that's ready to go, add your chorizo to the skillet. I used ground chorizo for this recipe as it's easier to break up as it cooks. This will help us to ensure that we get a nice bit of chorizo along with every chip dipped into this Skillet Choriqueso.
Continue to mix and break up the chorizo as it cooks. Meanwhile, let's make the pico de gallo. For this, simply take all the pico de gallo ingredients and mix them together in a medium sized bowl. Now, set this to the side. We won't need it until after we've melted the cheese.

Back to Our Skillet Choriqueso
After the chorizo has finished cooking, add the oaxaca cheese to the skillet. It's worth mentioning that this cheese is typically sold in a large, disk-like shape. I tore the cheese into smaller bits before placing it in the skillet so that it would melt faster and more evenly.
Okay, dump all the oaxaca cheese into the skillet and standby to stir as needed. You'll want to continue stirring throughout the process as this could burn quickly if left unattended. Nobody likes burnt cheese. However, I will say the excess fat melting off the chorizo will help prevent the cheese from sticking to the bottom of the skillet, so there's your silver lining for the day.
Need another delicious, appetizer style dish? Try out my Loaded Buffalo Chicken Kettle Chips recipe!
Let's Eat!
Now, let the Skillet Choriqueso bubble and melt together. Serving is easy from here! Once it's reached a consistency of your liking, add the pico de gallo to the center of the skillet and serve! Best enjoyed with fresh, salty chips… and your friends and family. Cheers everyone!
For more delicious recipes, check out my cookbook Food X Fire!
Needing more spice in your life? My spice line can help with that. Check them out here.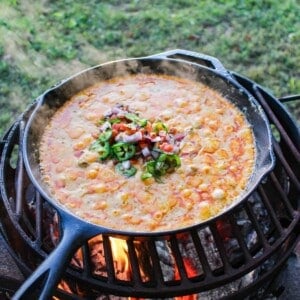 Skillet Choriqueso
Skillet Choriqueso is quick, simple but extremely delicious! Enjoy!
Ingredients
Queso:
1

lbs

of Ground Chorizo

10

oz

of Oaxaca Cheese

shredded

6

oz

of Dark Mexican Beer
Pico de Gallo:
2

Roma Tomatoes

diced

2.5

tbsp

of Red Onions

diced

1

whole Jalapeno

thinly sliced

1.5

tbsp

of Cilantro

chopped

1

tsp

of Coarse Sea Salt

3

medium Limes

juiced
Instructions
Before cooking, add all the ingredients for the pico de gallo to a bowl and mix thoroughly. Place in the fridge to set for 1-2 hours.

Preheat your fire for high heat direct grilling (around 400F). Preheat a cast iron skillet 1 minute before cooking

Add your chorizo to the skillet, break apart and cook fully (about 5-7 minutes). Once cooked, deglaze the skillet with dark beer and scrape the bottom of the skillet with a spatula to loosen any stuck chorizo. Next, pull apart your oaxaca cheese and add to the skillet. Let melt while stirring continuously. Once the cheese is fully melted and becomes gooey, top the queso with the pico del gallo and pull off the heat.

Serve the queso with tortilla chips or warmed tortillas. Enjoy!