A childhood classic, the peanut butter and jelly sandwich is a timeless dish. Is it simple? Yes. Is it a go to for any packed lunch? Yes. Are the ingredients always around even when the fridge and pantry don't seem to have anything else to eat? Yes. Do we still secretly love this sandwich as adults? YES! Hopefully, you're on the same page with me. But if not, stick around because these Smoked Peanut Butter and Jelly Wings recipe turned out even better than I expected!
How the Smoked Peanut Butter and Jelly Wings Recipe was Born
As discussed, everyone loves a good peanut butter and jelly sandwich. I'd also like to think that chicken wings have found their way into the classic "finger foods" category. It's hard to imagine what bar food and tailgates would be like without the chicken wing. There are even entire restaurants dedicated to this single protein. Although, it's hard to blame them for it. The wonderful thing about a chicken wing is how versatile it is. You can make them mild, medium or hot. You can also lather them in barbecue sauce, buffalo sauce, ginger, garlic, jalapenos or really anything else you can think of.
The smoked peanut butter and jelly wings recipe came out of the idea of marrying these two tasty dishes. In fairness, I did add more than just peanut butter and raspberry jalapeno jelly to spice these wings up a bit. It all started with Spiceology's Honey Habanero seasoning. This is one of my favorite seasonings and provides the perfect balance of heat and sweetness. In a large bowl, I covered the wings in the seasoning and hand mixed them to ensure full seasoning coverage. Then I dumped the wings out on the smoker and lined them up to make sure they all cooked evenly. Lastly I closed up the smoker and let the wings cook for about an hour.
Check out my Spiceology Seasonings Here!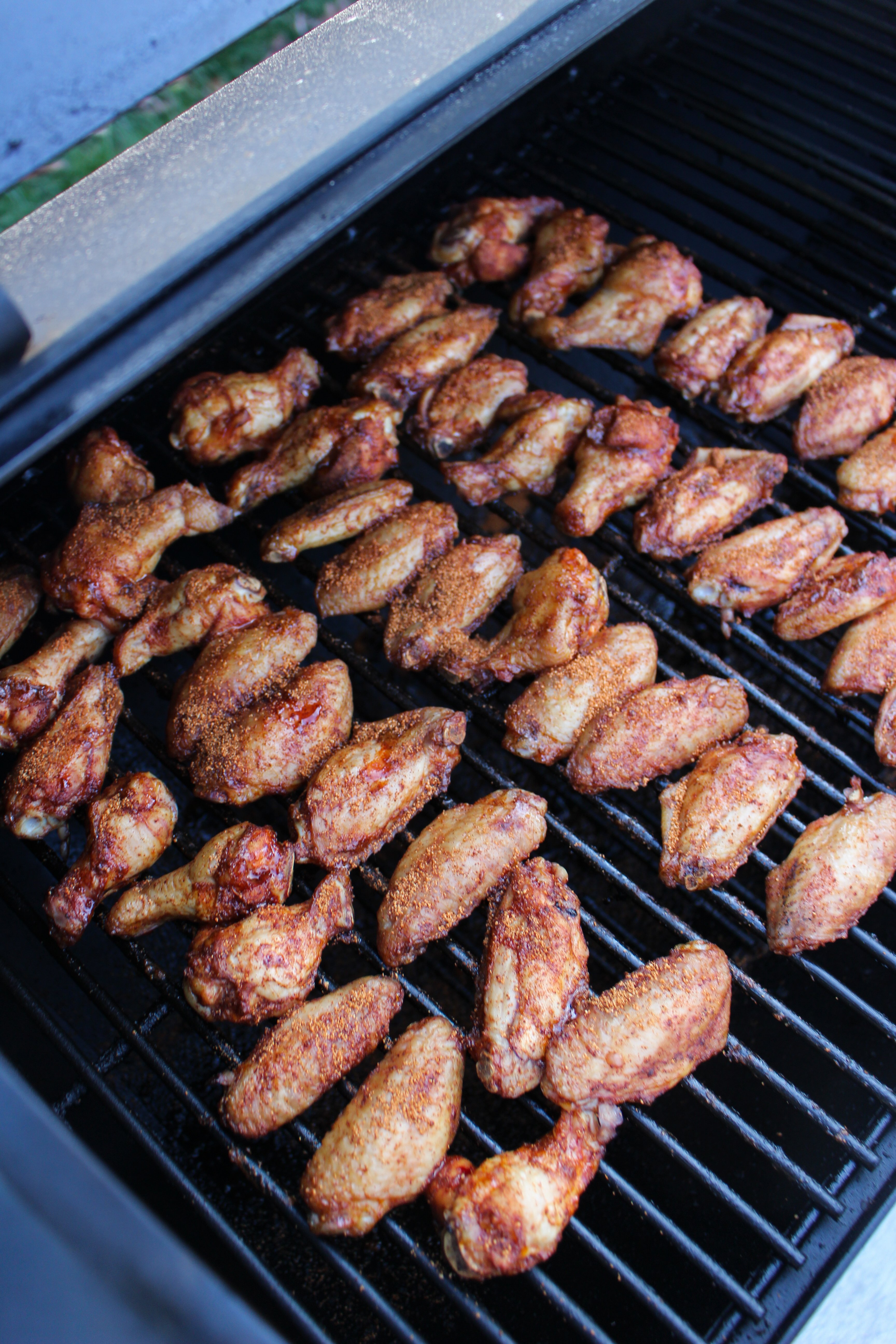 Fry'em Up
Listen up, I'm about to share one of my grill master secrets. Have you ever used the coal basket as additional cooking space? If not, it's time to add this skill to your tool belt. Our Oklahoma Joe grill comes with two small grill grates that can be inserted over the coals in the coal basket. This makes it easy to get a good sear for any reverse sear cooking, and in our case is perfect for getting a quick fry on these wings.
Once our wings were done cooking, we filled a cast iron skillet about halfway full with peanut oil. Then, when the oil was nice and hot we carefully transitioned each wing into the oil and let them fry for a couple of minutes. The whole point of a quick fry on these wings is to create a crisp outside while maintaining the juicy goodness on the inside. This is exactly what we wanted for our smoked peanut butter and jelly wings, so we completed this process before adding our secret sauce.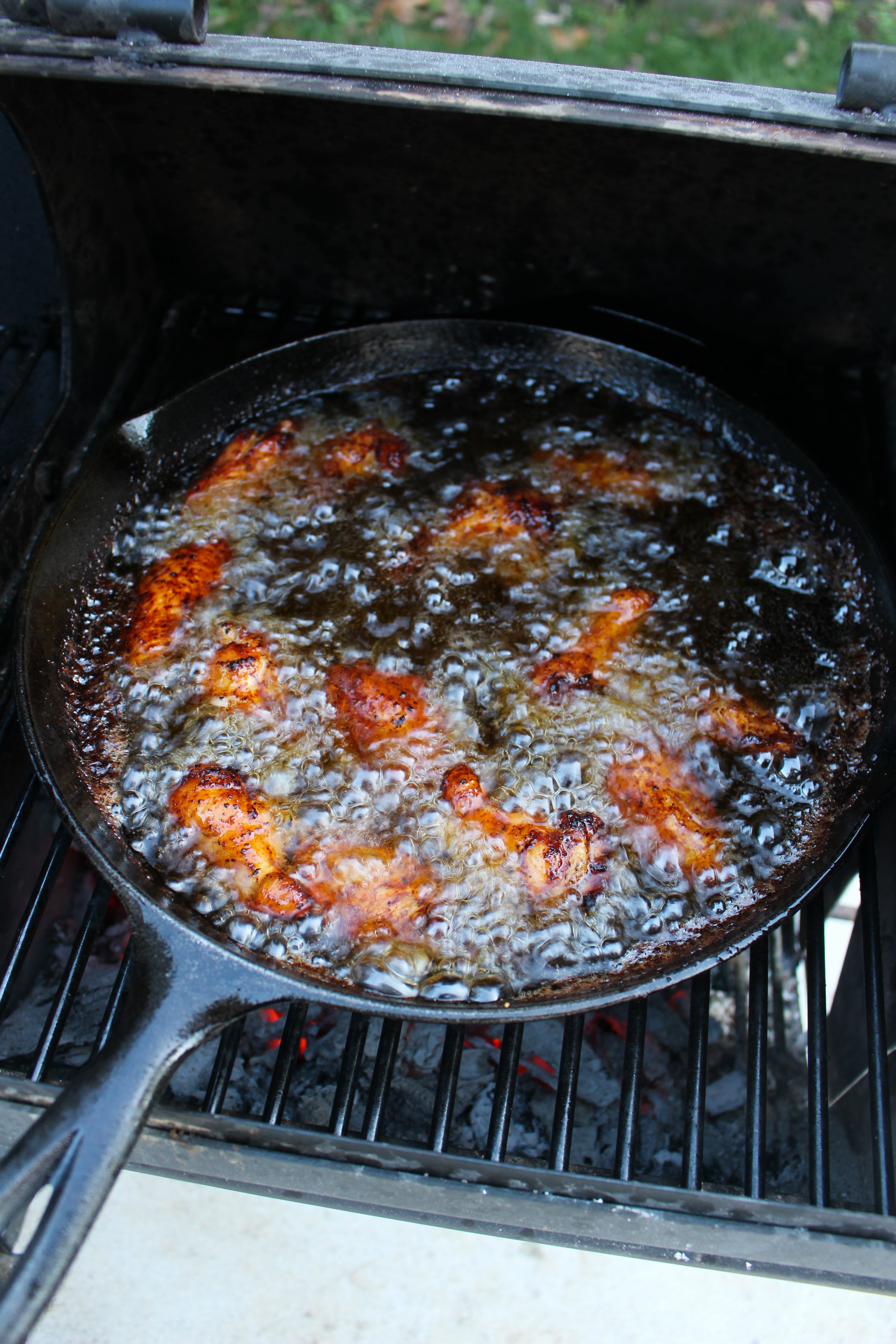 Yes, There is a Secret Sauce for these Smoked Peanut Butter and Jelly Wings!
Okay, it's not really a secret because I'm about to literally spell it all out for you. This sauce is what sets my chicken wings apart and corroborates their peanut butter and jelly title. Again, in a clean cast iron skillet over the grill grate in the coal basket I mixed our sauce together. It consists of butter, garlic, smooth peanut butter, raspberry jalapeno jelly, soy sauce, Thai chili paste and honey. Remove the skillet from the heat once all the ingredients are combined.
The final step for these smoked peanut butter and jelly wings are covering our fried wings with the peanut butter and jelly sauce. To do this, I placed all my wings in a large bowl and poured the sauce over the top of them. After a couple seconds of tossing, the wings were coating in a glorious layer of our sauce. Finally, it's time to plate these guys up. I garnished with some chopped peanuts and chopped scallions. Best enjoyed around the fire with friends and family! Cheers!
Have you pre-ordered my new cookbook, Food X Fire?
Smoked Peanut Butter and Jelly Wings
When sandwich meets wing, this Smoked Peanut Butter and Jelly Wings Recipe is the perfect marriage between two of our favorite foods.
Ingredients
Wings:
16-24

Chicken Wings

2

tbsp

Honey Habanero Seasoning

or your favorite BBQ Seasoning

1

qt

Peanut Oil
Peanut Butter & Jelly Sauce:
3

tbsp

Smooth Peanut Butter

2

tbsp

Raspberry Jalapeño Jelly

or any Jelly

1.5

tbsp

Thai Chili Sauce

1.5

tbsp

Soy Sauce

1

tbsp

Butter

unsalted

1

tbsp

Honey

3

Garlic Cloves

minced
Garnish:
1

tbsp

Chopped Peanuts

for garnish

1

tbsp

Chopped Scallions

for garnish
Instructions
Cooking Instructions:
Preheat your smoker for indirect cooking around 275F. Add some wood chips or chunks for additional smoke flavor if desired.

In a large bowl, season your chicken wings with your BBQ seasoning. Add your wings to the smoker and cook until they are 165F (around 1-1.5 hours).

While the wings are finishing, add a cast iron skillet or dutch oven over a high heat fire (around 400F). Add your peanut oil to the cast iron and preheat until the oil is 350F.

Once the wings have hit 165F internal, carefully add them from the smoker to the hot oil to fry for about 2 minutes. Do this in batches until all the wings are done so that you do not over crowd the oil. When done, pull the wings off and keep warm.

Pull the skillet with oil off the fire carefully, and then preheat a smaller skillet over the fire. Melt your butter in the skillet then add the minced garlic to cook for 1 minute. When the garlic is browned, add the rest of the Peanut Butter & Jelly Sauce. Mix thoroughly. Let simmer for 2-3 minutes and then pull off.

Add your wings to a bowl and cover in the sauce. Toss them until they are thoroughly coated. Serve your wings on a platter garnished with chopped peanuts and chopped scallions. Enjoy!
Nutrition
Serving:
4
wings
|
Calories:
2686
kcal
|
Carbohydrates:
16
g
|
Protein:
40
g
|
Fat:
277
g
|
Saturated Fat:
52
g
|
Polyunsaturated Fat:
84
g
|
Monounsaturated Fat:
126
g
|
Trans Fat:
1
g
|
Cholesterol:
156
mg
|
Sodium:
677
mg
|
Potassium:
456
mg
|
Fiber:
2
g
|
Sugar:
11
g
|
Vitamin A:
423
IU
|
Vitamin C:
4
mg
|
Calcium:
42
mg
|
Iron:
3
mg