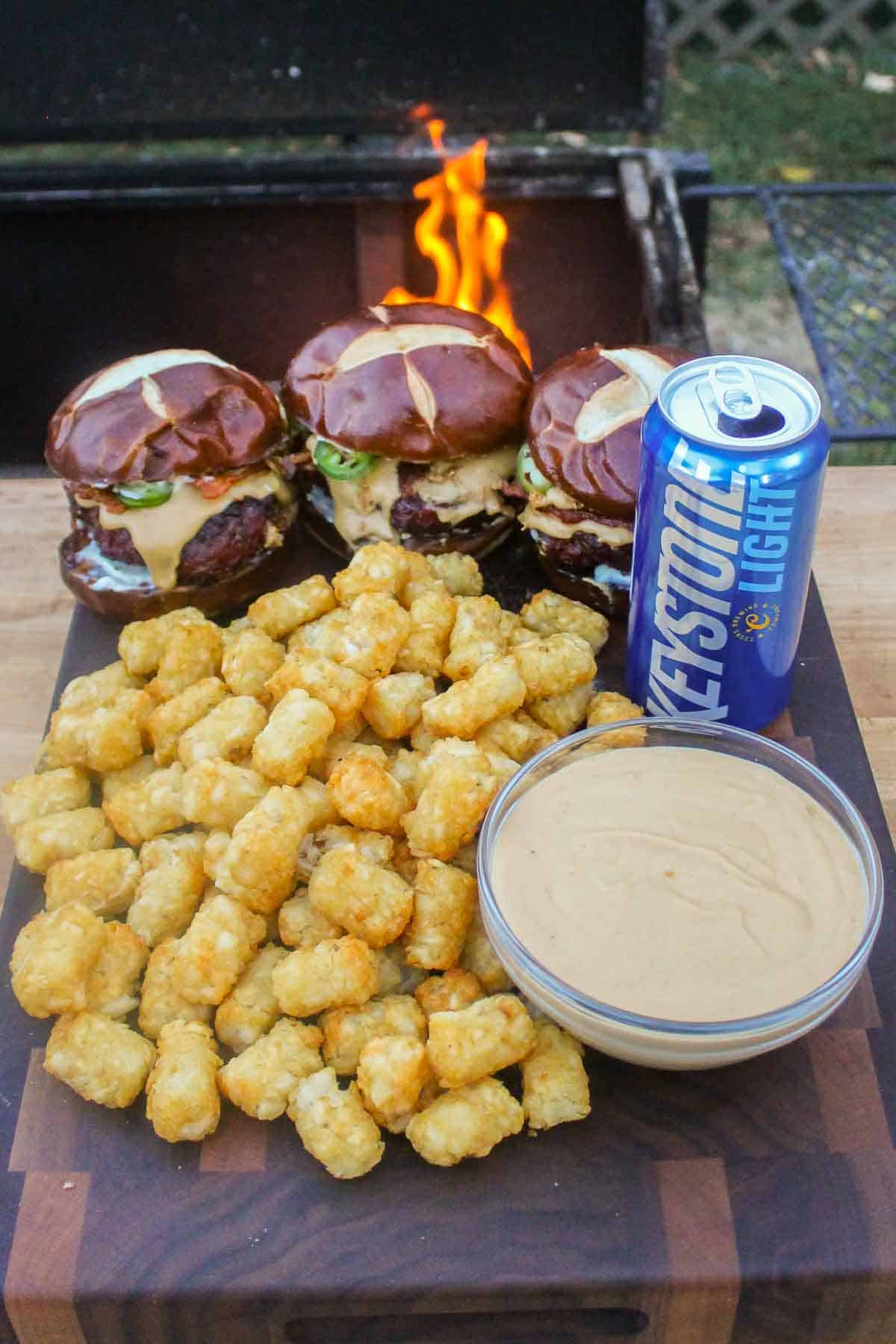 Who doesn't love a good burger recipe for this time of year? Nice Smoked Venison Burger with Beer Cheese by the fire with a cold Keystone Light while wearing that brand new Keystone x Realtree Outdoors Fall Collection!
Post Sponsored by Keystone Light & Realtree Outdoors
Smoked Venison Burgers are the Perfect Recipe for Fall
To kick things off, let's make some crispy bacon. Once that is good, we can clean the skillet and work on the Beer Cheese. Start by making a roux out of butter, seasoning and all purpose flour. When the roux is like a paste consistency, add in that Keystone Light beer and some milk. Mix this all up and then add that mustard and worcestershire sauce. Finish off with freshly grated swiss and cheddar cheese. You want to make sure you use freshly grated cheese because it will break down so much nicer than pre shredded cheese.
When the Beer Cheese is ready to go, it is time to work on the Smoked Venison Burgers!
Love Burgers? Try out Western BBQ Burger, Smoked Birria Burger or our Surf and Turf Butter Burger!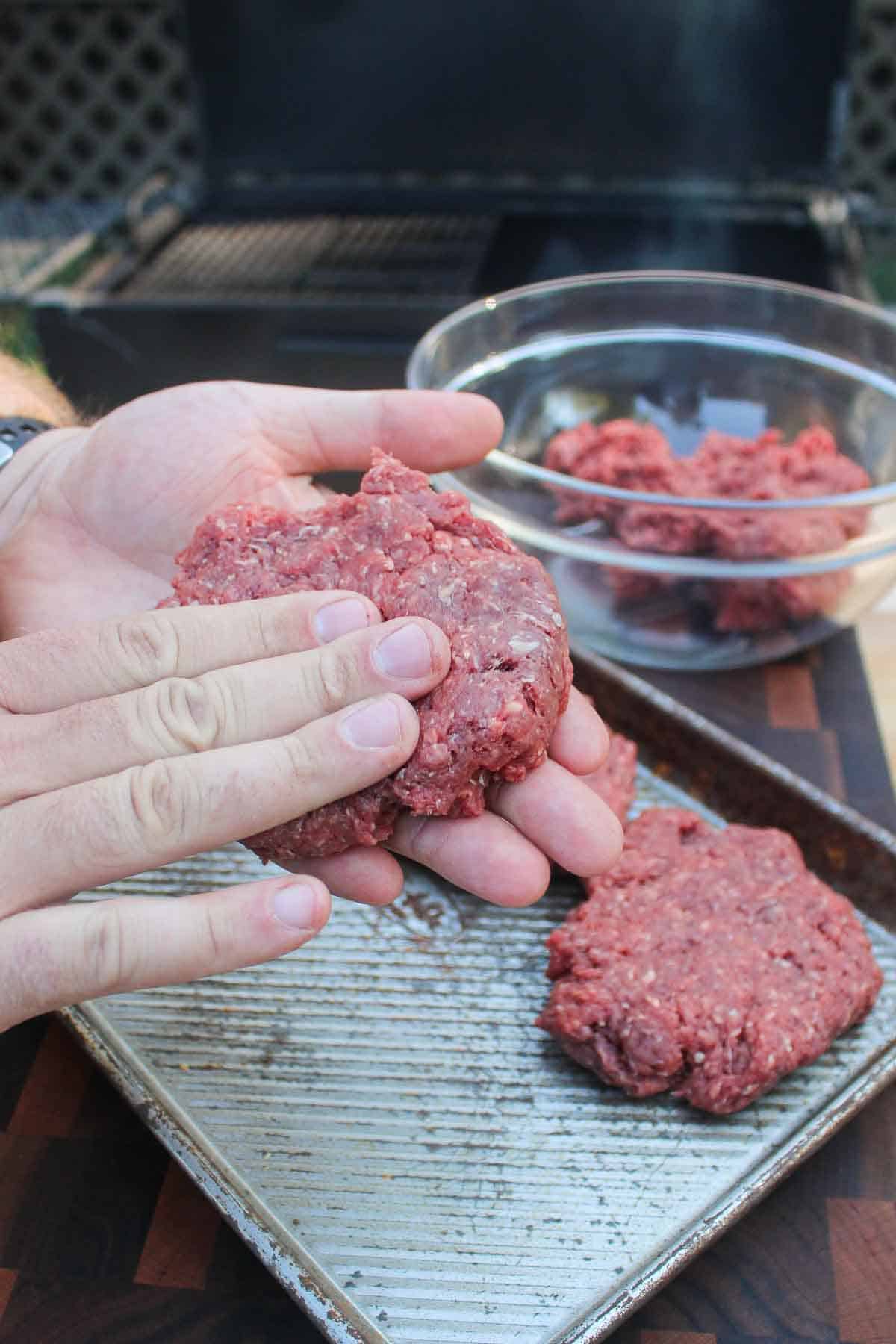 What is Venison?
While a lot of people refer to deer as being venison, that is not the only animal that is a part of that category. Technically, venison can be deer/elk, rabbits, wild boar and even some types of goats. It really refers to wild mammals that are even-toed, hoofed with antlers.
Today, I am using ground whitetail deer from a local hunter. I love the color of venison compared to ground beef because it is distinctively purple-ish with very little fat. Since fat is flavor, we want to be careful not to overcook our burgers!
This is the main reason why I prefer to do Smoked Venison Burgers as we can slowly cook them until they are done to perfection.
Smoked Venison Burgers with Beer Cheese
When it comes to making the Smoked Venison Burgers, we need to form our ground meat into ⅓ lb burger patties. I prefer to make them a little bigger than the normal patties because they will get a little more fat and not dry out as easily. Once formed, make sure to add a little indent into the patties to prevent them from bubbling when cooking! Finally, set the burgers into the fridge for at least 30 minutes so that they set and do not fall apart on the smoker/grill.
When our venison burgers are set, smoke these guys at 275F until they are about 145F internal. I know that a lot of hunters prefer their venison rare. Rare ground beef is unsafe. It is notorious for making people sick when consumed below 160F. Now, I am pulling the burgers at 145F because we will finish them over higher heat to bring them past 160F. After you have seared off your Smoked Venison Burgers, you are ready to start putting everything together!
Looking for more Wild Game recipes? Try our Coffee Crusted Venison Chops, Venison Rack with Wild Herb Butter or our Charred Bison Ribeye.
Time to Eat

Build up your Smoked Venison Burger with that Beer Cheese, bacon, sliced jalapenos, crispy onions and more beer cheese. Make sure to use a pretzel bun and serve with tater tots and what is leftover from the cheese! Finally, go and snag the new Fall Collection from Keystone x Realtree Outdoors now. Perfect setup for this fall. Cheers!
For more delicious recipes, check out my second cookbook Flavor X Fire or my first cookbook Food X Fire!
Needing more spice in your life? My spice line can help with that. Check them out here.
Smoked Venison Burgers with Beer Cheese
Making some delicious Smoked Venison Burger with Beer Cheese for an epic fall meal. Paired with a light beer, its sure to hit the spot.
Ingredients
Venison:
2

lbs

Ground Venison

¼

cup

Favorite BBQ Seasoning

Canola Oil

as needed
Beer Cheese:
1.5

cups

Sharp Cheddar shredded

1.5

cups

Swiss Cheese shredded

¾

cup

Whole Milk

⅔

cup

Keystone Beer

½

cup

All Purpose Flour

2.5

tbsp

Butter

1

tbsp

Dijon Mustard

1

tbsp

Worcestershire Sauce

1

tbsp

Garlic Powder

1.5

tsp

Cayenne Powder
Burger:
12

slices

Thick Cut Bacon

cut in half

2

medium Jalapeños

sliced

½

cup

Mayonnaise

¼

cup

Crispy Onions

Pretzel Buns

toasted

Tater Tots

for serving

Beer Cheese

for serving
Instructions
Preheat your grill for a two-zone indirect cooking method at medium high heat (about 350F).

Form your ground venison into ⅓ lb burger patties making sure to add an intent in the middle preventing the burgers from bubbling. Lather your burger with oil and generously season with your favorite BBQ seasoning. Place the burgers in the fridge for at least 30 minutes to set.

Add a cast iron skillet directly over the high heat from the grill. Cook your bacon in the skillet until nice and crispy, then pull off and let cool. Clean out the skillet and add back to the heat for your beer cheese.

With the skillet back to the grill, keep the temperature around 275F (pull the skillet over to the cooler side in order to achieve this if necessary). Add your butter, flour, garlic powder and cayenne powder to the skillet to melt and mix for 1-2 minutes. Once mixed, slowly add your milk and Keystone Beer in batches to fully integrate them and let the mixture thicken. Once mixed, add your mustard and worcestershire sauce then stir. Finally, add your shredded cheese and keep stirring until fully integrated and smooth. Once the sauce is done, pull it off and keep warm.

Keeping the temperature at 275F, add your burgers to the indirect side of the grill to smoke for about 10-15 minutes until they are about 145F. Once good, add your burgers over the high heat to cook till they are about 160F+ or for about 1.5 minutes per side. When done, pull off and let rest for 5 minutes.

Start building your burger with mayonnaise on the bottom bun, burger patty, some beer cheese, sliced bacon, more beer cheese, sliced jalapenos, crispy onions and top bun. Serve with some tater tots and beer cheese on the side. Enjoy!