Having a great flavor on a steak is one of the main things I look for when I cook over fire. When you have a standard cut of meat like flat iron steak, you will try anything to enhance its flavor. There are tons of ways to achieve this like basting, seasoning, smoking or marinating. Marinating is the act of adding liquids & seasonings on to your steak and letting it sit in the fridge to let them sink deeper into the meat before cooking. You want to get the most flavor possible out of your steak. So you might be surprised by this, but adding Heinz Mayonnaise actually helps when marinating your steak…
What?! Sounds kinda crazy right? When you add a creamy & rich mayonnaise like Heinz to your steak marinade, then you are amping up its savory flavor.
Here is how it works:
Why We Marinate
While some steaks have great flavoring before you even season them, those tend to be the exception and not the standard. For most people, marinating a standard cut of beef is a go-to way for enhancing flavor. When you add the creaminess of mayonnaise into your marinade, then you increase that flavor profile on the steak instantly.
Why Mayonnaise
Mayonnaise & steak are not commonly thought of as a pair. But adding mayonnaise to grilling is not a new idea. We add mayonnaise to our chicken, pork & lamb for kebabs, bbq sauces & more. Its added to make bread and sandwiches more creamy & delicious. We like the rich flavor of mayonnaise on a lot of food that we eat, so why not add it to steak?
When We Add Heinz Mayonnaise to Steak
Adding Heinz Mayonnaise to your steak marinade allows that rich flavor that you love to seep into the meat. Adding spices & liquids like in my recipe below, helps to have the mayonnaise attach to the beef and hold.
The creaminess of the mayonnaise creates a great start for making a crust. Just like adding butter to your steak, adding mayonnaise helps to create a deep crust that many steak fans look for on their beef.
2 Tips for Cooking a Mayonnaise Marinated Steak
One of the first keys for cooking a mayonnaise marinated steak is to use cast iron. Cast iron will help to control the temperature that you are cooking the steak. Since we want to prevent any steak from burning, using a skillet will give you more control of this meats crust. The second tip is to use a high smoke point oil like avocado or canola oil in the skillet. This will provide an additional barrier between the hot skillet and the meat.
In the end, grab yourself a bottle of Heinz Mayonnaise and try my Mayonnaise Marinated Flat Iron Steak & Eggs recipe below. Marinated in Heinz Mayonnaise, rosemary & garlic for a creamy zesty flavor for your morning breakfast!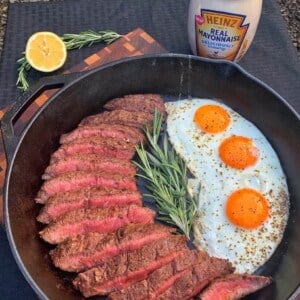 Mayonnaise Marinated Steak and Eggs
The art of making the perfect steak to go with eggs is over. Try my new Mayonnaise Marinated Steak and Eggs recipe for the win!
Equipment
Heinz Mayonnaise, Plastic Bag, Cast Iron Skillet, Grill, and Tongs.
Ingredients
1

Flat Iron Steak

trimmed

1

cup

of Heinz Mayonnaise

4

garlic cloves

chopped

2

tbsps

of Ancho Chile Powder

1

tbsp

of Onion Powder

2

tsp

of Rosemary

chopped

2

tsp

of Cumin

½

Lemon

juiced

Salt & Pepper

to taste

3

eggs

Avocado Oil
Instructions
In a plastic bag, add flat iron steak, Heinz Mayonnaise, garlic, ancho chile powder, onion powder, rosemary, cumin, lemon, salt & pepper. Mix thoroughly then let marinate in fridge for 1 hour.

Use some charcoal to light fire and let burn for 10-15 minutes. Once charcoal is white hot, push into one pile for direct grilling.

Preheat cast iron with avocado oil 2-3 minutes before cooking. Pull out marinated flat iron steak and place in skillet. Let cook for 4-5 minutes per side or until the internal temperature reaches 120F (medium-rare). Pull steak off skillet and let rest for 8-10 minutes. Clean off skillet and cook eggs until they reach desired doneness.

Once steak is done resting, slice into it and serve with eggs.
This article does contain affiliate links to products that we personally use and support. Purchasing an affiliate product does make us a small commission at no cost to you. This helps us continue creating for our website. All words and opinions are our own, and we appreciate your support!