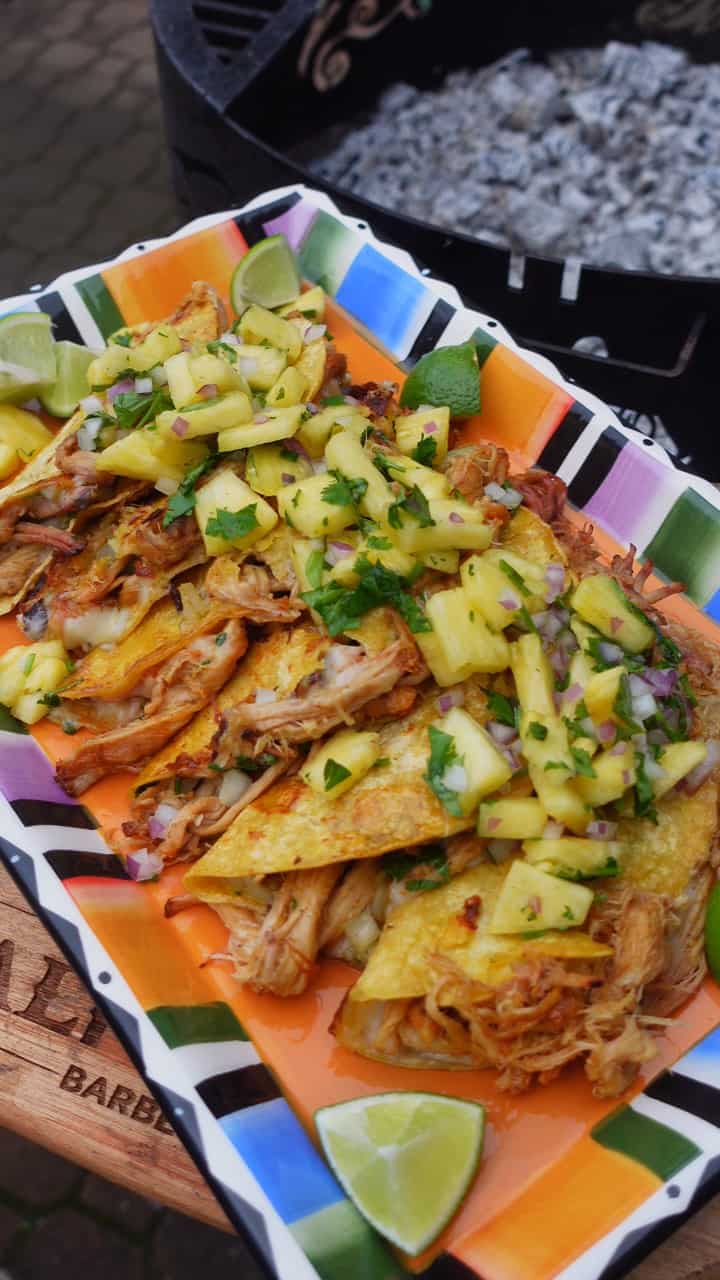 If you are looking for new ideas of things to throw in your smoker, these Al Pastor Pork Belly Tacos are absolutely a must try. Pork belly does not have to be limited to bacon or burnt ends. The fat that encapsulates all of the meat fibers creating extremely juicy and succulent pulled pork. It's relatively fool proof.
Add in the incredible flavor from this al pastor marinade and the fresh pineapple salsa at the end, and your taco game will impress even the toughest critics.
Why Pork Belly
You certainly don't have to use pork belly for this; pork butt or pork sirloin would also work well. However, using pork belly allows you to have more surface area for the marinade to work its magic.
It also allows you to get a good amount of smoke flavor all while keeping the meat moist. It'll stay moist throughout the cook because of the high fat content in the pork belly, which makes for fantastic al pastor tacos.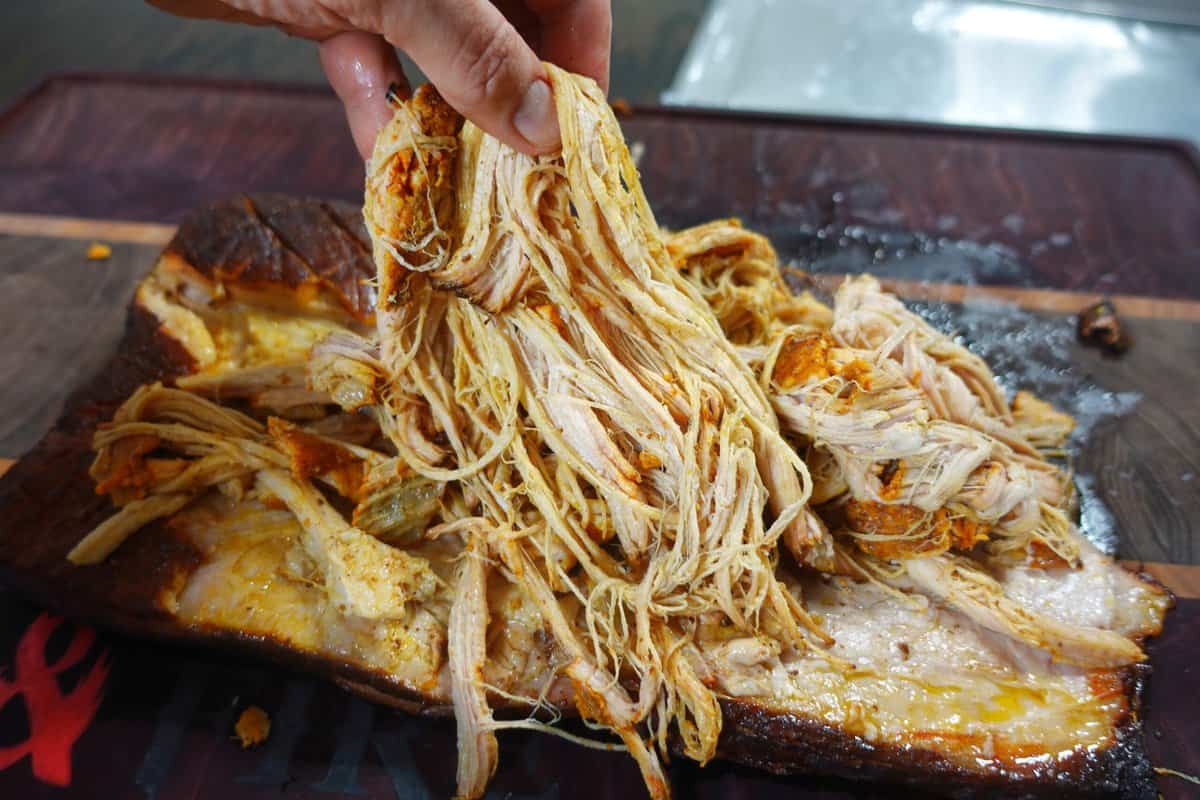 Pork Belly Placement
I cooked this belly fat side up because I'm using an offset smoker and the heat flows across the meat out through the chimney. Because there is some exposed lean meat, I suggest putting the fat cap closest to your heat source.
That would mean fat cap down in most drum and pellet smokers. However, when smoking with the fat cap down, the fat won't be able to protect the meat on top. So I suggest using a spray bottle or mop to apply a little liquid to the top surface after the first 2-3 hours. I think a mix of 1/3 white vinegar 1/3 pineapple juice and 1/3 water sprayed on about every 30 mins would be perfect.
During the first 2-3 hours, there is enough moisture in the meat with the help of the marinade to prevent the meat from drying out. We aren't going for any thing particularly pretty here since it will all be shredded in the end, so I wouldn't worry about spritzing or mopping before the bark has set.
Al Pastor Marinade & Achiote Paste
Let's start with the marinade. This recipe calls for Achiote paste also known as Annatto paste. This isn't always the easiest ingredient to find but it should definitely be available at any of your local Hispanic grocery stores. If not, Amazon has it if you plan ahead.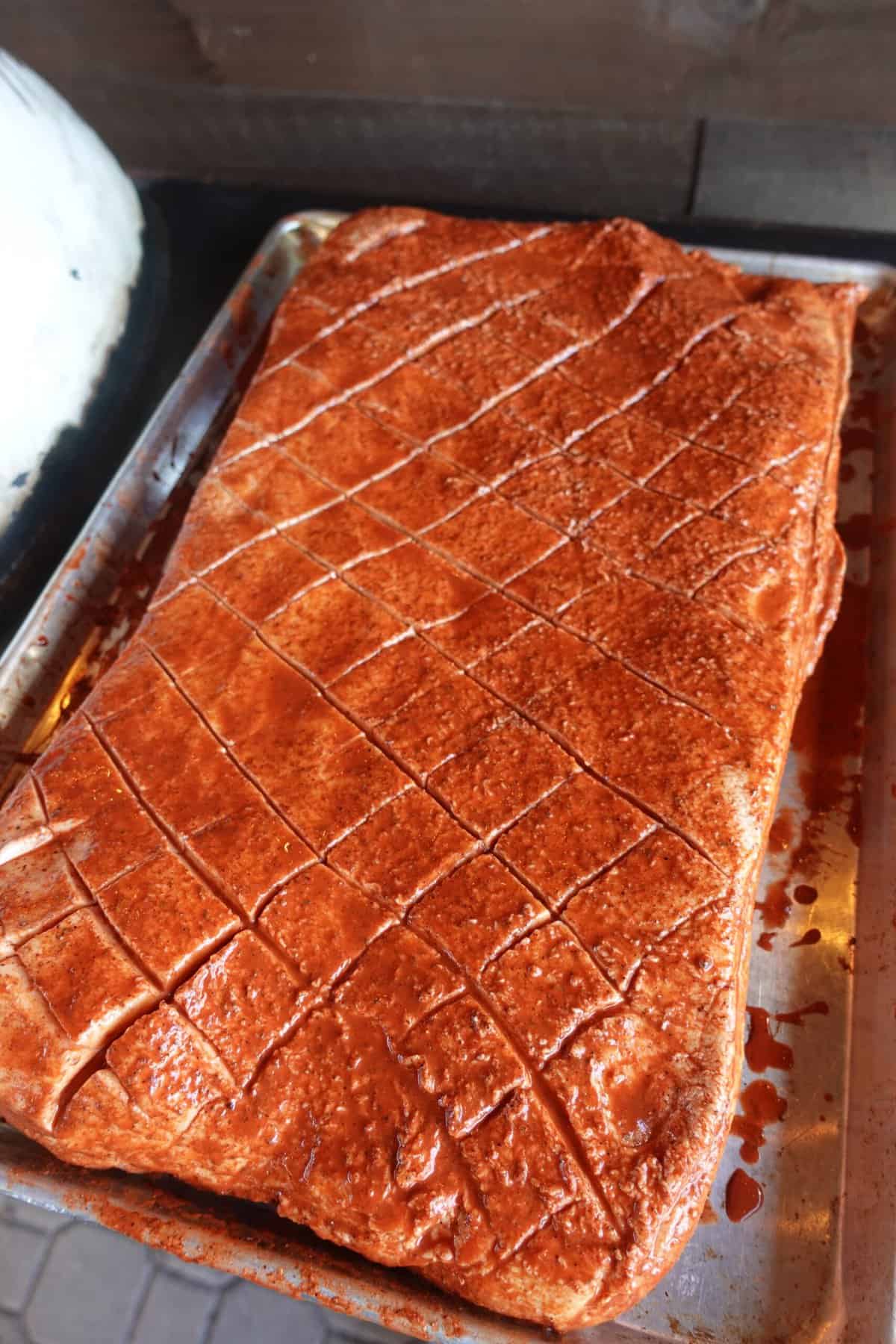 It is a very bright and earthy flavor that is a critical component to this Al Pastor Pork Belly Tacos recipe. So be sure to plan ahead to give yourself possibly a few days to find this ingredient. The paste is fairly dense so you will want to combine all ingredients for the marinade and use an immersion or countertop blender to fully combine everything.
For more with al pastor, check out Salmon Al Pastor Tacos, Skewered Shrimp Al Pastor Recipe and American Lamb Tacos Al Pastor.
Prepping Al Pastor Pork Belly Tacos
To prep the pork belly, cut off any bits of meat or fat that are loose and cut about ¼" into the fat cap in a crosshatch pattern. This will allow more surface area for the marinade and smoke to work their magic. Once you have your marinade ready, find a container large enough to hold the pork belly and let this marinate over night.
Twelve hours is about all you want to let this marinade. Since both pineapple and the vinegar can cause the meat to break down and have a negative effect on the texture.
For other fun pork belly recipes, check out my Teriyaki Pork Belly Burnt Ends, Sriracha Bourbon Pork Belly and Smoked BBQ Pork Belly Recipe.
Smoking Al Pastor Pork Belly
Preheat your smoker to 250 degrees. I highly suggest this temp as it helps render fat better than lower temps and there is a lot to render in a pork belly.
Remove the pork belly from the marinade and wipe off any excess with your hand. No need to be perfect here. Nothing wrong with leaving a little extra on the meat.
No other seasoning is needed at this point. The marinade has done its job and all you need to do is smoke it.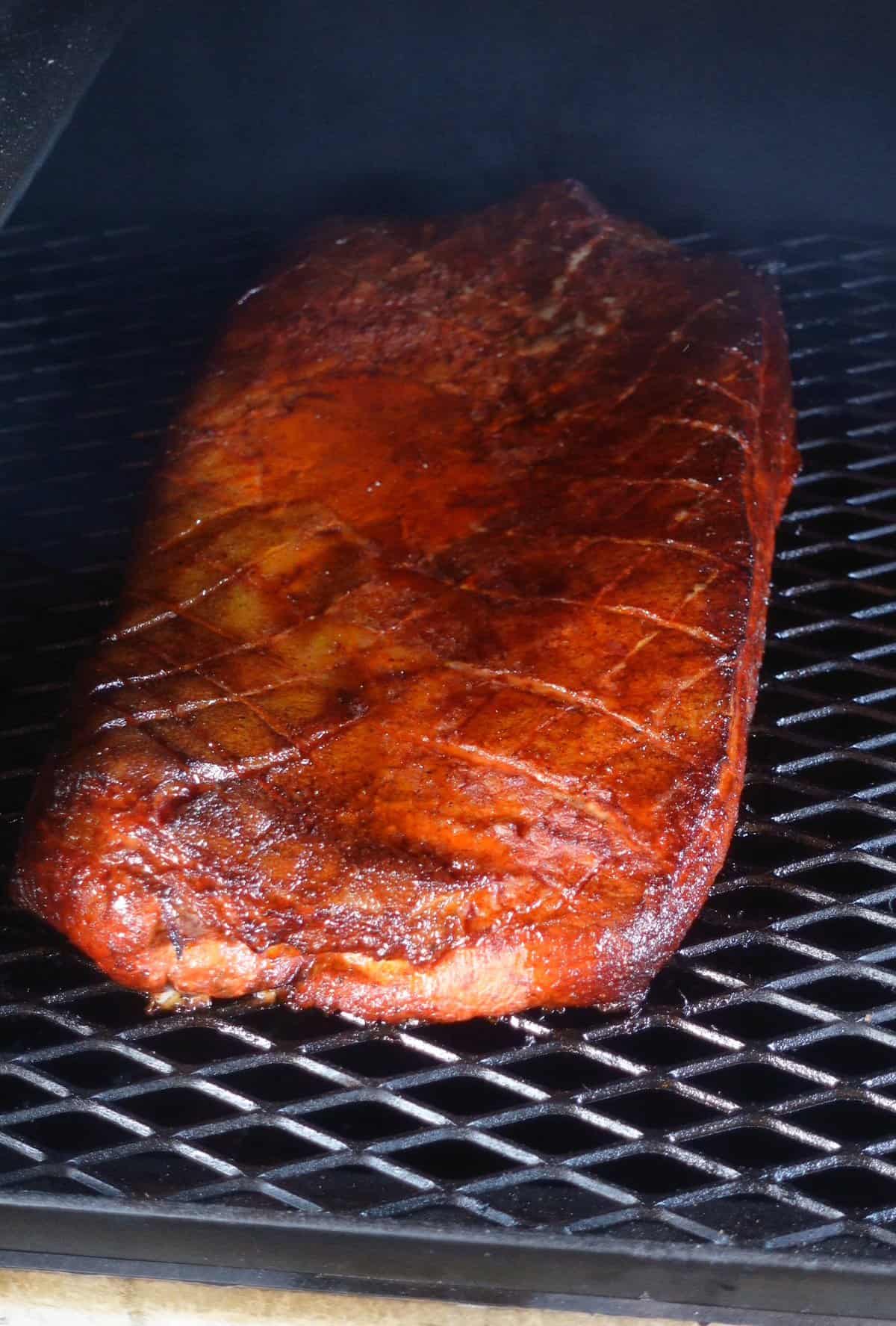 Smoke the belly for 4-5 hours uncovered. If you are cooking fat side up, there is no need to spritz or mop the meat. Refer to the guidelines above if you are cooking fat side down.
After 4-5 hours has elapsed, wrap the entire pork belly tightly in a double layer of tin foil. I highly suggest then putting it in a disposable foil pan. This will ensure that any juice that might escape is reserved for later use, which we will use for these al pastor style tacos.
After you have wrapped the belly tightly with foil, return it to the smoker for another 3-4 hours. We want it to hit an internal temp of 205 degrees when probed in multiple spots.
Resting the Pork Belly
As with all BBQ, the rest after the cook is an absolutely critical step in producing the best results possible. So give yourself plenty of time to allow it to fully cook and rest for at least one hour.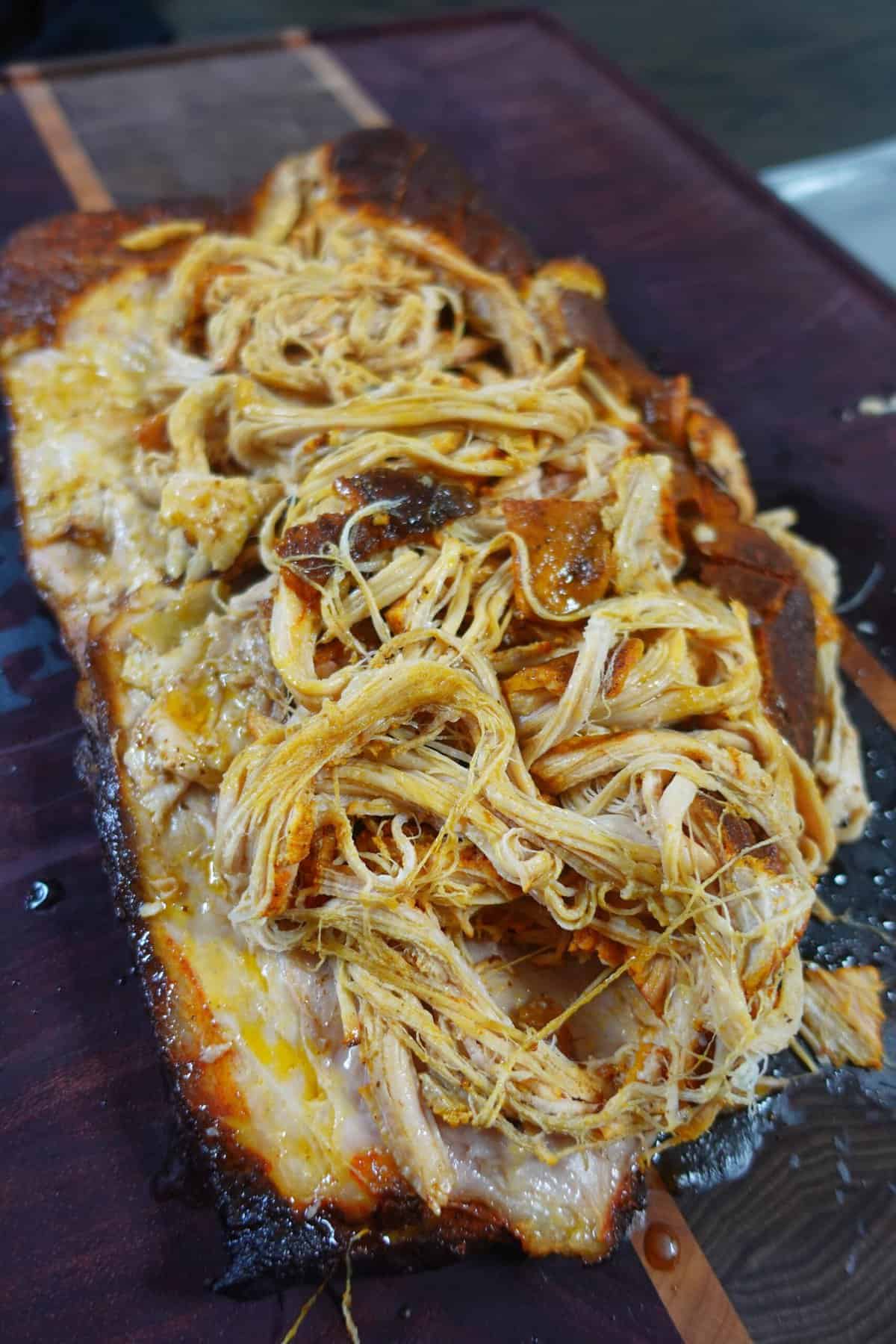 Pull the foil pan out of the smoker after the pork hits the desired internal temp of about 205 degrees. Let it rest on a cooling rack inside your house for about 20 minutes. This allows the cooking process to stop. Then wrap the whole pan in a towel and put it in a cooler for the remaining 40 mins.
You will be surprised at how long larger pieces of meat retain heat. So if you are early for dinner, you can let it continue resting. Just don't let the internal temp of the meat drop below 140 degrees.
Al Pastor Pork Belly Taco Assembly
After the meat has rested, you'll want to have prepared all of the ingredients needed for the tacos. The pineapple salsa can be prepared a day in advance to save time.
Preheat a hot skillet to medium high heat. Then dip each corn tortilla in the reserved juice from the pork belly and lay it down in the pan. Spread about ¼ cup of the shredded queso fresco on each tortilla. Then top the cheese with some freshly pulled pork belly meat and cilantro and diced white onion. Fold each tortilla in half and cook for about 2 mins on each side or until the cheese has melted through. Top with the pineapple salsa and enjoy!
Al Pastor Pork Belly Tacos
Al Pastor Pork Belly Tacos
Ingredients
1

whole skinless pork belly

aprx 10lbs

3

cups

shredded queso fresco

1

medium white onion diced

½

bunch of cilantro chopped

Corn tortillas
Marinade
6

Tbsp

Achiote paste

4

Tbsp

chili powder

2

Tbsp

granulated garlic

1

Tbsp

Mexican dried oregano

2

Tbsp

cumin

2

Tbsp

kosher salt

2

Tbsp

black pepper

1 ½

cup

white vinegar

2

cups

pineapple juice
Pineapple Salsa
1

whole pineapple

core removed, diced into small pieces

¼

bunch cilantro finely chopped

1

jalapeno finely diced

remove the seeds if you want a little less spice

1/8

cup

finely chopped red onion

Juice from 1 small lime

1

pinch

of salt
Instructions
Start by assembling your marinade. Add all marinade ingredients into a blender and pulse until thoroughly combined and set aside. Prep your pork belly by drying off the exterior with paper towels. Remove any loose pieces of fat or meat with a sharp knife. Use your knife to score the fat cap about ¼" deep in a cross-hatch pattern. Start in one corner and run your knife at a 45 degree angle about every inch. Then start at the other corner and run your knife in the opposite direction.

Place the pork belly in a non-reactive container large enough to hold the entire belly. Pour in your marinade and rub it into the fat cap where you scored it. Cover tightly and put in the fridge 4-12 hours. if you exceed 12 hours, you can risk ruining the texture of the meat from the acid in the marinade.

For the pineapple salsa, making this the day before helps with time management and for the flavors to thoroughly combine. Add all ingredients to a non-reactive bowl and mix well to combine. Refrigerate overnight.

Preheat your smoker to 250 degrees. Remove the pork belly from the marinade and wipe off the majority of the excess off the surface of the meat. Place on your smoker either fat side up or fat side down depending on where the heat source is in your smoker. Smoke for 4-5 hours uncovered. If you smoke fat side up, there is no need for a spritz. If you are smoking fat side down, I suggest spritzing every 30 mins after the first 2 hours using a mix of 1/3 white vinegar 1/3 pineapple juice 1/3 water mixed in a spray bottle.

After the first 4-5 hours, remove the belly from the smoker and double wrap in heavy duty foil and place in a disposable foil pan to help reserve juices. Place back into the smoker until the internal temp hits 205 degrees in the thickest part, about 2-3 hours more.

Once the belly has hit 205 degrees internal temp, remove from the smoker and let it rest on the counter in the foil pan for 20 mins. Then place in a towel lined cooler for 1 hour to continue resting.

Assemble all of the remaining ingredients for your tacos. Preheat a skillet to medium high heat. Dip each corn tortilla in the reserved juice and lay flat on the skillet. Spread ¼ cup of the queso fresco onto each tortilla and top with aprx 3 oz of the pulled pork belly and the chopped white onion and cilantro. Fold each tortilla in half and cook about 2 mins on each side.

Top with the pineapple salsa and Enjoy!
Nutrition
Calories:
1550
kcal
|
Carbohydrates:
46
g
|
Protein:
36
g
|
Fat:
136
g
|
Saturated Fat:
52
g
|
Polyunsaturated Fat:
14
g
|
Monounsaturated Fat:
60
g
|
Trans Fat:
1
g
|
Cholesterol:
205
mg
|
Sodium:
2964
mg
|
Potassium:
1073
mg
|
Fiber:
6
g
|
Sugar:
27
g
|
Vitamin A:
2312
IU
|
Vitamin C:
88
mg
|
Calcium:
461
mg
|
Iron:
5
mg