One of the great debates of mankind isn't one of a deep philosophical nature. Nor is it some sort of quest to find the meaning life. It's whether or not one should serve steak with a sauce, or without a sauce. You won't ever find anyone arguing about covering chicken thighs with a nice garlic cream sauce, or simmering a pork chop with a hearty tomato based stew. However when one decides to pour a delicious sauce on a perfectly grilled steak, one finds themselves in the middle of an argument that can never truly have a winner. Today, I'm making a case for the sauce with this Cajun Rubbed Steak with Bourbon Street Sauce recipe!
Sauce and Cajun Rubbed Steak with Bourbon Street Sauce
My belief is that if the sauce is carefully prepared with flavors built to perfectly compliment the delicate flavor of a meaty New York strip steak, or a rich and fatty ribeye, then I say bring it on! And that is exactly what we have with this Cajun Rubbed Bourbon Street Steak recipe. A spicy Cajun rubbed steak with a sauce so flavorful that its only reason for existence is to be poured over a grilled medium rare steak.
Are you not convinced? I suggest you give it a try and tell me what you think. Keep reading the steps below to have quite possibly the best steak of your life. Even if it's covered in sauce.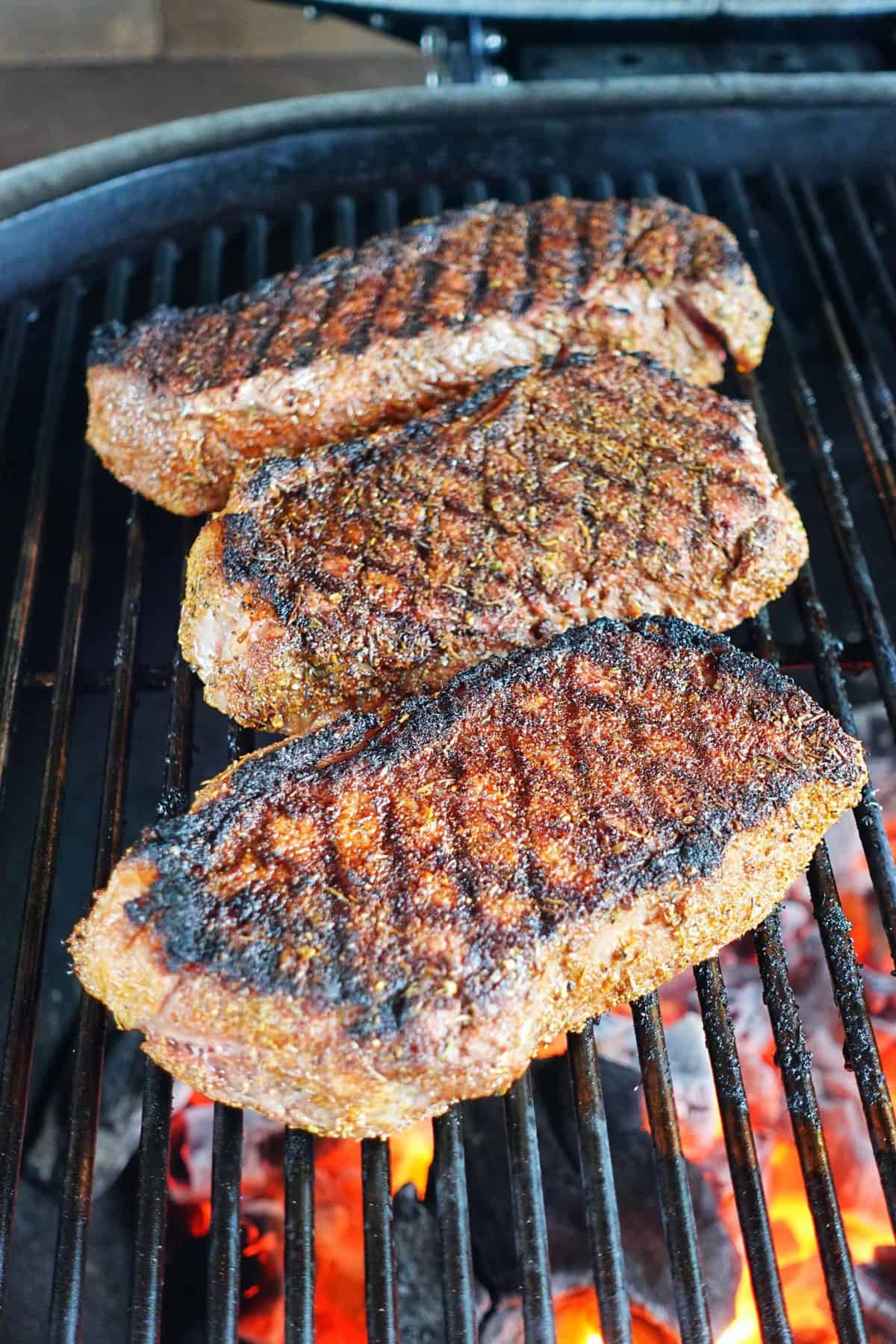 Diving In
I'm using a New York Strip steak for this recipe. The sauce will work perfectly with any grilled cut of red meat, but I enjoy the lean meaty flavor of the strip. When it comes to steak selection, be sure to look for one that will is well marbled, and is at least 1 ¼" – 1 ½" thick. This will allow you develop a hard sear without overcooking the inside.
We start out with a savory and spicy homemade blackened Cajun rub. This rub consists of dried herbs, cayenne pepper and other spices to bring a punch of flavor to your steak. Using a light drizzle of olive oil to coat the steak and allow the rub to adhere to the surface of the meat. Liberally apply the rub to all sides and pat the meat after coating to help get a nice heavy coating of the rub. We're going to let the meat sit on the counter with the rub applied for 20 minutes or so while we preheat our grill.
Want more with cajun seasoning? Check out Bacon Wrapped Honey Cajun Pork Tenderloin, Maple Cajun Smoked Ribs, Honey Cajun Shrimp and Sausage Skewers and Stuffed Cajun Lobster Mac & Cheese.
Grilling Cajun Rubbed Steak with Bourbon Street Sauce
You're going to set up your charcoal grill for high heat direct searing. You're looking for around 500° or higher. Let the grates come up to temp before placing the steaks on the grill. Once your grill has preheated, place the Cajun Rubbed Steak on the grill directly over the coals. We'll cook for them approximately 3-4 minutes per side. I suggest rotating the steaks 45 degrees at about halfway through the cook on each side of the steak to get those beautiful grill marks.
After about 6-8 minutes, you're looking for an internal temp of about 115°-120° for a perfect medium rare. We are cooking with very high heat so the internal temperature will continue to rise during the rest to about 135°. If you are looking for more of a rare steak, then pull them off when you hit 110° internal temp on the grill. Once you have hit the desired internal temp, pull the steaks off the grill and put them on a plate to rest.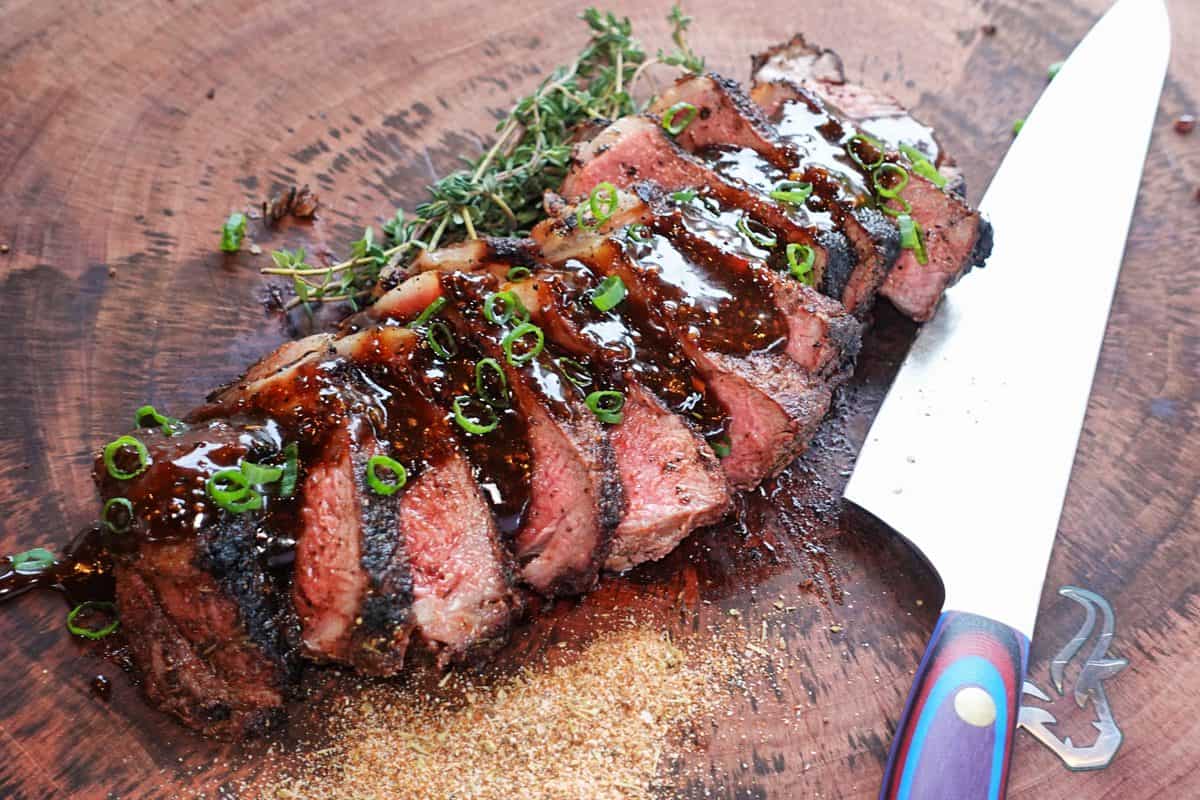 Here Comes the Sauce
Time to assemble the sauce. While the steaks are resting we are going to build this quick and easy Bourbon Street Sauce. This will take these steaks over the top.
After you've removed the steaks from the grill, scrape your grill grates clean with a grill brush. Next, place a heavy bottom skillet or cast iron pan on the grill again over the coals. You'll start buy sautéing some finely minced shallot and garlic in butter for 2-3 minutes. Next, add the brown sugar and soy sauce and stir until it starts to simmer. We are looking to get this hot before we add our bourbon to help burn off the alcohol.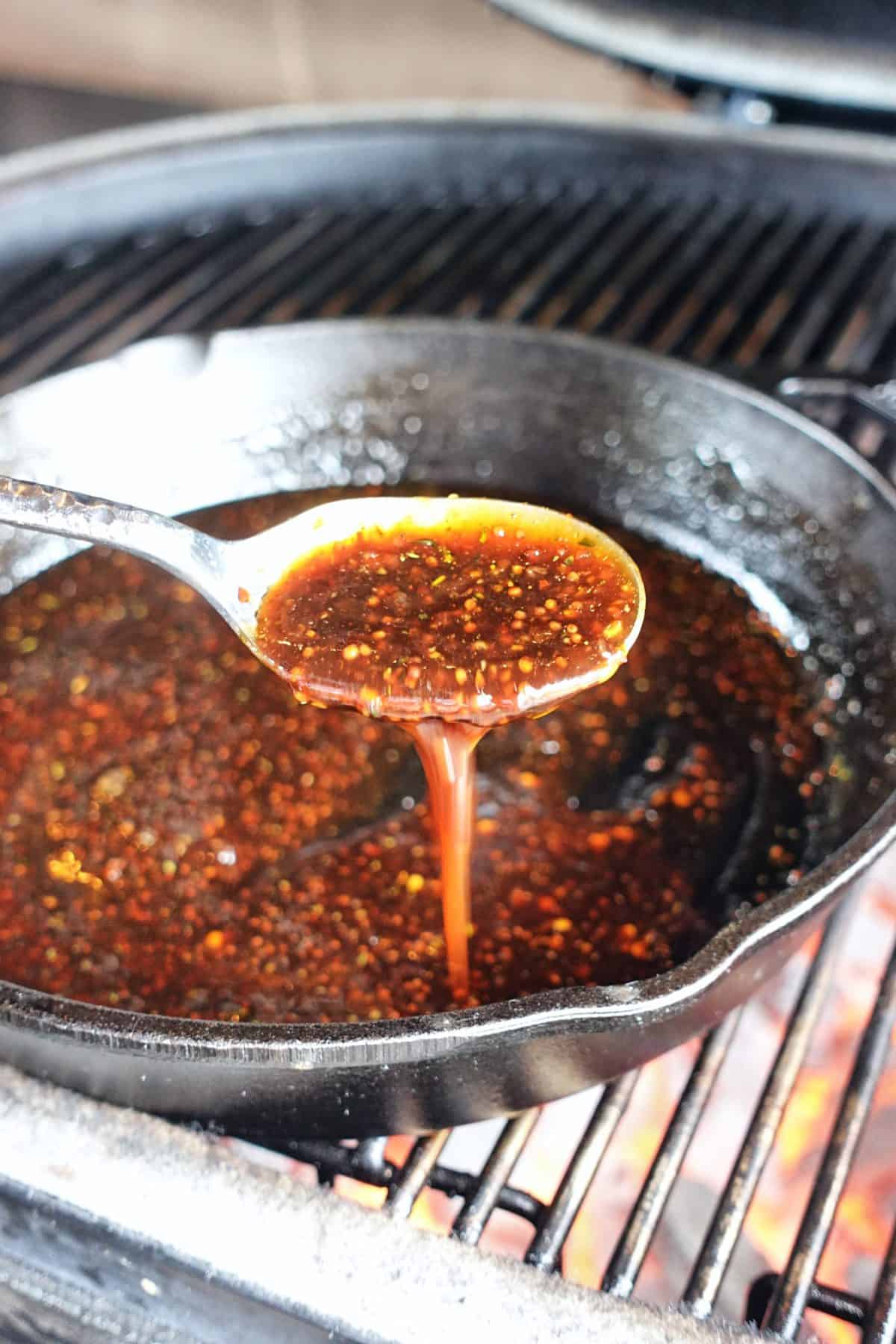 Once the sauce is simmering, add the bourbon. Don't forget to take a moment to enjoy the aroma now coming off this glorious creation. Finally, you add your herbs, spices and whole grain mustard and keep at a simmer constantly. You are looking to let this reduce to a nice glaze, about 5-6 minutes. Remove the pan from the grill and set to the side. This sauce will thicken as it cools.
For more saucy steak recipes, check out Grilled Steak with Peanut Butter Sauce, Steaks with Gorgonzola Mushroom Cream Sauce, Ribeye Caps with Horseradish Board Sauce and Grilled Filets with Chile Vinegar Sauce.
Serving Cajun Rubbed Steak with Bourbon Street Sauce
Time to slice into our steaks. Slice the steaks about ¼" slices against the grain and place on a clean plate for the final presentation. Use a spoon to pour the sauce across the slices of steak. You want just enough to get some on each bite. Top with some fresh scallions and enjoy these Cajun Rubbed Steak with Bourbon Street Sauce.
Trust me when I tell you, sauce on a steak will no longer be looked at the same after you try this.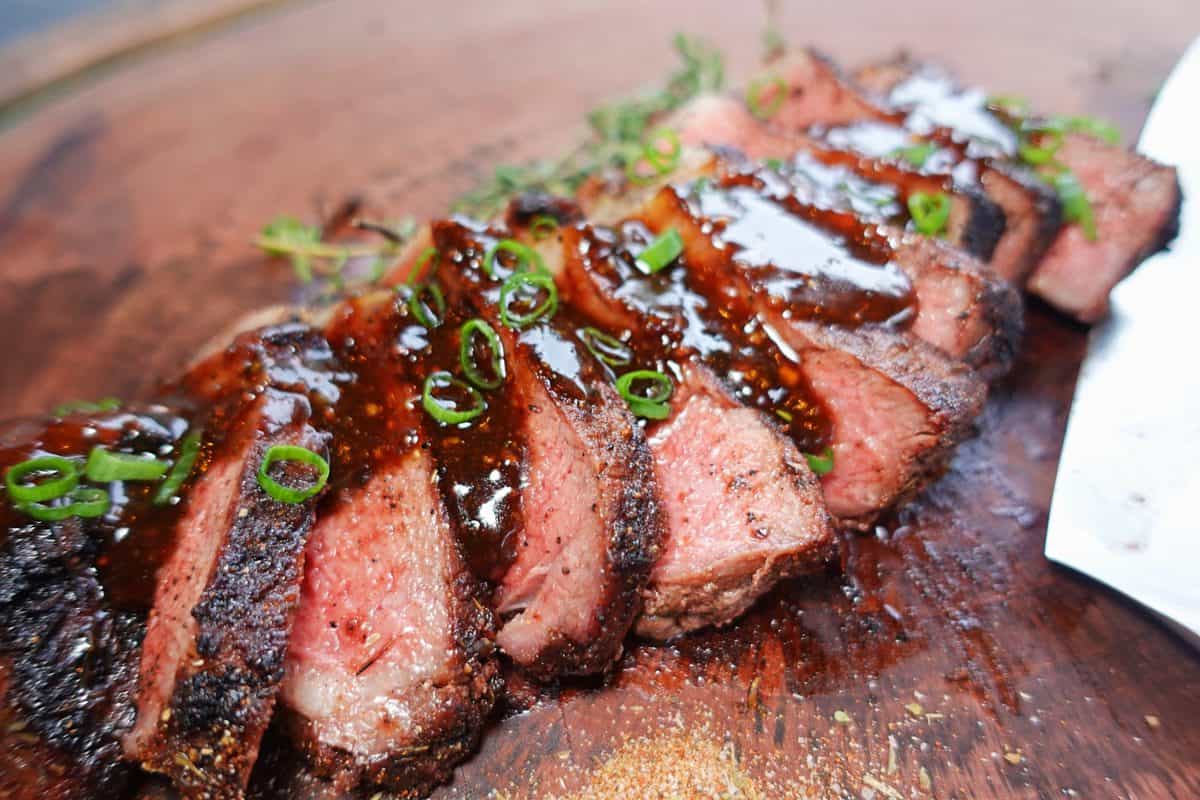 For more delicious recipes, check out my second cookbook Flavor X Fire or my first cookbook Food X Fire!
Needing more spice in your life? My spice line can help with that. Check them out here.
Full Length Recipe Video on Facebook!
Cajun Rubbed Steak with Bourbon Street Sauce
Cajun Rubbed Steak with Bourbon Street Sauce is your favorite spicy, savory steak topped with a bourbon street sauce!
Ingredients
3

1 ½" thick cut new your strip steaks

Canola Oil

or any light high temp oil

Scallions

for garnish
Blackened Cajun Rub
2

tsp

hot paprika

3

tsp

dried thyme

2

tsp

granulated garlic

2

tsp

granulated onion

2

tsp

kosher salt

2

tsp

fresh cracked black pepper

1

tsp

cayenne powder

1

tsp

dried oregano

¾

tsp

cumin

½

tsp

nutmeg
Bourbon Street Sauce
4

Tbsp

butter

unsalted

1

shallot

finely minced

2

garlic cloves

finely minced

1/3

cup

dark brown sugar

packed

¼

cup

soy sauce

2

Tbsp

bourbon

2

tsp

fresh thyme

chopped

½

tsp

red pepper flake

½

tsp

cayenne

2

Tbsp

whole grain mustard
Instructions
Start by making the Blackened Cajun Rub but combining all ingredients in a small bowl. On a cutting board, lay your steaks out and lightly coat all sides with the canola oil. Heavily apply the cajun rub gently pressing on the rub to help more adhere to the meat. Let the meat rest for 20 minutes on the counter while you preheat the grill.

Prepare your grill for high heat, direct cooking. Light a chimney of charcoal until all coals have a thin coating of ash. Dump charcoal into one side of the grill to concentrate the heat. Let the grates come up to temp for 10-15 minutes. Place the steak directly over the charcoal and cook for 3-4 minutes on each side rotating them 45° degrees halfway through to create grill marks. When the steaks have reached an internal temp of 110° for rare or 115°-120° for medium rare, pull the steaks off the grill and place onto a plate to rest while you make the sauce.

Clean the grill grates and place a heavy bottomed pan or cast-iron skillet directly over the coals. add the butter until melted and bubbling has stopped. Add the shallot and garlic and sauté for 2-3 minutes. Add the brown sugar and soy sauce and stir until bubbling. Add the bourbon and stir for 1 minute to let the alcohol burn off. Add the remaining ingredients and stir until its all bubbling. Stir constantly for 5-6 minutes to reduce the sauce by about 25%. Remove from the heat and sauce will thicken as it cools.

Slice up the steaks and use a spoon to pour enough sauce to get some on every bite. Garnish with fresh sliced scallions and Enjoy!
Nutrition
Calories:
819
kcal
|
Carbohydrates:
35
g
|
Protein:
51
g
|
Fat:
50
g
|
Saturated Fat:
24
g
|
Polyunsaturated Fat:
2
g
|
Monounsaturated Fat:
19
g
|
Trans Fat:
1
g
|
Cholesterol:
221
mg
|
Sodium:
2997
mg
|
Potassium:
1005
mg
|
Fiber:
4
g
|
Sugar:
25
g
|
Vitamin A:
1781
IU
|
Vitamin C:
5
mg
|
Calcium:
160
mg
|
Iron:
7
mg