Fire baked Stuffed Cajun Lobster Mac and Cheese going down today! I can promise you this recipe tasted even better than it looks, and (not to toot my own horn) I think it looks pretty freaking good. Who doesn't love homemade mac and cheese?! That's the foundation for this recipe. From there we add it to the shell of our cooked lobster and set it in the oven for one final bake before serving. All I have to say is… Let's do this!
Return of the MAC… and Cheese
Let's get started with the mac and cheese. I began by preheating my wood fire oven and then placing my dutch oven inside the wood fire oven to also preheat. Once the dutch oven is hot, carefully pull it from the oven and grab the butter. All good meals start with butter, okay maybe not all, but this Stuffed Cajun Lobster Mac and Cheese does. Place the butter inside the dutch oven and spread it around until it's all melted. If you need to place it back in the oven to speed up the melting process you can.
After the butter melted, I added some of Spiceology's Salt, Pepper and Garlic blend into the mix for additional flavoring. Then, slowly start adding the flour into the mixture. I recommend stirring throughout this process to avoid clumps. Give the mixture another stir after all the flour has been added and then place it back into the oven for a bit.
More Mac and Cheese Please
Up next for our Stuffed Cajun Lobster Mac and Cheese comes the tricky part, the milk. Pull the dutch oven back out of the stove and add about a cup of milk. Stir, stir, stir and stir. Then, back into the oven it goes! Remove it from the oven after a few minutes and give it another stir, this time checking more for the consistency of the mixture. We want something like a cream type of consistency, not thin like a liquid but also not super thick. You should be able to easily stir through it. You can add more milk to help thin the mixture or put it back in the oven for a bit if it needs to thicken. Once you're happy with the consistency, add the cheese!
I used shredded cheddar cheese for this Stuffed Cajun Lobster Mac and Cheese recipe. Toss it into the dutch oven and stir, stir and stir some more. Add milk to the mixture throughout this stirring process until it reaches a smooth consistency. Once you've found that perfect cheese consistency, toss about half of your macaroni into the dutch oven. As it gets mixed in, add the remaining macaroni and stir it in. Now, we're done with the mac and cheese. Let's move on to the Cajun Lobster.
Stuffed Cajun Lobster
From here, everything for this Stuffed Cajun Lobster Mac and Cheese is relatively easy. Take your lobster, lather the meat with oil and then season with cajun blackening seasoning. Now, take them to the oven and let them bake. I rotated them throughout the cooking process to ensure they cook evenly. Once they're done, pull them from the oven and get ready to add the mac and cheese.
Fill each cajun lobster cavity with a mac and cheese. I kept adding the mac and cheese until it was basically overflowing because it felt like a "go big or go home" kind of situation. Then, I topped the mac and cheese with a butter, garlic and panko crumb mixture to give it some texture. Now, back to the oven one last time.
Stuffed Cajun Lobster Mac and Cheese
Place the Stuffed Cajun Lobster Mac and Cheese back into the wood fire oven, this time for only a minute or two. We are only trying to get some caramelization on top of the mac and cheese so it won't take long. Then, pull from the grill and garnish with some chopped parsley and charred lemon halves. Wow, what a showstopper dinner this is! Best enjoyed with friends and family. Cheers!
Print Recipe
Stuffed Cajun Lobster Mac and Cheese
Who doesn't love homemade mac and cheese?! That's the foundation for this Stuffed Cajun Lobster Mac and Cheese recipe.
Ingredients
Lobster:
2

Whole Lobster Tails

split on belly side

1.5

tbsp

of Cajun Seasoning

Chopped Parsley

for garnish

Charred Lemons

for garnish
Mac & Cheese:
1 8

oz

box of Elbow Macaroni

cooked

2.5

cups

of Shredded Cheddar Cheese

1.5-2

cups

of Whole Milk

2

tbsp

of Butter

unsalted

2

tbsp

of All Purpose Flour

1

tsp

of Kosher Salt

1

tsp

of Black Pepper

1

tsp

of Garlic Powder
Crust:
2

tbsp

of Panko Crumbs

2

tbsp

of Melted Butter

2

tsp

of Garlic Paste
Instructions
Prep your lobster by first dispatching the lobster by piercing through the top of the head and carefully pulling down with the blade quickly. Next, flip the lobster over to the belly side and split open down the belly making sure to not pierce too much through the shell on the bottom. Open the lobster up, and using some kitchen shears, take off the belly part of the shell over the tail to open that meat up. Make sure to remove the antennas and any lingering pieces of shell. Repeat this for the other lobster, then add them to the fridge to rest for 1 hour.

Preheat your pizza oven or grill to 500F for indirect cooking.

Carefully preheat a skillet/dutch oven over the hot fire. When ready to cook, pull to a slightly cooler side of the oven/grill. Add the butter to melt along with the salt, pepper and garlic. Next, add the flour and whisk thoroughly. Once the flour is mixed and starting to bubble, add ½ of the milk and whisk together. Once the mixture has thickened, add the cheese and begin stirring. Finally, add the leftover milk until you have reached your desired consistency for the cheese. Once ready, fold into the cheese the cooked macaroni noodles. Pull the skillet off the heat and set aside.

Pull out your lobster from the fridge and let it come to room temperature for 10 minutes. When the lobster is room temperature, add them to a cooking sheet and begin lathering the meat with canola oil while seasoning thoroughly with Cajun Seasoning. With your oven/grill at 500F, add the lobster to cook for 6-10 minutes or until it is no longer translucent. Make sure to rotate about halfway through for even cooking. Once done, pull it out and set aside to cool for 2-3 minutes.

Next, mix together your crust ingredients in a bowl. It should have a "wet sand" consistency. Taking a large scoop full of mac & cheese, place that into the open cavity of the cooked lobster topping it with the crust mixture. Place the lobster back into the oven to bake for 2-3 minutes until the crust is golden brown. When done, pull it out and set aside.

Garnish your lobster with charred lemons and chopped parsley. Serve and enjoy!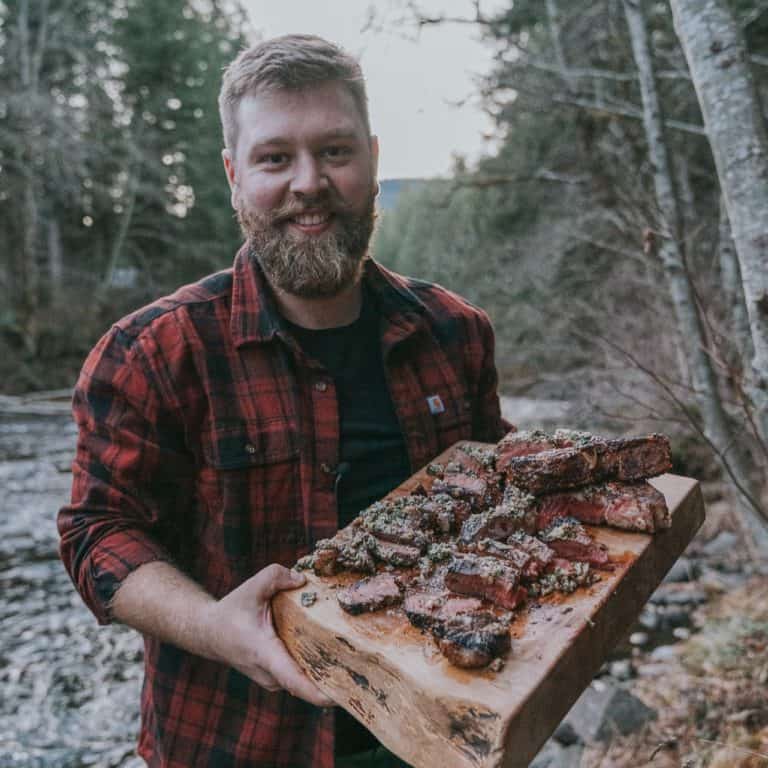 Derek is the driving force behind Over the Fire Cooking. He started cooking with live fire in 2016 and decided to start a social media page so his friends and family could follow the journey. Fast forward to today and Over the Fire Cooking has spread across multiple platforms with millions now following Derek's fire cooking journey. He's a southern fellow who enjoys everything from classic BBQ to Central and South American inspired dishes. Whatever he's cooking up, it's guaranteed to be so freakin' delicious!