This Cheesesteak Quesadilla is made up of all of the best flavors of the classic Philly cheesesteak sandwich but layered in a cheesy, gooey, melty quesadilla.
Perfectly crisped tortillas are packed full of tender strips of seasoned ribeye steak, sliced red bell pepper, onion, melty provolone cheese and cheese whiz, because is it really a Philly cheesesteak-inspired recipe if there isn't cheese whiz involved?
I don't think so.
Prep and Cook Your Steak for the Philly Cheesesteak Quesadilla
First, slice your ribeye steaks, red bell peppers, and white onion. Be sure to slice the ribeye steaks against the grain to shorten the muscle fibers. The shorter the muscle fibers, the more tender the texture.
Next, preheat a medium-high heat fire to around 375ºF, then set a large plancha or skillet over the heat.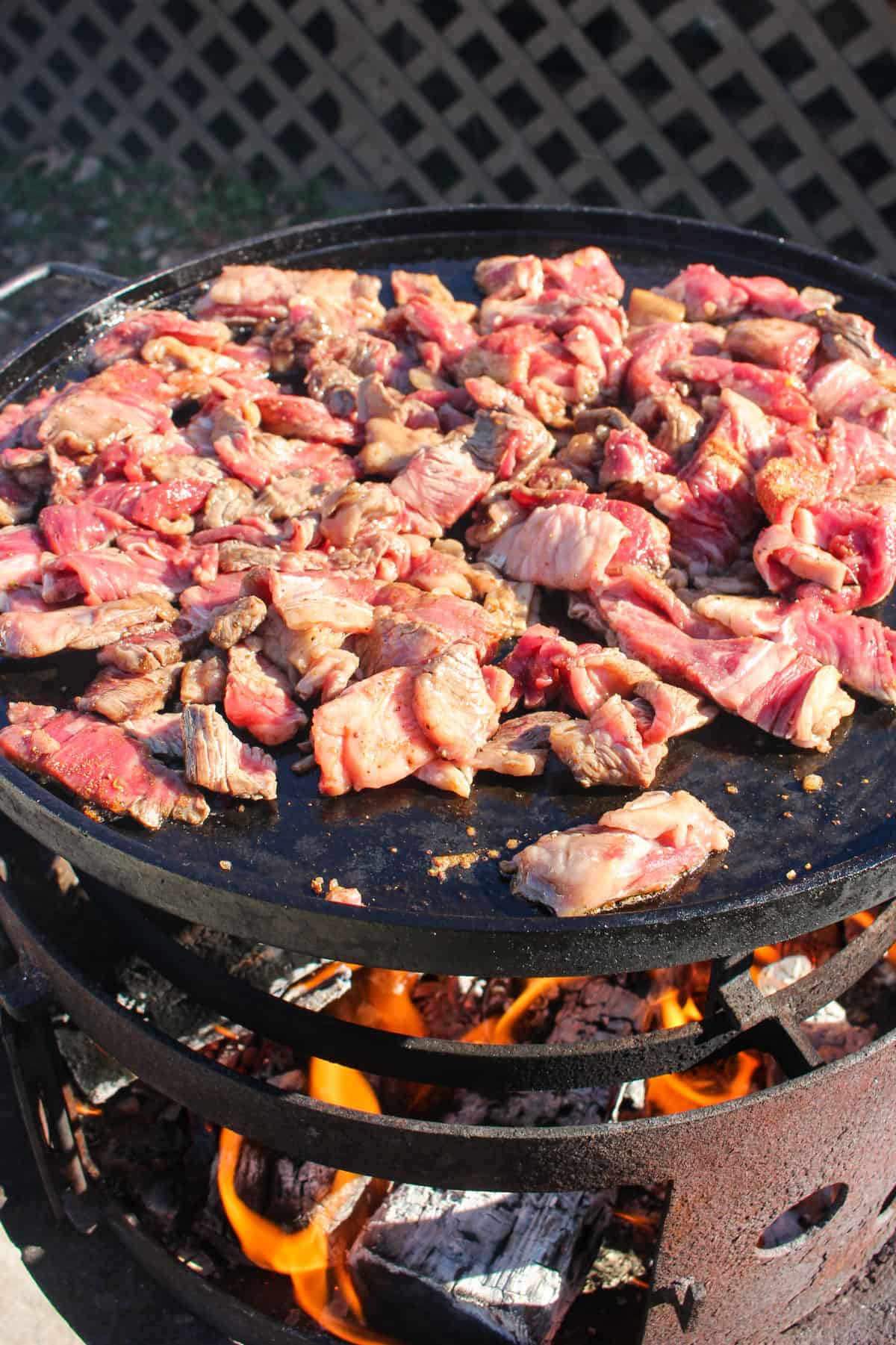 Drizzle canola oil into the skillet or plancha, then add in the sliced steak and a sprinkle of the steak seasoning of your choice. I like Bourbon Prime Seasoning, which is a delicious blend of sweet, spicy, savory, and smoky seasonings that take the steak to a whole new level of flavor.
Cook the steak for about 10 minutes until it is browned, slightly crispy, juicy, and tender. Next, pull the steak out of the skillet and allow it to cool slightly while you cook up your veggies.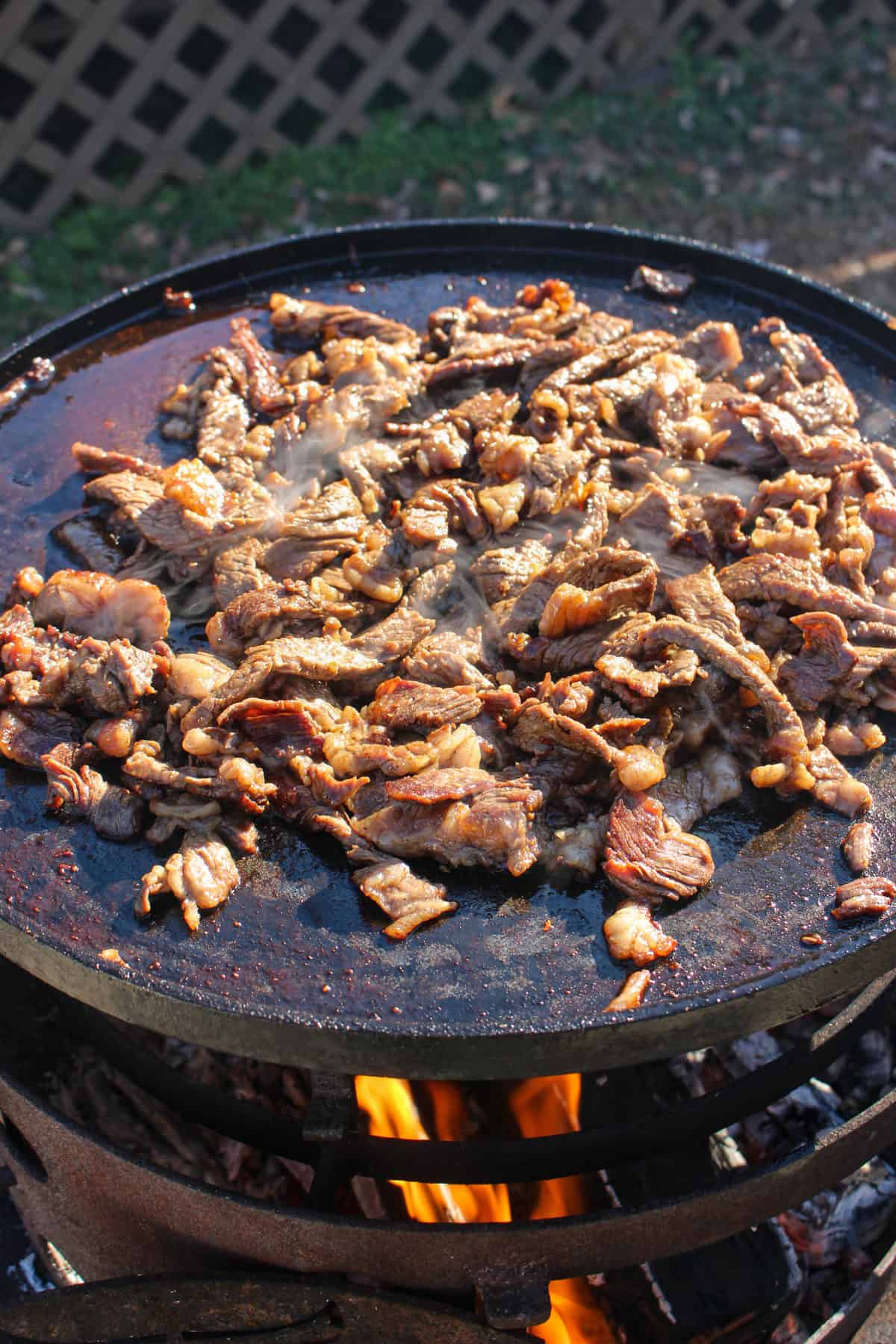 Be cautious. It is remarkably difficult to not munch on the steak while you prep the rest of your cheesesteak quesadilla recipe. But although the steak is delicious on its own, it's extra delicious in a quesadilla.
For additional Philly Cheesesteak inspired recipes, check out Philly Cheese Sausage Skewer and Loaded Choripan.
Cheesesteak Quesadilla Veggies
To the now empty skillet, add the sliced bell peppers, sliced onions, and minced garlic. Feel free to use whatever veggies you like. Mushrooms would also be delicious!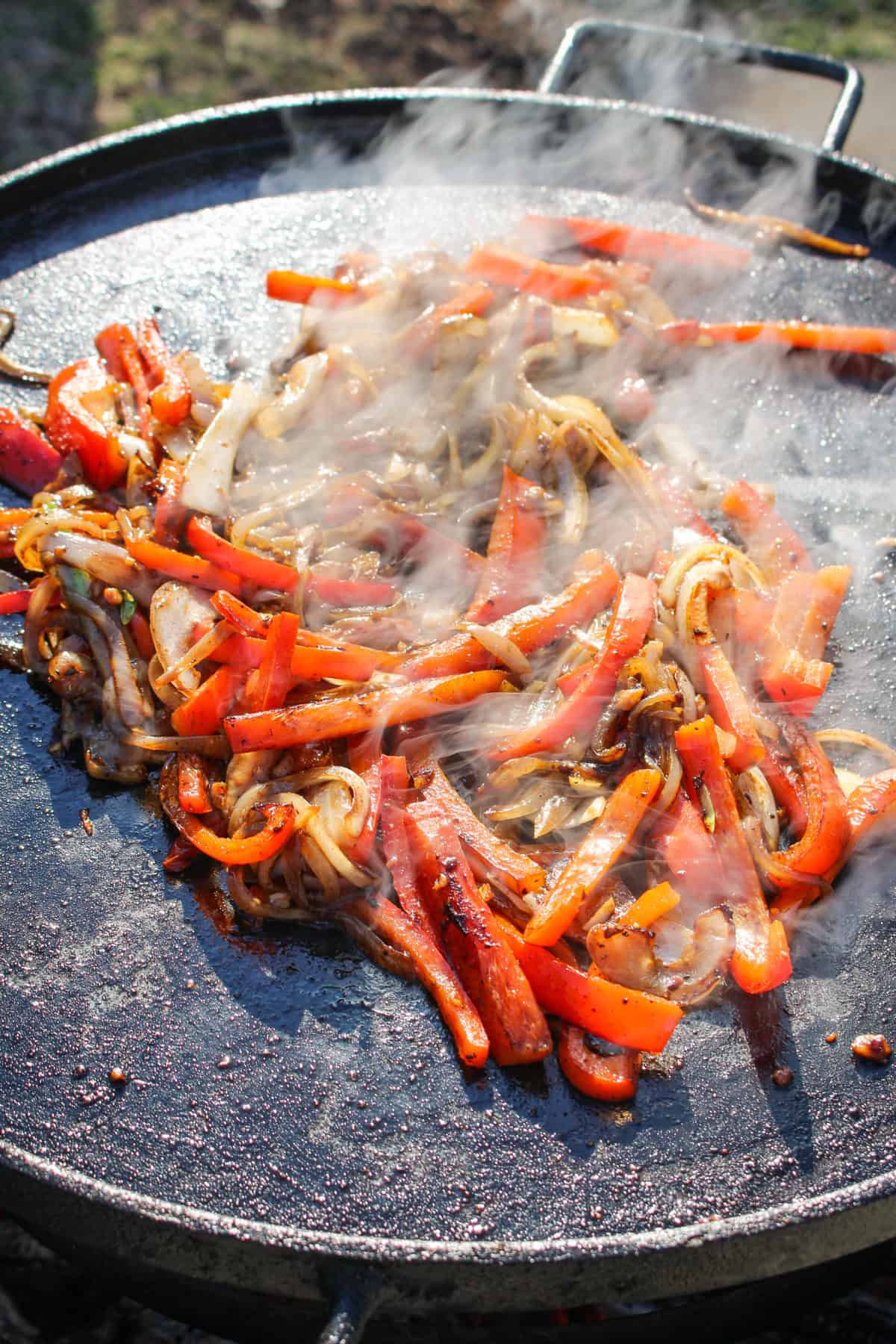 Sprinkle your veggies with salt, pepper, and garlic powder, then cook for 7-9 minutes or until softened.
Allow them to cool and clean out your skillet for the next part of your cheesesteak quesadilla prep!
Assemble Your Quesadilla
So, now we assemble! First, allow the skillet to cool to medium heat around 300ºF, because although we want a slightly crispy quesadilla, a burnt one isn't great.
Layer a large flour tortilla into the pan, then top that with 2-3 slices of provolone cheese, because the cheesier the better, right? I use provolone cheese because it's a Philly cheesesteak classic, but any type of melty cheese will work. Just use your favorite!
For more quesadilla like recipes, check out my Campfire Quesabirria Tacos, Loaded Pulled Pork Quesadillas and Cheesy Steak Quesadilla.
Next, add a layer of veggies to the cheesesteak quesadilla, then top that off with the cooked and sliced steak.
Drizzle the quesadilla filling with cheese whiz, then fold the tortilla over and allow it to toast for 1-2 minutes on each side. The best kind of quesadilla is the crispy kind!
Serve Your Cheesesteak Quesadilla
Make as many quesadillas as you need. Prep as much steak and veggies as you will need and assemble the quesadillas quickly, so they're all still warm when you're ready to serve.
Next, warm up some cheese whiz for dipping, then slice up the quesadillas and dig in!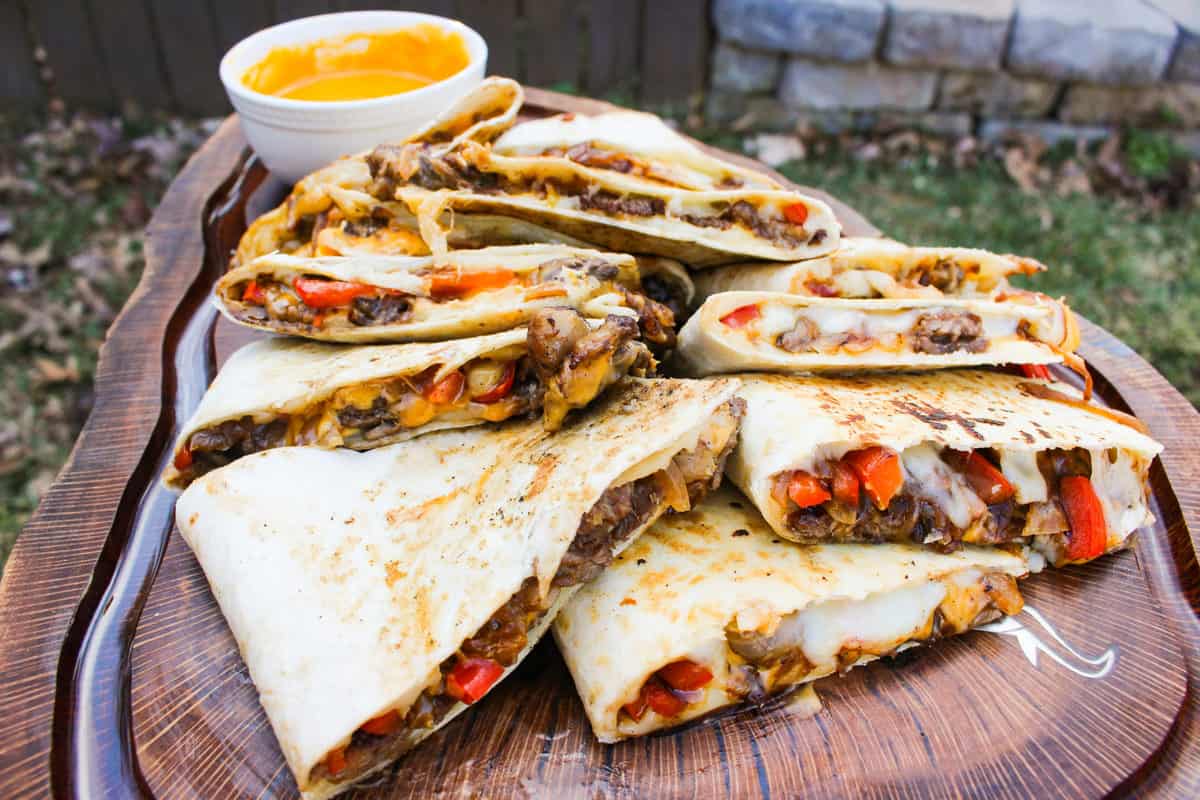 For more delicious recipes, check out my cookbook Food X Fire!
Needing more spice in your life? My spice line can help with that. Check them out here.
Full Length Recipe Video on YouTube!
Cheesesteak Quesadilla
Cheesesteak Quesadilla for the fun, family dinner.
Ingredients
Veggies:
2

medium Red Bell Peppers

sliced

1

medium White Onion

sliced

6-8

Garlic Cloves

minced

1

tbsp

Kosher Salt

1

tbsp

Black Pepper

1

tbsp

Garlic Powder
Quesadilla:
4-6

large Flour Tortilla

12-15

slices

Provolone Cheese

1

cup

Cheese Whiz
Instructions
Begin by thinly slicing your ribeye steaks, red bell peppers and white onion. Mince your garlic and set all of this to the side until ready to cook. Preheat a medium high heat fire (around 375F) with a large plancha/skillet over it.

Adding 1 tbsp of canola oil to the skillet, add your sliced steak and season my Bourbon Prime seasoning. Cook until the steak is fully browned and finished (about 10 minutes). Once the steak is done, pull it off and let it cool. Next, add the bell peppers, onions and garlic seasoned with salt, pepper and garlic powder. Let brown for 7-9 minutes until softened, and once done pull off and let cool.

While the steak and veggies are cooling, clean off your skillet and let it cool down to a medium heat (around 300F) to start building your quesadilla. Add a large tortilla to the skillet and add 2-3 slices of provolone cheese on both halves of the tortilla. Next, add some veggies, sliced steak and a drizzle of cheese whiz to one side of the tortilla. Fold the tortilla over and let it toast for 1-2 minutes per side. Once the quesadilla is done, pull it off, let cool then repeat for your other quesadillas.

For serving, warm up some cheese whiz for dipping. Slice and serve!
Nutrition
Calories:
735
kcal
|
Carbohydrates:
32
g
|
Protein:
48
g
|
Fat:
46
g
|
Saturated Fat:
25
g
|
Polyunsaturated Fat:
2
g
|
Monounsaturated Fat:
13
g
|
Cholesterol:
153
mg
|
Sodium:
3483
mg
|
Potassium:
797
mg
|
Fiber:
3
g
|
Sugar:
9
g
|
Vitamin A:
2775
IU
|
Vitamin C:
80
mg
|
Calcium:
711
mg
|
Iron:
4
mg