"Roll up a fat one and smoke it." Porchetta, whoever said that was clearly talking about Porchetta. For the uninitiated, porchetta is a beautiful roulade of skin on pork belly and loin. Today, we're making a Chorizo Stuffed Porchetta! Seasoned and trussed, this roast is a thing of wonder. Tender meat wrapped in a cocoon of crispy pork skin. This traditional Italian dish takes on new life here at Over the Fire Cooking. Make sure to install seat belts at your dinner table when you serve this one up!
Post Contributed by Jeremy Whitelaw.
Chorizo Stuffed Porchetta – Us vs Them
Traditionally speaking, porchetta is skin on pork belly with the loin still attached. Season that cut with fresh herbs, fennel, and garlic; wrap and truss into a roulade. Roast and enjoy. A simple and delicious roast enjoyed by kings and commoners alike. But what if, a big what if here, we didn't do that? What if we didn't make your grandmas porchetta? Instead, we stuff it full of amazing ingredients and create an explosion of flavor. Same cut of pork, whole new flavor profile. Alas, the Chorizo Stuffed Porchetta is born.
If you love pork belly, check out these additional recipes: Teriyaki Pork Belly Burnt Ends, Sriracha Bourbon Pork Belly and Crispy Korean Pork Belly Sandwiches!
To Stuff or Not to Stuff
This is where a road forks in a wood and we choose the path less traveled, but don't worry this is the path that leads to Chorizo Stuffed Porchetta (also bring a fork, you'll need it). We are going to stuff this porchetta, stuff it real good. Before we can stuff, we have to butterfly. Lay out the pork belly, slice horizontally, and open it up like a book. This will double the square footage we have to work with. Now when we go to roll up the porchetta later, we'll have a much more pronounced spiral. I think there's some sort of sports analogy there, but up to you to figure out.
Now that we discussed the 'how', onto the 'what'. Pork makes sense. Stuffing pork with more pork means no issue when hitting a final internal temp. But what's the tastiest pork we can stuff this tasty cut of pork with? Chorizo. You guessed correctly, chorizo it is! While we're at it we might as well add a layer of prosciutto and parmesan, stuffed porchetta is originally an Italian dish after all.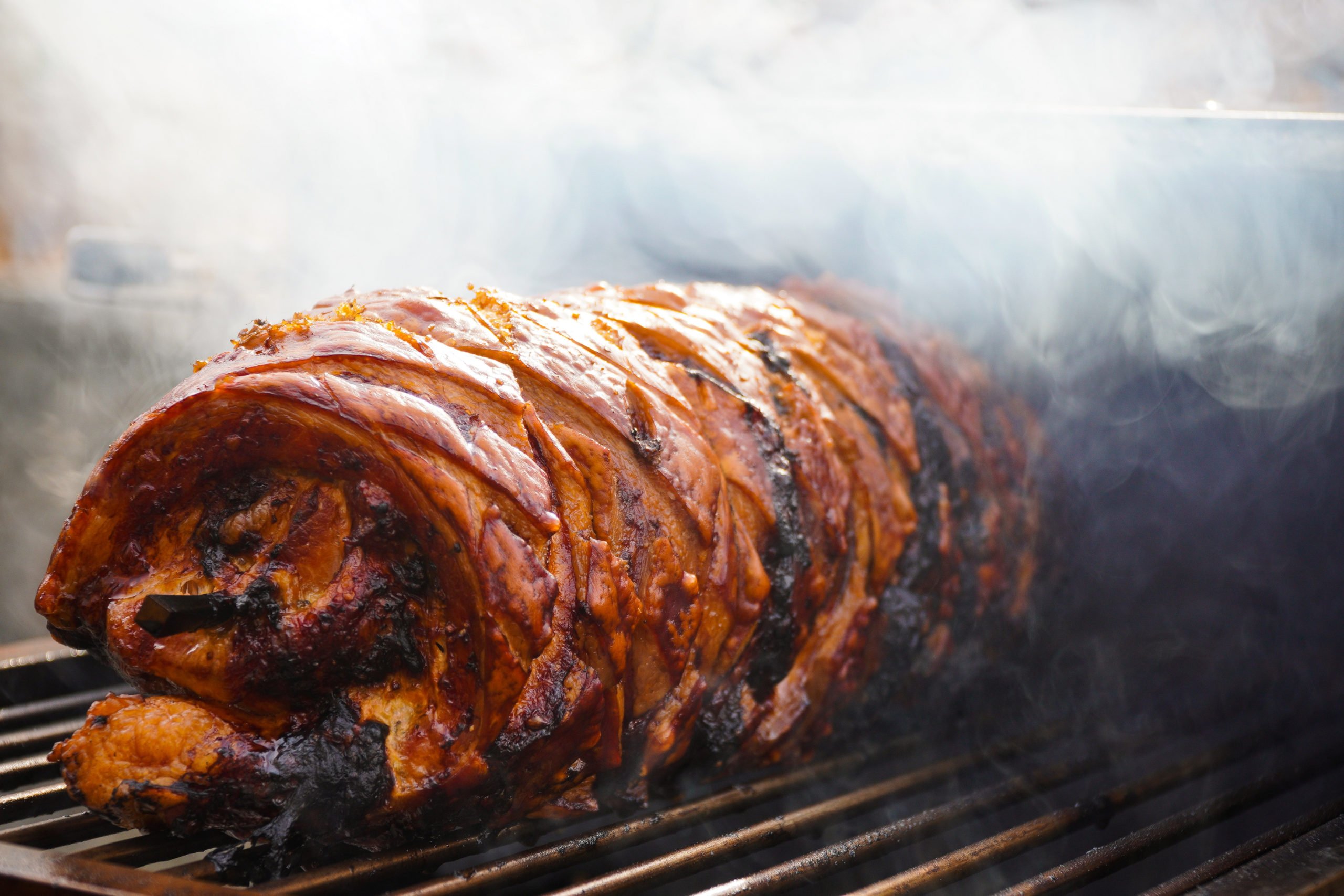 Crispy Chorizo Stuffed Porchetta Boi
Chicharrons, Pork Rinds, Porchetta; what do all of these have in common? Crispy skin, because it's their defining characteristic. Without crispy skin, they just wouldn't be what they are. We've made a few fun changes to Porchetta in this recipe. But without the skin on, you're making a fancy pork belly roulade. Might as well just make some bacon or pork belly burnt ends at that point. So, we're going to roast this porchetta, indirect, at a slightly higher heat to really lock in that crisp.
For more delicious recipes, check out my cookbook Food X Fire!
Needing more spice in your life? My spice line can help with that. Check them out here.
Chorizo Stuffed Porchetta
Chorizo Stuffed Porchetta for your next flavor blasted spiral dinner!
Ingredients
Skin on Pork Belly

8-10 Lbs

2

lbs

Chorizo

¼

cup

Garlic

Minced

¼

cup

Shallots

Diced

¼

cup

Fennel Bulb

Diced

4

Lemons Zested

1

cup

Grated Parmesan

6

oz

Prosciutto

¼

cup

Kosher Salt
Instructions
Prep skin on pork belly by cross hatching the skin side with a sharp knife. This will help render fat and crisp up the skin during the cook.

Butterfly the pork belly so that it opens like a book. This will double the area of the pork belly, allowing for more stuffing.

With the skin side of the pork belly down, season the inside of the pork belly generously with Gaucho Steakhouse Rub.

Brown the chorizo in a cast iron skillet. Spread cooled chorizo over the inside of the butterflied pork belly.

Add minced garlic, diced shallot, diced fennel bulb, lemon zest, and parmesan evenly over the chorizo layer.

Separate the prosciutto and layer over the inside of the pork belly.

Now we roll. Starting from the inside portion of the butterflied pork belly (no skin), roll tightly. When finished rolling the skin should be on the outside with a spiral of meat and stuffing inside.

Cut a few lengths of butcher's twine and truss the porchetta tightly. Its best to start in the middle and work your way out. The goal is to have a uniform log, this will cook more evenly.

Place porchetta on a wire lined baking sheet. Coat with kosher salt, all of the salt. Don't worry about sodium, we'll be brushing the salt off later. Place Salted porchetta in the fridge, uncovered, for 12-24 hours. The salt will draw out moisture in the skin, lending to crispier skin later.

After the dry brine is complete, pre heat your cooker to 350 degrees and brush the excess salt off the porchetta. Cook indirect for approximately 3 hours.

The final internal temp we are aiming for is 180 degrees. This temp will result in a very tender porchetta. Take it too far, like 200 degrees internal, and you'll have pulled pork(etta).

Allow porchetta to rest for an hour, covered. Slice and enjoy!
Nutrition
Serving:
0.1
Porchetta
|
Calories:
384
kcal
|
Carbohydrates:
3
g
|
Protein:
21
g
|
Fat:
31
g
|
Saturated Fat:
12
g
|
Polyunsaturated Fat:
1
g
|
Monounsaturated Fat:
4
g
|
Trans Fat:
1
g
|
Cholesterol:
77
mg
|
Sodium:
4183
mg
|
Potassium:
93
mg
|
Fiber:
1
g
|
Sugar:
1
g
|
Vitamin A:
421
IU
|
Vitamin C:
5
mg
|
Calcium:
126
mg
|
Iron:
2
mg