We are back at it again with another Hanging Leg of Lamb recipe for The American Lamb Board. This time we are doing a Herb Marinated Hanging Leg of Lamb, and it does not disappoint in flavor. The herb marinade is simple but effective at giving us a nice tangy delicious flavor from the outside crust all the way to the bone. But first, let's do a refresher course of hanging a leg of lamb!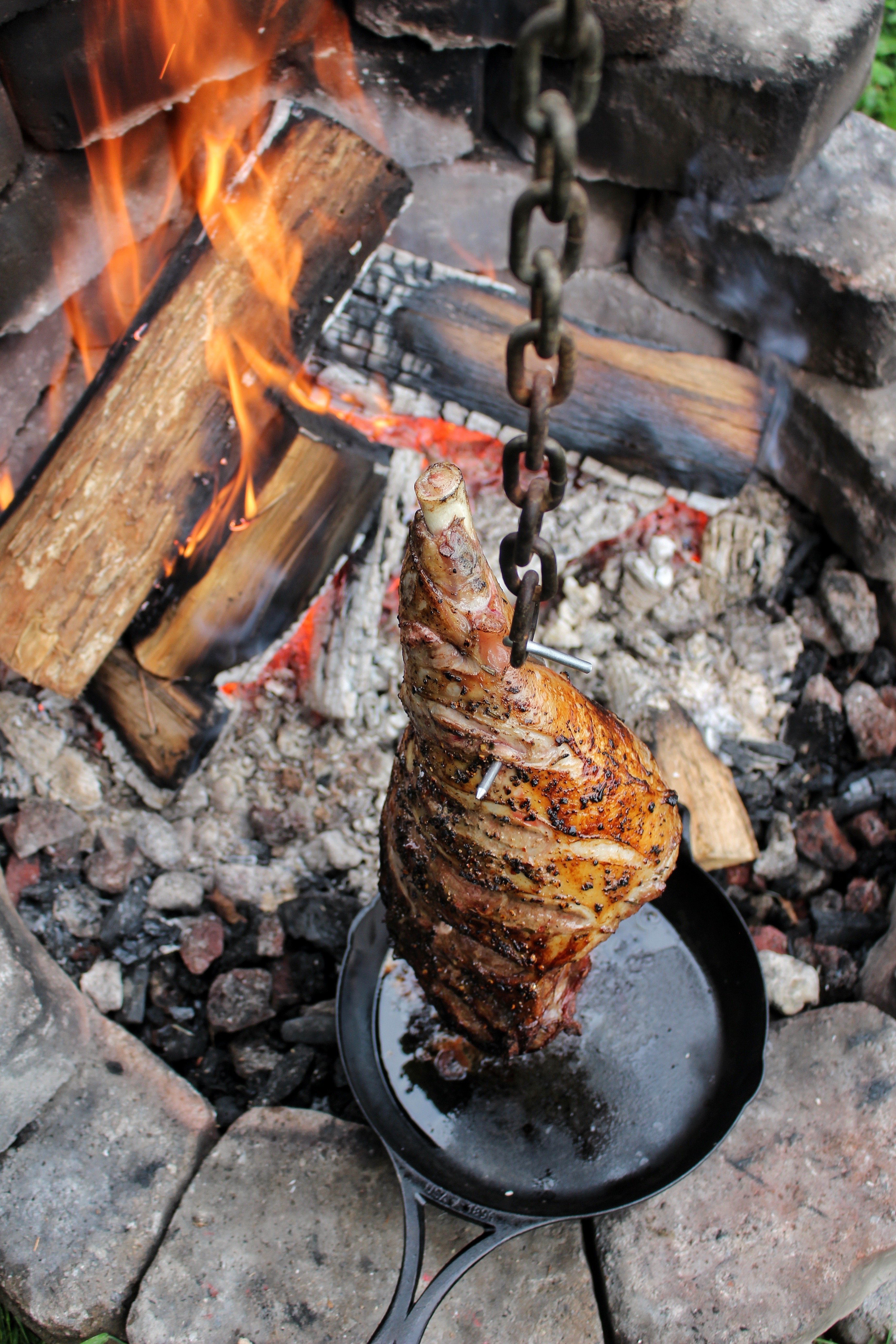 So how do we Hang a Leg of Lamb?
Hanging anything over the fire is a lot simpler than one might think. All it takes is a consistent fire and a sturdy piece of equipment to hold that piece of meat. For this recipe, I used my handy dandy tripod. Got myself a really nice butchers hook, skewered the leg of lamb and hung it from the center of the tripod using the metal chain.
The second biggest piece of this cook is how far away from the fire you place the Hanging Leg of Lamb. I usually go for 2-3 feet away from the heat. My rule of thumb is if I can keep me hand there for 5-6 seconds then it is hot enough to slowly cook the leg of lamb. I also like to keep the leg of lamb as low to the ground as possible to the heat so that the fire can cook the whole leg from top to bottom. This will really help to get an even cook!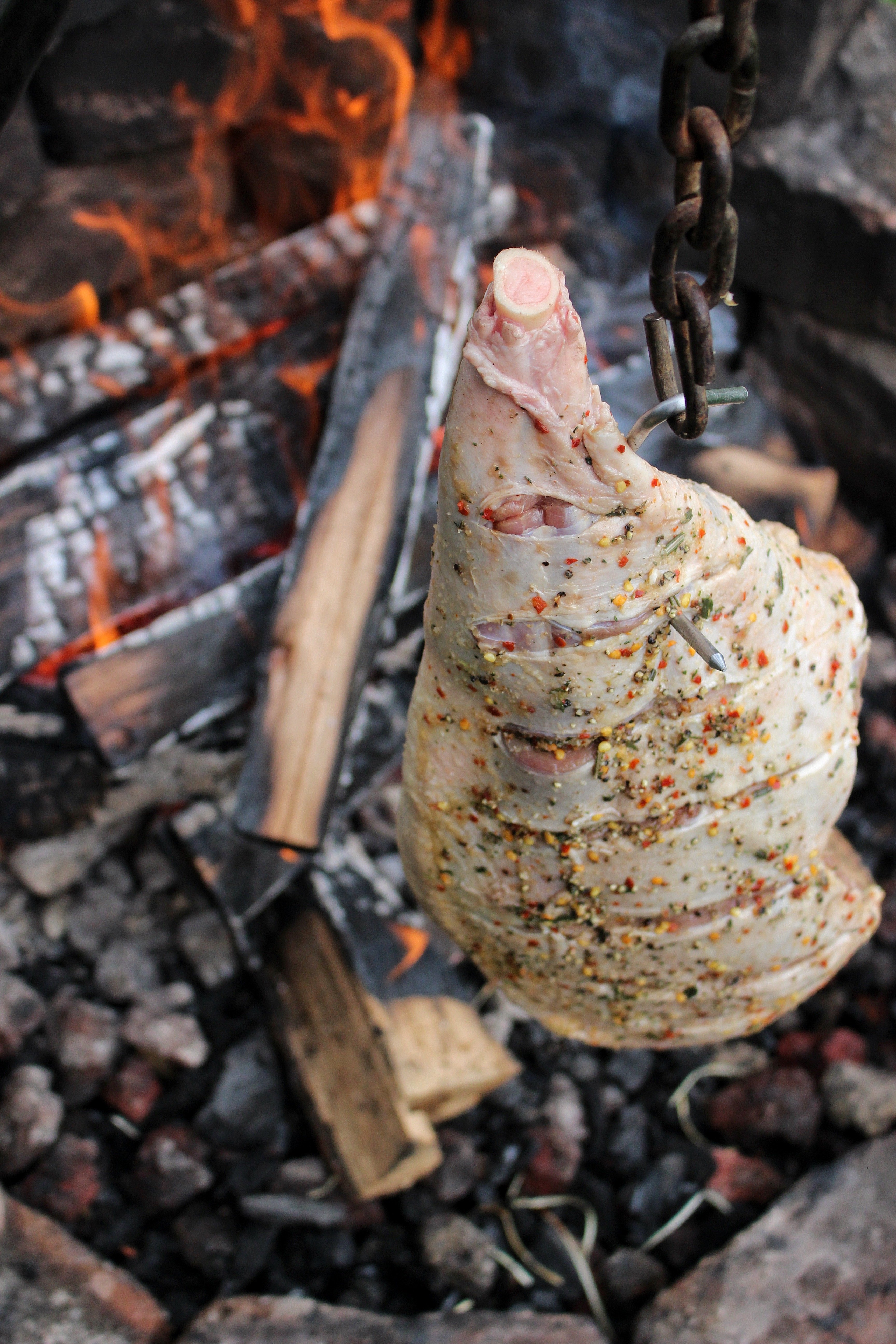 Last tip, make sure to add a skillet underneath the Hanging Leg of Lamb in order to catch all the drippings. You can even add veggies into the skillet so they cook in the lamb fat! For this version, I kept the skillet empty so that I could baste the outside of the leg. This will help get that delicious flavor all over the leg, and reapply some of the seasoning that will get taken off the meat while cooking.
Why do you love this Herb Marinated Hanging Leg of Lamb
This is by far one of my favorite cooks to do! Not only is it a fun recipe, but you end up chilling by the fire enjoying some quality time with family and friends. All that I recommend doing is making sure you get some high quality American Lamb. You can find some American lamb using this locator! Not only is it raised in the USA, but American Lamb is the best quality that you can get. The flavor is off the charts.
In the End…
So this Labor Day weekend, grab yourself a whole leg of American lamb and some firewood to do this Herb Marinated Hanging Leg of Lamb or try our smoked leg of lamb recipe. Maybe you are interested in doing two? Try my first recipe for Hanging Leg of Lamb while you are at it. Enjoy!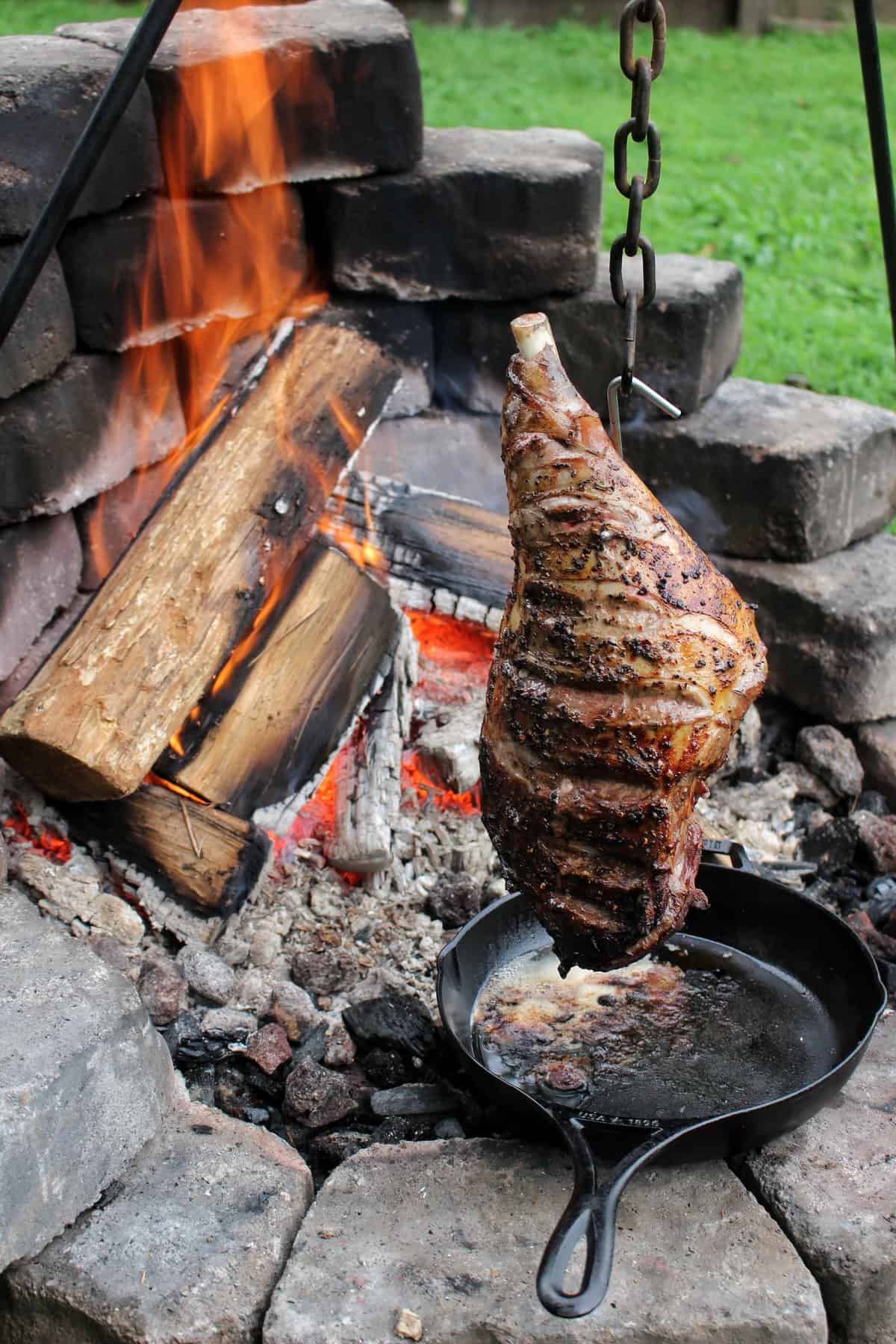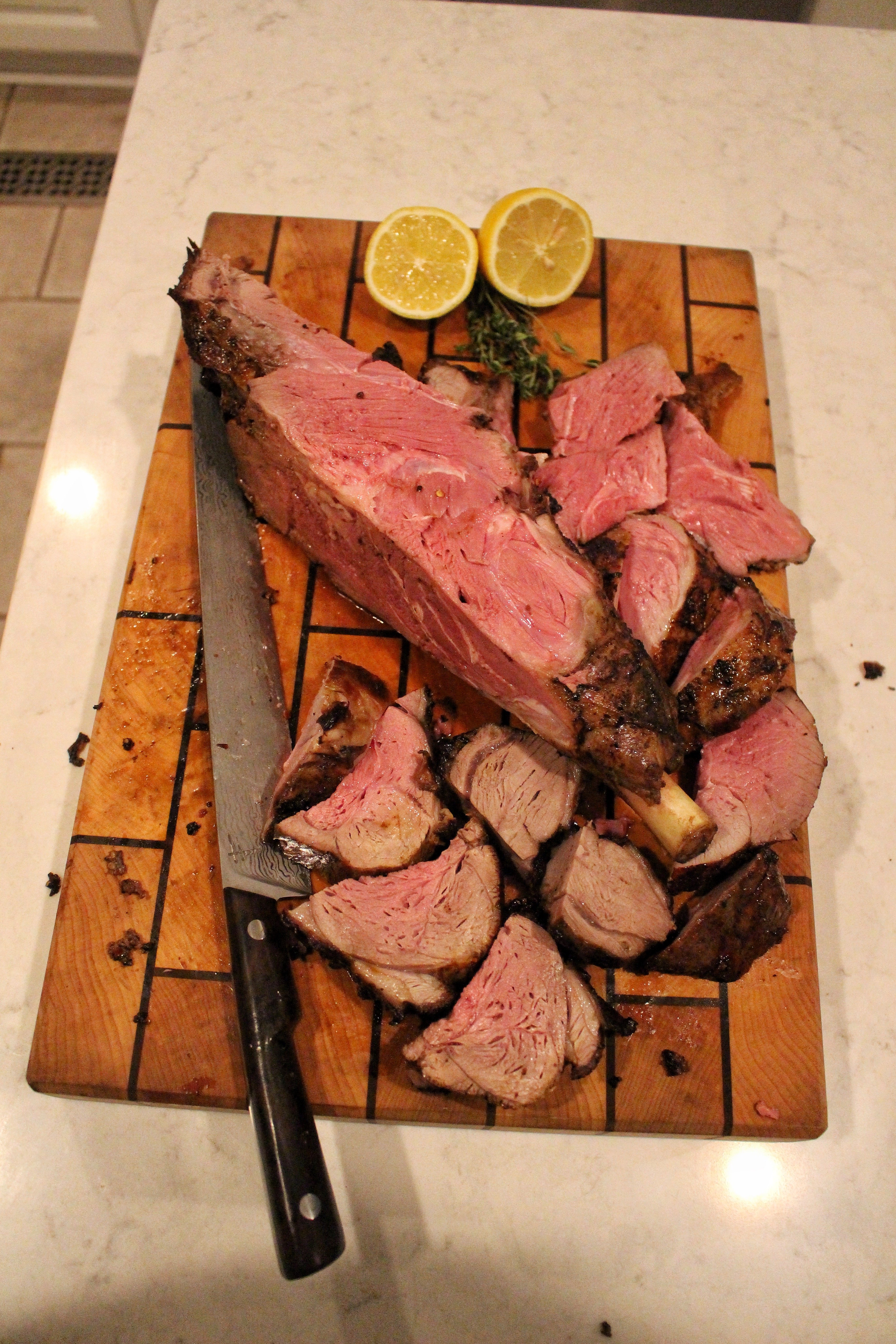 This article does contain affiliate links to products that we personally use and support. Purchasing an affiliate product does make us a small commission at no cost to you. This helps us continue creating for our website. All words and opinions are our own, and we appreciate your support!
Herb Marinated Hanging Leg of Lamb
Herb Marinated Hanging Leg of Lamb is the OG of lamb leg cooks. Crush the backyard cookout with this recipe!
Ingredients
Lamb Ingredients:
1

Whole Leg of American Lamb

bone-in
Herb Marinade:
1

cup

of White Wine

½

of a White Onion

cubed

2

tbsp

of Sea Salt

1

tbsp

of Black Pepper

10

Garlic Cloves

2

tsp

of Red Chili Flakes

2

tsp

of Oregano

2

tsp

of Thyme

2

tsp

of Rosemary

2

Lemons

juiced

2

tbsp

of Oil
Instructions
Score the outside fat layer of your leg of lamb. In a blender, mix the ingredients for the Herb Marinade until smooth. Place your leg of lamb into a food safe bowl and pour marinade over top. Place in the fridge to marinate for at least 4 hours but ideally overnight. Rotate the leg of lamb every 4-6 hours to marinate evenly.

Preheat your fire to a medium-high temperature of 325F. Place you hanging device (tripod or otherwise) so that the leg will hang about 2 feet away from the fire.

Using a butcher's hook, hook the leg of lamb. Secure the leg to your hanging device with the bone side facing up and with a cast iron skillet underneath to catch fat drippings. Let cook for 1 hour in order to brown. Rotate the leg of lamb around to cook for another hour in order to brown. Once fully browned, continue cooking in 30 minute intervals before rotating. Baste the lamb with the dripping throughout the cook for additional moisture. Cook the leg of lamb until the internal temperature reads 145F. Keep adding wood to maintain temperature.

Once done, pull the leg off the fire and let rest for 15 minutes.

For serving, slice the leg up and serve with vegetables and potatoes. Enjoy!