This Chicken Bacon Ranch Quesadilla recipe is my version of a Chili's Bar and Grill classic.
Gooey cheese and tender, juicy chicken layered between two golden-brown tortillas and served with homemade spicy Ranch dressing. Yeah, it doesn't really get any better than that!
Marinate the Chicken for the Chicken Bacon Ranch Quesadillas
Our Chicken Bacon Ranch Quesadilla begins with a marinade. No, we're not soaking the actual quesadilla in liquid. That would make it soggy. We're marinating the chicken first, because a great Chicken Bacon Ranch Quesadilla starts with great chicken, and great chicken starts with a great marinade.
First, place the chicken thighs into a food safe bowl or bag. I recommend using boneless and skinless chicken thighs because they're a bit fattier and carry more flavor.
Next, add in soy sauce, chopped cilantro, lime juice, orange juice, minced garlic, ground cumin, salt, and black pepper. Cover the chicken and marinade and place it in the fridge for a minimum of four hours. If you have time, I recommend marinating it overnight because we want all that flavor to soak in!
For other chicken marinades, check out my Butterflied Peruvian Chicken Drumsticks with Green Sauce, Lemon Chili Rye Rotisserie Chicken and Grilled Mojo Chicken.
Let's Get These Chicken Bacon Ranch Quesadillas Cooking!
Now it's time to grill the chicken for your Chicken Bacon Ranch Quesadillas. First, preheat your grill for direct cooking at about 350ºF. Place the chicken thighs onto the grill and let them cook until they reach an internal temperature of 170ºF. I usually achieve this in roughly 7-9 minutes, but it will, of course, depend on your grill and the size of the chicken thighs you're using.
Next, pull the chicken off of the grill and set it aside for five minutes to give the flavor and moisture time to distribute back into the meat. Slice into it too soon and all that goodness will seep out. And we definitely do not want that.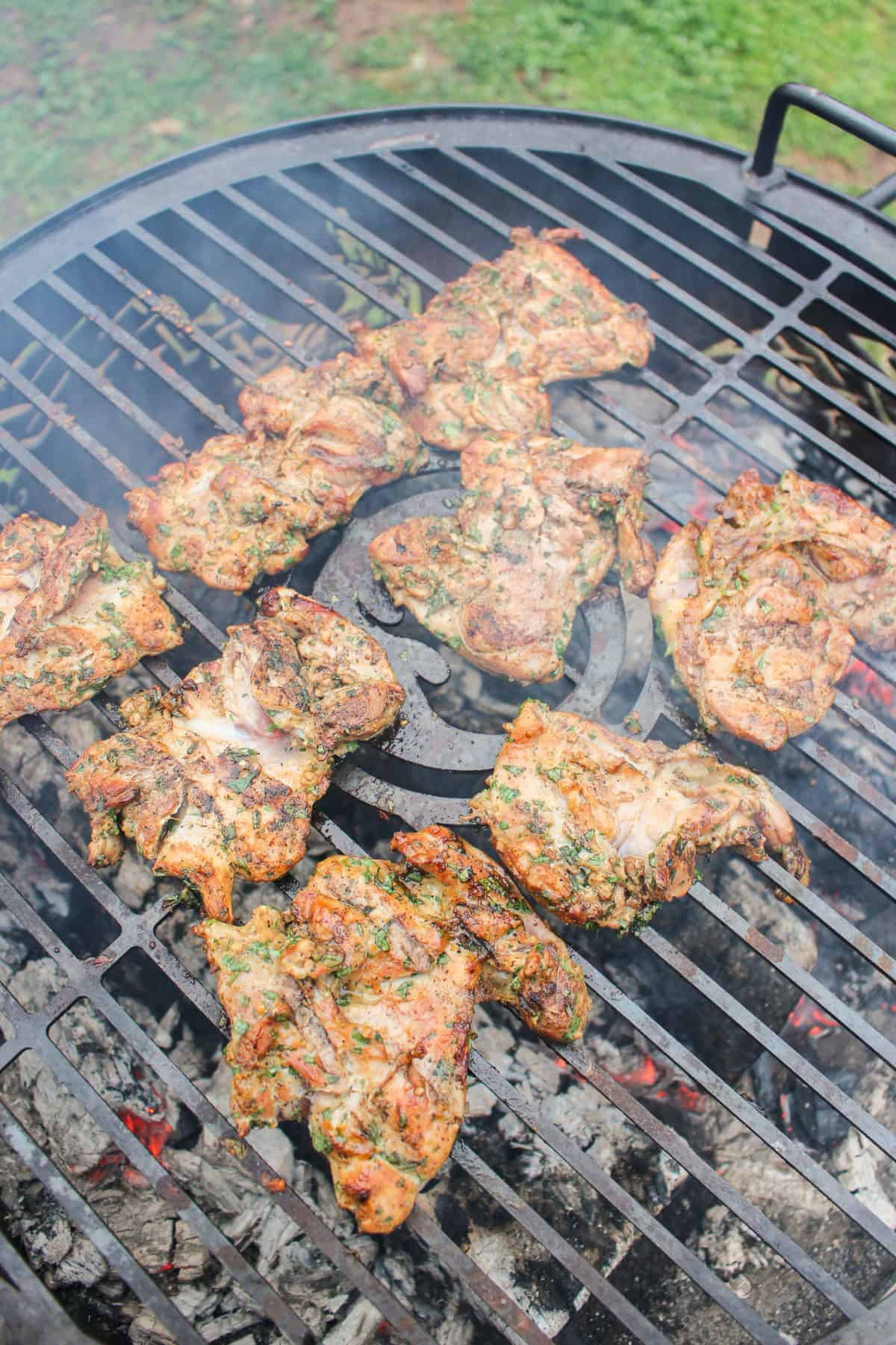 Lastly, chop the chicken into small cubes, (think small enough to be layered into a quesadilla), then set the chicken cubes aside while you prep the rest of your Chicken Bacon Ranch Quesadilla ingredients.
Assemble the Chicken Bacon Ranch Quesadilla
Now, onto the easy part: assembling the quesadilla. First, clean off the grill grate and add on a large plancha or cast-iron skillet to preheat.
Lay a large flour tortilla down into the pan and top one half of that with a handful of shredded cheddar cheese. I highly recommend shredding your own cheese for this Chicken Bacon Ranch Quesadilla because the flavor of pre-shredded cheese just isn't quite the same.
Next, add 2-3 tablespoons of the chopped chicken on top of the cheese followed by a sprinkle of cooked bacon bits. Fold the tortilla over to make the quesadilla. Cook, flipping every minute or so, until the cheese is nice and melty and the tortilla is slightly crispy and golden-brown.
For more quesadilla recipes, check out my Cheesesteak Quesadilla, Loaded Pulled Pork Quesadillas, and Cheesy Steak Quesadilla.
Serve Your Chicken Bacon Ranch Quesadilla
Last, but definitely not least, it's time to serve up your finished quesadillas.
I like to slice mine up and serve it with a side of spicy ranch and fresh pico de gallo, because who doesn't love some killer dips?!
For more delicious recipes, check out my second cookbook Flavor X Fire or my first cookbook Food X Fire!
Needing more spice in your life? My spice line can help with that. Check them out here.
Full Length Recipe Video on Facebook!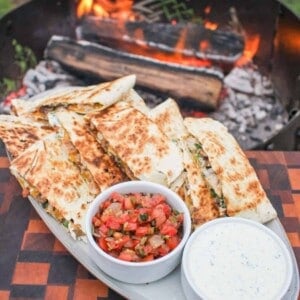 Chicken Bacon Ranch Quesadilla
Chicken Bacon Ranch Quesadilla for a delicious, hand held meal!
Ingredients
Chicken & Marinade:
5-6

Chicken Thighs

boneless & skinless

¼

cup

Soy Sauce

⅛

cup

Cilantro

chopped

3

medium Limes

juiced

2

Navel Oranges

juiced

2

tbsp

Minced Garlic

1.5

tbsp

Ground Cumin

Kosher Salt

to taste

Black Pepper

to taste
Spicy Ranch:
2.5

tbsp

Cilantro

chopped

2.5

tbsp

Sour Cream

2

tbsp

Mayonnaise

1

tbsp

Jalapenos

finely chopped or pureed

2

medium Limes

juiced

Buttermilk

to desired consistency

Salt

to taste
Quesadilla:
Cooked Bacon Bits

Shredded Cheddar Cheese

Large Flour Tortillas
Serving:
Pico de Gallo

Chopped Cilantro

Chopped Red Onions
Instructions
Begin by adding your chicken thighs to a food safe bowl or bag. Add the rest of the marinade to the chicken and mix thoroughly. Once mixed, cover and place in the fridge for at least 4 hours but ideally overnight.

Next day, mix together all the ingredients for the Spicy Ranch in a bowl and set aside. Pull out the chicken and discard any excess marinade.

Preheat a medium high heat grill for direct cooking (about 350F).

Add your chicken to the grill and cook for about 7-9 minutes per side or until they have reached 170F internal. Once the chicken is done cooking, pull it off and let it rest for 5 minutes. Once rested, chopped the chicken up into small cubes and set to the side.

Clean off your grill grate and either add a large plancha or a large cast iron skillet. Let it heat up over the flames for 2-3 minutes (without any oil). Add your large flour tortilla down and spread out a handful of shredded cheddar cheese on one half of the tortilla. Add 2-3 tbsp of chopped chicken over the cheese then fold the empty half of the tortilla over to make your quesadilla. Let this cook, flipping every minute, until the tortilla is crispy and the cheese has melted (about 3-4 minutes of cooking). Right before pulling your quesadilla off, open it up and drizzle some spicy ranch, add some chopped red onions, bacon bits and chopped cilantro. Close the quesadilla up and let cook for another 30 seconds before pulling it off. Repeat all these steps until you have done all the quesadillas you like.

Slice your quesadilla up, serve with more of the spicy ranch and pico de gallo. Enjoy!
Nutrition
Calories:
456
kcal
|
Carbohydrates:
22
g
|
Protein:
27
g
|
Fat:
31
g
|
Saturated Fat:
8
g
|
Polyunsaturated Fat:
8
g
|
Monounsaturated Fat:
12
g
|
Trans Fat:
1
g
|
Cholesterol:
146
mg
|
Sodium:
973
mg
|
Potassium:
602
mg
|
Fiber:
4
g
|
Sugar:
8
g
|
Vitamin A:
496
IU
|
Vitamin C:
72
mg
|
Calcium:
109
mg
|
Iron:
3
mg