The number one complaint of folks ordering a McRib sandwich is that there are not enough burgers on it. So, we here at Over The Fire Cooking sought to remedy this mass oversight by literally doubling down on the burgers.
Post Contributed by Jeremy Whitelaw
3-2-1… McRib Burger!
At the core of a rib sandwich is, naturally, the ribs. But not just any ribs. We want tender, fall off the bone, punch you in your mouth flavorful, ribs. Let's discuss the few ways we can achieve this glorious goal.
Which ribs to choose. Pork ribs. This is what the restaurant with the golden arches tries to replicate with their rib like sandwich. While beef ribs are amazing, we're saving them for another day. When it comes to pork ribs there are two options: baby back ribs and spare ribs. This honestly comes down to personal opinion, but there are a few differences. Baby backs come from further up on the back, think pork loin. They also have more of a curve to them and are a bit thicker and shorter. While spare ribs come from closer to the belly, think bacon. They lie flatter and are a bit longer, so for our McRib Burger purposes in this recipe, spare ribs are the answer.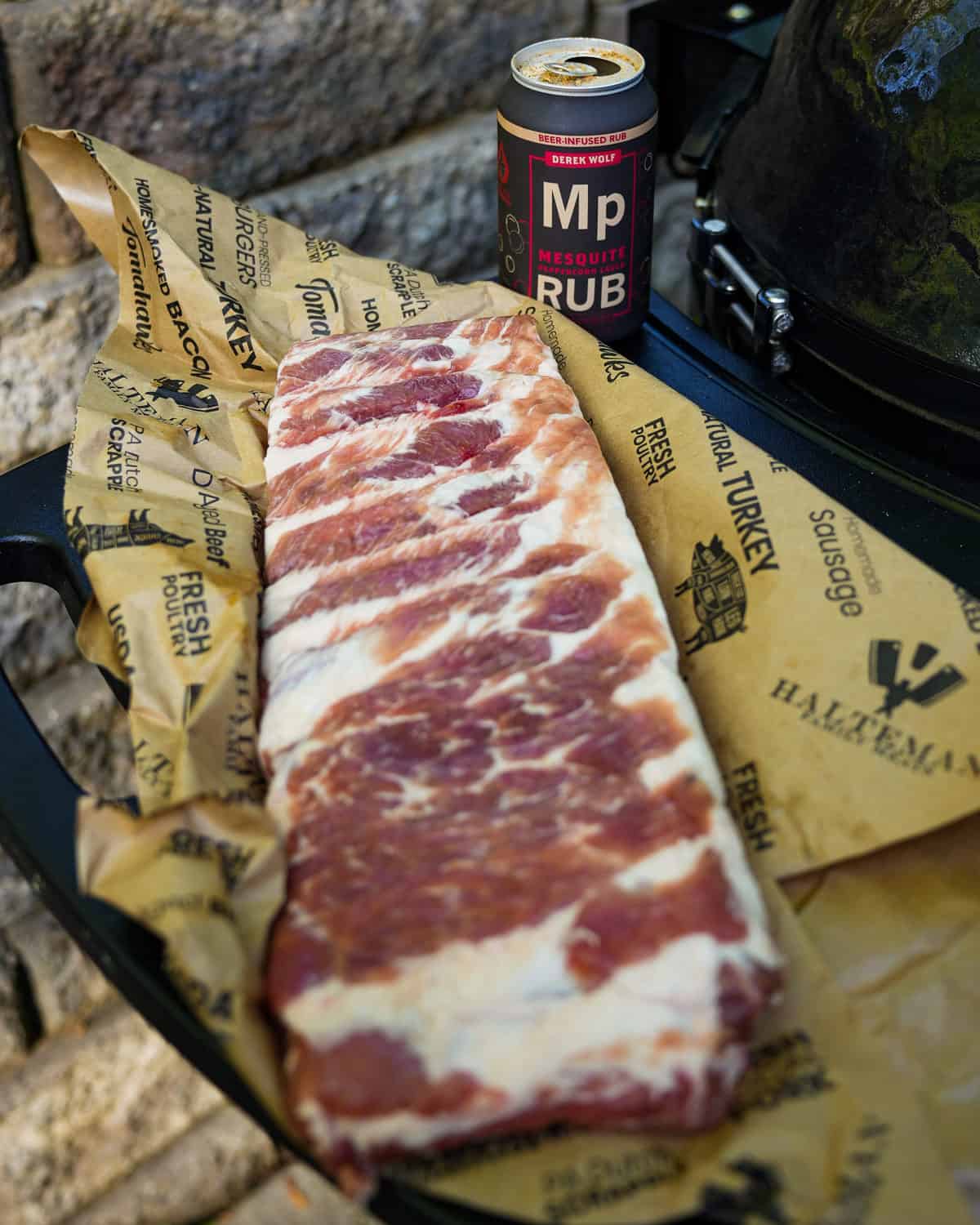 For more on ribs, check out Huli Huli Ribs with Sriracha BBQ Sauce, Gaucho Beef Ribs and Fried Sticky Ribs.
Cooking Your Perfect McRib Burger
Cooking that perfect slab of ribs is a quest, good reader. For this particular application we want the ribs to be tender enough to easily pull out the bones, but not so tender that they fall apart. For this we are going to implement a modified 3-2-1 rib method. The method traditionally goes as follows:
Smoker set to 225 degrees.

Season ribs and smoke for 3 hours.

Wrap ribs in foil with juices for 2 hours.

Smoke unwrapped for 1 more hour.

Adding sauce at each step if desired.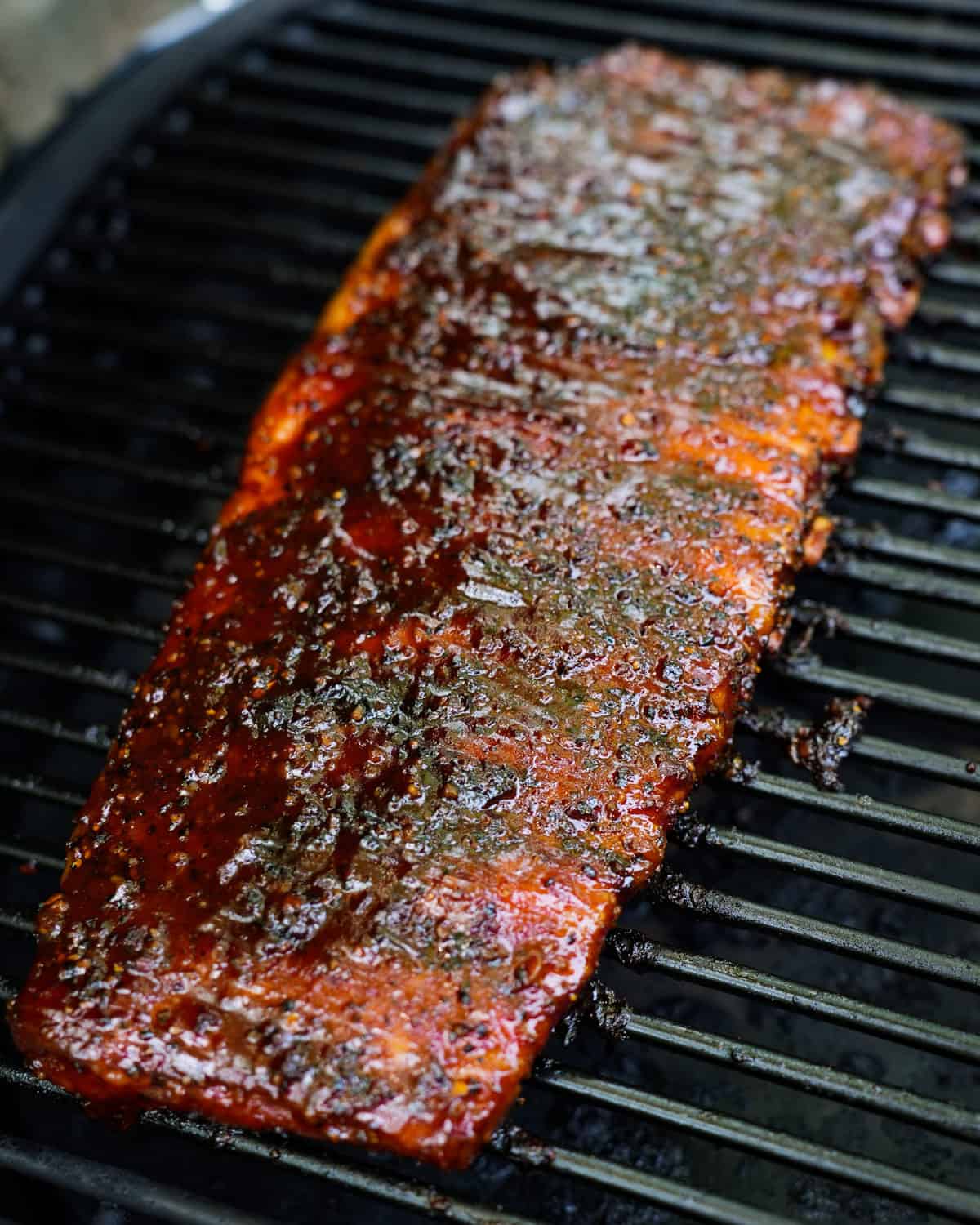 I have found this method to be too aggressive. Usually resulting in ribs so tender that you end up with pulled pork. Not optimal for our McRib Burger. So, we're going to modify this method to 3-1-1. Three hours of smoke, 1 hour of wrap, and then one more hour to firm up. Keep an eye on the ribs, if your smoker is running hotter then 225 degrees it'll drastically effect the cook time. Try pulling internal temps or using the bend test to gauge doneness.
McRib Burger Time
Get. Good. Meat. Because "ground meat" is essentially "mystery meat". This isn't the middle school cafeteria. You're not cooking for mystery meat Mondays. This is a very simple step that'll will have a huge impact on your final McRib Burger. If the package is marked "burger meat" or "ground meat" it could literally be any part of the cow. Could it be ground ribeye or filet? Sure. Is it more likely to be lips and buttholes? Definitely. So, do yourself the big favor of grabbing ground chuck or ground sirloin.
Also use a quality bun, because everyone appreciates nice buns at a cookout.
For more burgers, check out Steakhouse Smash Burgers, Garlic Gochujang Shrimp Burgers, Cheesy Onion Smash Burgers and Elvis Smash Burger.
The Science of Smashing
Few people know this, but when the Hulk says "Hulk Smash" he's actually asking for a smash burger. Don't bother looking that up, its cannon. Trust me. In all seriousness, smash burgers are amazing because thinner patties for more layers of cheese. Incredible contact for that perfect millard reaction. A flat top grill or a cast iron pan will help you make the most stunning burgers of your life, and the perfect ones for this McRib Burger!
For more delicious recipes, check out my second cookbook Flavor X Fire or my first cookbook Food X Fire!
Needing more spice in your life? My spice line can help with that. Check them out here.
Full Length Recipe Video on Facebook!
McRib Burger
The McRib Burger is here and we're giving those two golden arches a run for their money!
Ingredients
1

Rack of Spare Ribs

BBQ Sauce

3

Tbsp

Butter

3

Tbsp

Brown Sugar

2

Tbsp

Honey

1

Cup

Apple Juice

1.5

lbs

Ground Chuck

6

Slices

Cheddar Cheese

3

Sesame Seed Burger Buns

Mayo

Chopped onion

Pickles

Butter Lettuce
Instructions
Rib Cook
Heat smoker to 225 degrees. Season Ribs with OTFC Mesquite Peppercorn Lager Rub. (Remove membrane from back of ribs if necessary)

Smoke ribs for 3 hours at 225 degrees. Add a layer of your favorite bbq sauce at the end of the 3 hours.

Lay out 2 layers of heavy-duty tin foil. Layer down the 3 tbsp of butter, half of the brown sugar, and half of the honey. Place ribs, meat side down, on the layered foil. Cover the back of the ribs with the remaining brown sugar and honey. Add in the 1 cup of apple juice while wrapping the ribs in the foil. Wrap tightly while keeping the meat side down.

Return the ribs to the smoker for one hour wrapped.

Unwrap ribs and return them to the smoker. Coat with another layer of bbq sauce and cook for 30min-1hr. Until the ribs are bone pulling tender.

Once done, remove ribs from smoker to a cutting board and gently pull the rib bones and cartilage from the ribs.
Burger Cook
While ribs are finishing up on the smoker, heat the grill to medium high heat with flat top or cast-iron insert. Spread mayo on the burger buns and toast to desired level of doneness.

Form the 1.5 lbs of ground chuck into 6 evenly sized quarter pound balls. Place on grill, season with OTFC Mesquite Peppercorn Lager Rub, and smash.

Cook burgers for 3-4 min, flip once. Add a slice of cheddar cheese to every patty and cook an additional 3-4 min. Double stack burgers and remove from heat.

Lay out burger buns in a row, add on butter lettuce, rack of deboned ribs, double stack of burgers, onion and pickles. Slice the rack of ribs between burgers. Serve!
Nutrition
Serving:
3
Burgers
|
Calories:
1492
kcal
|
Carbohydrates:
56
g
|
Protein:
73
g
|
Fat:
108
g
|
Saturated Fat:
48
g
|
Polyunsaturated Fat:
4
g
|
Monounsaturated Fat:
44
g
|
Trans Fat:
6
g
|
Cholesterol:
325
mg
|
Sodium:
752
mg
|
Potassium:
1091
mg
|
Fiber:
1
g
|
Sugar:
34
g
|
Vitamin A:
717
IU
|
Vitamin C:
1
mg
|
Calcium:
377
mg
|
Iron:
8
mg