The big 4th of July parties & recipes are right around the corner, and if you are like me you are looking for a showstopper recipe that blows people away. Well, this Salt Baked Salmon with Cream Sauce cooked using Cowboy Charcoal is your answer. Covered in a salt crust to ensure moisture, smoked for 1 hour at 400F then topped with a creamy sauce. This is an amazing recipe to feed the hungry masses. Below are a few questions that I always get when doing a salt baked salmon!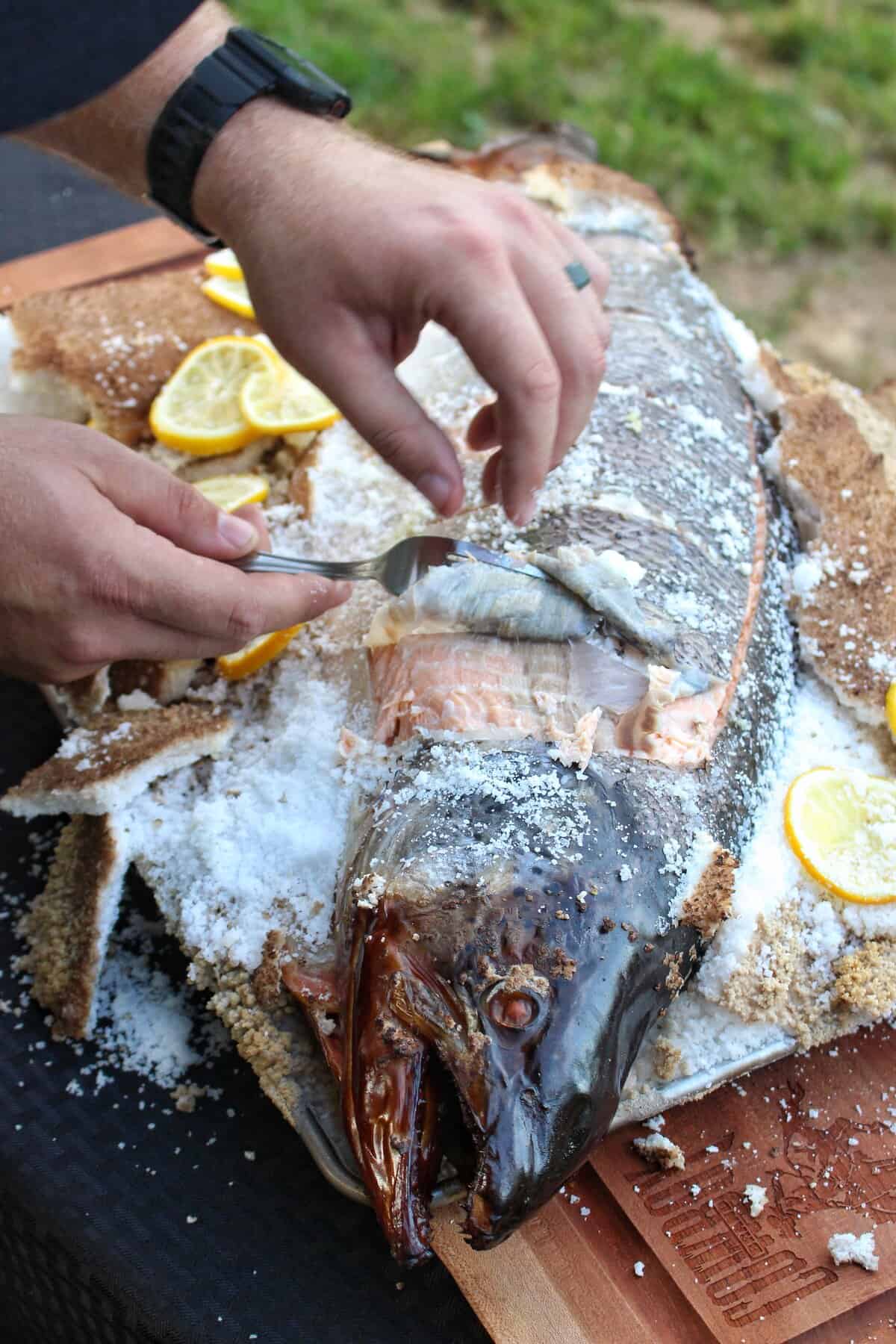 Few Answers to your Questions:
1. How does Salt Baked Salmon Work?
Salt is a natural barrier for preventing moisture and flavor from leaving the food. Salt baking is a fun twist on just that. By creating this salt crust on the outside of the fish, the moisture and flavor is forced to stay inside the fish. This will leave you with a very juicy fish with tons of unique tastes and flavor. That is why we love salt baking!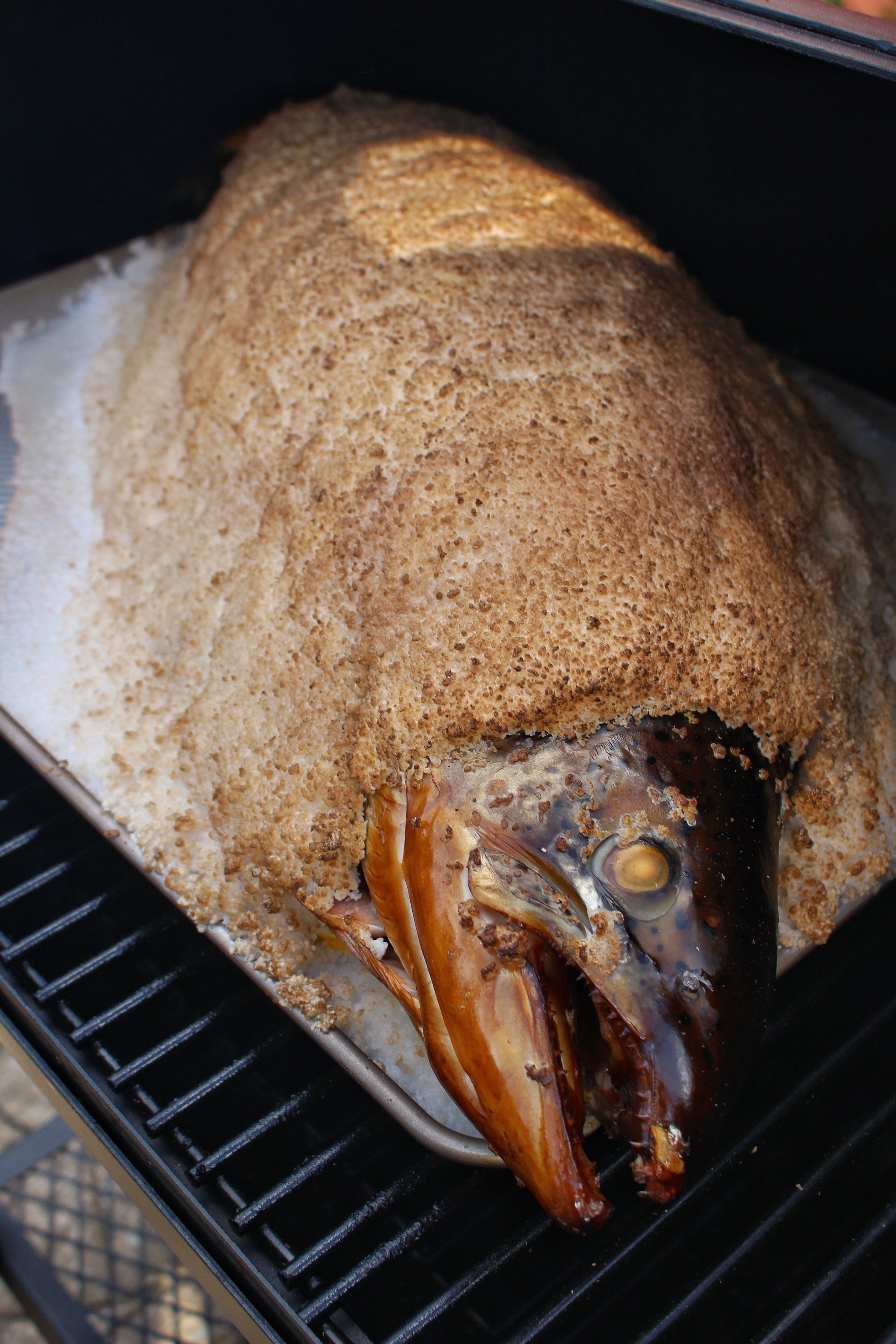 2. Will the Salmon be overly salty?
In short, no. The Salt Baked Salmon will barely have any salt on it except for the salt that you season the inside and outside. Why does that salt not migrate into the fish? Well, that is mostly because of the moisture and barriers. Because there is a layer of skin and lemon slices on the outside, the fish meat will not absorb the salt as much as you think.
Additionally, the salt crust is moist so as it is cooked the moisture will leave and ultimetally dry it out. This will transfer no salt flavor onto the meat. The salt crust on this Salt Baked Salmon is all about trapping in the flavor, and not about making your food overly salty.
3. How will you know your salmon is done?
There are a couple ways of reading the temperature for your Salt Baked Salmon. One way is to gently push your thermometer through the salt crust and into the fish. You are looking for the fish to read 140F. Another way is to gently push a metal skewer or knife into the fish and pull it out. The skewer/knife should be warm to touch after pulling it out. You will know your salmon is ready in these two ways!
4. Why do you want good charcoal?
In the end, having good charcoal and wood chunks is the overall key to Salt Baked Salmon. Since you have to cook this at 400F for 1 hour, then having high quality charcoal like Cowboy Charcoal is your only way at maintaining temperature. Two full chimneys of Cowboy is what I used to keep that temperature going smoothly. Additionally, I topped the coals with wood chunks from Cowboy to get a little extra smoke flavor into the cook!
Time to Eat this Salt Baked Salmon
Try out this amazing Salt Baked Salmon recipe now right before 4th of July! This fun Salt Baked Salmon recipe is the ideal showstopper recipe to use with your Cowboy Charcoal and grill. Make sure to invite a bunch of people over, because this recipe will feed quite a few!
This article does contain affiliate links to products that we personally use and support. Purchasing an affiliate product does make us a small commission at no cost to you. This helps us continue creating for our website. All words and opinions are our own, and we appreciate your support!
Salt Baked Salmon
Ever wanted to cook a whole salmon? Try this Salt Baked Salmon recipe with Cowboy Charcoal and Verlasso!
Ingredients
Salmon & Salt:
1

whole Verlasso Salmon

144

oz

of Kosher Salt

1.5

cups

of Water

12

Lemons

sliced

15-20

sprigs of Dill

Olive Oil

Chives

for garnish
Cream Sauce:
1

Shallot

finely diced

⅛

cup

of White Wine Vinegar

⅛

cup

of White Wine

6

tbsp

of Butter

⅛

cup

of Heavy Cream
Instructions
Start by taking off the fins on your salmon and scoring the outside of the skin. Lather with oil and season with a little sea salt on the outside and inside of salmon. In a bowl, mix your kosher salt and water till it is a nice sand texture. Place a layer of salt on your baking sheet and top with a layer of lemon slices. Place your salmon on top of the lemon slices. Stuff your salmon with lemon slices and dill sprigs. Top your salmon with more lemon slices and cover with more salt + water mixture until completely covered.

Using Cowboy Charcoal, fill two chimneys full of coals, light and let preheat for your smoker for high heat (400F). Top with wood chunks for added smoke flavor.

Add your salmon to the smoker and cook for about an hour or until the internal temperature reads about 140F. Once done, pull off and let rest for 5-10 minutes.

Over the leftover Cowboy Charcoal, simmer your shallots, white wine vinegar and white wine for about 4-5 minutes. Add butter and heavy cream. Stir and let simmer over low heat for 5-10 minutes or until thickened.

Pull salt off salmon, peel back skin and cut into filet. Top filet with cream sauce and chopped chives. Enjoy!