#ad St. Patrick's Day is full of old traditions and new experiences. This Smoked Corned Beef Sandwich recipe is one of my favorite foods to eat during this time of year. It pairs super well with a Guinness and is very versatile. With simple ingredients like corned beef brisket, Guinness beer, and rye bread, this is the perfect sandwich to enjoy on St. Patrick's Day or any day of the year!
Corned Beef is typically beef brisket that has been soaking in a salt brine for a period of time. It is actually called corned beef because the salt that is used to brine is larger-grained, therefore called "corns."
The meat tends to be extremely flavorful because of the brining process and has become a staple piece for St. Patrick's Day. However, if you do smoked corned beef, then you are breaking that norm!
Corned beef is traditionally boiled. While I have fond memories of this, I thought it would be fun to spice things up this year. We are gonna do smoked corned beef over a fire instead!
Basically, we will smoke the corned beef over a fire until it reaches about 170F internal temperature. Next, we will pull it off and place it inside of some tin foil with some Guinness. It will then go back on the smoker for another hour or two until it reaches 200F.
Then we will slice into that smoked corned beef and place it on top of some rye bread. Add some Swiss cheese, sauerkraut & dressing to make it the best Corned Beef Sandwich you've ever had!
Pour yourself a pint of Guinness, and you are ready to party!
In the end, holidays like St. Patrick's Day are about exploring new ways of cooking classic dishes. With this Smoked Corned Beef Sandwich made with Guinness, you will definitely be enjoying what the Emerald Isle has to offer right in your own backyard. Slainte!
Why you'll love this recipe
These hot Corned Beef Sandwiches are the perfect way to celebrate St. Patrick's Day or dinner with friends and family! They're very similar to the Reuben sandwiches you'd find at Ruby Tuesday's but MUCH BETTER.
These delicious sandwiches are loaded with tender meat soaked in a Guinness bath and topped with melty Swiss cheese, sauerkraut, Thousand Island dressing, and wedged between rye bread! Another reason why this recipe is fantastic is its ease of customization! You can play around with the seasonings on the beef and the toppings to get your perfect sandwich.
If you love a good sandwich, then you'll love this STEAK FRITES SANDWICH, MUSHROOM SWISS STEAK SANDWICH, and CHOPPED BRISKET SANDWICH!
Ingredients
Smoked Corned Beef
Pre-brined Corned Beef Brisket – This can be found in the deli section of your grocery store. Pre-brined brisket is already ready to cook, so there's no need to brine it yourself.
Black Pepper
Onion Powder
Garlic Powder
Coriander
Cayenne
Salt
Guinness – An Irish stout beer with a deep brown color. We're adding this to the corned beef in the smoker to impart some flavor into the meat!
Beef Broth
Yellow Mustard – Adds a nice tangy flavor to the beef.
Sandwich
Thousand Island Dressing – Adds a delicious contrast to the rich, savory flavors of the corned beef.
Swiss Cheese – Complements the salty and slightly peppery notes of the corned beef.
Sauerkraut – Fermented, tangy, and provides a vibrant contrast to the meat.
Rye Bread – Slightly earthy and robust with a unique flavor that pairs well with corned beef.
How to Make a Smoked Corned Beef Sandwich
First off, grab that pre-brined corned beef brisket, but ditch the included seasoning. We're gonna do something cool to make it less salty. You can totally skip this step if you want, but if you're down, give the beef a nice soak in water for about 2 hours. After that, pop it back in the fridge.
Next, we're going to spread some mustard all over the outside of the corned beef and then sprinkle on the black pepper, onion powder, garlic powder, coriander, cayenne, and salt.
Then, fire up your smoker and wait until it reaches a steady 250F. We're smoking the beef at a lower temperature so it cooks perfectly all around and becomes super tender.
Now, gently place that corned beef in, fat side down. Let it smoke until it hits 170F inside. It might take anywhere from 1.5 to 3 hours, so grab a drink and chill.
Alright, when the smoked corn beef internal temperature reaches at least 170F, carefully take it out of the smoker. Grab two sheets of tin foil and make a little "boat" with the edges. Next, pour some Guinness Beer and Beef Broth over the meat, letting it pool in the tin foil base.
Seal it up with the foil cover and get it back on the grill. This time, we're looking for a toasty 200F inside, which might take another 1.5 to 2 hours. Low and slow wins the corned beef game!
Once it's hit that perfect mark, take it out and let the meat rest. Wrap it up in aluminum foil and then place it in a cooler. Let it chill there for about 20 minutes.
Serving Time
When the time's up, get ready to slice. Cut against the grain for maximum tenderness. You can do thick or thin slices, depending on your personal preference.
To really kick things up, serve it up with some melted cheese, sauerkraut, and Thousand Island dressing between two rye bread slices.
Finally, pour yourself a well-deserved Guinness and enjoy it with friends and family!
Tips
Feel free to add different toppings than what I have listed. Some great options are horseradish mayo, dill pickle relish, and caramelized onions!
Use an instant-read thermometer to ensure the internal temperature of the beef reaches at least 170F.
Toast the side of each bread slice for the ultimate crunch!
How to Store Leftovers & Reheat
Store leftover beef in an airtight container in the fridge for 3-4 days. You can also freeze your smoked corned beef for later if you don't plan on eating it right away! Pop individual portions into an airtight container and keep in the freezer for 2-3 months!
When you're ready to reheat your refrigerated corned beef, pull out a skillet and heat the slices of beef until warm. This will help the beef crisp up a bit and not be too moist. For a quicker method, you can pop the meat in the microwave for 20-30 seconds with a wet paper towel on top. This helps the meat not dry out.
You can use these same reheating methods for frozen corned beef, but just make sure to let it thaw overnight in the fridge.
If you don't want to make a whole sandwich with the leftover beef, we suggest making some ROAST BEEF AND CHEDDAR SLIDERS!
If you don't feel like reheating the beef at all, you can also make a cold corned beef sandwich!
What to Serve With Corned Beef Sandwiches
Don't leave your freakin' delicious sandwiches hangin'! Pair them with some potato chips, French fries, and even some CHEESY IRISH TATER TOTS for the ultimate St. Patrick's Day celebration!
Smoked Corned Beef Recipe FAQs
What type of rye bread should I use for this recipe?
Any type of rye bread will do! You can use anything from traditional Jewish rye bread to marble rye bread! You can even use sourdough bread if you don't like the taste of rye!
What if I don't have a smoker?
No worries! You can use a gas grill or charcoal grill instead! Just make sure to add some wood chips in a smoker box to impart some of that savory smoke flavor!
Do I have to soak the corned beef in water before smoking it?
Nope! If you like the saltiness level of the beef, feel free to skip that step and smoke away!
Can I use another type of beer besides Guinness?
Absolutely! If you don't have or don't like Guinness, feel free to play around with different beer types to get your desired result!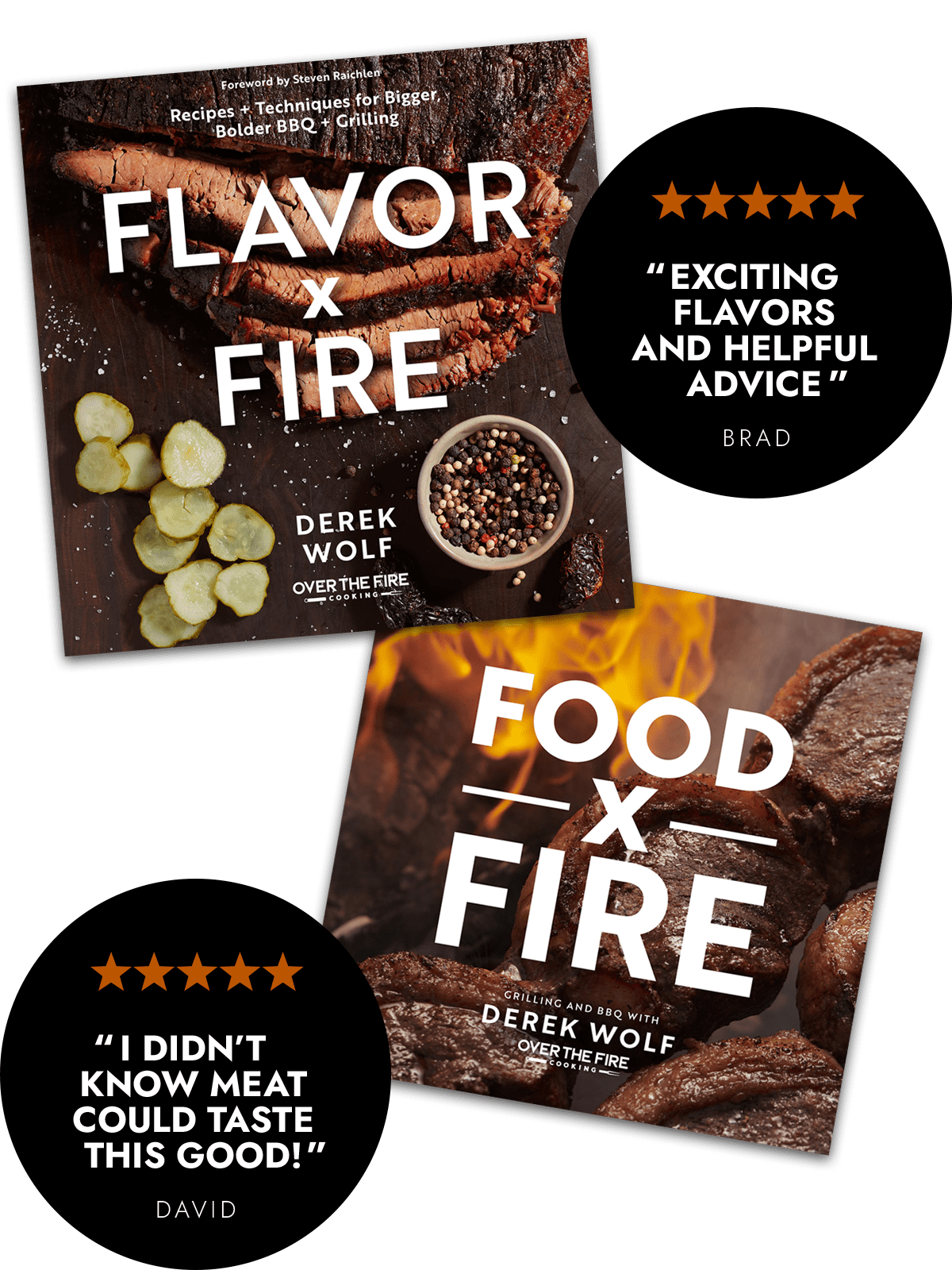 Get The Cookbooks!
Flavor X Fire & FOOD X Fire
All the major tastes—salty, sour, sweet, bitter, and umami—are explored in-depth, along with an investigation of other competent you should consider when it comes to flavors, such as aroma, heat, and texture.
Needing more spice in your life? My spice line can help with that. Check them out here.
Smoked Corned Beef Sandwich with Guinness
Smoked corned beef made into a sandwich that pairs perfectly with a pint of Guinness just in time for St. Patricks Day!
Ingredients
Smoked Corned Beef Ingredients:
1

Corned Beef Brisket

Pre-Brined

2

tbsp

Black Pepper

1

tbsp

Onion Powder

1

tbsp

Garlic Powder

2

tsp

Coriander

1

tsp

Cayenne

1

tsp

Salt

1/4

cup

Guinness

1/8

cup

Beef Broth

Yellow Mustard
Sandwich Ingredients:
Thousand Island Dressing

Swiss Cheese

Sauerkraut

Rye Bread
Instructions
Take pre-brined corned beef brisket out of bag and discard seasoning.

To reduce the amount of salt from the brining process, submerge beef in water for 2 hours and place back in fridge. You can skip this if you like.

Lather outside of corned beef with mustard then season with all the seasonings.

Get your smoker going. Once it reaches a steady 250F, place corned beef in fat side down and let cook until it reaches 160 F internal (about 1.5-3 hours)

Pull corned beef out of smoker.

Lay down 2 sheets of tin foil and make edges. Pour Guinness Beer & Beef Broth over top of meat and into tin foil base.

Then cover and place back on the grill till it reaches 200F internal (about 1.5-2 hours).

Once done, pull out corned beef and let rest in a cooler for 20 minutes.

Slice against the grain and serve with melted swiss cheese, rye bread, sauerkraut and Thousand Island dressing.

Pour yourself a Guinness and enjoy!
Notes
Equipment: Guinness pint glass, tin foil, smoker, wood chips, cutting board and knife.
Nutrition
Serving:
4
g
|
Calories:
476
kcal
|
Carbohydrates:
6
g
|
Protein:
34
g
|
Fat:
34
g
|
Saturated Fat:
11
g
|
Polyunsaturated Fat:
1
g
|
Monounsaturated Fat:
16
g
|
Cholesterol:
122
mg
|
Sodium:
3351
mg
|
Potassium:
776
mg
|
Fiber:
2
g
|
Sugar:
0.2
g
|
Vitamin A:
224
IU
|
Vitamin C:
62
mg
|
Calcium:
46
mg
|
Iron:
4
mg
This article does contain affiliate links to products that we personally use and support. Purchasing an affiliate product does make us a small commission at no cost to you. This helps us continue creating for our website. All words and opinions are our own, and we appreciate your support!