A little ways back, I started to get back into my old ways of cooking meat directly right on the coals. I have written a whole article on this process! I have done quite a few recipes with it directly on hot Cowboy Charcoal as well. With Labor Day right around the corner, I was thinking about doing something really epic on the coals. The biggest issue with direct cooking is that you usually have to pick thinner cuts of meat as they need to cook quickly. But, what if I wanted to cook a whole Tomahawk Steak?
My friends at Cowboy Charcoal wanted me to experiment a little to see if it was possible. The answer: YES!!! You absolutely can cook a whole bone in tomahawk ribeye directly on the coals. However, there are a few tips that I recommend doing to make them perfect.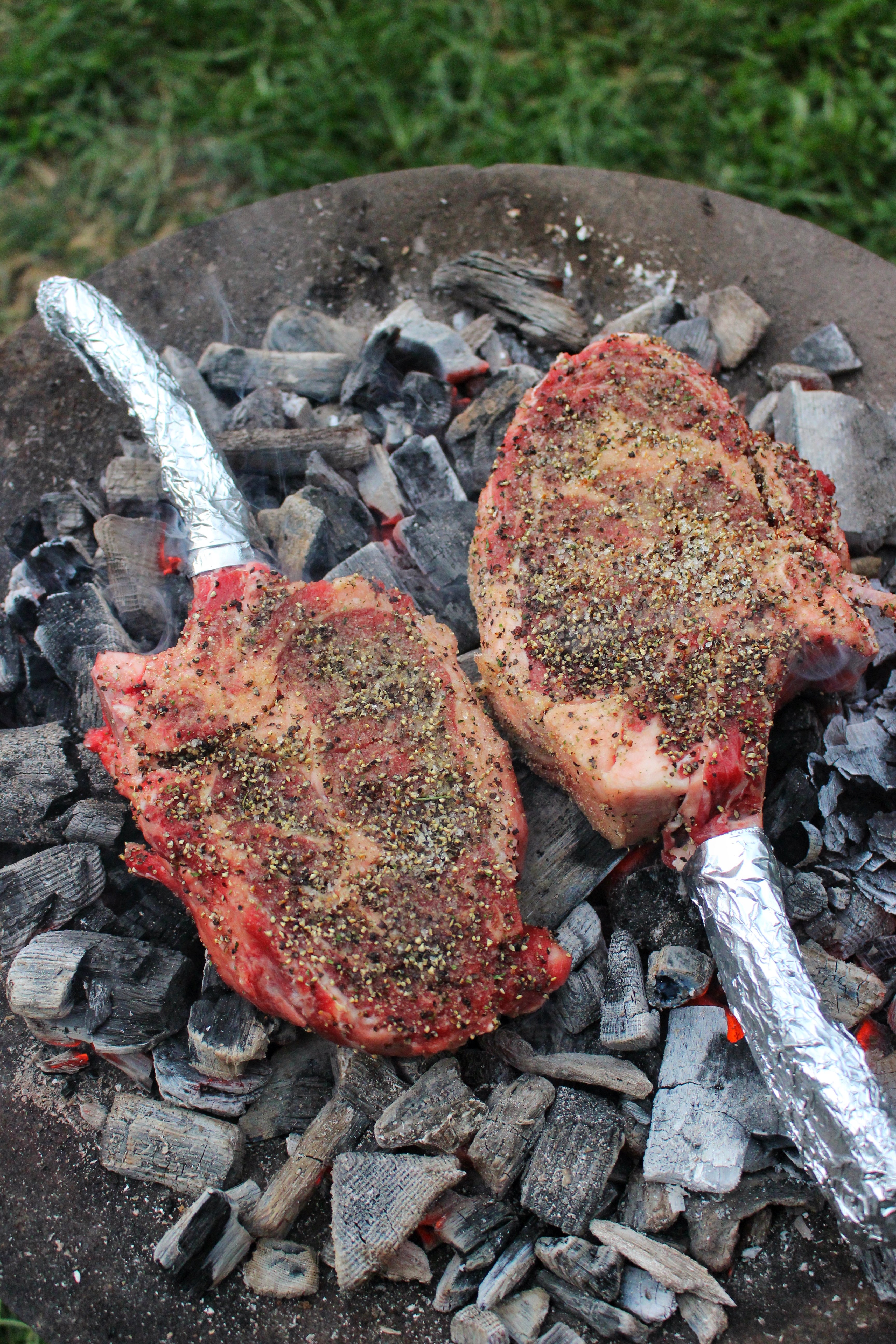 My 3 tips for getting these Dirty Tomahawk Steaks right:
There are a couple of issues that you need to tackle before cooking a whole tomahawk steak right on the coals. I have come up with three solutions for these issues:
1. How do you prevent the steak from burning too much?
The first issue that most people will think about this cook is that the Dirt Tomahawk Steaks will burn too much right on the coals. Truth is, the coals actually do not put off the highest temperature when they are smothered with food directly on them. However, they do get the edges a little crispy if you are not careful.
One way to prevent that is by spritzing the coals with water to lower the temperature. I only have to do it twice: once after I initially seared the steaks and once in the middle of the major cook to lower temperature. The water should lower the temperature well without causing the Cowboy Charcoal to lose heat.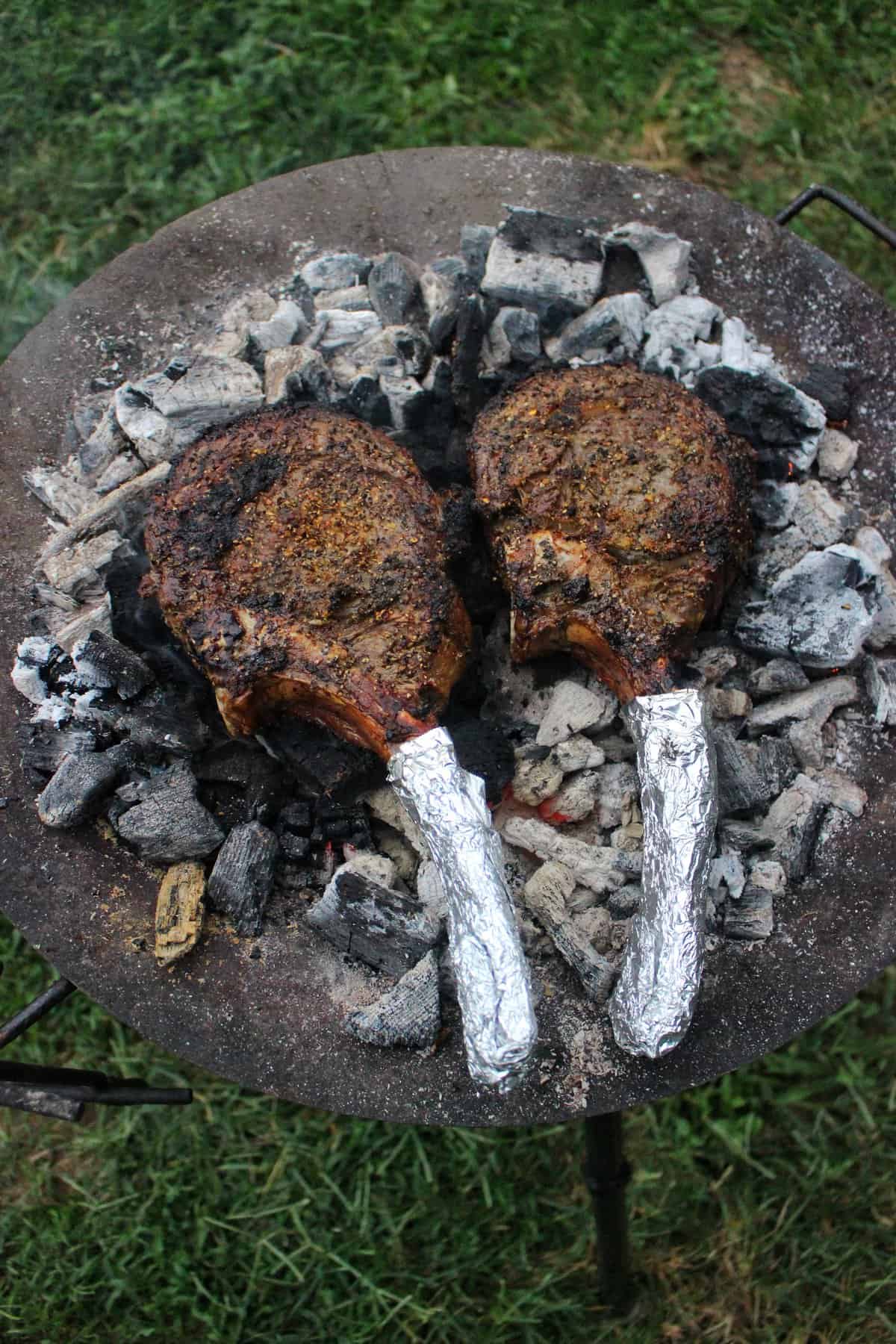 2. How do you get the seasoning to stay on the steaks?
Another issue that people might face while making these Dirty Tomahawk Steaks is losing seasoning to the coals. There are two ways to prevent this issue. One way is to season your steak up to 24 hours before you start cooking. The seasoning should stick to the meat easier, dry out the outer layer of seak and cause you to get a great crust.
Another way to help this issue is to have a little more seasoning set aside for when you are grilling. Season your steaks bare spots with a little more seasoning. Just sear the new seasoning off, and you should be ready to go. In fact, this tip works for all types of cooking with meat that loses seasoning.
3. How do you get consistent heat from your coals?
Lastly, keeping a consistent temperature is crucial to cooking on the coals. While I have covered in a different article about needing to use all natural charcoal like Cowboy for this style of cooking, just make sure you use high quality coals. This Dirty Tomahawk Steaks recipe needs high quality coals like Cowboy Charcoal in order to keep a consistent temperature throughout the cook.
Time to Eat some Dirty Tomahawk Steaks with Steakhouse Butter
For your Labor Day, try this awesome Dirty Tomahawk Steaks with Steakhouse Butter. Not only is it impressive, but it also makes for a delicious meal. Pair it with some bacon wrapped jalapeno poppers and you are right in business. Cheers!
This article does contain affiliate links to products that we personally use and support. Purchasing an affiliate product does make us a small commission at no cost to you. This helps us continue creating for our website. All words and opinions are our own, and we appreciate your support!
Dirty Tomahawk Steaks with Steakhouse Butter
Make the most of your Labor Day with some Dirty Tomahawk Steaks with Steakhouse Butter. These bone in ribeyes are a showstopper when cooked over hot Cowboy Charcoal!
Ingredients
Tomahawk Steak:
2

Full Tomahawk Ribeye Steaks

¼

cup

of Garlic Salt

¼

cup

of Black Pepper

1

tbsp

of Canola Oil
Steakhouse Butter:
1

cup

of Butter

softened

1.5

tbsp

of Parsley

chopped

4

Garlic Cloves

minced

1

tsp

of Red Chili Flakes

1

tsp

of Scallions

chopped

1

Lemon

zested & juiced
Instructions
About 3-4 hours before cooking, lather your tomahawk steaks with oil. In a bowl, mix the garlic salt & black pepper. Thoroughly season the steaks and place in the fridge to set until you are ready to grill.

While steaks are resting in the fridge, mix the steakhouse butter ingredients together. Roll into a log using parchment paper or plastic wrap. Place in the fridge until ready to use.

Using Cowboy Charcoal, fill two chimneys full of coals, light and let preheat for your grill for medium-high heat (350F).

Once the coals are white hot, blow off any loose ash and lay the tomahawk steaks down. Sear both sides for only 1-2 minutes until they are starting to brown. Once they are seared, pull the steaks off and spritz the coals with a little water to lower the temperature to a medium heat (about 325F). Lay the steaks back down. Cook over this lower heat, flipping & moving around on the coals every 5 minutes, for about 20 minutes until the internal temperature reads 120F for medium rare. Add a little additional seasoning to any bare spots on the steak.

Once the steaks are done, slice the butter into sections. Pull the steaks off, top with 1-2 butter sections per steak and rest for 10-12 minutes.

For serving, slice into them and enjoy!