Looking for something unique to put on the smoker? This amazing Smoked Picanha with Spicy Smoked Chimichurri is your ticket for just that. Smoky, spicy and savory all at the same time. It's time to break out your Oklahoma Joe's smoker and get to cooking!
Sponsored by Oklahoma Joe's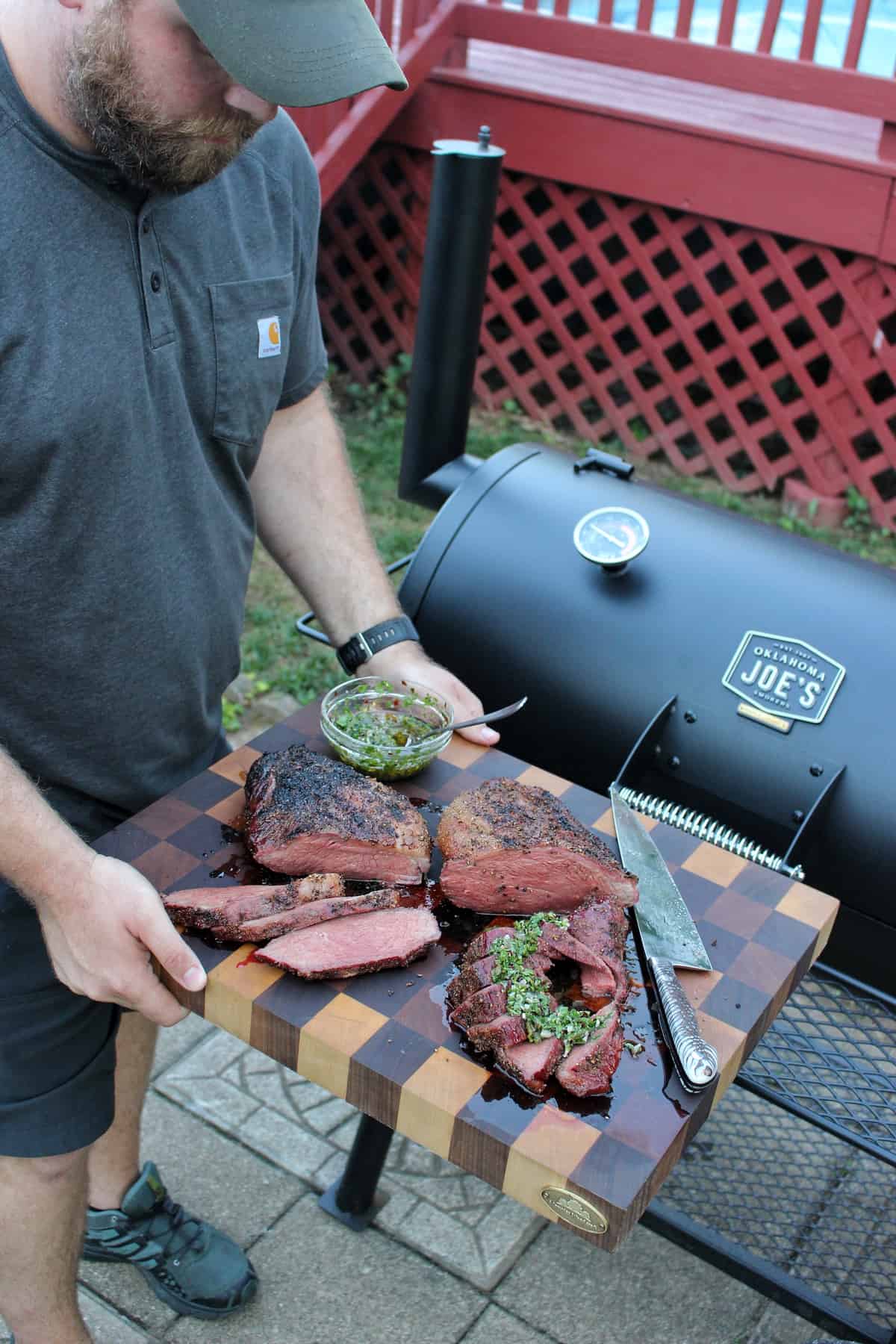 What is Picanha?
I have written a few articles in the past around picanha and even smoked picanha. This legendary cut of meat goes by many names, but some of the most common are picanha, top sirloin cap or coulette. You can find it at almost any full breakdown butcher shop, and even some higher end grocery stores are beginning to carry it.
This cut of meat comes from the backside of the cow around the butt where it sits on a big fat cap. It is very popular in Argentina, Brazil and many other South American countries. Traditionally, it is seasoned with just salt and seared on the fat side first. It is then sliced into steaks and grilled normally until done to your liking. You commonly find this cut at Brazilian style Rodizio restaurants! All of this to say, we are going to cook it in a non-traditional way doing smoked picanha!
Why are we going to Smoke Picanha?
Smoking first and then searing off a steak is a type of reverse searing that I truly love. Not only are you getting a massive smoky flavor on the meat in the Oklahoma Joe, but you also get a nice crust on the outside of this massive cut (which is not always easy).
For our method, we are going to first season this smoked picanha with SPG. Next we will preheat the Oklahoma Joe's Highland to 250F, and add the picanha to smoke for about an hour. Once it has hit internally the temperature we are looking for, we will pull it off and let it rest for 12-15 minutes. Getting another Oklahoma Joe's grill going, we are going to sear off both sides of the smoked picanha for one minute per side. Slice into and top it with some Spicy Smoked Chimichurri. Now about that chimichurri…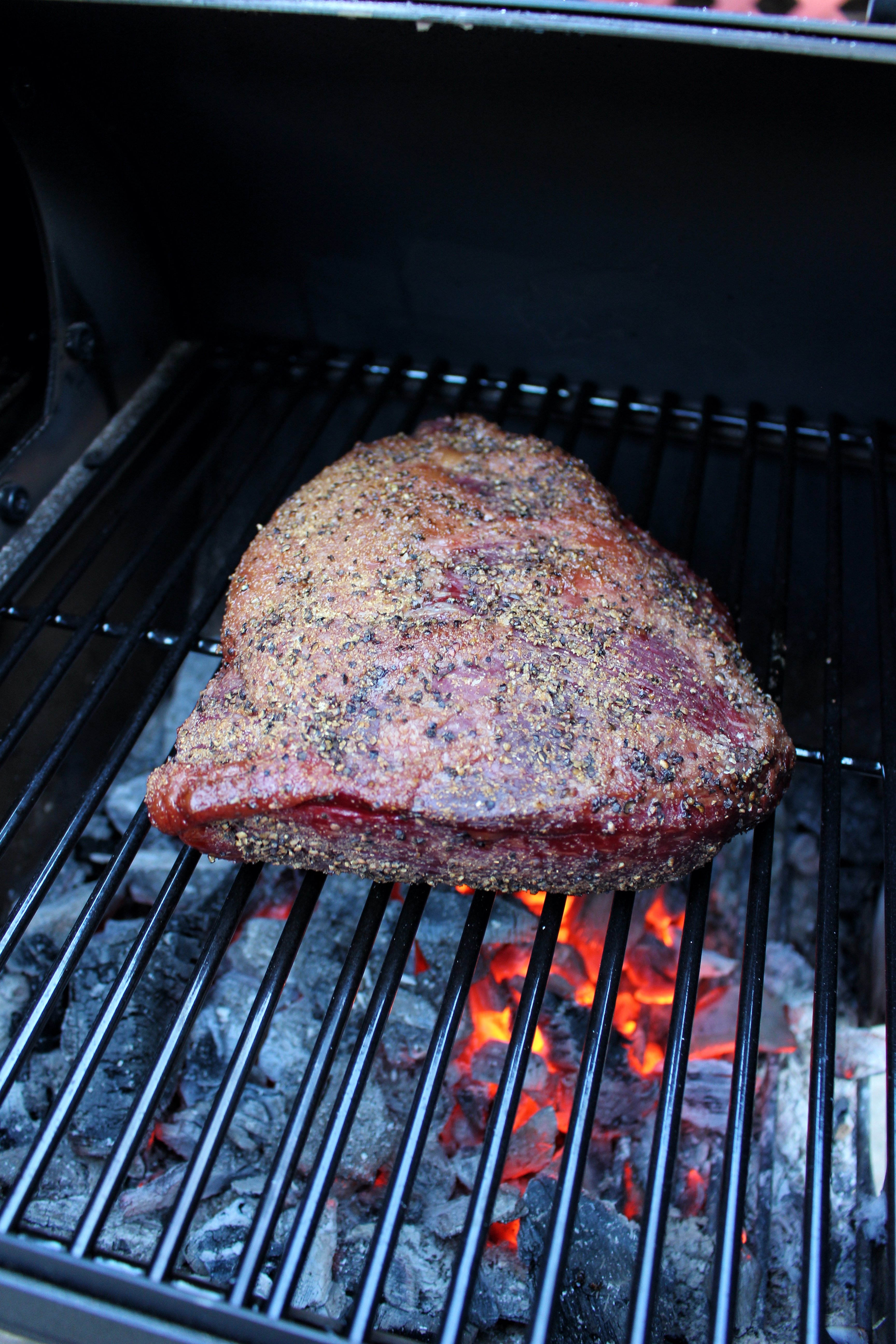 The Spicy Smoked Chimichurri
It's almost impossible to have smoked picanha without chimichurri. I have made my fair share of chimichurri, and if you like smoky spice then this is the right one for you. When your picanha has about 15 minutes left on the Oklahoma Joe's smoker, add some serrano peppers and garlic cloves to get some smoky flavor. Chop them up and toss it into the other ingredients for the Chimi and you are in heaven.
Time to Eat some Smoked Picanha with Spicy Smoked Chimichurri
Come enjoy this unique twist on a fun classic recipe using Picanha. This Smoked Picanha with Spicy Smoked Chimichurri is a fun backyard recipe to try on your Oklahoma Joe's smoker. Try it yourself!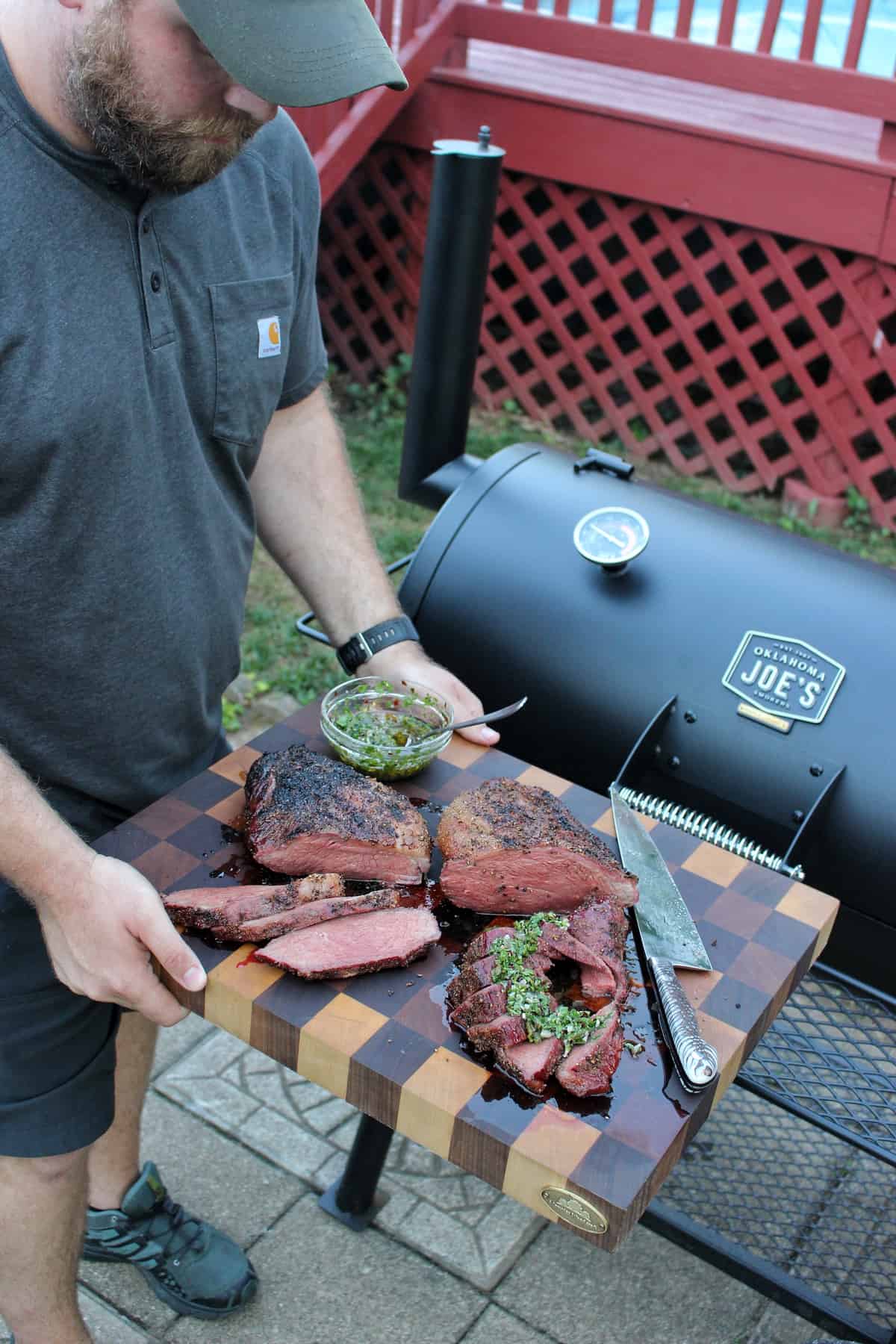 This article does contain affiliate links to products that we personally use and support. Purchasing an affiliate product does make us a small commission at no cost to you. This helps us continue creating for our website. All words and opinions are our own, and we appreciate your support!
Smoked Picanha with Smoked Spicy Chimichurri
Ever tried Smoked Picanha? This awesome recipe will leave you wanting more and covering it with the chimichurri sauces!
Cook Time
1
hour
5
minutes
Total Time
1
hour
30
minutes
Ingredients
Steak & Seasoning:
1-2

Whole Picanha

with fat cap

1

tbsp

of Sea Salt

1

tbsp

of Black Pepper

1

tbsp

of Garlic Powder

2

tbsp

of Oil
Spicy Smoked Chimichurri:
¼

cup

of Parsley

chopped

2

tbsp

of Red Wine Vinegar

1

tbsp

of Smoked Serrano Peppers

chopped

1

tbsp

of Smoked Garlic Cloves

chopped

1

tsp

of Sea Salt

1

tsp

of Black Pepper

1

tsp

of Red Chili Flakes

3

tbsp

of Olive Oil
Instructions
Lather your picanha with oil then season with salt, pepper and garlic powder thoroughly. Set in the fridge while you preheat the smoker.

Preheat your Oklahoma Joe's Smoker to 250F for indirect cooking. Add some hickory or mesquite wood chunks for added smoke flavor if desired.

Add your picanha to the smoker and cook for about 1 hour or until it reaches 125F internal. When you are 10-15 minutes before done, add garlic cloves and serrano peppers to the smoker to smoke. When steak & veggies are done, pull off and let rest for 12-15 minutes.

In a bowl, mix all ingredients for the Spicy Smoked Chimichurri sauce.

Preheat another OKJ grill, fire pit or stovetop for direct cooking. Once the steak is done resting, add to the grill to sear for 1 minute per side.

Slice your steaks against the grain, top with Spicy Smoked Chimichurri and enjoy!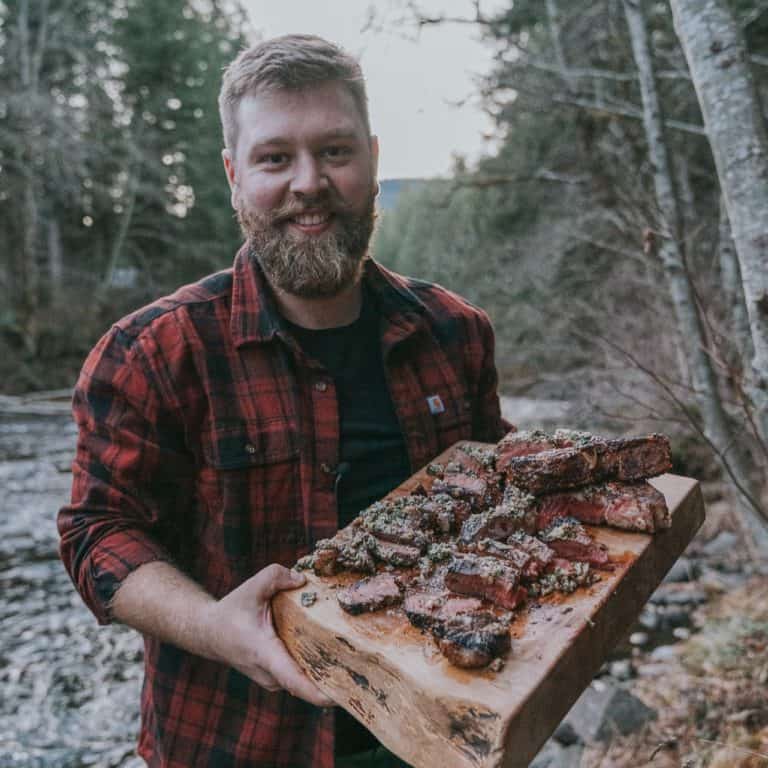 Derek is the driving force behind Over the Fire Cooking. He started cooking with live fire in 2016 and decided to start a social media page so his friends and family could follow the journey. Fast forward to today and Over the Fire Cooking has spread across multiple platforms with millions now following Derek's fire cooking journey. He's a southern fellow who enjoys everything from classic BBQ to Central and South American inspired dishes. Whatever he's cooking up, it's guaranteed to be so freakin' delicious!