Churrasco Picanha with Jalapeño Vinaigrette Salsa is one of my fire cooking staple pieces. If you have not figured it out by now, I really like picanha, and this churrasco recipe is one of my favorites! I have cooked it so many ways that it is not even funny anymore. From rotisseries, skewers, grilled and smoked, picanha was one of the first cuts of meat that I'd never heard of when I started grilling.
To be fair, for a long time this was one of the types of meats that was really difficult to find. It couldn't be found in a local grocery store so you had to go to a butcher shop or even order it online!Now, let's cover everything you need to know about this delicious recipe!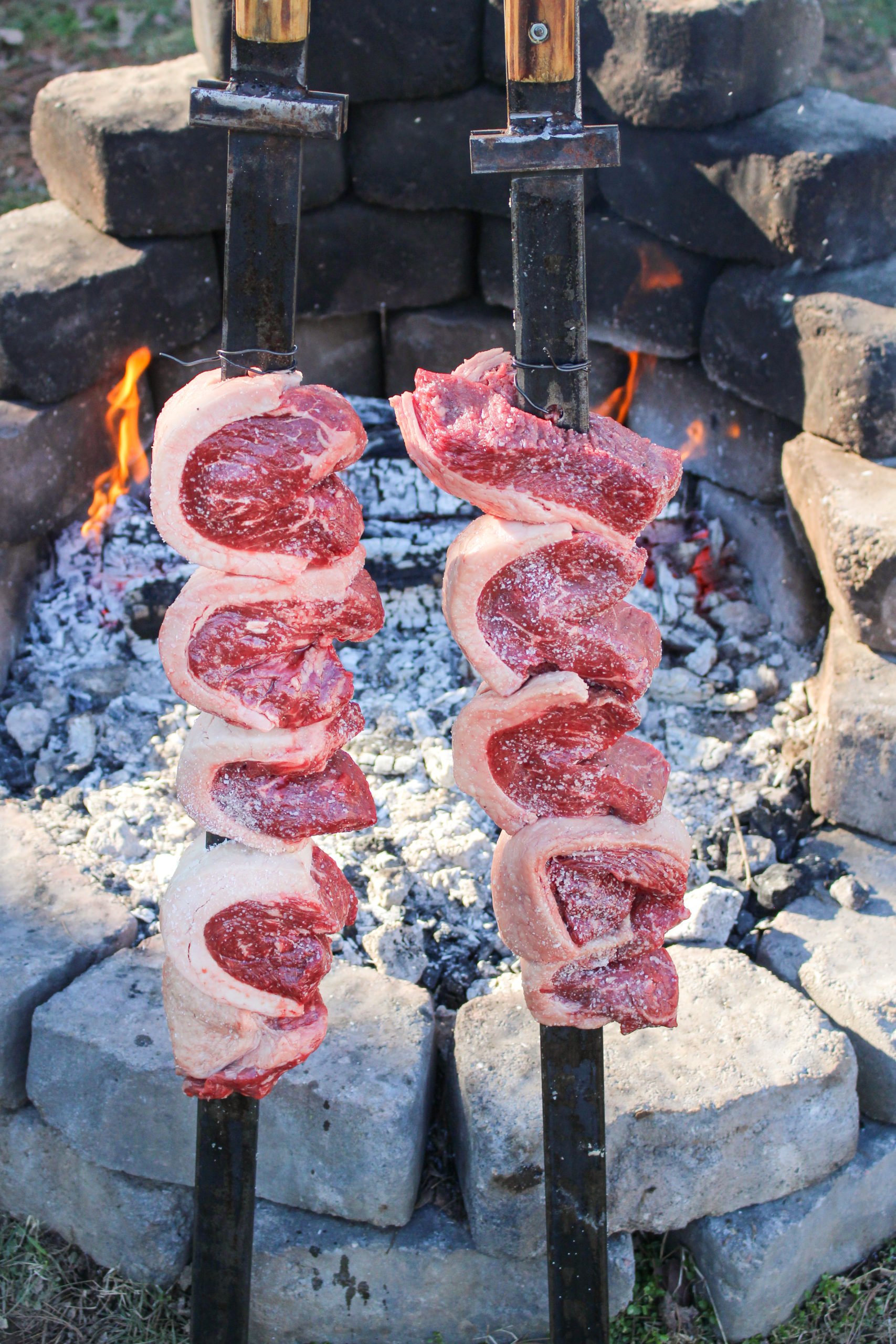 Tell Me About Picanha
While I have an article that explains what picanha is, all you need to know is that it is a cut of beef from the rump section of the cow (aka the butt). A perfect cut has 3 points, is a decent size, and usually comes with a large fat cap on one side. It is a tender cut of meat from South America that is served in many different ways; however, skewered and slowly roasted over the flames is the best way to cook it.
Finding picanha can sometimes be hard. Most whole animal butcheries should be able to cut you one, but if you do not have that luxury then you can find them at Porter Road or Wild Fork Foods online.
Now, what is churrasco? The Latin American word churrasco refers to grilling/barbecue (for the most part). It can mean a lot of things, but this style of cooking usually involves meat heavy dishes cooked over an open fire. It can either be on a grill or skewered. They are also usually slowly roasted until done, just like how we are going to make this Churrasco recipe.
Why You'll Love Churrasco Picanha with Jalapeño Vinaigrette
Lastly, the vinaigrette salsa is a must for completing this dish. While I will always have a soft spot for a good chimichurri sauce, Vinaigrette Salsa is a more traditional sauce to serve with picanha, especially in Southern Brazil, and brings a different flavor out of the picanha. It is a fresh tasting herbaceous sauce that is combined with white wine vinegar and oil to make it tangy. The fresh herbs are a delicious backbone, while the vinegar's tang is what helps to cut through the fatty cap on the outside of the picanha and make for a more complete bite.
For more churrasco-style main dishes, check out my Garlic Basted Sirloin Skewers and Skewered Picanha with Salsa Vinaigrette.
Churrasco Picanha with Jalapeño Vinaigrette Salsa Ingredients
Churrasco Picanha with Jalapeño Vinaigrette Salsa is the best meal for 4! It only takes 15 minutes of prep and 45 minutes of cooking.
The churrasco recipe starts with sliced picanha, rock salt, and canola oil.
The Jalapeño Vinaigrette Salsa is a simple recipe made up of a green bell pepper, red onion, jalapeño, roma tomatoes, parsley, garlic cloves, scallions, white wine vinegar, and extra-virgin olive oil.
How to Make Churrasco Picanha with Jalapeño Vinaigrette Salsa
As for cooking this Churrasco steak, I skewered the steaks onto my large sword skewers. Please note, you can also do this with more realistic skewers, but I enjoy the swords. Then lean the skewers against the fire. While skewering the picanha, be sure to form them in that classic "C" shape.
Make sure to cook it over a medium heat so that you slowly render the fat. However, do not overcook the meat itself! Again, you can easily do this on a grill with smaller skewers (and without the leaning part). I just enjoy cooking them in this traditional fashion, but I realize that doesn't make sense for everyone. The most important element is to slowly roast the tender piece of meat. This ensures we'll get that nice and even internal temperature at the end.
Once the steak has hit your desired internal temperature, pull it off and let it rest for 20 minutes.
During this time, we'll add all the ingredients for the Jalapeño Vinaigrette Salsa to a small bowl and mix. Let all these ingredients combine together at room temperature and they'll give you a beautiful flavor!
For more unique grilled steak dishes, check out my Brazilian Steaks with Habanero Chimichurri, Braided Skirt Steak and Cheesy Steak Pinwheels. And pair these with grilled jalapeno poppers for more fun!
Slicing & Serving
When the steaks and salsa are ready to go, it is time for serving this churrasco recipe! Slice the steaks either on or off the skewers and top with the salsa.
This Churrasco Picanha with Jalapeño Vinaigrette Salsa can serve a lot of people. So, be ready to ask your friends over! It is a savory, salty and tangy dish that will transport you to a Brazilian steakhouse even on those busy weeknights.
Cheers!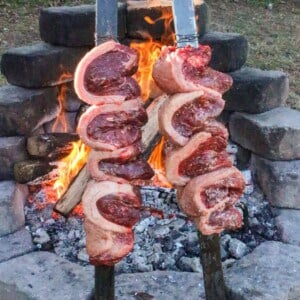 Churrasco Picanha with Jalapeño Vinaigrette Salsa
Churrasco Picanha with Jalapeño Vinaigrette Salsa is one of our family favorites!
Ingredients
Picanha:
3

Picanha

sliced

Coarse Sea Salt

to taste

2

tbsp

Canola Oil
Jalapeño Vinaigrette Salsa:
1

Green Bell Pepper

diced

1/2

Red Onion

diced

1

Jalapeño

diced

2

Roma Tomatoes

diced

2

tbsp

of Parsley

chopped

4

Garlic Cloves

minced

2

tsp

of Scallions

chopped

2

tbsp

of White Wine Vinegar

2

tbsp

of Olive Oil
Instructions
Begin by slicing your picanha into steaks going from edge to edge instead of top to tail. Once sliced, carefully form them into a "C" shape and skewer them onto the skewers/sword. Once they are on the skewers, secure them with wire if needed. Lather in oil and generously season with the Coarse Sea Salt. Add more salt than you might think as the fat will render and you will lose some salt in the process of cooking.

Preheat your fire/charcoal for indirect cooking around 350F so that the picanha can "lean" against the heat.

Add your skewers so that they can lean against the fire and cook slowly. Cook for about 30-45 minutes until they are 120F internal for medium rare. Rotate them 2-3 times to prevent flare up and so they cook evenly. Make sure to cook off some of the fat layer if you desire too! Once the steaks are done, pull them off and let them rest for 15 minutes.

Add all your ingredients for the Jalapeño Vinaigrette Salsa and mix together. Let sit for 10 minutes.

Slice your picanha either on the skewer or off. Top with the Jalapeño Vinaigrette Salsa and enjoy!
Nutrition
Calories:
123
kcal
|
Carbohydrates:
3
g
|
Protein:
9
g
|
Fat:
9
g
|
Saturated Fat:
1
g
|
Polyunsaturated Fat:
1
g
|
Monounsaturated Fat:
5
g
|
Trans Fat:
1
g
|
Cholesterol:
15
mg
|
Sodium:
27
mg
|
Potassium:
240
mg
|
Fiber:
1
g
|
Sugar:
1
g
|
Vitamin A:
293
IU
|
Vitamin C:
19
mg
|
Calcium:
17
mg
|
Iron:
1
mg