This Skewered Picanha with Salsa Vinaigrette has been my new obsession cooked over fire. Inspired by family friends that lived in Brazil, it is a fun twist on picanha with a nice sauce on the side!
Backstory to this Recipe
A couple weeks back, we were in the middle of doing the photo shoot for our cookbook (pre-orders coming soon)! I was waking up every morning at 5am to cook insane amounts of meat for a whole week straight. We love eating meat, but at some point you need to call back up in to help with the leftovers.
My wife put out a simple call to action about picking up some of our cooks with her friends on social media. The response was crazy! We had over 50 close friends begging to swing by at the end of the day to pick up some food. At the end of the day, we would have a ton of friends lined up in the driveway taking home delicious hot meals for their family to enjoy. Talk about bringing fire, food & people together.
One of my mothers friends named Cindy married into a family that did missionary work in Brazil. Her husband, Chris, is obsessed with Brazilian Styled Grilling, especially Picanha. She swung by on one of the last days of cooking to pick up some meat and got going about Chris's favorite sauce that he eats with his steak.
I was thoroughly intrigued as many have figured out I take the sauce just as seriously as I take the meat. She described Salsa Vinaigrette with so much excitement that I had to try it the next time I made Picanha. Thus, the Skewered Picanha with Salsa Vinagreta recipe was born!
Picanha is so Unique
I love cooking picanha (order online here). It is a perfect blending of hearty meat and delicious fat rolled into one (almost literally). If you do not know what picanha is, then I have a great article about that! Plus there are many ways to cook it including on the rotisserie, grilled and even smoked.
For this recipe, we are making Skewered Picanha. It is a simpler variation on the rotisserie picanha recipe, but you are doing the turning yourself.
Prepping the Skewered Picanha
We are going to start by slicing our picanha into steaks. I like to slice mine cross-wise instead of lengthwise so that you can get more tender steaks once they are done. You can do this by slicing the steak from edge to edge instead of top to tail.
Next, we are going to skewer them. Start by making them into a "C" shape and adding the skewer through. The steak should hold that "C" shape the whole time as it helps to render the fat more and keep a good temperature consistency on the meat.
Lastly, I am going to season these steaks with Garlic Salt. You are more than welcome to keep it even more simple with just Coarse Sea Salt, but I love the garlic on the Skewered Picanha. Now, let's get to cooking!
The Fire & Flare Ups
The biggest key to this Skewered Picanha recipe is setting up the fire. I like to cook it a little slower on indirect heat using the three zone method. The three zone method is where you will have a warm cooking zone in between two fires.
This way of cooking helps to prevent flare ups! This is especially important with Picanha as it has tons of fat and will cause flare ups. If you get flare ups, dose them with water in order to stop the burning of the meat. Pull the picanha off the fire if necessary so that you keep it from burning up. Another way to keep flare ups at bay is to lay a foil bin underneath the steaks with a layer of water. This will catch all the fat drippings in the way and cool them before the fire can get to them.
About the Salsa Vinaigrette
Like I said before, this recipe is inspired by the friends Cindy & Chris! This is a slight twist on classic Salsa Vinaigrette with addition of charred veggies and scallions.
It is very similar in flavor to Chimichurri & Pico de Gallo! It is a hearty salsa with a nice smoky flavor from the charred bell pepper and onion. Mix that together with the fresh parsley, garlic and white wine vinegar to give a delicious vinegary bite that cuts through the fatness of the Skewered Picanha!
Let's Serve Up this Skewered Picanha with Salsa Vinaigrette
In the end, this is the type of recipe that I love making! Inspired by the people around me, this Skewered Picanha with Salsa Vinaigrette is both delicious and easy to make. Cook it for a large gathering, and you will have plenty shared. Cheers!
Skewered Picanha with Salsa Vinaigrette
Need some inspiration on the grill? Try this Skewered Picanha with Salsa Vinaigrette for a hearty yet tangy bite. Super delicous cooked over fire.
Ingredients
Picanha Ingredients:
2

Whole Picanha

sliced into filets

3

tbsp

of Garlic Salt

1.5

tbsp

of Canola Oil
Salsa Vinaigrette Ingredients:
1

Green Bell Pepper

charred and diced

1

White Onion

charred and diced

2

Roma Tomatoes

diced

2

tbsp

of Parsley

chopped

4

Garlic Cloves

minced

2

tsp

of Scallions

chopped

2

tbsp

of White Wine Vinegar

2

tbsp

of Olive Oil
Instructions
Begin by slicing your picanha into steaks going from edge to edge instead of top to tail. Once sliced, carefully form them into a "C" shape and skewer them onto the skewers. Once they are on the skewers, lather in oil and generously season with the Garlic Salt. Add more salt thank you might think as the fat will render and you will lose some salt in the process of cooking.

Preheat your fire/charcoal for indirect cooking around 350F using the three zone method.

Add your skewers between the two coal beds and begin cooking. Cook for about 15 minutes until they are 120F internal for medium rare. Rotate them every 2-3 minutes to prevent flare up and so they cook evenly. Make sure to cook off some of the fat layer if you desire too! If you do get flare ups, dose the fire with water or add a foil bin with ¼ inch of water at the bottom to catch the oil drippings. Once the steaks are done, pull them off and let them rest for 8 minutes.

Add your green bell pepper and onion into the fire to char for 2 minutes. Once they are charred, pull them out and let them cool. Dice them up and place them in a bowl with the rest of the ingredients for the Salsa Vinaigrette.

Slice your picanha either on the skewer or off. Top with the Salsa Vinaigrette and enjoy!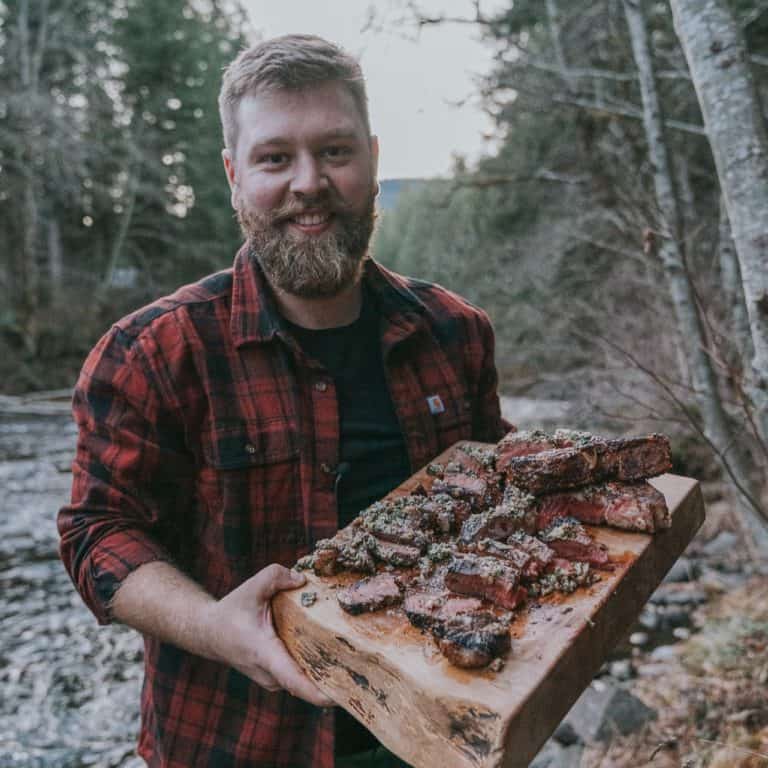 Derek is the driving force behind Over the Fire Cooking. He started cooking with live fire in 2016 and decided to start a social media page so his friends and family could follow the journey. Fast forward to today and Over the Fire Cooking has spread across multiple platforms with millions now following Derek's fire cooking journey. He's a southern fellow who enjoys everything from classic BBQ to Central and South American inspired dishes. Whatever he's cooking up, it's guaranteed to be so freakin' delicious!