These Spiced Lamb Kebabs with Mint Chimichurri are the perfect Easter feast. These kebabs are made with juicy lamb that's skewered and grilled to tender perfection, then finished off with a fresh and tangy mint chimichurri. This easy holiday meal is ready with just 20 minutes of prep!
Post sponsored by Cowboy Charcoal
Prep the Lamb for Spiced Lamb Kebabs with Mint Chimichurri
First thing's first…the key to incredible flavor: the marinade! In a large bowl or bag, mix together cumin, salt, pepper, cayenne pepper, red chili flakes, caraway seed, soy sauce, white onion, white wine, minced garlic, lemon juice, and canola oil.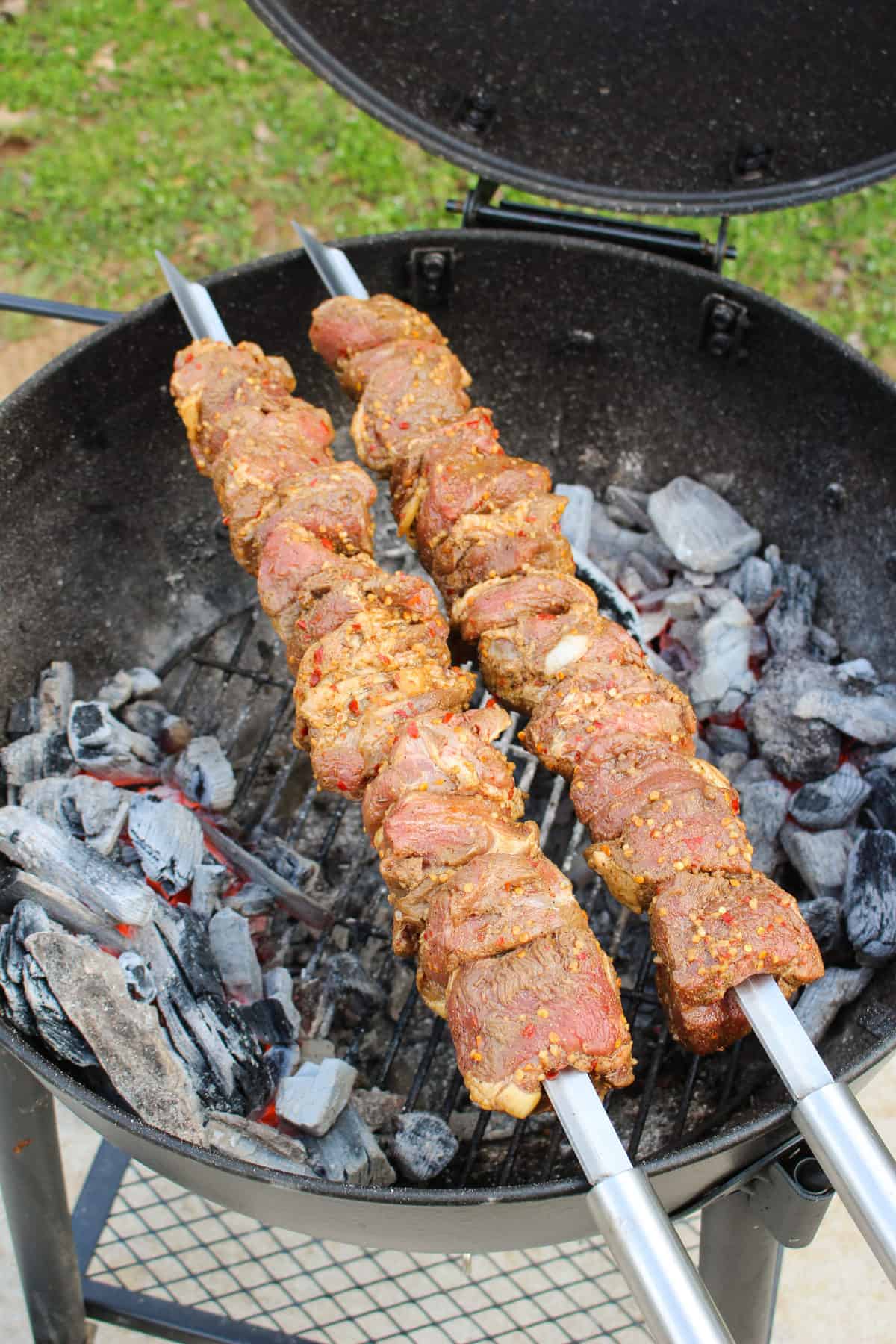 Next, cut the two boneless legs of lamb into 2-3″ cubes. Add the cubed meat into the bowl or bag with the marinade, seal or cover, and place in the fridge to marinate for a minimum of four hours, but ideally overnight. Remember, the longer it marinates the better the texture and flavor of the Spiced Lamb Kebabs with Mint Chimichurri!
How to Build a Three Zone Fire for Spiced Lamb Kebabs
Start by lighting your lump charcoal in a charcoal chimney. While it heats, make sure your grill area is cleaned out from prior grilling and any ash is removed. When the charcoal is heated, and about 70% ashed over (about 15 minutes for a full chimney), pour half of the coals high to one side of the grill, and the other half to the other side, leaving the middle without any coals. This allows the heat to circulate around the meat without sitting directly under it to avoid flare-ups or burning.
Allow the 3 zone fire to heat for 5 more minutes before adding your lamb skewers. Since Cowboy Lump Charcoal burns for a long time, one full chimney of coals should hold heat long enough to cook your lamb through.
Make the Mint Chimichurri
I usually make the mint chimichurri for the spiced lamb kebabs while I wait for the grill to preheat. Because the more time I save, the sooner I get to eat. You get it.
Anyway, to make the chimichurri, mix together fresh, chopped parsley, red wine vinegar, chopped mint leaves, minced garlic, red chili flakes, black pepper, kosher salt, and olive oil. Add as much or as little olive oil to the sauce as you like to reach your desired consistency.
Next, set the chimichurri bowl aside and get ready to grill!
For more with chimichurri, check out my Brazilian Steaks with Habanero Chimichurri, Chimichurri and Cheese Stuffed Picanha and Smoked Sausage Chimichurri Sandwich Recipe.
Time to Grill
Now it's time to grill the spiced lamb kebabs. First, pull the lamb pieces out of the marinade, then add them onto the skewers.
Next, preheat the grill to a medium-high heat of around 375ºF using a three zone cooking method. Now, I highly recommend using Cowboy Charcoal for this recipe. I use it every single time I make these Spiced Lamb Kebabs with Mint Chimichurri. Not only does it add delicious flavor, but it also makes it super easy to control the temperature and works in pretty much any grill. Seriously. Give it a go because you won't regret it!
Once your grill is hot, add the lamb skewers on. Place them in between the two heat sources so they don't burn. Then close the lid and allow them to cook for 2-3 minutes. Next, open the lid, flip them over, and cook them for another 2-3 minutes. Continue as needed until the internal temperature of the lamb is 130-135ºF and the exterior is crisped or charred to your liking!
For more on skewers, check out my Chicken Bacon Ranch Sausage Skewers, Lobster Skewers with Bang Bang Sauce, White Wine Herb Lamb Skewers and Chicken and Scallion Skewers.
Serve Your Spiced Lamb Kebabs with Mint Chimichurri
And now, they're done! Finish the spiced lamb kebabs off with a drizzle of the mint chimichurri. You can add this either right before you pull them off of the grill OR after the lamb skewers have rested for 7-8 minutes. Either way works!
Once the skewers have rested for a sufficient amount of time, pull the lamb off of the skewers and transfer it to a plate. Drizzle with extra chimichurri, because more sauce is always the answer, then slice and devour!
For more delicious recipes, check out my second cookbook Flavor X Fire or my first cookbook Food X Fire!
Needing more spice in your life? My spice line can help with that. Check them out here.
Full Length Recipe Video on Facebook!
Spiced Lamb Kebabs with Mint Chimichurri
Spiced Lamb Kebabs with Mint Chimichurri is the perfect dinner switch up.
Ingredients
Lamb:
2

Boneless Legs of Lamb

cubed
Marinade:
2

tbsp

Ground Cumin

1

tbsp

Kosher Salt

1

tbsp

Black Pepper

2

tsp

Cayenne Powder

2

tsp

Red Chili Flakes

1

tsp

Caraway Seed

¼

cup

Soy Sauce

¼

cup

White Onion

diced

¼

cup

White Wine

2.5

tbsp

Minced Garlic

3

medium Lemons

juiced

1

tbsp

Canola Oil
Mint Chimichurri:
2.5

tbsp

Fresh Parsley

chopped

2

tbsp

Red Wine Vinegar

1

tbsp

Mint Leaves

chopped

1

tbsp

Minced Garlic

1

tsp

Red Chili Flakes

½

tsp

Black Pepper

½

tsp

Kosher Salt

Olive Oil

to desired consistency
Instructions
Cube up your boneless legs of lamb into 2-3" cubes and place in a food safe bowl or bag. Add all the ingredients for the marinade to the bowl/bag and mix together thoroughly then cover/seal. Let marinate in the fridge for at least 4 hours, but ideally overnight.

Preheat your grill using Cowboy Charcoal to a medium high heat (around 375F) using a three zone cooking method.

As the grill heats up, add all the ingredients for the Mint Chimichurri to a bowl and mix together thoroughly. Add as much olive oil as you like for your desired consistency. Once done, set to the side until ready to use.

Next, pull out your marinated lamb, discard any excess marinade and divide evenly for how many skewers you have. Add the cubed lamb onto your skewers and set aside until the grill is ready to go.

Once the grill is ready to go, add your lamb skewers to the grill in between the two heat sources (in the cooler part). Close the lid and let cook for about 2-3 minutes. Flip the skewers over once they are nicely charred and cook for another 2-3 minutes. Keep flipping and cooking for 2-3 minutes per side until both sides are 130-135F internal. Right before you pull them off the grill, drizzle some of the Mint Chimichurri over the top! You can also wait to do this until after they have rested, but either way is fine. When the lamb skewers are done, let them rest for 7-8 minutes.

Once rested, pull the meat off the skewers, add more chimi if you like, slice, serve and enjoy!
Recipe Video
Nutrition Facts
Spiced Lamb Kebabs with Mint Chimichurri
Amount Per Serving
Calories 79
Calories from Fat 27
% Daily Value*
Fat 3g5%
Cholesterol 1mg0%
Sodium 1921mg84%
Potassium 236mg7%
Carbohydrates 11g4%
Protein 3g6%
Vitamin A 795IU16%
Vitamin C 34mg41%
Calcium 63mg6%
Iron 3mg17%
* Percent Daily Values are based on a 2000 calorie diet. Nutrition Disclaimer: We are not dietitians or nutritionist. Nutritional information on overthefirecooking.com comes from online calculators. While we attempt to make this information accurate, it should only been viewed as an estimate.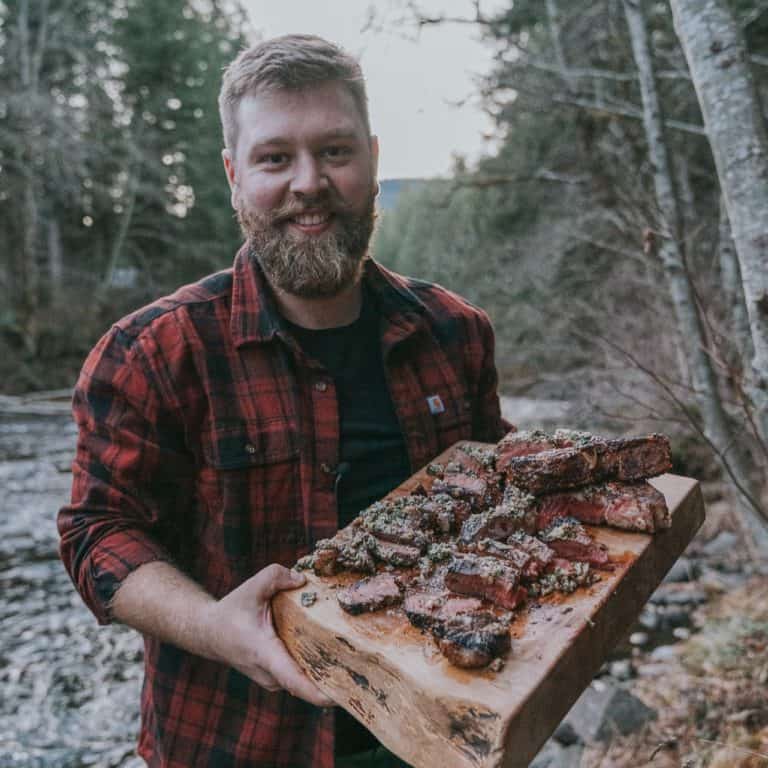 Derek is the driving force behind Over the Fire Cooking. He started cooking with live fire in 2016 and decided to start a social media page so his friends and family could follow the journey. Fast forward to today and Over the Fire Cooking has spread across multiple platforms with millions now following Derek's fire cooking journey. He's a southern fellow who enjoys everything from classic BBQ to Central and South American inspired dishes. Whatever he's cooking up, it's guaranteed to be so freakin' delicious!