This is the #1 question people ask me: What is my favorite thing to cook over fire? My answer is always grilled picanha steak. If you do not know what I am talking about, picanha is a South American cut of beef that comes from the rump region of the cow. I have explained before the history & style of this cut on my blog. My favorite thing about it is how simple & delicious it is too cook.
RELATED ARTICLE: Bourbon & Bacon Filet Mignon!
Basically, you are going to start out by scoring the fat cap of the beef. You do not have to do this, but I like how it allows the fat to seep into the rest of the beef easily. Next you sear the whole picanha on both sides. This encapsulates the flavor and creates a great starting base. Finally, you will slice the picanha into strips, grill them over over white hot Cowboy Charcoal, and serve. The beauty of this cut is the flavor. No other cut has the texture of sirloin with the juiciness of a ribeye. Its unbeatable. Try it and you will see for yourself!
For the beginners, Picanha steak is a popular Brazilian dish that is gaining popularity across the world.
Tips to making this Grilled Picanha better:
Cooking grilled picanha is relatively straightforward. Once you sear the fat cap, then you can slice it and get ready to grill like a normal steak. There are a few tips to making this cut better than you expect.
Do not overcook it – Picanha is not a tender piece of meat. There is not a ton of fat in between the muscle fiber. Make sure to cook this to rare or medium rare so that it is tender. If you prefer well done, then maybe try it medium! If you can't do that, well then maybe you should eat some chicken.  

Cook

Picanha steak

in a cast iron pan. It tastes delicious.

Do not cut the fat cap off – Most American butchers will actually cut the beautiful fat cap off! Do not do this. This is what makes this cut of meat so unique. While you do not need to eat the fat if you do not want too, this beef is unique because you can choose how much fat you eat. Plus fat is flavor, so rather choose to cook the fat and let it seep into the beef than cut it off.
Add Chimichurri – We all love chimichurri. I definitely recommend it on top of the Grilled Picanha.
Want more info on this famous cut? Check out my in-depth guide to What is Picanha!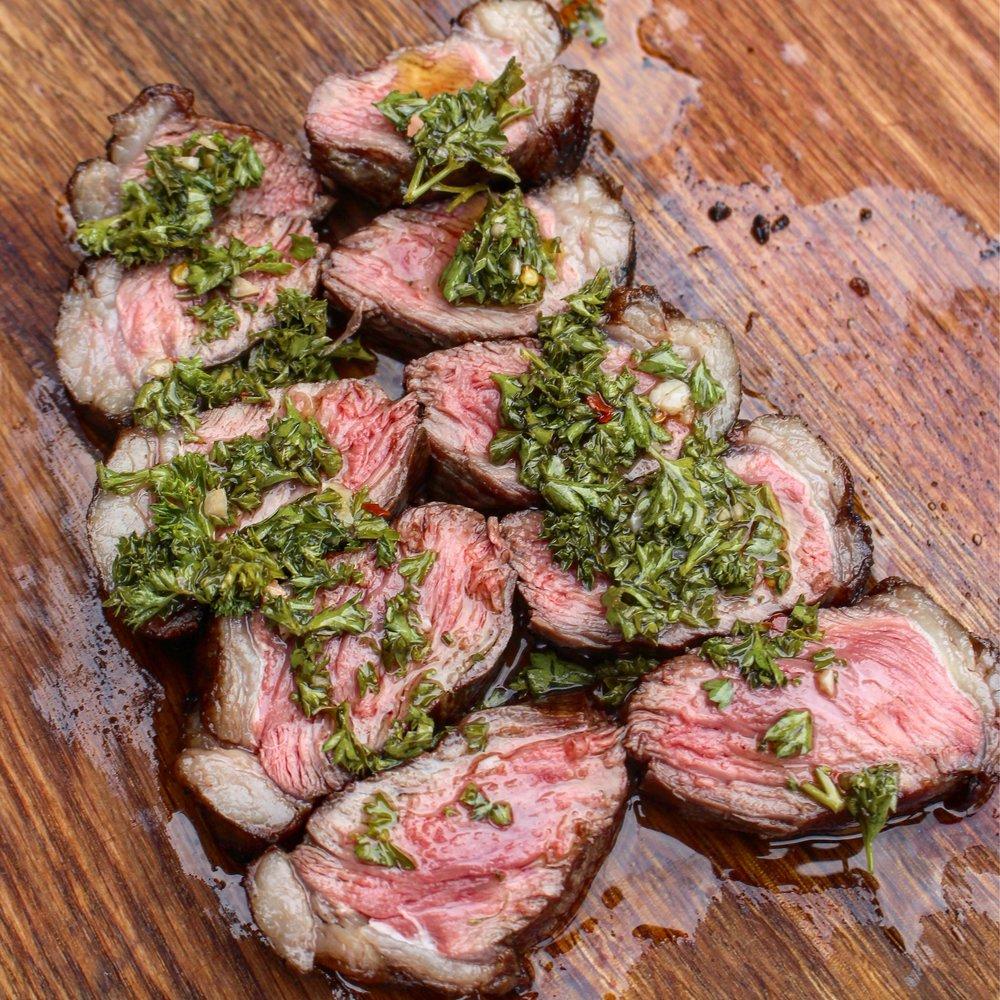 Ready to eat!
Grilled Picanha
Try this classic Argentinian cut of meat over the fire at home. Make sure to add some chimichurri on top! It will make Picanha steak taste better.
Ingredients
1

whole picanha w/fat cap still on

2

tbsp

of sea salt

Chimichurri

Olive Oil
Instructions
With picanha at room temperature, score the fat cap in order for the flavor to seep into the whole beef. Lather with olive oil & season with sea salt on both side.

Use some Cowboy Hardwood Lump Charcoal to light fire and let burn for 10-15 minutes. Once charcoal is white hot, push into one flat pile for direct grilling.

Place picanha flesh side down for 2 minutes, flip & sear the fat side for 2 minutes. Pull off grill.

Slice the beef against the grain (horizontally) as to make multiple strips out of it. Season the strips with olive oil and salt. Place back on grill.

Grill strips for 4-5 minutes per side or until they reach your desired internal temperature. Some of the larger steaks will take longer as will some of the smaller steak be shorter. Take off grill and let rest for 10 minutes.

Slice into steaks, top with Chimichurri & enjoy! Buy meat from good butcher to make delicious Picanha steak.
Recipe Notes
Equipment Needed: Cowboy Charcoal, grill, tongs, cutting board & knife.
This article does contain affiliate links to products that we personally use and support. Purchasing an affiliate product does make us a small commission at no cost to you. This helps us continue creating for our website. All words and opinions are our own, and we appreciate your support!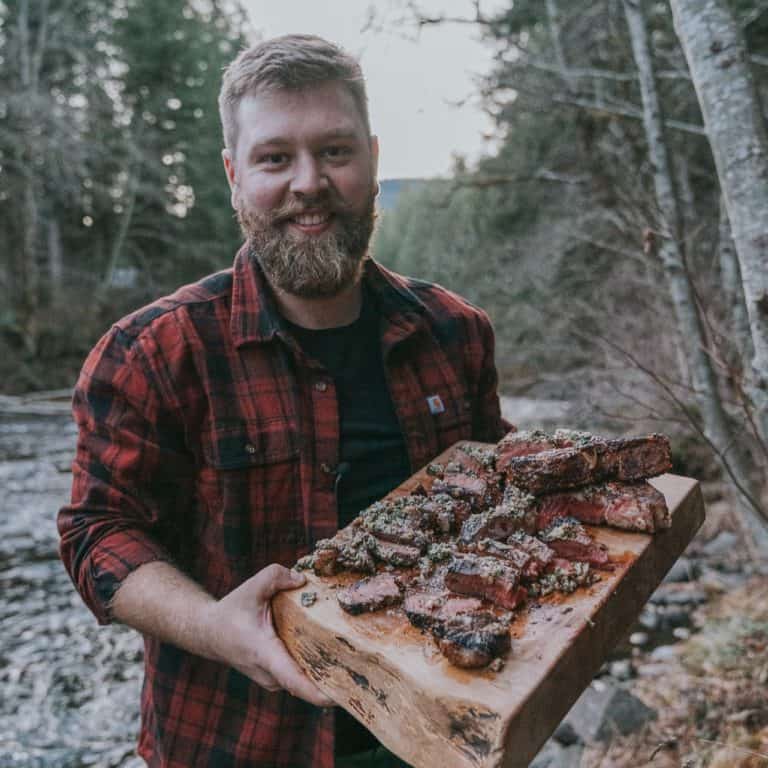 Derek is the driving force behind Over the Fire Cooking. He started cooking with live fire in 2016 and decided to start a social media page so his friends and family could follow the journey. Fast forward to today and Over the Fire Cooking has spread across multiple platforms with millions now following Derek's fire cooking journey. He's a southern fellow who enjoys everything from classic BBQ to Central and South American inspired dishes. Whatever he's cooking up, it's guaranteed to be so freakin' delicious!