If you are a bacon lover like myself, then these Smoked Texas Twinkies are right for you. Not only do we use Thick Cut Wright Brand Bacon on the outside of these Twinkies, but they are whole jalapeno's stuffed with a cream cheese mixture (including shredded brisket), seasoned with bbq rub and glazed with maple syrup. This is the ultimate sweet, savory and salty combo!
Post Sponsored by Wright Brand Bacon
What are Texas Twinkies?
Have you ever head of Smoked Texas Twinkies? Well they have a lot in common with Jalapeno Poppers with a few subtle differences. For starters, they all are whole jalapenos instead of halved. They usually follow the "T" shape extraction of the seeds and filling inside the pepper and then stuffed with a cream cheese filling. 
This cream cheese filling isn't just any normal cream cheese filling! Smoked Texas Twinkies utilize leftover chopped brisket in their cream cheese for a heartier and more savory flavor. The brisket is pretty non-negotiable for Smoked Texas Twinkies, but you can also use some other substitutes like shredded beef chuck roast, pulled pork and more.
Lastly, the Smoked Texas Twinkies are wrapped in thick cut bacon all the way around, seasoned with BBQ seasoning and smoked low & slow in order to get a nice smokey yet crispy texture on the outside. Today, I am using the gold standard of bacon: Wright Brand Hickory Smoked Bacon.
Looking for more smoked bbq recipes? Try my: Chipotle BBQ Pulled Pork Sandwich, Pulled Beef Chuck Roast, Texas Smoked Brisket and Poor Man's Burnt Ends.
Why Wright Brand Bacon?
To be honest, it isn't just the cream cheese filling and quality jalapenos that make these Smoked Texas Twinkies stand out. The key to the whole recipe is high quality bacon! Wright Brand Bacon is just that: high quality thick cut bacon built for a recipe like this. I love the Thick Cut Hickory Smoked Bacon because it already has some delicious smoke flavor before you throw these Smoked Texas Twinkies on the smoker. 
Here are a few words on using Wright Brand Bacon for this cook. Make sure to get the Thick Cut (obviously) and make sure it is very cold when you wrap the jalapenos. Try to get a good mixture of fat and meat on the bacon as that will give you good flavor but also a lot of heartiness in the Twinkie. Lastly, let that bacon cook until it is nice and crispy. The traditional crispy bacon outside is difficult to achieve on the smoker; therefore, be patient. All in all, using Wright Brand Bacon makes this recipe top shelf.
Looking for more smoked bbq recipes? Try my: Chipotle BBQ Pulled Pork Sandwich, Pulled Beef Chuck Roast, Texas Smoked Brisket and Poor Man's Burnt Ends.
Time to Eat
Once your Smoked Texas Twinkies are almost done smoking, you are more than welcome to glaze them with some warm maple syrup for a nice sweet & savory kick. Now I have to state that this is relatively non-traditional, but I really love the kick of sweetness on these. Make sure to let the cooked Texas Twinkies rest for 5-10 minutes as the filling will be lava hot! Slice into them or eat them whole once cooled! These are an amazing recipe for a pool party, family event or just a weeknight snack. Cheers and enjoy!
For more delicious recipes, check out my second cookbook Flavor X Fire or my first cookbook Food X Fire!
Needing more spice in your life? My spice line can help with that. Check them out here.
Full Length Recipe Video on Facebook!
Smoked Texas Twinkies
If you are a bacon lover like myself, then these Smoked Texas Twinkies are right for you. This is the ultimate sweet, savory and salty combo!
Cook Time
1
hour
30
minutes
Ingredients
Smoked Texas Twinkies:
8-10

Whole Jalapeños

16

oz

Cream Cheese

1

cup

Shredded Smoked Brisket

½

cup

Shredded Cheddar Cheese

10-12

slices

Wright Brand Bacon

Hickory Smoked

Favorite BBQ Seasoning

as needed

Maple Syrup

for glaze
Instructions
Begin by mixing together the cream cheese, shredded brisket and cheddar cheese in one bowl. Next, take a jalapeno and slice a "T" shape with the top slice being underneath the steam and the long slice going the length of the pepper. Using gloves or a utensil, scoop out all the filling and seeds from the inside of the jalapeno. Be careful not to break the stem off. Once cleaned, stuff the pepper full of the cream cheese mixture. Next, take 1 slice of Wright Brand Bacon and carefully wrap it around the whole jalapeno making sure to fully encase it. Season the outside of the bacon with your favorite BBQ seasoning and set to the side. Repeat this for all the other jalapenos until completed.

Preheat your smoker/grill to indirect heat at 250F. Add some wood chips or wood chunks to the smoker for added smoke flavor.

Add your Texas Twinkies to the smoker and let cook for about 90 minutes or until the bacon has become dark amber and crispy. During the last 10 minutes of cooking, glaze the outside of each Twinkie with maple syrup and let cook to get a nice sheen. Once done, pull them off and let them cool for 5 minutes.

Slice them up, serve and enjoy!
Nutrition Facts
Smoked Texas Twinkies
Amount Per Serving (1 g)
Calories 930
Calories from Fat 756
% Daily Value*
Fat 84g129%
Cholesterol 225mg75%
Sodium 1092mg47%
Potassium 603mg17%
Carbohydrates 10g3%
Protein 34g68%
Vitamin A 2000IU40%
Vitamin C 33mg40%
Calcium 221mg22%
Iron 2mg11%
* Percent Daily Values are based on a 2000 calorie diet. Nutrition Disclaimer: We are not dietitians or nutritionist. Nutritional information on overthefirecooking.com comes from online calculators. While we attempt to make this information accurate, it should only been viewed as an estimate.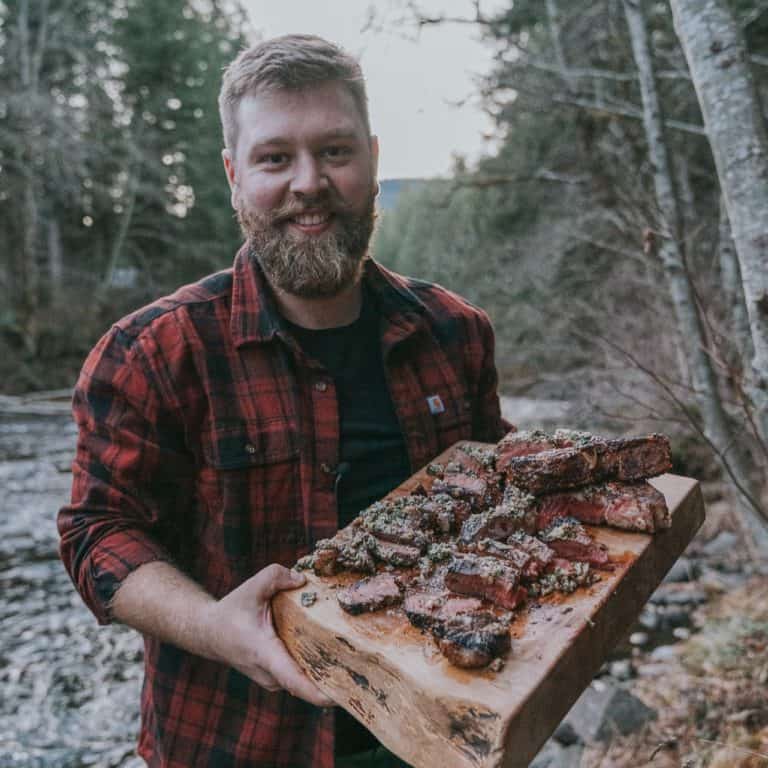 Derek is the driving force behind Over the Fire Cooking. He started cooking with live fire in 2016 and decided to start a social media page so his friends and family could follow the journey. Fast forward to today and Over the Fire Cooking has spread across multiple platforms with millions now following Derek's fire cooking journey. He's a southern fellow who enjoys everything from classic BBQ to Central and South American inspired dishes. Whatever he's cooking up, it's guaranteed to be so freakin' delicious!