If you've never had grilled chicken sausage wrapped in crispy bacon, loaded with melty and gooey cheddar cheese, then drizzled in creamy and tangy homemade ranch dressing, then get ready for your mind to be blown. These Chicken Bacon Ranch Sausage Skewers are insanely good.
You think I'm exaggerating, but I'm not. The soft chicken sausage paired with the smoky and crispy bacon, gooey cheese, and creamy ranch is a combination that you didn't know you needed.
This recipe is simple to make, a total crowd-pleaser, and it's ready in just 20 minutes!
Assemble the Chicken Bacon Ranch Sausage Skewers
First, assemble your skewers! Start with 10-12 chicken sausages and two pounds of sliced bacon. Wrap each of your chicken sausages in 1-2 slices of bacon, depending on your preferred bacon to sausage ratio. Next, skewer each of your sausages onto a two-prong skewer. Two single prong skewers will work as well.
Set the skewers in the fridge. This gives the bacon time to set in its shape, because we don't want them falling off the sausage as we grill. Meanwhile, make your homemade ranch!
For more skewer recipes, check out my Spicy Tequila Lime Shrimp Skewers, Lobster Skewers with Bang Bang Sauce and Garlic Basted Sirloin Skewers.
Homemade Ranch
If chicken bacon ranch sausage skewers weren't good enough, try dipping them in homemade ranch.
This recipe results in ranch that is insanely creamy, tangy, rich, and flavorful, and comes together in just a couple of minutes.
To make your dressing, simply add sour cream, mayonnaise, buttermilk, parsley, dill, kosher salt, black pepper, and garlic powder to a food processor or blender. Blend until the mixture is smooth or until it reaches your desired texture.
I am one of those Ranch crazy people. If you are too, check out my Grilled Buffalo Shrimp with Zesty Ranch, Loaded Huevos Rancheros Nachos and BBQ Chicken Bacon Ranch Skewers.
To make ranch dressing with a little bit more texture, mix by hand instead! The texture doesn't matter a whole lot when the flavor is this good.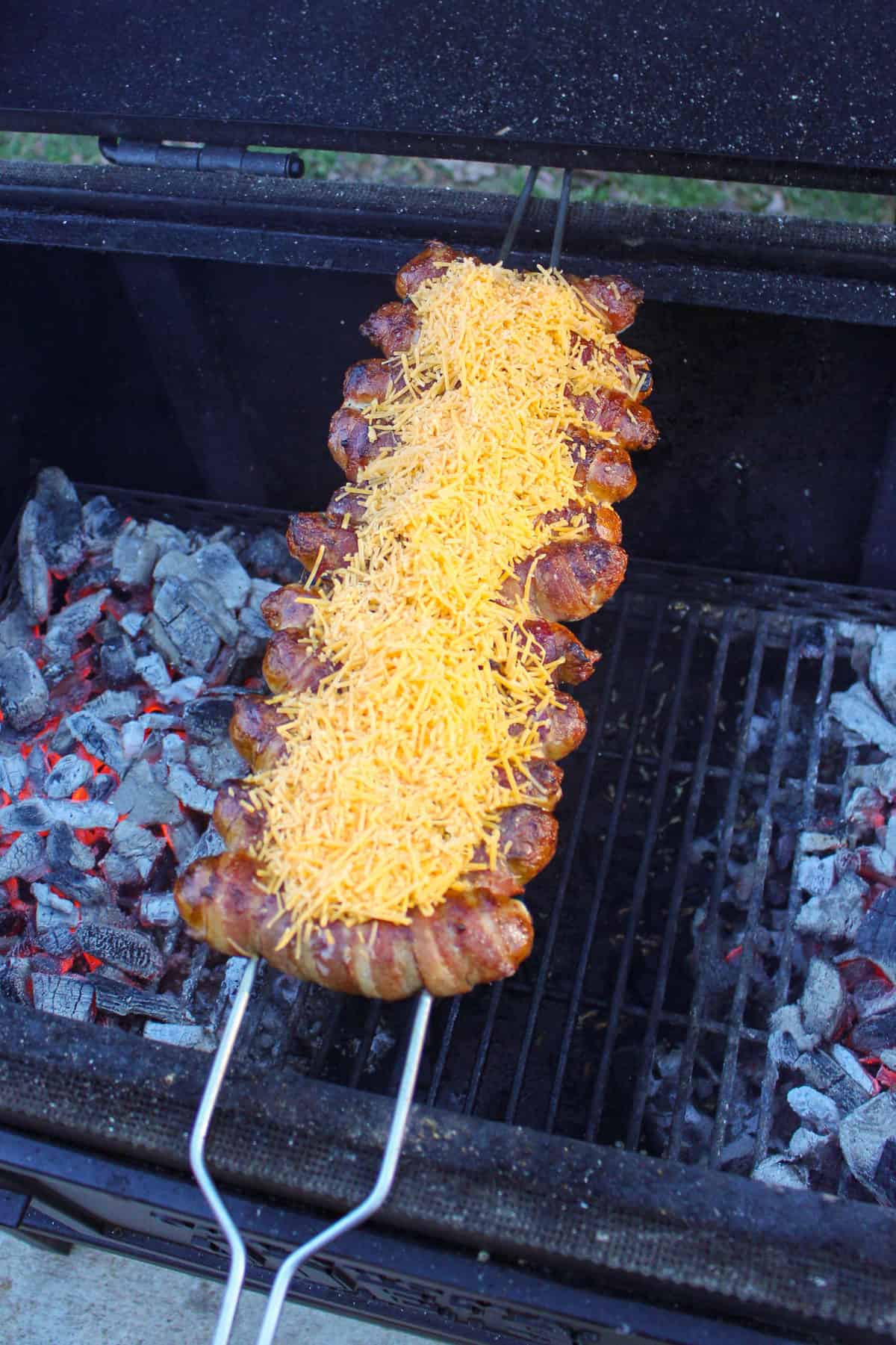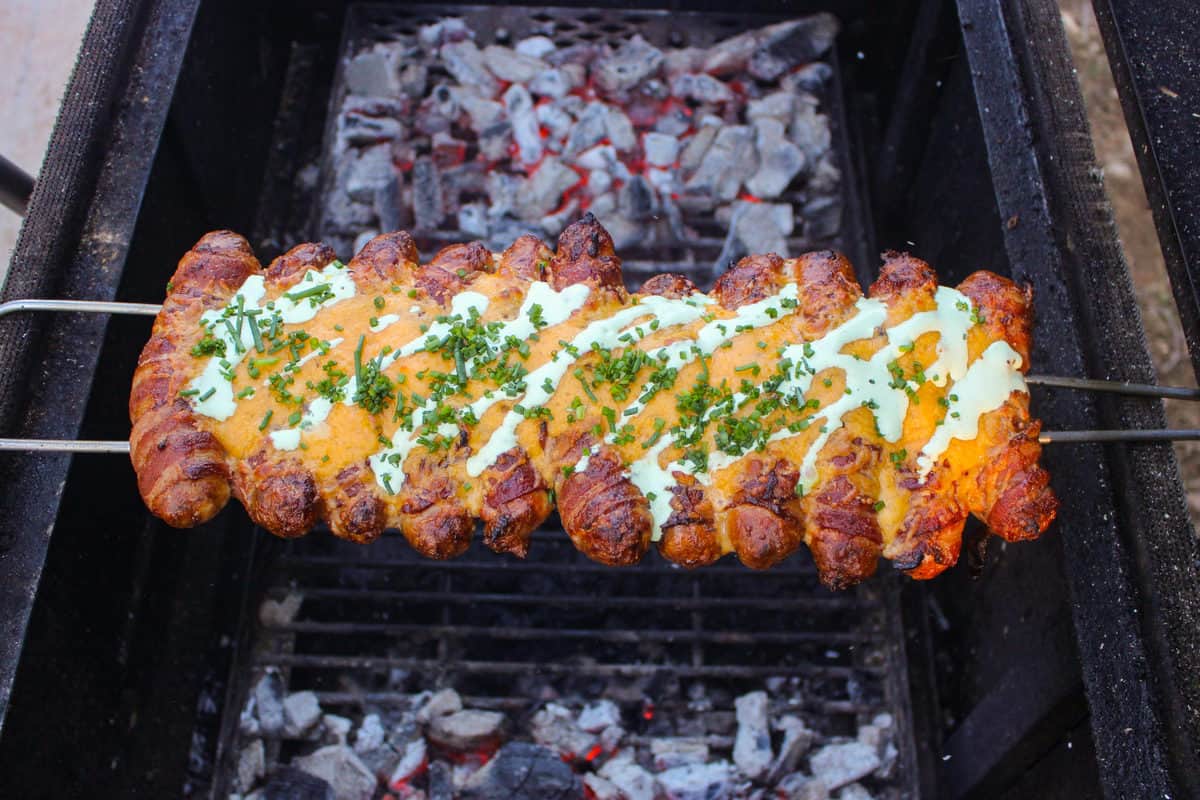 Time to Grill the Chicken Bacon Ranch Sausage Skewers
Now, it's time to cook our skewers. First, preheat your grill to around 350ºF for medium heat. Be sure that the grill grate where you lay your skewers is at least six inches away from the heat. We don't want the meat to burn.
Next, add the skewers onto the grill and cook for 15-20 minutes or until the meat has reached an internal temperature of 165ºF. As the skewers cook, flip them as needed to avoid flare-ups and to ensure that they cook evenly.
As the skewers near their final temperature, it's time to add the toppings! Layer the sharp cheddar cheese over the bacon-wrapped sausages, then cover them with a lid to allow the cheese to melt. Next, drizzle with homemade ranch, sprinkle with chopped chives, then pull the skewers off of the grill and allow them to rest for 5 minutes to give the moisture and flavor time to settle.
Serve it Up
Now, it's time to serve our chicken bacon ranch sausage skewers! First, slice into the skewers to create smaller portions, then serve them as-is or with a side of additional homemade ranch for dipping.
These skewers are perfect as a snack, appetizer, or entree paired with any of your favorite side dishes! They're also perfect for sharing…or not sharing at all…
For more delicious recipes, check out my cookbook Food X Fire!
Needing more spice in your life? My spice line can help with that. Check them out here.
Full Length Recipe Video on YouTube!
Chicken Bacon Ranch Sausage Skewers
Chicken Bacon Ranch Sausage Skewers
Ingredients
Skewer:
10-12

Chicken Sausages

links

2

lbs

of Bacon

sliced

2

cup

of Sharp Cheddar Cheese

Chopped Chives

for garnish
Homemade Ranch:
3

tbsp

of Sour Cream

3

tbsp

of Mayonnaise

2

tbsp

of Buttermilk

2

tsp

of Parsley finely chopped

2

tsp

of Dill finely chopped

½

tsp

of Kosher Salt

½

tsp

of Black Pepper

½

tsp

of Garlic Powder
Instructions
Begin by wrapping each of your chicken sausages in 1-2 slices of bacon. Next, carefully skewering your sausage onto a two prong skewer or using two single prongs. Set them in the fridge for 10 minutes to set.

In a food processor, add your ingredients for the homemade ranch and blend until smooth. You can also mix by hand if you prefer!

Preheat your grill for medium heat (around 350F) doing a three zone technique making the grill grate or the place where you lay your skewers at least 6 inches away from the heat.

Add the skewers to the grill to cook for about 15-20 minutes, flipping as needed . Make sure to watch out for flare ups, and pull the sausages off or move the coals around it that becomes a problem.

Once the skewers are close to their final temperature (165F), begin topping them. Add the shredded sharp cheddar cheese and cover the skewers with the lid until the cheese melts (about 2-3 minutes). Right before they are done, drizzle with ranch and chopped chives (on or off the grill if you prefer). Once garnished, pull off and let cool for 5 minutes.

When ready, slice into the skewers and enjoy!
Nutrition
Calories:
1694
kcal
|
Carbohydrates:
15
g
|
Protein:
76
g
|
Fat:
149
g
|
Saturated Fat:
51
g
|
Polyunsaturated Fat:
20
g
|
Monounsaturated Fat:
47
g
|
Trans Fat:
1
g
|
Cholesterol:
369
mg
|
Sodium:
4399
mg
|
Potassium:
538
mg
|
Fiber:
1
g
|
Sugar:
4
g
|
Vitamin A:
1485
IU
|
Vitamin C:
3
mg
|
Calcium:
440
mg
|
Iron:
3
mg