These Strip Steak Skewers with Salsa Vinaigrette are my new favorite way to cook strip steaks! A whole NY strip roast is sliced into long strips, skewered, and slow roasted until juicy in the middle with a perfect browned crust.
These skewers are paired with a simple tangy salsa vinaigrette to take them to the next level!
Love skewers in the summer? Try my Bacon Wrapped Shrimp Skewers, Chicken Bacon Ranch Sausage Skewers, or Chicken Wing Skewers!
Slice the Steak for Strip Steak Skewers with Salsa Vinaigrette
First, we prep our strip steak! Start with one whole strip loin roast, then use a sharp knife to square off both ends. The goal is to make sure that the roast is flat on both ends. Trim the sides of the steak so that it's rectangular in shape with no rounded edges.
Next, slice the roast lengthwise into 3-4 equal segments. I know. This goes against everything we know about traditional American steak eating. But the thinner pieces cook more quickly. PLUS, you get that delicious crust on more of the steak and they're the perfect size for our Strip Steak Skewers with Salsa Vinaigrette. Sounds like a win to me!
Now, I know slicing the steak can be hard to visualize. It's hard to explain in words, too! I highly recommend watching the video to get a better idea of what I'm talking about.
Looking for more strip steak recipes? Check out my Grilled NY Strips with Garlic Chili Sauce or my Steak and Eggs with Charred Scallion Chimichurri.
Let's Marinate
Next, of course, we season and marinate the strip steak for our Strip Steak Skewers with Salsa Vinaigrette. I keep the seasonings super (I mean super) simple because we get plenty of flavor from the salsa vinaigrette!
So, lather each steak with canola oil, then rub it all over with kosher salt. Place the steaks onto a tray, then set the tray in the fridge for at least 40 minutes. A short dry brine makes a world of difference in both flavor and texture!
Roughly 15 minutes before you're ready to cook the steak, pull the tray out of the fridge and let the meat come to room temperature. This helps it cook more evenly!
Salsa Vinaigrette for Strip Steak Skewers
Marinating the steak gives you plenty of time to whip up a batch of salsa vinaigrette for the strip steak skewers.
To make your vinaigrette, mix together diced tomatoes, green bell peppers, white onions, chopped cilantro, minced garlic, white wine vinegar, and olive oil. Mix it up, then taste and adjust if needed!
Set the salsa aside and get ready to cook.
Hey, Grill!
Before grilling, skewer each strip steak with large sword skewers. Then, preheat a medium heat fire to around 325ºF for direct grilling.
Now, it's important to note that you should leave 12 inches between the coals and steaks and have a cooler area available in case there are flare-ups and you need to pull the steaks out of the way. We don't want to burn them! If you're worried about flare-ups, feel free to cook at a lower heat. The steaks will just take slightly longer to cook.
Next, place the skewered strip steaks onto the grill and cook for about 15-20 minutes, flipping every 2-3 minutes. Check the internal temperature of the steak at 15 minutes and add time as needed. It should be 120ºF!
Once the steaks have reached their perfect temperature, pull them off of the grill and let them rest for 12 minutes to give the moisture time to settle back into the meat.
Finally, slice the steaks up (don't forget to slice against the grain!), and serve them topped with your prepared salsa vinaigrette!
For more delicious recipes, check out my second cookbook Flavor X Fire or my first cookbook Food X Fire!
Needing more spice in your life? My spice line can help with that. Check them out here.
Full Length Recipe Video on Facebook!
Print Recipe
Strip Steak Skewers with Salsa Vinaigrette
These Strip Steak Skewers with Salsa Vinaigrette are made with juicy, slow-roasted strips of steak topped with a tangy homemade dressing.
Ingredients
Steak:
1

Whole Strip Loin Roast

Kosher Salt

to taste

2

tbsp

Canola Oil
Salsa Vinaigrette:
1

cup

Diced Tomatoes

½

cup

Diced Green Bell Peppers

½

cup

Diced White Onions

¼

cup

Chopped Cilantro

2

tbsp

Minced Garlic

2

tbsp

White Wine Vinegar

Olive Oil

to desired consistency
Instructions
Begin by taking your whole NY Strip roast, and square off both ends (like you were cutting NY Strip steaks) so that they are flat on both ends. Next, trim both sides so that the NY Strip roast no longer has rounded sides but is one uniformly rectangular shape. Next (against all your traditional American steak eating habits), slice the roast lengthwise into 3-4 segments. The steaks should look like long rectangles with a fat cap side (similar to picanha). Watch the video below if you need better visual instructions.

Once you have your steaks, lather them with oil and season them thoroughly with salt. Place them on a tray and set in the fridge for 40 minutes. About 15 minutes before cooking, pull the steaks out to come to room temperature. Using large sword skewers, skewer each strip steak all the way through and set them to the side.

In a bowl, mix together all the ingredients for the Salsa Vinaigrette. Once done, set aside until ready to use.

Preheat a medium heat fire (around 325F) for direct grilling. NOTE: Give yourself 12" between the coals and steaks, and have another cooler area in order to pull the steaks incase of flare ups. Try cooking at a lower heat if necessary!

Place the skewered steaks over the heat to cook for about 15-20 minutes flipping every 2-3 minutes until they are 120F internal. Once the steaks reach temperature, pull them off and let them rest for 12 minutes.

Slice the steaks up, top with the Salsa Vinaigrette and enjoy!
Nutrition
Calories:
145
kcal
|
Carbohydrates:
4
g
|
Protein:
8
g
|
Fat:
10
g
|
Saturated Fat:
3
g
|
Polyunsaturated Fat:
2
g
|
Monounsaturated Fat:
5
g
|
Trans Fat:
1
g
|
Cholesterol:
30
mg
|
Sodium:
79
mg
|
Potassium:
247
mg
|
Fiber:
1
g
|
Sugar:
2
g
|
Vitamin A:
99
IU
|
Vitamin C:
16
mg
|
Calcium:
31
mg
|
Iron:
1
mg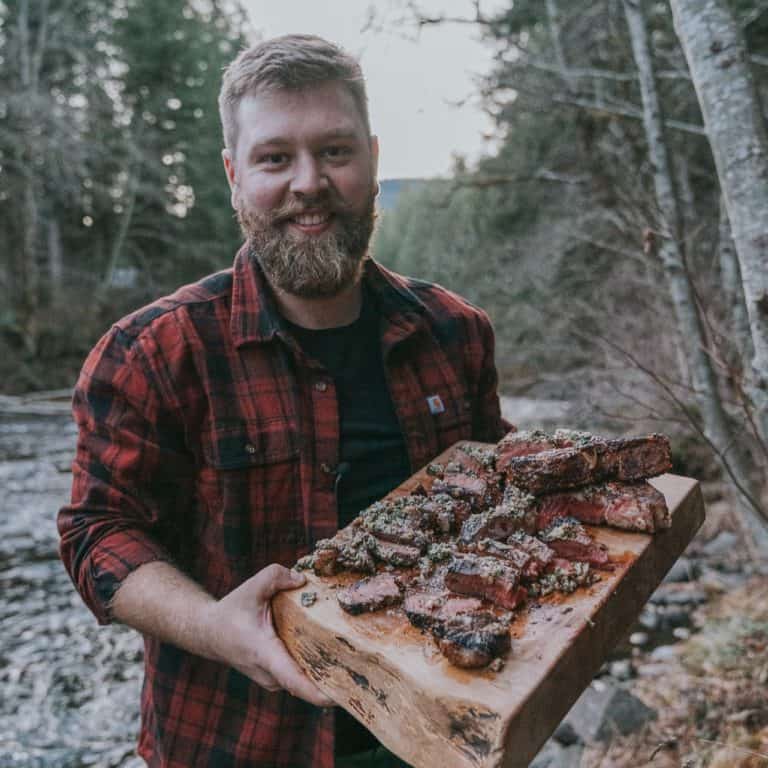 Derek is the driving force behind Over the Fire Cooking. He started cooking with live fire in 2016 and decided to start a social media page so his friends and family could follow the journey. Fast forward to today and Over the Fire Cooking has spread across multiple platforms with millions now following Derek's fire cooking journey. He's a southern fellow who enjoys everything from classic BBQ to Central and South American inspired dishes. Whatever he's cooking up, it's guaranteed to be so freakin' delicious!