High quality meat makes all the difference in the world when you cook over fire. When I heard about Mishima Reserve American Wagyu, I was curious to find how quality of a wagyu beef you could get in the USA! Let's just say, I am super impressed with this Wagyu Zabuton Steak Sandwich recipe.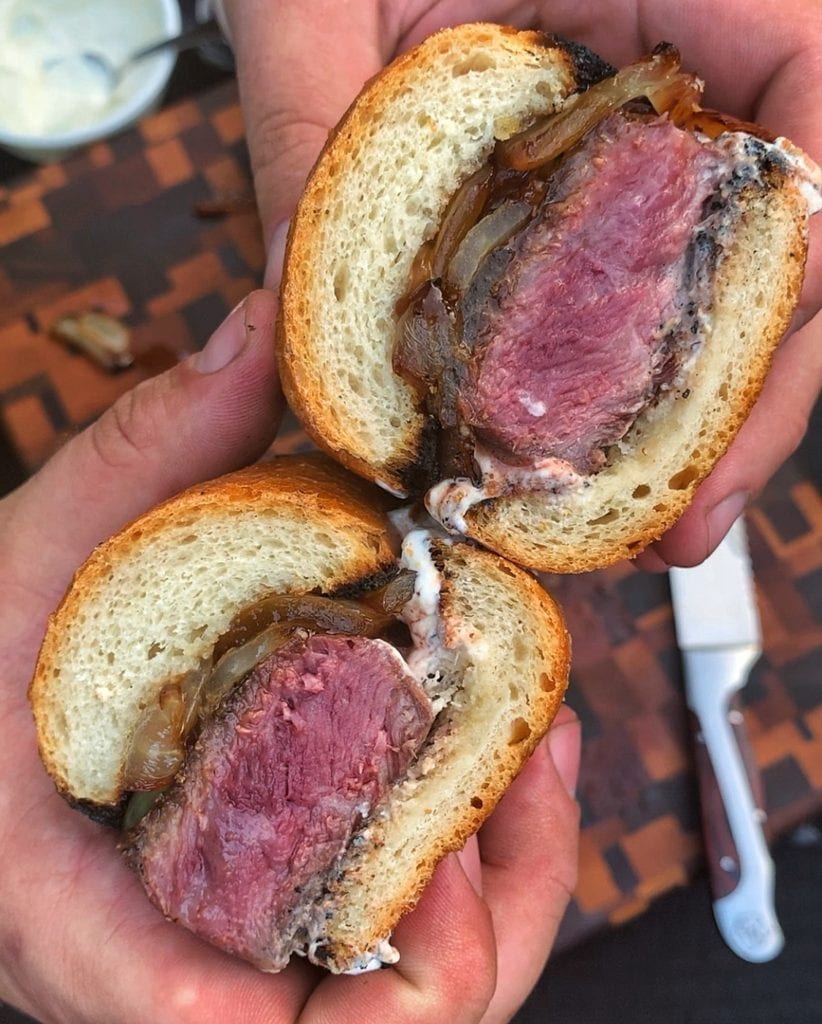 Okay, you probably have a ton of questions after reading that first paragraph. What is Mishima Reserve? America makes Wagyu beef? What the heck is Zabuton? And you are making it into a sandwich?
To be honest, I had all of the same questions the first time I heard of American Wagyu. But luckily, I have the answers for all of them now!
What is Mishima Reserve?
Mishima Reserve is a high quality American producer of Japanese Heritage breed Wagyu beef of the Kuroge Washu Bloodlines. They are raised naturally with a focus on reducing their carbon footprint by maintaining high quality standards and practices, their beef is born & raised responsibly in the USA by the best ranchers across the Northwest & Rocky Mountains.
American makes Wagyu Beef?
Yes they do and it is amazing… Mishima Reserve is just one of many great producers of American Wagyu. They, however, have had years of study learning all the in's and out's to maintaining and evolving American Wagyu.
What is Zabuton Steak?
Zabuton Steak is just one of the names for a Denver cut steak. In Japanese, it means "Little Pillow" because it is so immensely marbled with fat that it is soft & tender. Coming from the chuck part of the beef, this steak is super easy to grill without a lot of effort. The flavor however… intense.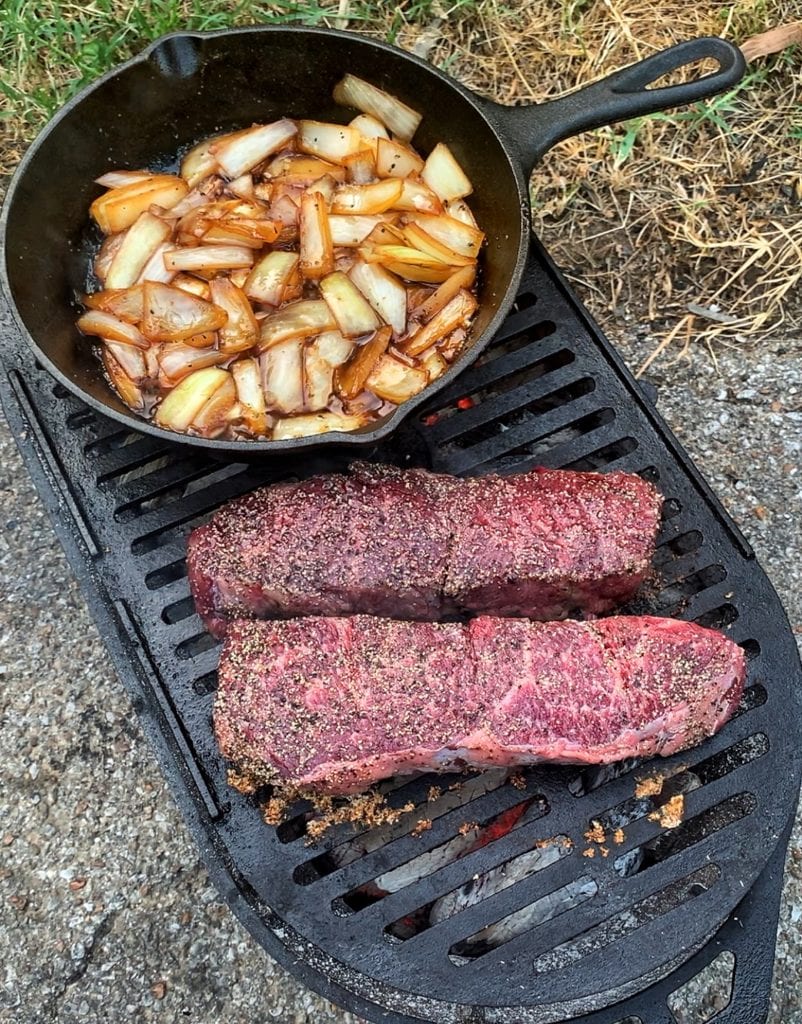 The Zabuton Wagyu Steak Sandwich
In the end, this sandwich is out of this world. Packed full of flavor from the Zabuton Steak itself, you should be surprised at how tender the meat is without having to slice it up. Moreover, the soy onions and horseradish sauce on the bread will create the stage from this Mishima Reserve American Wagyu Zabuton Steak to shine!
Discount Code!

Oh and use OVERTHEFIRECOOKING when checking out at Mishima Reserve for 10% off your sale!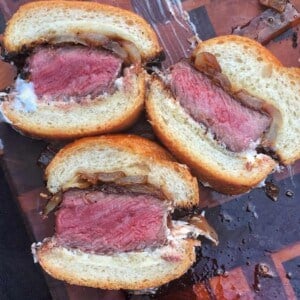 Wagyu Zabuton Steak Sandwich
Delicious and tender Zabuton steak cooked onto a sandwich with horseradish sauce and soy onions.
Ingredients
1-2

Mishima Reserve Wagyu Zabuton Steaks

½

Onion

Sliced

2

tbsp

of Soy Sauce

1.5

tbsp

of Horseradish

Prepared

¼

cup

of Sour Cream

1-2

Hoagie Rolls

Sliced & Buttered

Salt & Black Pepper

to taste

Olive Oil
Instructions
Build a fire in your grill or fire pit for direct cooking. Make at medium to medium-high heat.

Season the Mishima Reserve American Wagyu Zabuton Steaks with oil, salt, & black pepper. Preheat the skillet over the grill 2 minutes before cooking then add the onions, splash of oil, soy sauce, salt & pepper. Stir frequently until golden brown (about 8 minutes).

While onions cook, add steaks to grill and cook till desired temperature (about 3 minutes per side for medium-rare). Pull steaks & onions off grill and let rest for 8 minutes.

While steaks rest, add your bread to the grill and cook for 30 seconds to toast them. Mix your horseradish and sour cream together thoroughly and place to the side.

Build your sandwich with bottom of bread, horseradish sauce, steak, cooked onions and top of bread. Slice and serve!
Notes
Equipment: Grill, wood, fire starters, cutting board, cast iron skillet & bread knife.
This article does contain affiliate links to products that we personally use and support. Purchasing an affiliate product does make us a small commission at no cost to you. This helps us continue creating for our website. All words and opinions are our own, and we appreciate your support!