The next time you're craving a new recipe for the grill to take away your hot dog and hamburger blues, try my all-time favorite Chimichurri Sandwich. You simply can't go wrong with toasted French baguettes, split and stuffed with the tastiest Eckrich Smoked Sausage! Add in the melted Provolone, sauteed onions, and homemade chimichurri sauce and you've got a killer meal!
Sponsored by Eckrich.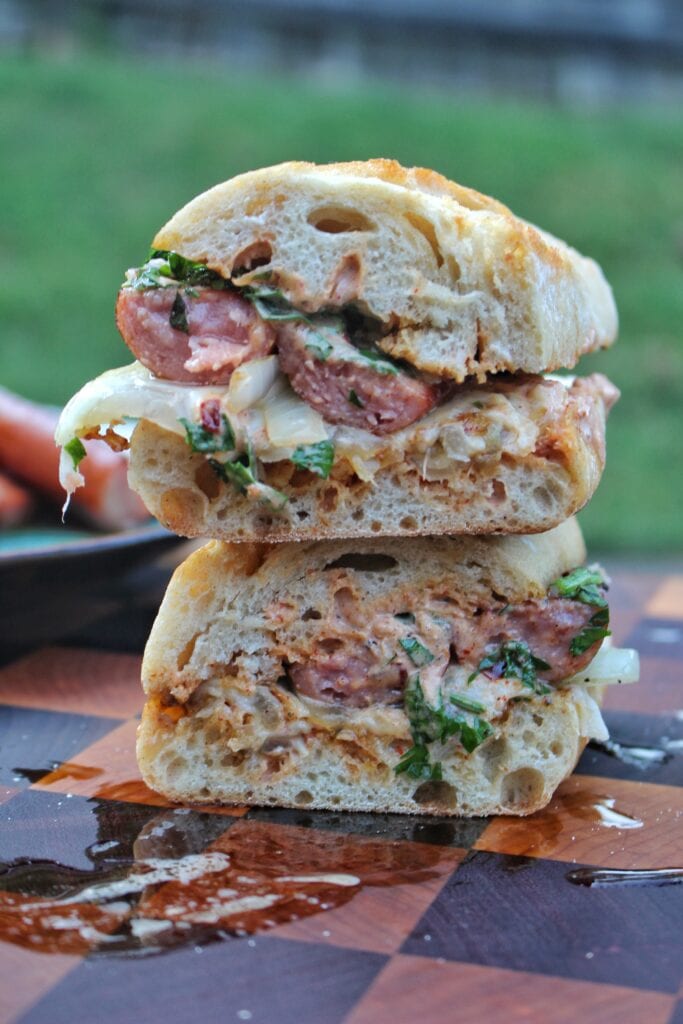 When you're craving a toasted sandwich with maximum flavor, this smoked sausage sandwich is a great option. With hardly any prep time, the toasty sandwiches are perfect for those autumn days when all you want to do is sink into the sofa with a blanket and watch some more college football.
Sausage is definitely a comfort food for me, so this is also one of those easy recipes that I make time and again! Especially when I'm feeling lazy and hungry all at once.
The word chimichurri refers to a green, uncooked sauce that can be used as a marinade or a serving sauce for meat. I truly enjoy the versatility of this sauce and have made a plethora of recipes with it. Check out a few of my other favorite chimichurri recipes like Chimichurri Marinated Tri-Tip, Chimichurri Steak Sandwich, and Brazilian Steaks with Habanero Chimichurri.
Why You'll Love a Chimichurri Sandwich
Super easy to make in about 30 minutes, these sandwiches are tasty and versatile. Perfect for dinner tonight with the family or for pleasing the hungry crowd while tailgating a college football game.
You can make the chimichurri sauce and optional chipotle mayonnaise ahead of time if needed. Then, all you would need to do is fire up the grill, cook those sausages with the onions and cheese, and toast the bread.
Ingredients
Chimichurri Sandwich
Eckrich Original Skinless Smoked Sausage – Naturally hardwood smoked, these savory sausages are crafted with just the right blend of spices for a truly rich, savory taste.
Onions – All depending on your preferences, you can go with white, yellow, or red onion for this recipe.
Butter – Butter, especially grass-fed, gives a richer, creamier flavor to the sauteed onions.
Brown Sugar – The molasses in the brown sugar helps caramelize the onions to perfection.
Provolone Cheese – You can easily find pre-sliced provolone at your local deli or supermarket. I don't recommend shredded cheese for these sandwiches. The provolone slices melt slowly over the sausage and onions without disappearing from the heat.
French Baguette – If you don't have any French bread available, a hoagie roll or ciabatta roll are other great options.
For other Sandwich recipes See
Chimichurri
Fresh Parsley – The key ingredient in the flavorful chimichurri recipe, this nutrient-packed herb adds freshness and zing to the sauce.
Garlic – Chopping up fresh cloves of garlic gets way easier when you use one of these garlic press gadgets. For the very best chimichurri sauce, garlic powder is not recommended.
Olive Oil – Extra-virgin olive oil is another big player in the chimichurri sauce. Long story short – better olive oil, better sauce. Period.
Red Wine Vinegar – This light pink vinegar is a staple in my kitchen. Perfect for salad dressings and marinades, it adds the perfect amount of refreshing acidity to the chimichurri sauce.
Red Pepper Flakes – Another pantry staple, everything tastes a little bit better with a kick of flavorful heat from the red pepper flakes.
Salt & Pepper to taste – A little salt goes a long way toward making all the ingredients in the sauce pop.
The basic structure of the recipe is fairly straightforward: sausage, sautéed onions, and melted cheese. However, you are welcome to add in other ingredients like sautéed bell peppers or even some tomato slices.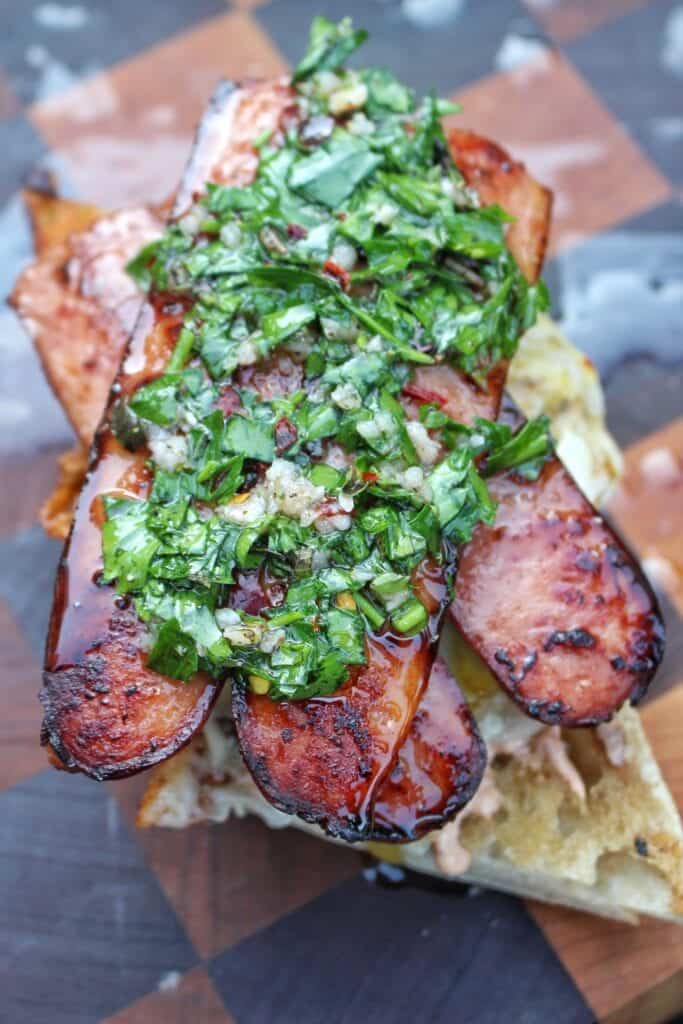 How to Make a Chimichurri Sandwich
Let's get these mouthwateringly delicious sandwiches started!
Preheat your fire to a medium-high heat. Let your grill pan, either a cast iron skillet or plancha, get warmed up for 1-2 minutes before tossing in the sliced onions with some extra-virgin olive oil. Cook the onions for about 3-4 minutes or until soft. Into the skillet, add the halved smoked sausage ropes and cook for another 4 minutes per side.
Meanwhile, stir in some butter and brown sugar so that the onions caramelize. Lastly, top the sausage and onions with slices of provolone cheese. Pull the skillet from the fire and set aside while you toast your sliced and halved French baguettes on the plancha for 2-3 minutes, making sure not to burn them.
For the chimichurri sauce, into a mixing bowl (no food processor needed) add the chopped parsley, red wine vinegar, garlic, red chili flakes, salt and black pepper. Slowly drizzle the olive oil while whisking until you reach your desired consistency (slow drizzling helps the vinegar and oil meld together and not separate). Lastly, add a pinch or two of Kosher salt and pepper to taste. Transfer to a small bowl for serving later.
What is Chimichurri anyway?
Chimichurri is a zesty and savory Argentinian sauce first created by cowboys in the early 19th century to slather over their juicy steaks. It can also be used as a marinade, salad dressing, or dipping sauce.
For the optional Chipotle Mayo, in a small food processor or with an immersion blender stick combine and blend ½ cup of your favorite mayonnaise with your desired amount of chipotles in adobe sauce.
Now, assemble the sandwiches by placing the sausages, onions, and cheese over the French bread that is smeared in chimichurri and chipotle mayo.
Now, let's enjoy!
To be the MVP of your next tailgate or homegate, visit www.Eckrich.com for recipe inspiration, product information, and where to buy.
More Favorite Sandwich Recipes
When you realize how easy it is to make the best sandwiches, there's no turning back. If you want to step up your sandwich game, try any one of these equally killer recipes: Steak Frites Sandwich, Cheese Stuffed Sausage Sandwich, Smoked Pulled Ham Sandwiches, Pulled Pork BBQ Sandwich, or Mushroom Swiss Steak Sandwich.
How to Store Leftovers & Reheat
Allow any leftover sandwiches (if that's even possible!) to cool before wrapping them in plastic wrap or aluminum foil. Store them in the refrigerator for up to 3-4 days, bearing in mind that the bread may get soggy.
When you're ready to reheat, set the oven to 350F and heat on a baking pan for about 10-15 minutes.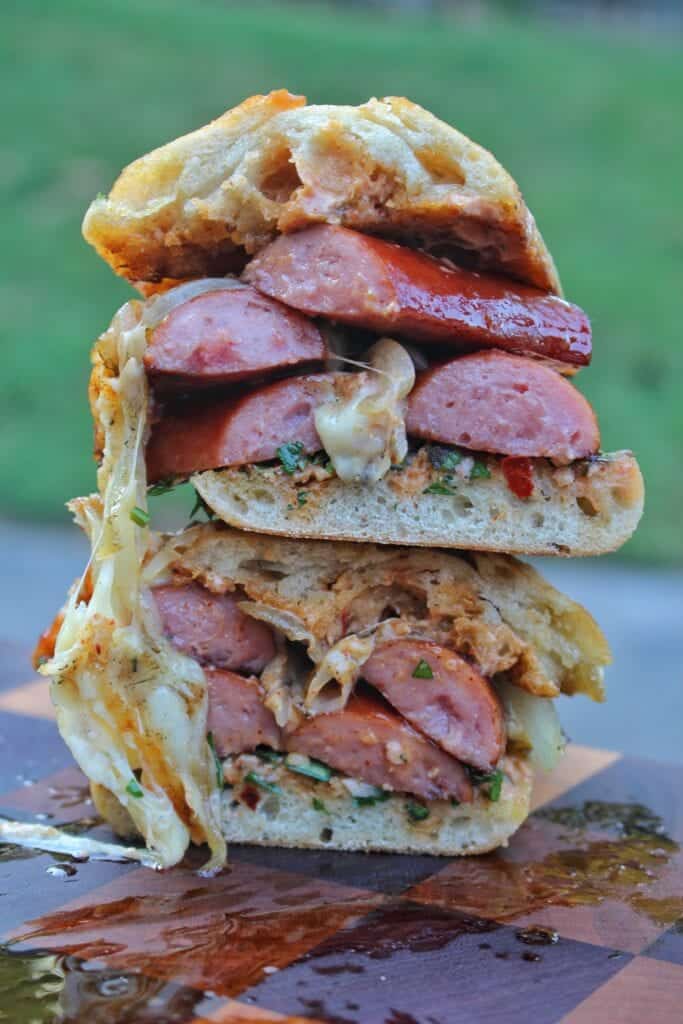 What to Serve With a Chimichurri Sandwich
When it comes to serving up a sausage sandwich, there are several tasty side dishes that come to my mind, including sweet potato fries, coleslaw, or corn on the cob grilled over the fire.
Recipe FAQs
Can I use a different type of sausage?
While the recipe calls for smoked sausage, you can definitely go with other types, including hot, spicy Italian sausage, venison sausage, chicken sausage, or turkey sausage.
Can I make this sandwich vegetarian or vegan?
There are numerous plant-based sausage options available, such as vegan Italian sausages or other meat alternatives. Swap out the meat sausage for your preferred plant-based option, and make sure to choose vegan cheese and mayo substitutes to maintain a vegan-friendly sandwich.
Can I make the chimichurri sauce in advance?
Yes, you can prepare the chimichurri sauce ahead of time. In fact, allowing the flavors to meld together for a few hours or overnight can enhance the taste. Store the chimichurri in a sealed container in a cool dry place, and give it a good stir before smearing on the sandwich.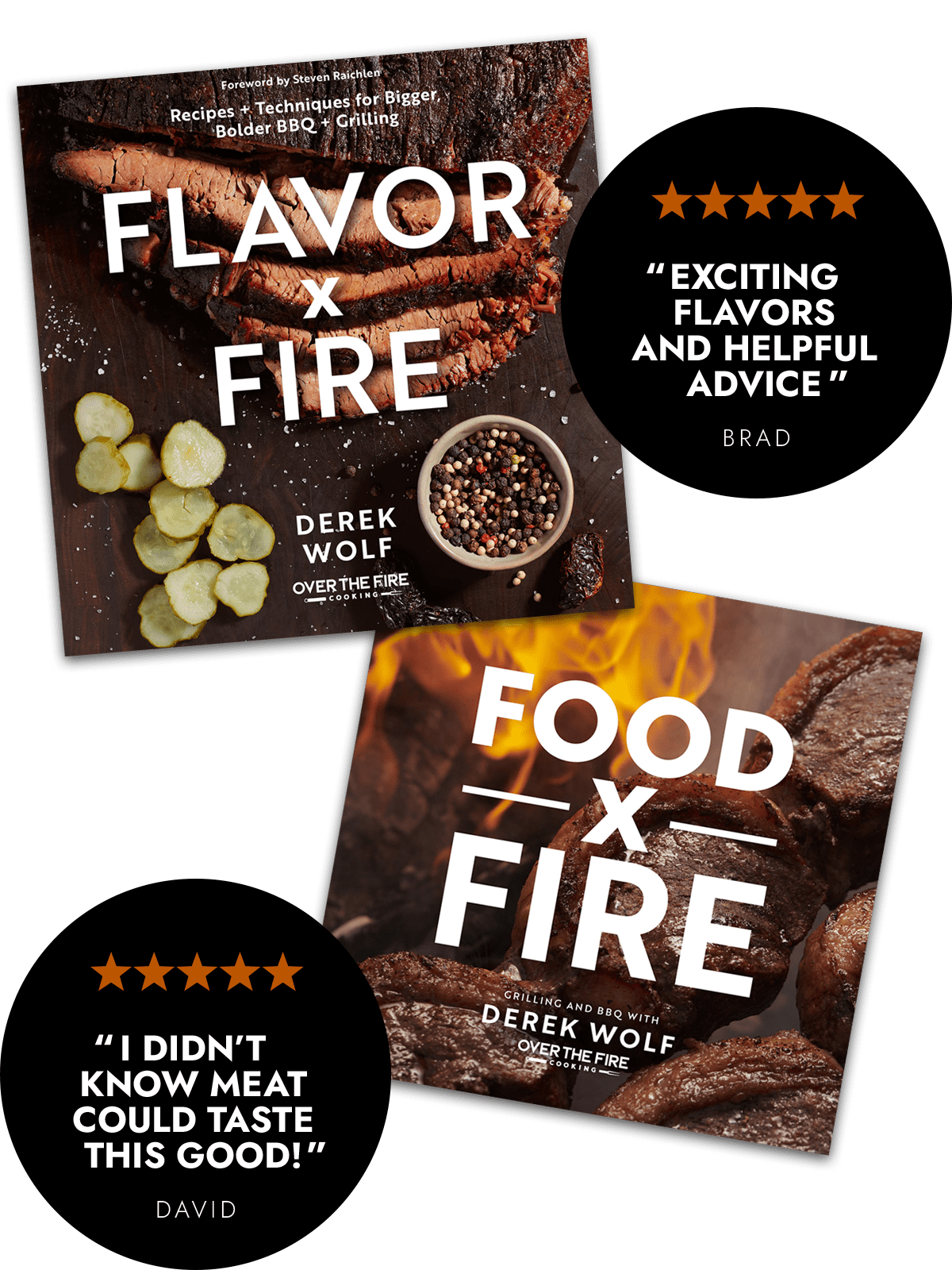 Get The Cookbooks!
Flavor X Fire & FOOD X Fire
All the major tastes—salty, sour, sweet, bitter, and umami—are explored in-depth, along with an investigation of other competent you should consider when it comes to flavors, such as aroma, heat, and texture.
Needing more spice in your life? My spice line can help with that. Check them out here.
Full Length Recipe Video on Facebook!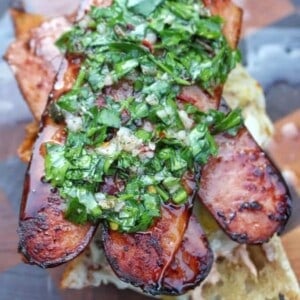 Smoked Sausage Chimichurri Sandwich
Grab a win this football tailgating season with the Smoked Sausage Chimichurri Sandwich. This zesty and smoky sandwich is all you need in your winning ritual!
Ingredients
Smoked Sausage Sandwich Ingredients:
Chimichurri Ingredients:
1/2

cup

Parsley chopped

3

cloves

of Garlic pressed

3/4

cup

Olive Oil

1/4

cup

Red Wine Vinegar

1

tsp

of Red Pepper Flakes

Salt & Pepper to taste
(Optional) Chipotle Mayo Ingredients:
Chipotle in Adobo Sauce

stemmed & pureed

½

cup

of Mayonnaise
Instructions
Preheat your fire to a medium-high heat. Add your cast iron pan or plancha over the fire 1-2 minutes before cooking. Add your onions with oil to the skillet and cook for 3-4 minutes or until soft.

Add your Eckrich Original Skinless Smoked Sausage Rope to the skillet and cook for 4 minutes per side. Put butter and brown sugar into your onions and let caramelize. Top with provolone cheese once caramelized.

Pull off your onions with cheese & smoked sausage. Grill your baguette segments in the plancha for 2-3 minutes.

Combine all your chimichurri ingredients and chipotle mayonnaise ingredients. Build your sandwich by lathering the inside of the baguette with chipotle mayonnaise then onions with cheese, Eckrich smoked sausage and chimichurri. Enjoy!
Nutrition
Calories:
752
kcal
|
Carbohydrates:
13
g
|
Protein:
7
g
|
Fat:
76
g
|
Saturated Fat:
16
g
|
Polyunsaturated Fat:
18
g
|
Monounsaturated Fat:
39
g
|
Trans Fat:
0.3
g
|
Cholesterol:
48
mg
|
Sodium:
485
mg
|
Potassium:
245
mg
|
Fiber:
2
g
|
Sugar:
7
g
|
Vitamin A:
1100
IU
|
Vitamin C:
17
mg
|
Calcium:
151
mg
|
Iron:
1
mg
This article does contain affiliate links to products that we personally use and support. Purchasing an affiliate product does make us a small commission at no cost to you. This helps us continue creating for our website. All words and opinions are our own, and we appreciate your support!