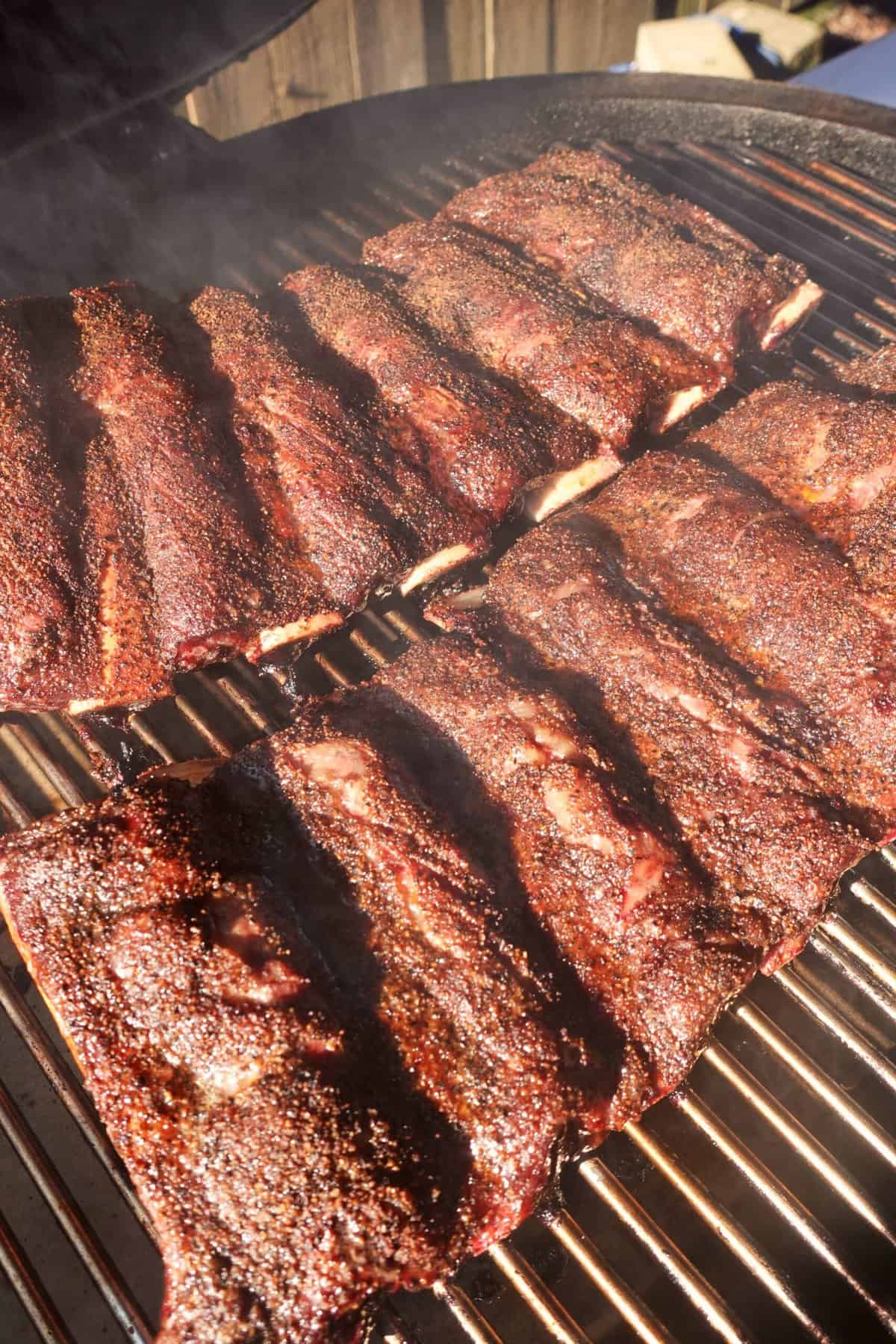 In the world of fast food, there is one particular chain that rules them all. And within that chain there is an elusive menu item that upon its annual release, brings a frenzy of customers to the drive-thru looking to get their hands on one before its gone. I'm talking about the infamous McRib. Today, we're taking over and making our very own Beef McRib Sandwich.
The familiar rib shaped slab of processed pork smothered in a tangy bbq sauce, topped with onions and pickles and served on a homestyle bun has garnered a love/hate relationship like no other fast food menu item in history. Whether you love it or hate it, you can't deny that the McRib is one hell of a famous sandwich.
The Beef McRib
Today I'm taking this bland and overly processed concoction and bringing it to the level of flavor it deserves. I'm making one with beef back ribs. The bones and meat on beef back ribs come from just underneath the ribeye. They are some of the most rich and tender bites of BBQ you'll ever have. This will be a McRib experience like you've never had before. We're taking the beef back ribs and smoking them until the bones come out with ease. Then we'll top them with a good quality BBQ sauce and some pickles and homemade pickled red onions.
I may be on the side of unpopular opinion but I can say without any hesitation that I do not like the McRib sandwich. I've had one in my life and that was enough for me. Although I may think that the famous fast food version tastes like a pork flavored sponge covered in cheap BBQ sauce… I absolutely can not deny the concept. Pickles, onions and BBQ sauce are the perfect accompaniment's to smokey and rich cuts of BBQ. Putting it all on a sandwich in one easy to eat meal is nothing short of genius.
McRib Sandwich
The McRib has been recreated by many BBQ enthusiasts and for good reason. Most often I see them made with a nice rack of pork baby back or St. Louis spare ribs smoked until they are tender enough that the bones slide out easily.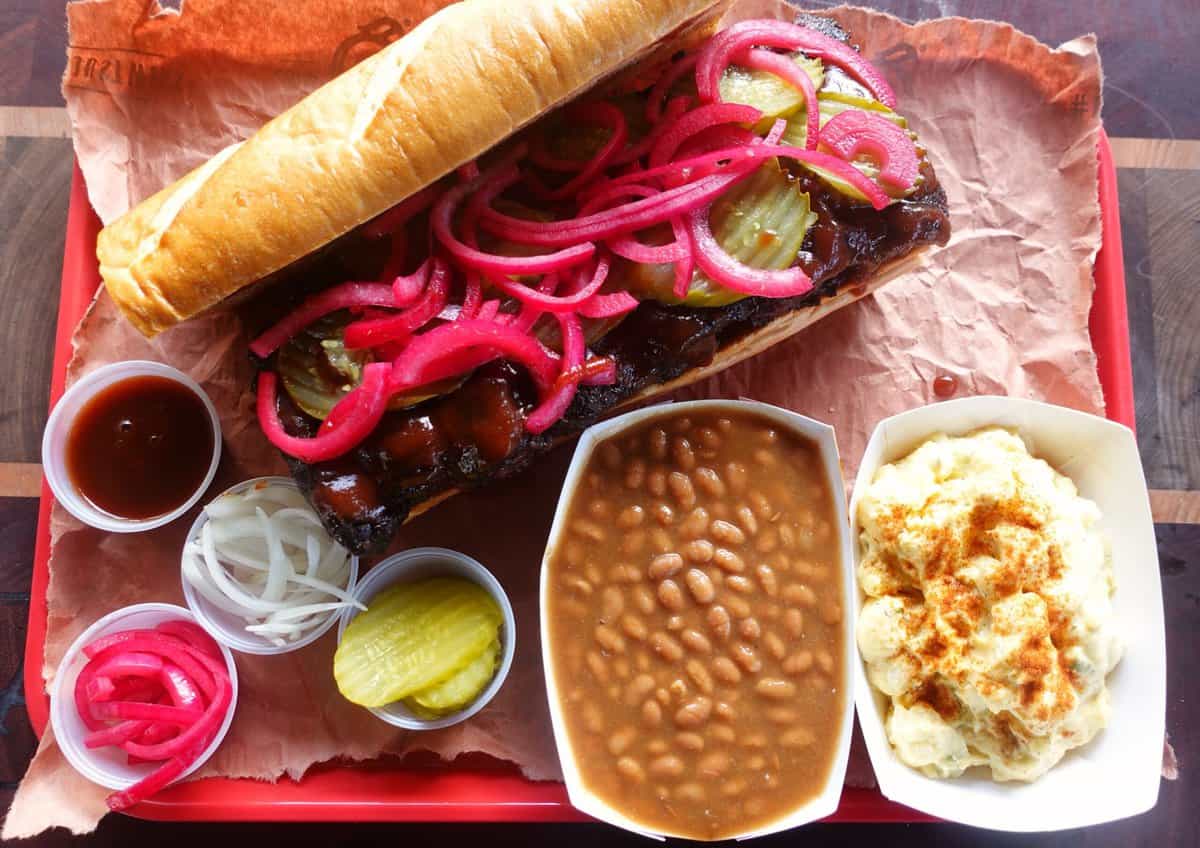 I decided to use my favorite cut of ribs instead. The hardest part was finding beef back ribs with enough meat to actually make a sandwich. Most slabs of beef back ribs contain very little meat. That's because when they are processed, the butcher angles his blade to capture as much meat as possible when removing the ribeye from the bones.
This will normally leave you with barely enough meat to give you a satisfying bite, let alone enough to fill a sandwich with. Your best bet is to contact your local butcher and request a rack cut just for you and to have then not "scoop" the bones. This will leave you with enough meat to create this delectable sandwich.
Once you have your rack of beef ribs, this sandwich really is a breeze to pull off. Finding a good loaf of bread, making some pickled red onions, adding some pickles and your favorite BBQ sauce is all there is to it. Smoking the ribs is all that stands between you and a sandwich that would make the BBQ gods proud.
For other delicious BBQ sandwiches check out my BBQ Steak Sandwich, Chipotle BBQ Pulled Pork Sandwich and Smoked Pulled Ham Sandwiches.
Beef McRib Sandwich Preparations
So lets get to it. Smoking beef back ribs really isn't any different than smoking pork baby back ribs. If anything, they are more forgiving because there is more fat and connective tissue to render. This leaves you with a tender and juicy finished product. The key is starting with a rack that has plenty of meat and not cooking them too hot.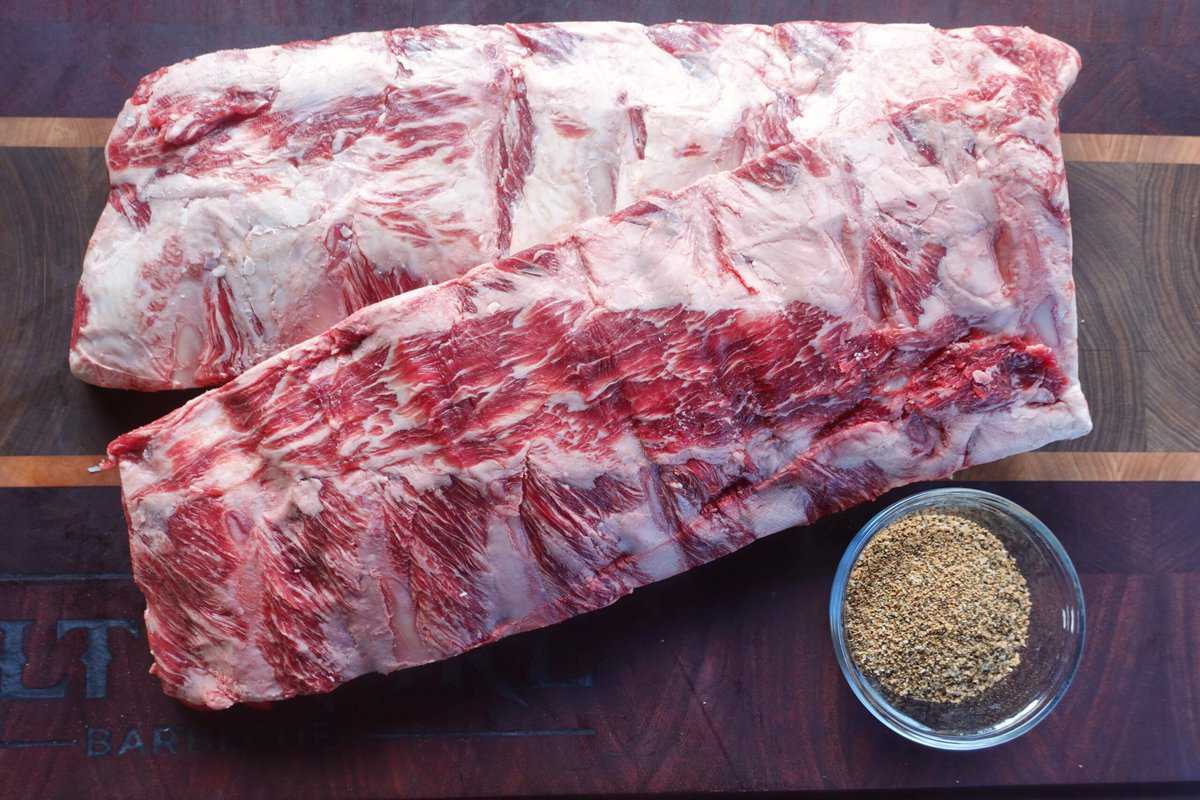 Start by preheating your smoker to 250 degrees F. While your smoker is preheating, begin prepping your ribs. Start by taking a sharp knife and scoring perpendicular to the bones about 1" below the top of the membrane. Grab a paper towel and use your fingers to get ahold of the membrane below the 1" cut and pull it off.
The reason for this is that the membrane on beef ribs in particular is thick. It's more noticeable when chewing than it is on pork ribs. So removing it is key. The reason for leaving a 1" strip of membrane is to help the ribs stay together while they cook. It also helps while they are being handled when done. I suggest doing this with pork ribs as well.
Once you have removed the membrane, liberally apply your favorite binder (I prefer yellow mustard but any water based liquid will work. I.E. hot sauce, Worcestershire, mayonnaise, etc.) to the meat side and bone side of the ribs. Generously season both sides of the ribs with your favorite BBQ rub. Something sweet and peppery is preferred for this sandwich. Let the ribs sit on the counter for 15 to 20 mins to let the rub set while your smoker finishes coming up to temp.
Smoking the Beef Ribs
You can use a wide variety of wood choices for your smoke profile for this Beef McRib Sandwich. Because your stacking on condiments and bbq sauce, you can get away with a little more smoke flavor than normal. I prefer pecan or oak for all my BBQ but mesquite, hickory or any fruit wood is also a good choice.
Beef ribs take about the same amount of time as pork ribs when using the 3-2-1 method which is what I suggest doing for beef back ribs. We are going to go 3 hours uncovered, 2 wrapped in foil and 1 unwrapped to firm up. I suggest only using wood chunks during the first 3 hours of this cook.
Spritz, Sauce and Wrap
Once your smoker is preheated, place the ribs down meat side facing up. After the first 2 hours, I suggest spritzing with a mixture of 50/50 apple cider vinegar and water twice during the 3rd hour. Normally I suggest gauging when to wrap ribs based on the color but we are going for tenderness here and the 3-2-1 method will almost guarantee proper results.
After the first 3 hours, grab your favorite BBQ sauce and dilute it 1 part apple cider vinegar to 5 parts BBQ sauce. You don't want too thick of a sauce or you risk burning it. Plus the added tang pairs well with the richness of the beef ribs.
Lay down a double layer of heavy duty tin foil and pour enough sauce to create a thin layer on the foil and place the ribs meat side down. Wrap the ribs very tightly. This is critical any time your wrap BBQ in tin foil. It prevents the bark from steaming off. Try to be sure to press every nook and cranny of the foil close to the meat and bones. Put them back on the smoker, meat facing down on the smoker for 2 hours.
For more with beef ribs, check out Gaucho Beef Ribs, Chipotle Black Pepper Smoked Beef Ribs and Smoked Jack Daniels Beef Ribs.
Finalizing the Beef McRib Sandwich
The last step is to open up the tin foil and create a kind of boat with the edges to keep all the liquid build up in the foil from draining into your smoker. Using a pair of hot gloves, flip the ribs back to meat facing up. Using the same BBQ sauce with the added apple cider vinegar and a basting brush, apply a thin layer of the sauce to the meat and close up your smoker. Leave them sit uncovered for the final hour.
By now the ribs have been on the smoker for 6 hours at 250 degrees which is more than enough time for them to be tender enough to pull the bones. If your temps dropped below 250 for a large portion of the cook, they may need more time. You can test the doneness by grabbing two of the bones and gently pulling them away from each other. You are looking for the meat to begin to easily pull away from the bone and for the meat to be very tender.
Assemble and Serve
Flip the bones ribs over so the bones are facing up and begin to gently remove the bones. Use a pairing knife if any of the meat or membrane sticks to the bones. It should be minimal if cooked properly. After you've removed the bones you should be left with a nice slab of beef back rib meat. Now its time to assemble your sandwich.
Using a nice loaf of your favorite rustic French bread, toast each half on your grill or your broiler. Add a layer of BBQ sauce to the bottom bun and lay down your slab of beef back rib meat. Then top with additional BBQ sauce, sliced dill pickles and your pickled red onions. Slice into your Beef McRib Sandwich and serve for everyone to enjoy. Cheers!
Beef McRib Sandwich
Beef McRib Sandwich for the infamous sandwich, done right!
Ingredients
2

racks meaty beef back ribs

3

Tbsp

of your favorite BBQ rub

Yellow mustard

Apple cider vinegar

1

cup

of your favorite BBQ sauce

2

medium sized loafs rustic French bread

Sliced dill pickles
Pickled Red Onions
Pickled Red Onions

1

cup

apple cider vinegar

1

Tbsp

granulated sugar

1

tsp

kosher salt

½

red onion cut into thin slices

1

small mason jar
Instructions
Add the apple cider vinegar, sugar and salt to the mason jar and shake until dissolved. Add the red onions cover and place in fridge overnight. Onions will last up to 2 weeks in the fridge. If you want to add a pop of color, add a thin slice of red beat with the onions before placing in the fridge.

Recipe Instructions

Start by preheating your smoker to 250 degrees. While its preheating, prep your ribs by placing them on a cutting board meat side down. Take a sharp knife and score the membrane perpendicular to the bones 1" from the top of the bones. Using a paper towel, grab the membrane below the scoring mark and pull it all the way off. You should be left with a 1" strip of membrane at the top of the ribs.

Trim off any loose pieces of fat or meat before applying a thin layer of your yellow mustard binder to both sides of the ribs. Generously apply the BBQ rub to both sides of the ribs. Let sit for at least 15 minutes while your smoker finishes preheating to let rub sweat and adhere to the meat.

Once your smoker is to temp, place the ribs meat side up into your smoker. Leave them in the smoker for 2 hours without opening the lid. During the 3rd hour, spritz the ribs with a mixture of 50/50 apple cider vinegar and water twice.

After 3 hours, mix 5 parts BBQ sauce and 1 part apple cider vinegar and set aside. Lay out a double layer of heavy duty tinfoil on a cutting board and pour a thin layer of BBQ sauce on the tin foil, remove the ribs from the smoker and place each rack meat side down, on the BBQ sauce in the tin foil. Wrap very tightly to be sure it is completely sealed. Place the ribs back in the smoker for 2 hours.

After 2 hours, unwrap the ribs while they are sitting on the smoker grates and create a boat with the foil to preserve the liquid inside while completely exposing the ribs. Flip the ribs over so the bones are facing down and spread a thin layer of the BBQ sauce over the meat with a basting brush. Close the smoker and let sit for one final hour.

Test the ribs for tenderness by gently pulling on two ribs to see if the meat starts to pull off the bone. Remove the ribs from the smoker to rest for 20 mins before removing the bones. To remove the bones, flip the ribs back to meat side down and gently pull each rib upward. You may need to use a pairing knife if any bits start to stick to the bone.

Assemble the sandwich by laying down a thin layer of BBQ sauce on the bottom half of your toasted French bread. Place the full boneless rack of beef ribs down, then top with more BBQ sauce, a layer of dill pickles and generous helping of the pickled red onions. Cut each loaf into 3 equal sandwiches and Enjoy!
Nutrition
Calories:
613
kcal
|
Carbohydrates:
97
g
|
Protein:
34
g
|
Fat:
10
g
|
Saturated Fat:
4
g
|
Polyunsaturated Fat:
2
g
|
Monounsaturated Fat:
4
g
|
Trans Fat:
0.3
g
|
Cholesterol:
60
mg
|
Sodium:
1756
mg
|
Potassium:
633
mg
|
Fiber:
4
g
|
Sugar:
25
g
|
Vitamin A:
308
IU
|
Vitamin C:
2
mg
|
Calcium:
177
mg
|
Iron:
10
mg