With the world upside down, sometimes it is nice to have food that reminds us of the good times. One food that helps remind me is Grilled Carne Asada. This simple marinated steak grilled over hot Cowboy Charcoal is an amazing reminder that life is still good. So gear up for your Cinco de Mayo celebration at home with this delicious recipe below. Learn some tips below on making it even better!
Tips to Making the Best Grilled Carne Asada:
1. Score Your Meat!
One of the first things that I do when making a grilled carne asada is score the meat. This might seem abnormal to some, but ideally this meat absorbs the most marinade as possible. The only way that it can do that is by allowing the marinade to penetrate deeper. One way of doing that is my scoring the meat on the outside!
You can easily do this with flank steak like I showed here; but, if you are using skirt steak then try poking little holes on the top. Overall, your grilled carne asada will hold ample amounts more flavor when it is scored.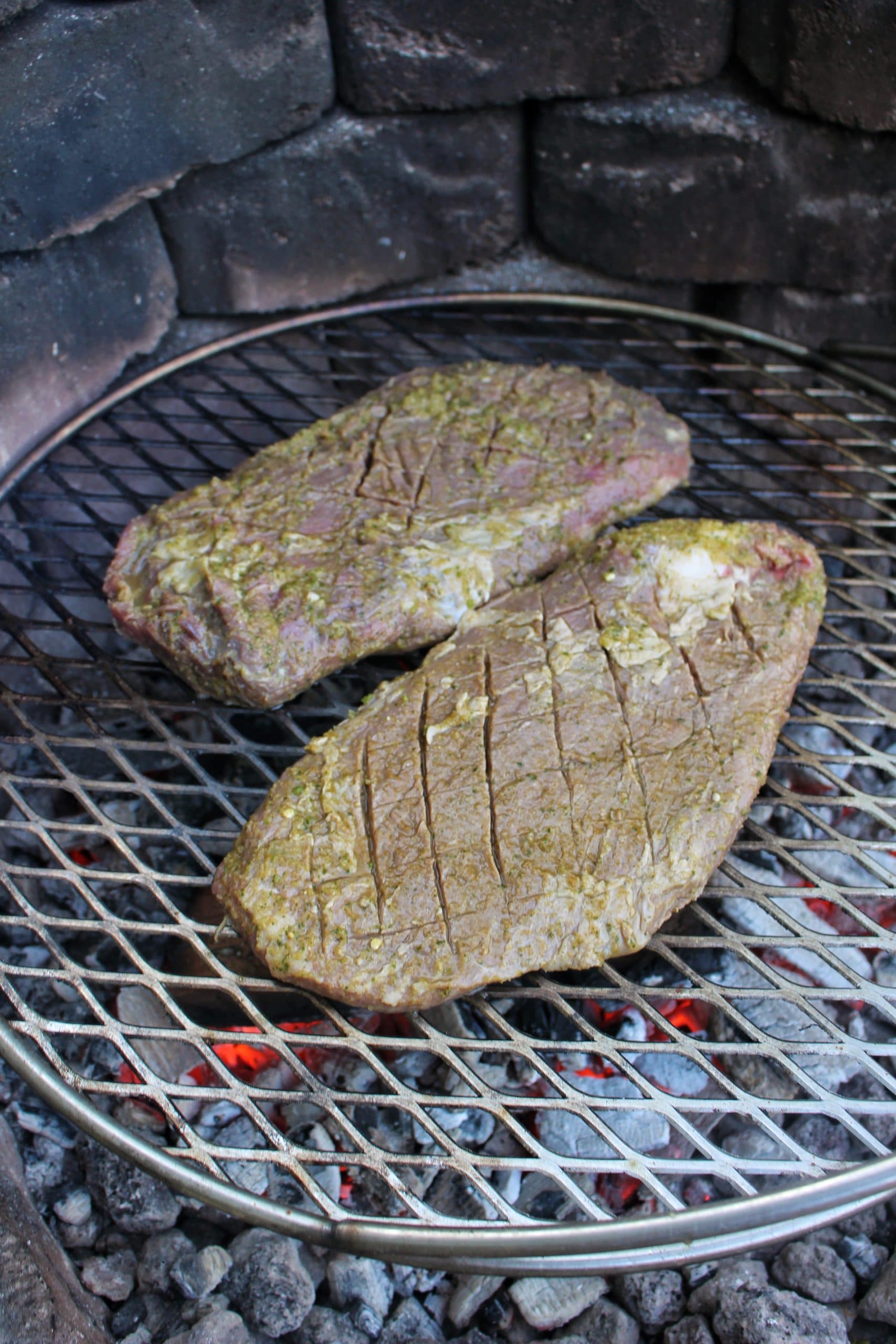 2. Marinating Time for Grilled Carne Asada
Another key to having amazing grilled carne asada is how long you marinate it. I prefer to marinate my steak for only 2 to 5 hours. Any longer and you run the risk of the meat becoming too tender. What is wrong with being too tender you ask?
When you marinate anything in citrus, the meat tenderizes. This is amazing if done for the right amount of time, but steak can become mushy and soft when left for too long. This will not create a great texture; therefore, stick to 2 to 5 hours!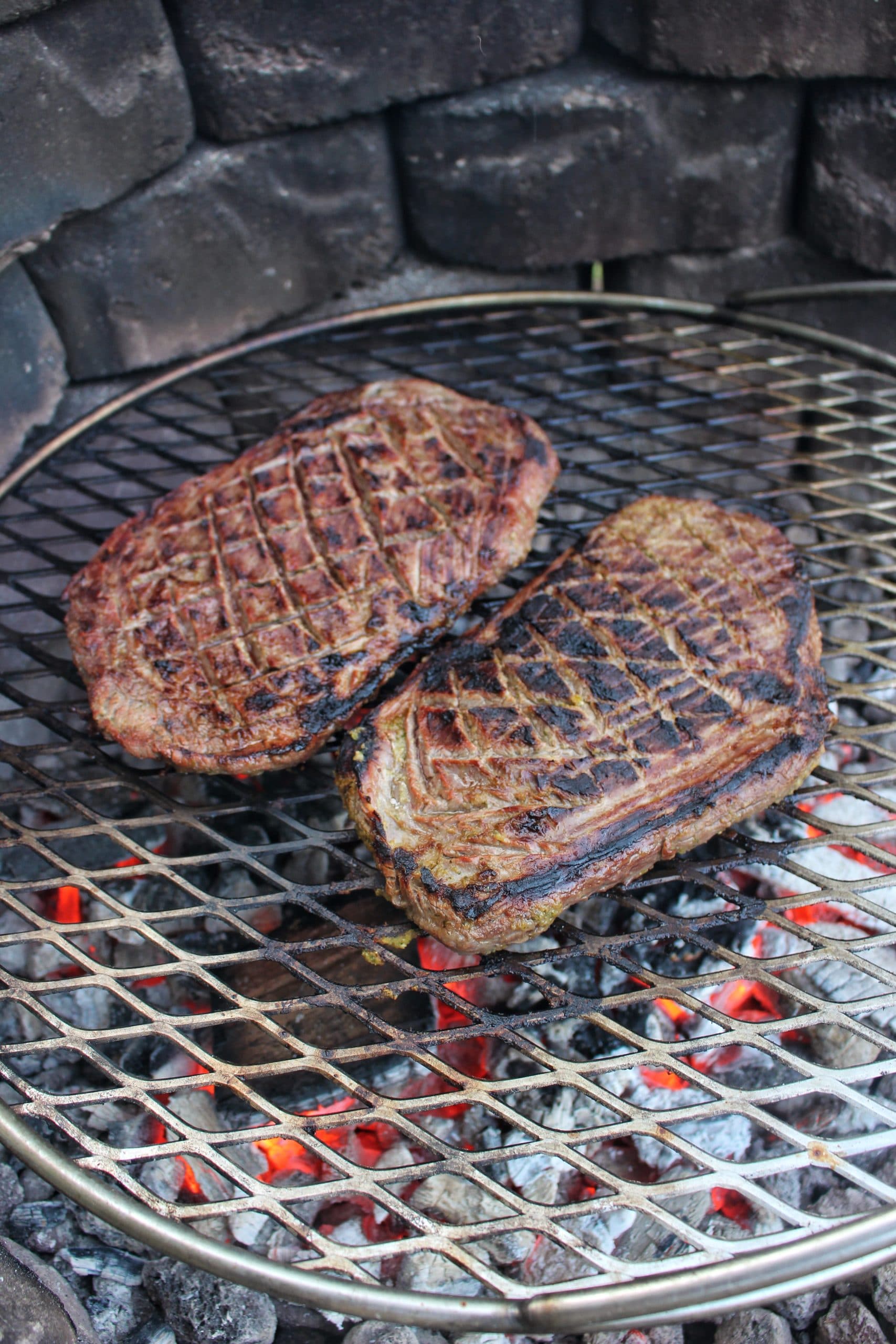 3. Add Some Mesquite Wood Chunks
Adding some additional flavor to the Cowboy Charcoal is always a good idea. Cowboy makes some amazing wood chunks, and one way you can use them is by adding a few to the top of the chunks before cooking. My favorite chunk to add is the mesquite wood. Mesquite wood will give a nice dose of smoke and richness to the grilled carne asada. For those that want less smokiness, try adding hickory or apple wood!
4. Slicing Against the Grain & at an Angle
Last but not least is slicing the meat the correct way! I have walked through in the past how to identify the grain and slice against it, so that should be something easy to figure out. When using flank steak, it will be easy to slice against the grain compared to skirt steak.
However, one additional key is to slice at an angle. When you slice your grilled carne asada at an angle, you will end up with a larger cut of meat that will hold more flavor. Feel free to cut how you like, but slicing against the grain at an angle will really help improve the experience.
Time to Eat
As we all gear up to celebrate Cinco de Mayo, this grilled carne asada recipe is gonna be your pocket ace. You will get insane flavor off this meat that you can easily turn into tacos, burrito bowls or nachos! And when you pair it with great coals like Cowboy Charcoal then it is an instant win. Try it today and enjoy the 5th of May in style.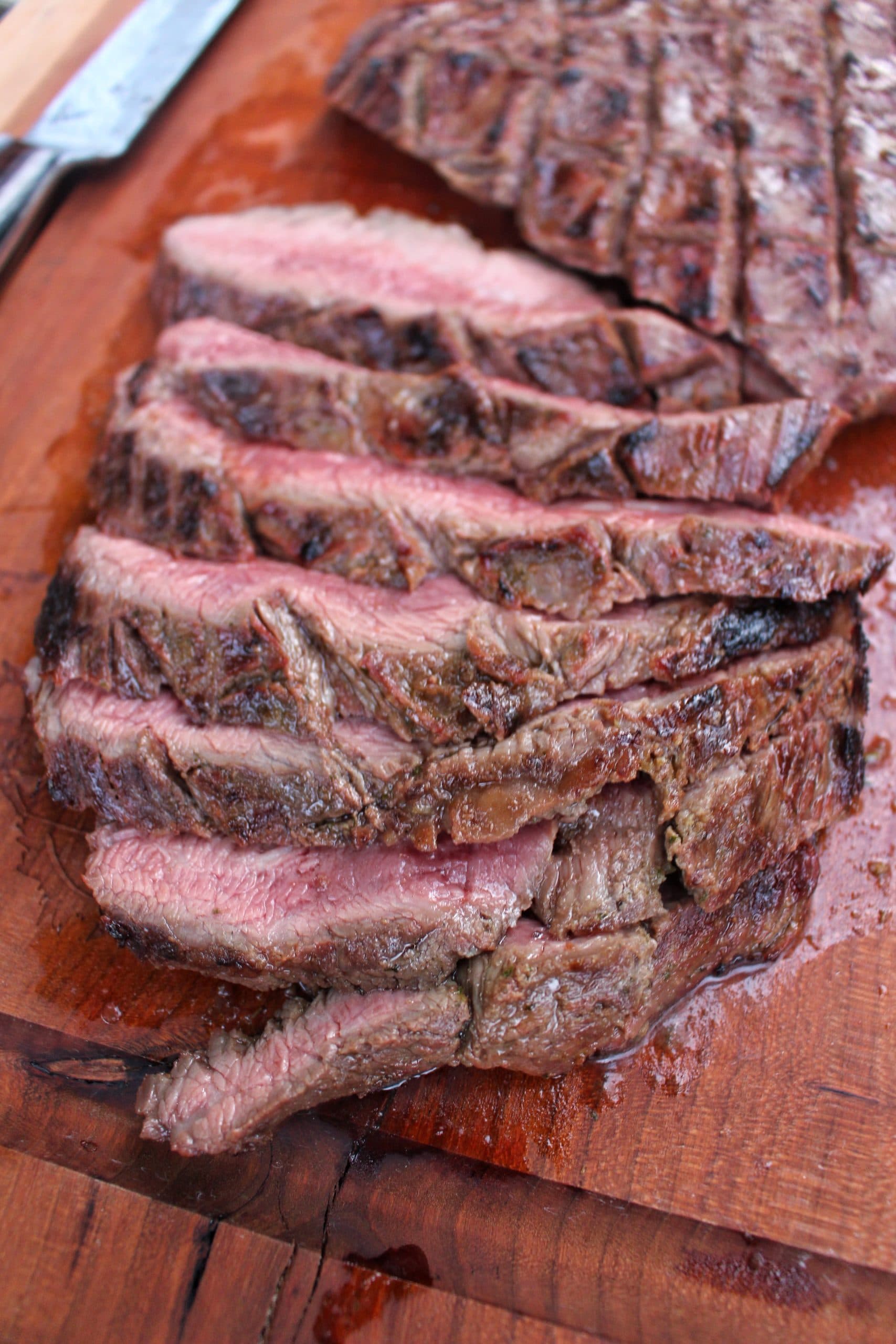 This article does contain affiliate links to products that we personally use and support. Purchasing an affiliate product does make us a small commission at no cost to you. This helps us continue creating for our website. All words and opinions are our own, and we appreciate your support!
Grilled Carne Asada
Making a delicous Grilled Carne Asada has never been easier. This simple but delicious recipe is ready to be made, marinated and grilled over the fire!
Ingredients
Steak:
2

Flank Steaks or Skirt Steaks

2

tsp

of Sea Salt

to finish
Marinade:
2

tbsp

of Hatch Chile Rub

(Or 1 tbsp Cumin, 2 tsp Sea Salt and 1 tsp Black Pepper)

6

oz

of Amber Beer

¼

cup

of White Vinegar

½

cup

of White Onion

Diced

¼

cup

of Cilantro

10

cloves

of Garlic

1

Navel Orange

juiced

3

Limes

juiced

1

Jalapeno

sliced
Instructions
At room temperature, score the outside of flank steak. In a blender, add all ingredients for marinade and blend thoroughly. Add flank steak to a glass container or plastic bag and fill with marinade. Let sit in the fridge for 2-5 hours.

Using Cowboy Charcoal, fill two chimneys full of coals, light and let preheat for 15 minutes. Pour coals into the grill, add a few chunks of Mesquite wood and place into one pile for direct cooking.

Add your steak to the grill and cook for 7-8 minutes per side or until it reaches 120F internal for medium rare. Once done, pull the steak off the grill and let rest for 10 minutes.

Slice steak against the grain at an angle, top with sea salt and enjoy!