If you're searching for the ultimate Grilled Beef Short Ribs recipe for a special occasion or tomorrow night's dinner, then I've got you covered. It doesn't get much better than juicy, tender bone-in beef – smothered in a homemade chimichurri sauce – served with crispy smashed potatoes.
Post Sponsored by Breeo.
For this simple recipe, I'll be making flanken beef short ribs on the Breeo Y series. If you haven't guessed it yet, this smokeless firepit is one of my all-time favorite ways to cook over the fire.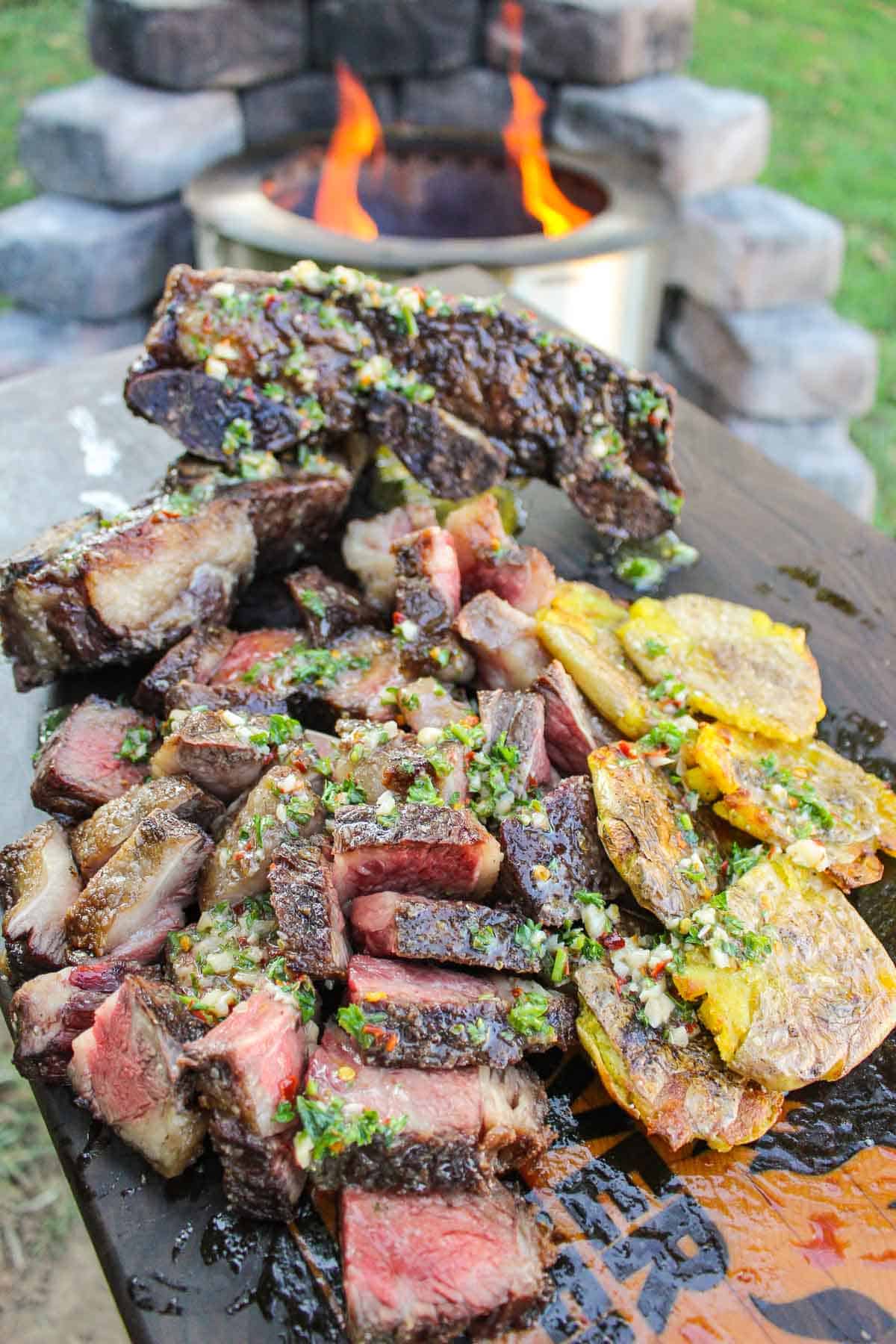 First, it's beautiful to look at, but it's also designed with safety in mind and compact with collapsible legs. Then, the best part is possibly the grill grate accessories, which help you create the most delicious recipes from anywhere.
In other words, I highly recommend this firepit. Great for your backyard BBQ or for tucking into your camper, you'll never regret it. From the first time you cook on this reliable pit, I promise you'll be sold.
There are so many good ways to make food on the Breeo, including these recipes: Steak with Garlic Confit, Honey Tequila Lime Shrimp, and Grilled Lobster with Hot Honey Butter.
Why You'll Love Grilled Beef Short Ribs
Flanken beef short ribs are common in Korean short ribs recipes. Due to their thinness, flanken ribs cook relatively quickly, making them a great choice for this easy recipe.
They are also the perfect match for the Breeo. You can enjoy delectable beef short ribs without the long waiting time of a traditional slow cooker.
Grilling beef short ribs is always a satisfying experience because of how delicious and flavorful the meat becomes when cooked over the smoky flames.
​Grilled Beef Short Ribs Ingredients
Chimichurri Butter:
Unsalted Butter – I like to use grass-fed butter for its rich flavor and deep yellow color.
Parsley – Whenever you go to the grocery store, never leave without grabbing a handful of parsley. It belongs in nearly every recipe I make!
Red Wine Vinegar – This red vinegar is a good choice for flavoring the oil nicely without overpowering it.
Olive Oil – Traditional chimichurri recipes are all about the quality of the olive oil, so make sure to use one that smells light and fresh to your nose, not rancid.
Oregano – This Italian herb gives the butter an earthy and slightly peppery flavor.
Red Chili Flakes – These flakes bring the heat in all the right ways.
Kosher Salt – Just a little simple salt in the butter is all you need to amp up all the flavors.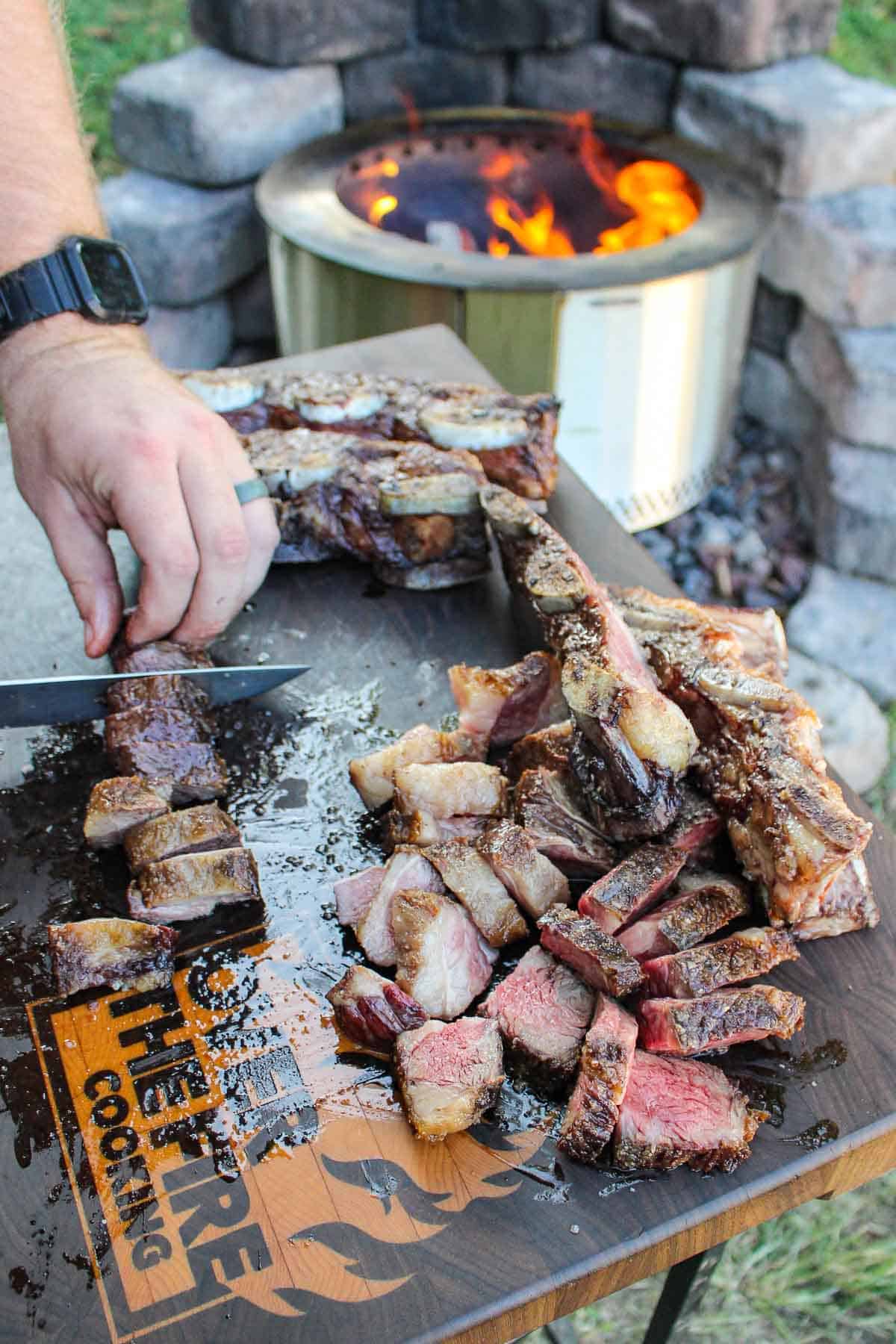 Beef Short Ribs:
Flanken Beef Short Ribs – The flanken cut of beef with rib bone in is fairly easy to find at your local meat counter. If they are not on display, then make sure to ask the butcher if he or she can prepare them for you. Or, try a Korean grocery store. Alternatively, could can also order them online and have them delivered straight to your house!
Kosher Salt – My favorite coarse salt is all you need to get the flavors of this meat to pop.
Oil Basting:
Olive oil – With so many counterfeit olive oils on the shelf these days, make sure you get one that you can trust is 100% authentic.
Garlic – No need to chop the garlic for the oil baste, simply smash it open to release the aromatic flavors into the olive oil.
Red wine vinegar – Again, this type of vinegar has the perfect balance of subtle wine flavor and bright acidity.
Smashed Potatoes:
Golden Potatoes – Baby Yukon Golds or Dutch Yellow Potatoes have a rich buttery flavor and texture, perfect for pairing with this beef ribs recipe.
Never underestimate the power of such familiar and simple ingredients to create an unforgettable meal!
Looking for more delicious short rib recipes? Try my Rotisserie Smoked Short Ribs, Grilled Korean BBQ Short Ribs, and Braised Beef Short Ribs.
How to Make Grilled Beef Short Ribs
I can't wait to show you how to make this super simple recipe. Everything is going to taste so freakin' delicious, my taste buds can barely wait … but, first, it's prep time!

Chimichurri Butter
Our first move to get this recipe started is to make the chimichurri butter. Simply mix the butter, chopped parsley, red wine vinegar, olive oil, dried oregano, and red chili flakes in a medium to large bowl. Add salt to taste, then set the butter in the fridge. We'll grab it again while the meat is resting.
Beef Ribs Prep
This step couldn't be easier. Just season the beef ribs with coarse Kosher salt before setting them aside to rest at room temperature.

Potato Prep
Next up, let's prep the potatoes. These are optional, of course, but they're so easy and make a perfect match for the flavorful beef.
First, boil some baby golden potatoes in a pot of water until they're soft enough to be easily pierced with a fork. Pull them out of the hot water and set them on a clean work surface. Use the bottom of a plate or glass to "smash" the potatoes into flat discs, then set them aside.
How to heat up a Breeo
Breeo recommends lighting the fire 30-60 minutes before cooking begins to build up the heat from the hot coals. For high heat that's direct, keep adding wood to the fire. For low indirect heat, let it burn down and smolder.
Pre-Heat the Breeo
For best results, preheat your grill of choice to a medium heat of about 300º degrees F for direct cooking. Raise the grill grate high enough so that you don't burn the ribs.
The Breeo is designed to handle wood, lump charcoal, or pellets, making it a versatile fire pit. Today I'm going for the charcoal grill vibe, which makes moderately slow cooking for the beef short ribs easy and efficient!
The Baste Oil
Now, let's talk about the basting oil. You can easily make the basting liquid while the steaks are cooking. In a medium saucepan that's on the grill, you will mix the olive oil, smashed garlic, and red wine vinegar. That's it!
Grilled Beef Short Ribs
Next, let's cook the delicious beef ribs while basting every 4-5 minutes with the hot oil you just prepared.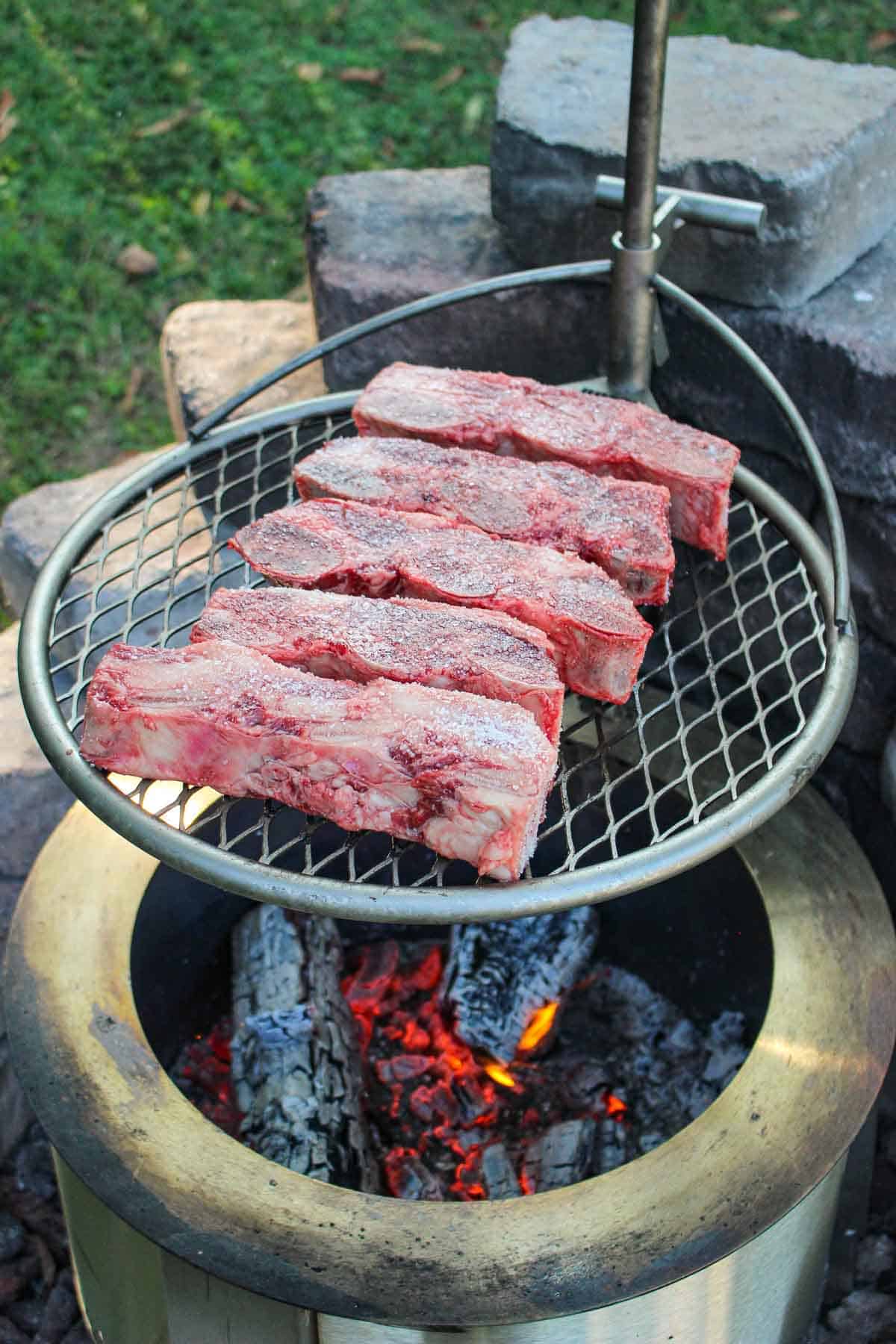 Add the short ribs over the flames and allow them to cook for roughly 25-35 minutes, flipping and basting. After 25 minutes, start checking the internal temperature. Add time, as needed, until your meat thermometer shows an internal temperature of 130-135º degrees F.
Crisp the Potatoes
The final step to round out the meal is to crisp the smashed potatoes on the grill. Baste them with the same oil you used for the steak. Cook for 2 minutes on each side. Once they're sufficiently crispy, pull them off and let them cool for a couple of minutes.
Chimichurri sauce
Now, let's pull our meal together and eat! While the meat is resting for 10-15 minutes, go ahead and melt the chimichurri butter in a small or medium saucepan placed on the grill grates. Don't overdo the cooking time, because you don't want the butter to burn.
Final Assembly
With a sharp knife, slice the steak into thin slices against the grain. Then, serve alongside crispy potatoes and a generous drizzle of the melted chimichurri butter.
What to Serve with Grilled Beef Short Ribs
If you don't want to make grilled beef ribs with smashed potatoes, here are some other tasty ideas: garlic mashed potatoes, sweet potato fries, grilled root vegetables, and/or cornbread.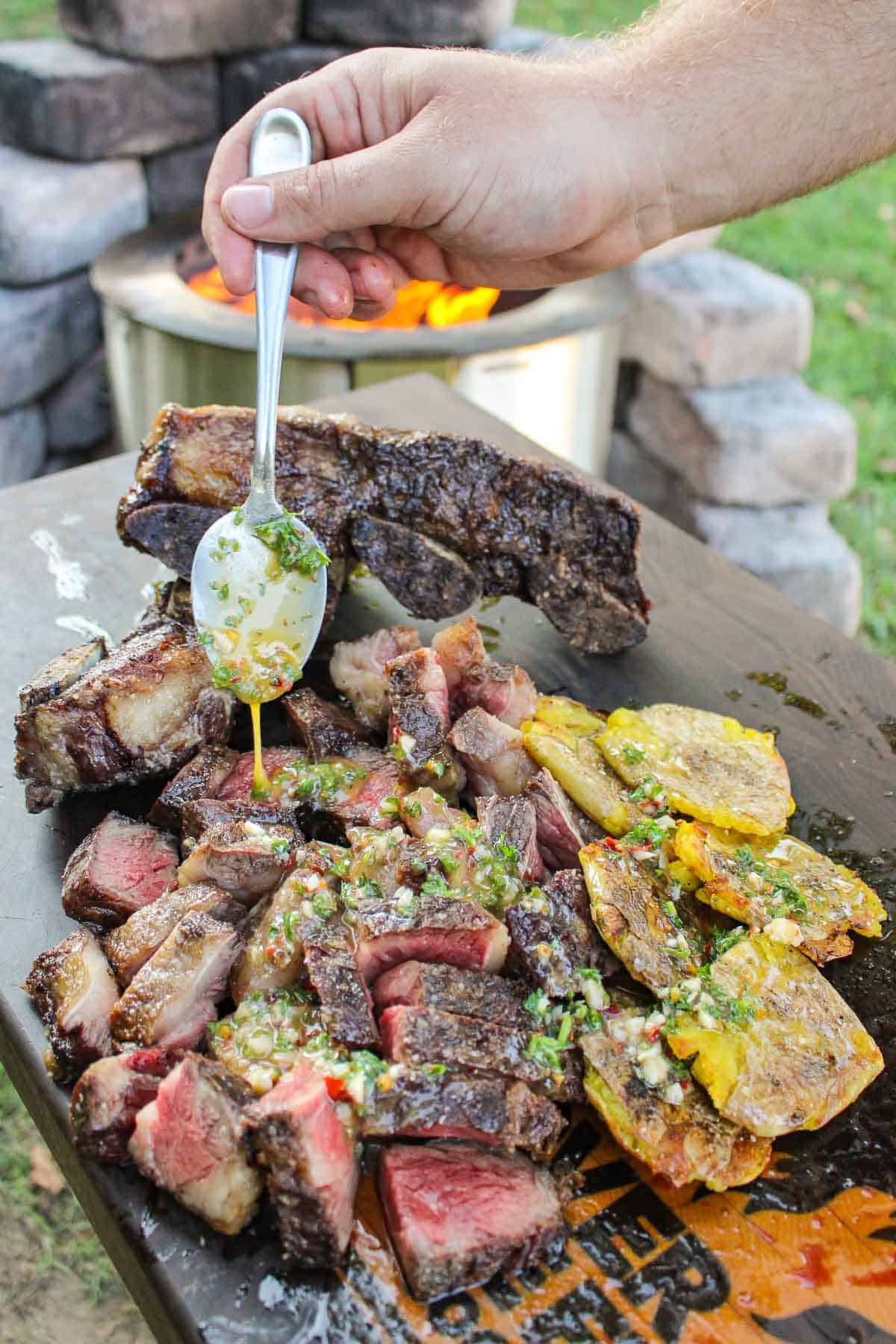 Leftovers & Reheating
Allow the short ribs to cool to room temperature. Wrap them in aluminum foil or plastic wrap to keep the meat from drying out. Then place them in an airtight container in the fridge for 3-5 days.
To reheat the ribs, warm them inside aluminum foil over medium-high heat on the grill. Or, heat them covered in the oven at 325 degrees F for about 15-20 minutes.
Do I need to marinate the beef ribs before grilling?
Normally, I would say, yes, go for it. But in this case, the chimichurri butter brings all the flavor to the simply seasoned meat. Marinating the beef beforehand could compete too heavily with those intensely good flavors.
How do I achieve a smoky flavor when grilling beef ribs?
For a smokier flavor, instead of charcoal lumps in the Breeo, use some aromatic wood, like apple, hickory, or cherry.
Can I grill frozen beef ribs, or should they be thawed first?
You'll get much better results if you thaw your beef ribs before grilling. This will ensure even cooking.
Needing more spice in your life? My spice line can help with that. Check them out here.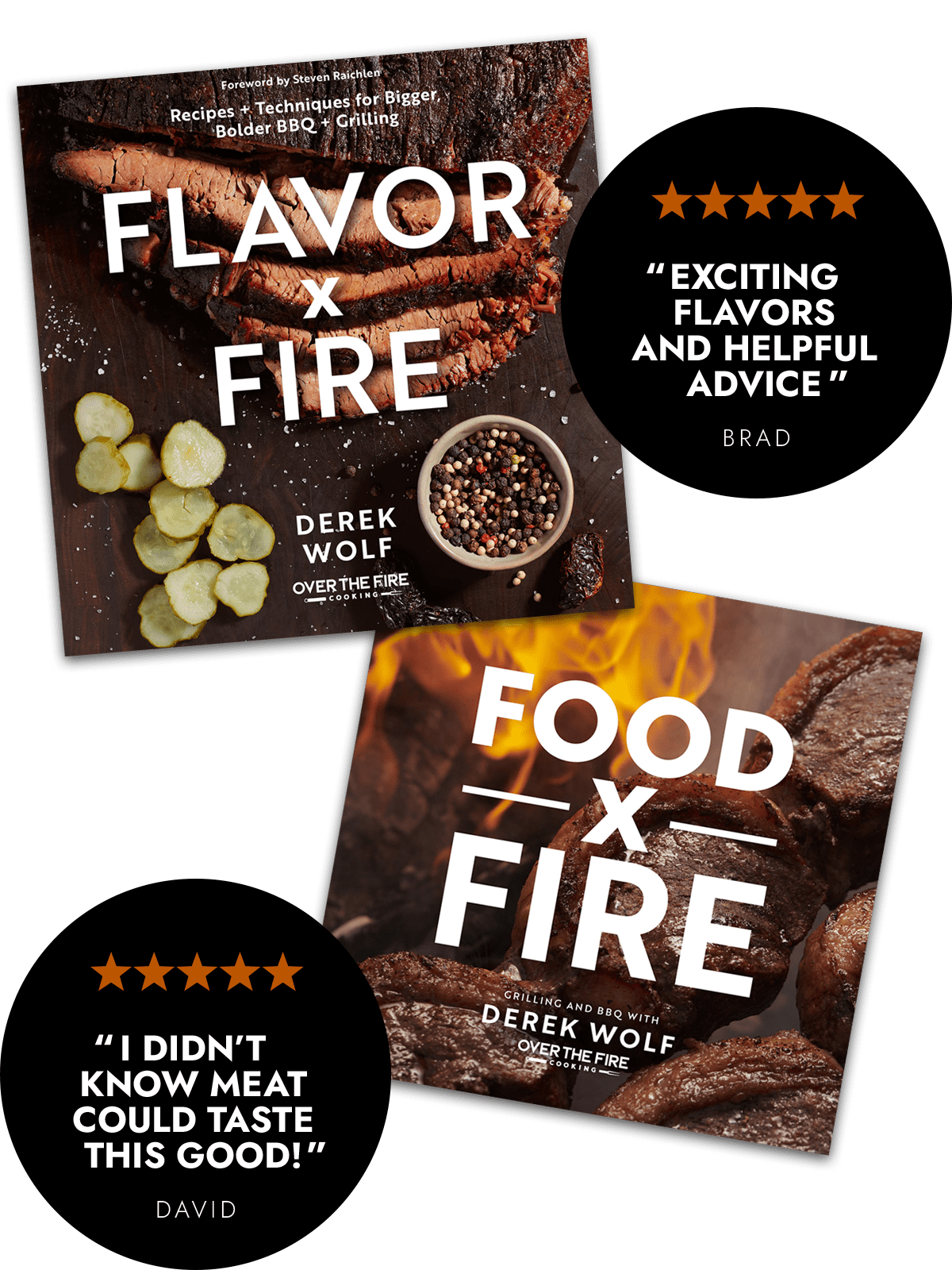 Get The Cookbooks!
Flavor X Fire & FOOD X Fire
All the major tastes—salty, sour, sweet, bitter, and umami—are explored in depth, along with an investigation of other components you should consider when it comes to flavor, such as aroma, heat, and texture.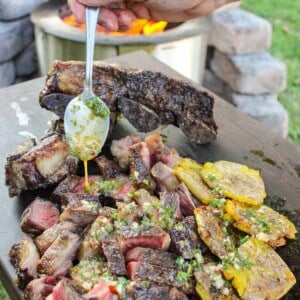 Grilled Beef Short Ribs
These Grilled Beef Short Ribs with melted chimichurri butter are cooked over a smokeless firepit until tender and served with crispy smashed potatoes.
Ingredients
Beef Short Ribs:
Flanken Beef Short Ribs

Coarse Kosher Salt

to taste

4-6

Golden Potatoes
Oil Baste:
1

cup

Olive Oil

3-4

Smashed Garlic

1.5

tbsp

Red Wine Vinegar
Chimichurri Butter:
1

cup

Unsalted Butter

½

cup

Chopped Parsley

2

tbsp

Red Wine Vinegar

2

tbsp

Olive Oil

1

tbsp

Dried Oregano

1

tbsp

Red Chili Flakes

Kosher Salt

to taste
Instructions
Begin by thoroughly mixing all the ingredients for the chimichurri butter in a bowl and keeping the mixture in the fridge until the meat is cooked and resting.

Season the outside of your short ribs thoroughly with coarse Kosher salt. Set to the side at room temperature until ready to use.

To get the crispy potatoes started, boil some baby golden potatoes for about 15 minutes until soft. Remove them from the water and let them cool slightly. Using the bottom of a plate or glass, smash each one into a flat pancake-like disc. Set aside.

Preheat your Breeo Y Series to medium heat for direct grilling (about 300 degrees F). Raise the grill grate higher if needed to keep that temperature.

Add your short ribs to the grill grate secured over the smokeless firepit.

As soon as the ribs start cooking, also on the grill grate, bring the oil-baste ingredients to a low simmer in a skillet or saucepan.

Flip your ribs and baste the outside with the oil. Repeat the flipping and basting steps every 4-5 minutes. Watch out for any burning.

Cook the ribs for about 25-35 minutes or until the internal temperature of 130-135 degrees F is reached. Once the ribs are done, pull them off and let them rest for 15 minutes.

Add the smashed potatoes to the grill and baste them with the same basting oil used for the meat. Cook for about 2 minutes per side until crispy.

Next, gently heat the chimichurri butter that was in the fridge so that it's a liquid, making sure not to burn the butter.

Slice up the ribs, serve with the potatoes, and drizzle the chimichurri butter over top. Enjoy!
Nutrition
Serving:
8
oz
|
Calories:
1095
kcal
|
Carbohydrates:
33
g
|
Protein:
5
g
|
Fat:
108
g
|
Saturated Fat:
38
g
|
Polyunsaturated Fat:
8
g
|
Monounsaturated Fat:
57
g
|
Trans Fat:
2
g
|
Cholesterol:
122
mg
|
Sodium:
56
mg
|
Potassium:
840
mg
|
Fiber:
5
g
|
Sugar:
2
g
|
Vitamin A:
2668
IU
|
Vitamin C:
44
mg
|
Calcium:
76
mg
|
Iron:
3
mg