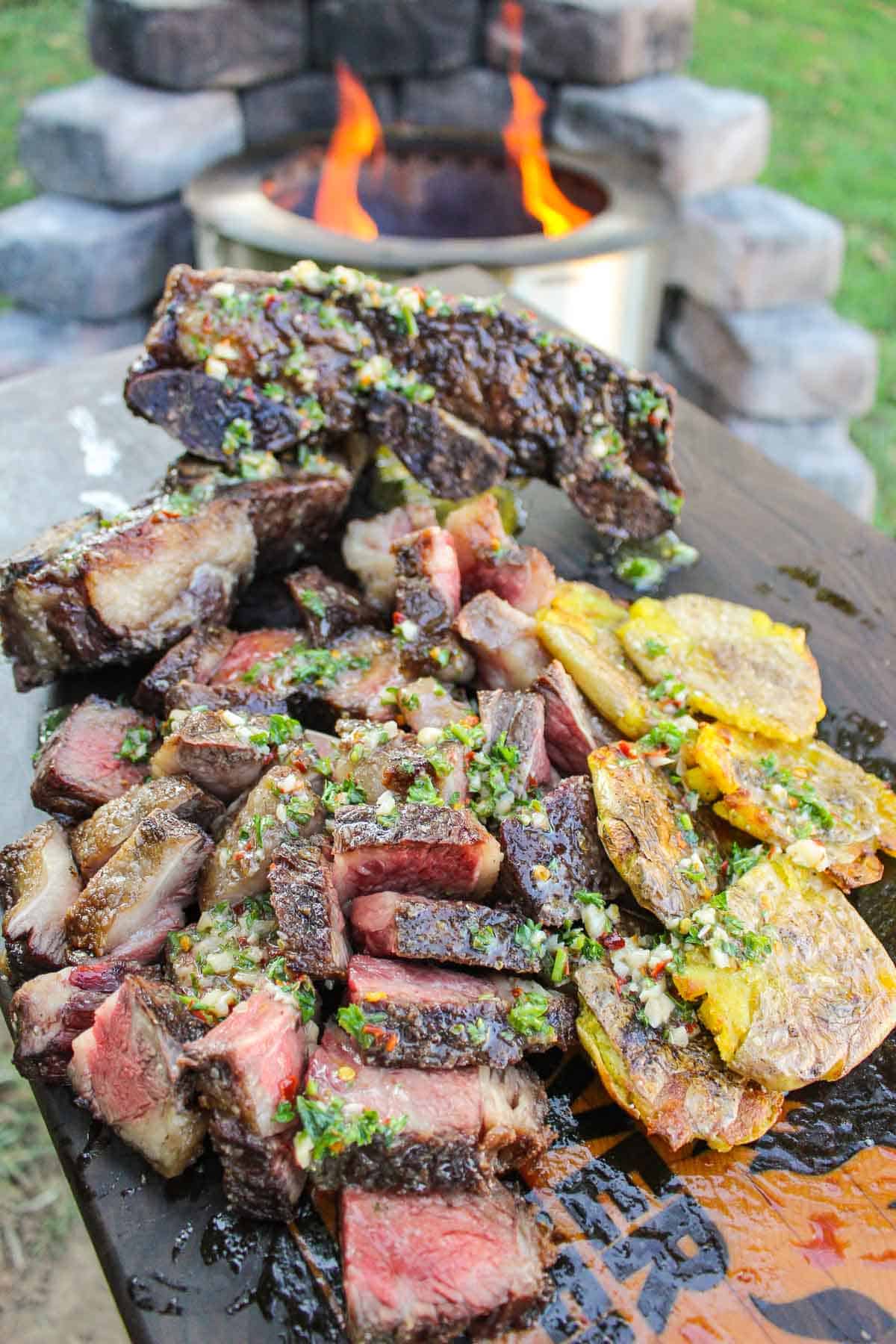 These Grilled Beef Short Ribs with Chimichurri Butter are grilled on my Breeo Y series until juicy and tender, drizzled with homemade chimichurri butter, then served with crispy smashed potatoes.
Post Sponsored by Breeo
Looking for more delicious short rib recipes? Try my Rotisserie Smoked Short Ribs or Grilled Korean BBQ Short Ribs.
Make the Chimichurri Butter for Grilled Beef Short Ribs
Okay, first let's go over what chimichurri even is. Traditional chimichurri is a sauce or marinade of sorts that made with oil, vinegar, herbs, and spices. Chimichurri butter is just that but infused into butter. It's so rich, tangy, flavorful, and perfect on grilled beef short ribs!
To make your chimichurri butter, simply mix butter, chopped parsley, red wine vinegar, olive oil, dried oregano, and red chili flakes in a bowl. Add salt to taste, then set the butter in the fridge until you're ready to use it.
If you love this recipe with chimichurri, then you'll love my Steak and Eggs with Charred Scallion Chimichurri, Spiced Lamb Kebabs with Mint Chimichurri, or Brazilian Steaks with Habanero Chimichurri.
Optional Smashed Potatoes
Next up, the potatoes! Now, this part is totally optional as it's not technically a part of the Grilled Beef Short Ribs with Chimichurri Butter recipe. BUT I highly recommend whipping these up. They're so good and are a great way to round out your meal. We can call it Grilled Beef Short Ribs with Chimichurri Butter…and Smashed Potatoes. Rolls right off the tongue!
First, boil some golden potatoes in a pot of water until they're soft enough to be easily pierced with a fork.
Pull the potatoes out of the hot water and set them onto a clean work surface. Use the bottom of a plate to "smash" the potatoes into flat discs, then set them aside.
Cook and Baste the Steak
Next, let's cook! I'm using, of course, my Breeo Y Series, because we all know it's my favorite. It also utilizes lump charcoal which makes slow roasting beef short ribs as easy as could be!
Preheat your grill of choice to a medium heat of about 300ºF for direct cooking. You may need to raise the grill grate higher so you don't burn the Grilled Beef Short Ribs with Chimichurri Butter.
Now, let's talk about the baste. You can easily mix together the basting liquid as the steaks are cooking for maximum efficiency. To make the basting liquid, add a skillet onto the grill, then mix in olive oil, smashed garlic, and red wine vinegar. That's it! Now onto the steak.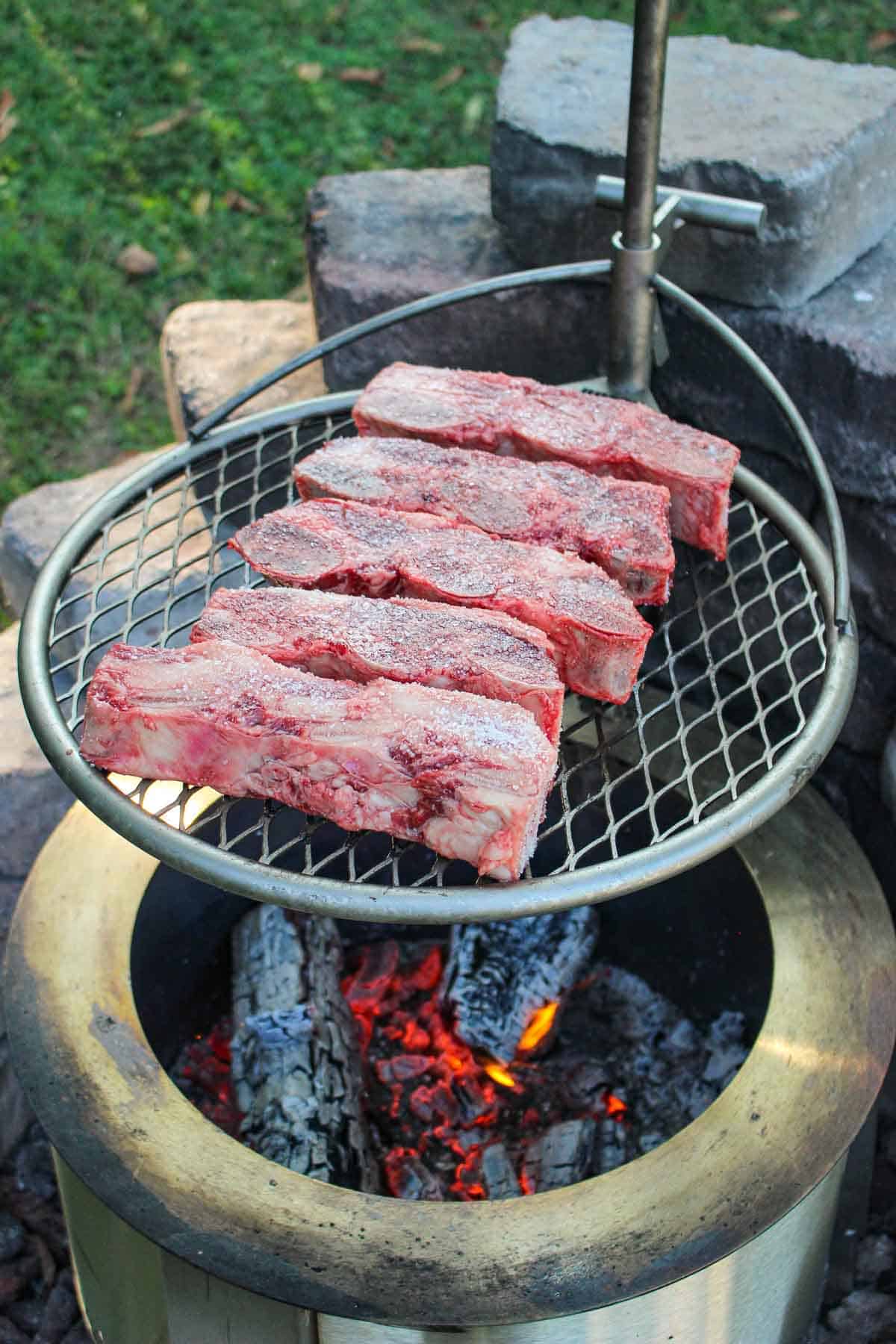 Add the short ribs over the flames and allow them to cook for roughly 25-35 minutes, flipping and basting every 4-5 minutes. Check the internal temperature after 25 minutes, then add time as needed. It should be 130-135ºF.
Grill the Potatoes
If you did boil and smash potatoes to go with your Grilled Beef Short Ribs with Chimichurri Butter, it's time to finish those up.
To cook the potatoes, simply add them onto the grill and baste using the same oil you used for the steak. Cook for 2 minutes on each side. Once they're sufficiently crispy, pull them off and let them cool for a couple of minutes.
Serve Your Grilled Beef Short Ribs with Chimichurri Butter
Now, of course, it's time to put together our meal and EAT!
First, heat the chimichurri butter up so that it's a liquid. Slice the steak against the grain, then serve it up with the potatoes and a generous drizzle of the melted chimichurri butter.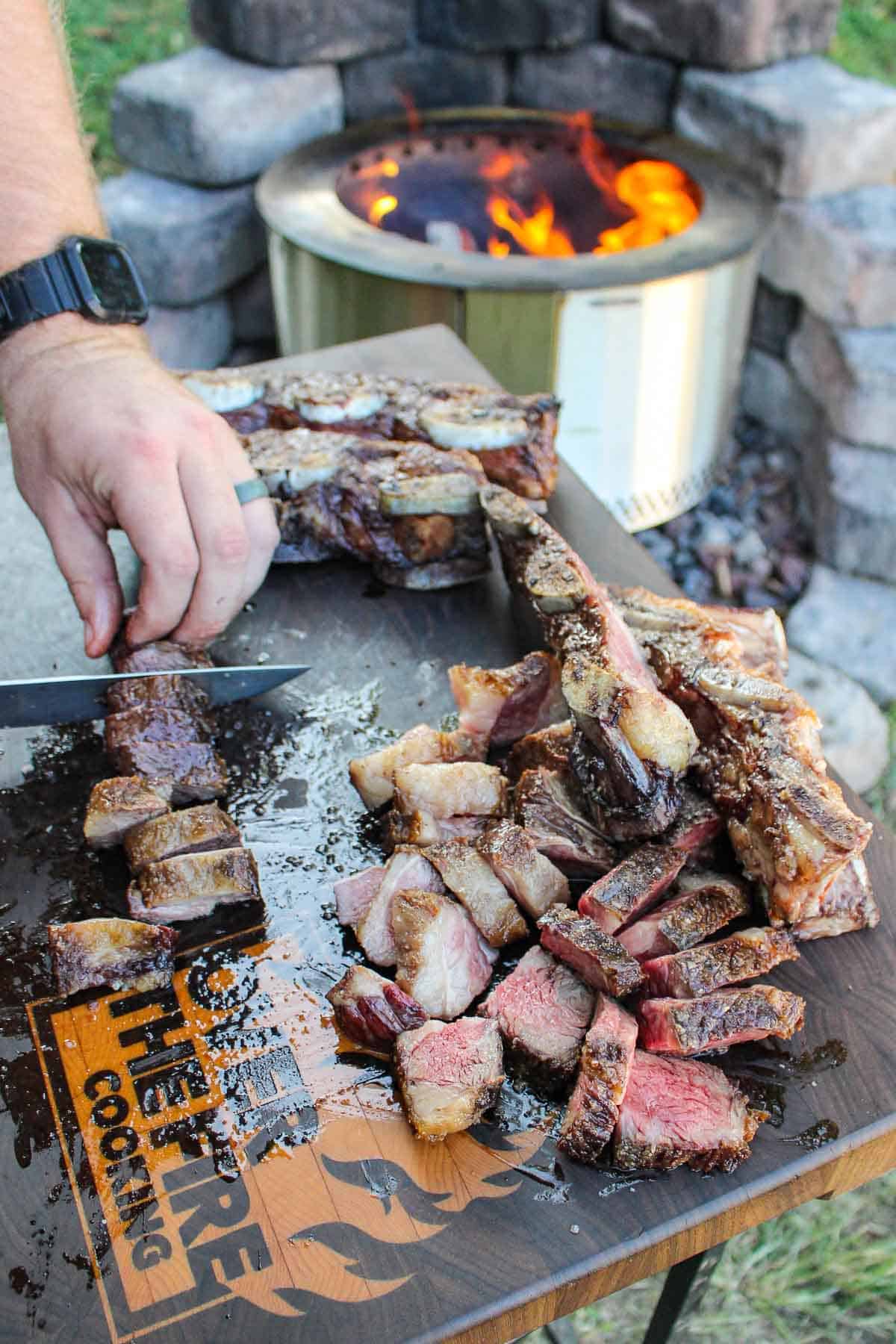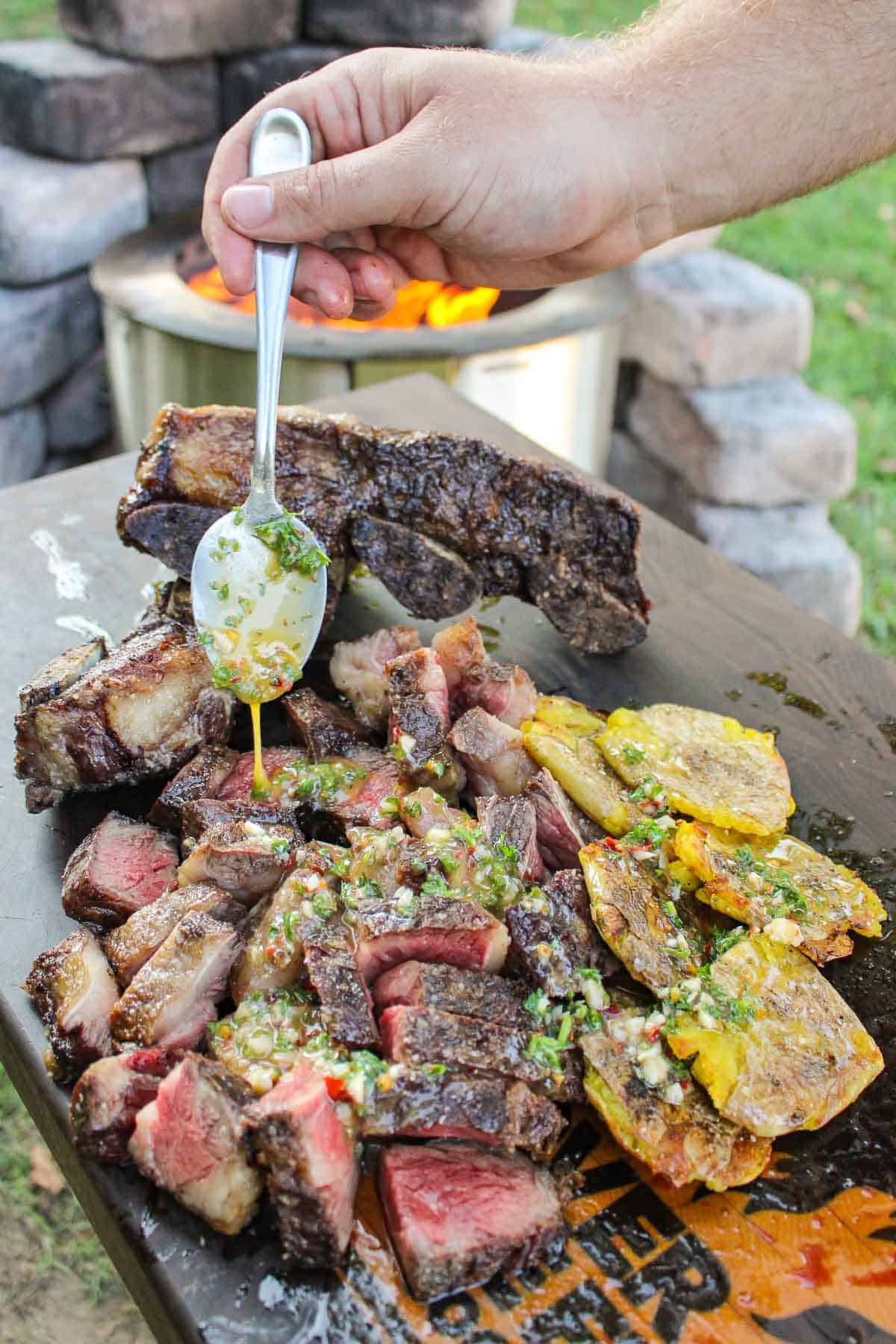 For more delicious recipes, check out my second cookbook Flavor X Fire or my first cookbook Food X Fire!
Needing more spice in your life? My spice line can help with that. Check them out here.
Print Recipe
Grilled Beef Short Ribs with Chimichurri Butter
These Grilled Beef Short Ribs with Chimichurri Butter are grilled until tender and served with crispy smashed potatoes.
Ingredients
Beef Short Ribs:
Flanken Beef Short Ribs

Coarse Kosher Salt

to taste

4-6

Golden Potatoes
Oil Baste:
1

cup

Olive Oil

3-4

Smashed Garlic

1.5

tbsp

Red Wine Vinegar
Chimichurri Butter:
1

cup

Unsalted Butter

½

cup

Chopped Parsley

2

tbsp

Red Wine Vinegar

2

tbsp

Olive Oil

1

tbsp

Dried Oregano

1

tbsp

Red Chili Flakes

Kosher Salt

to taste
Instructions
Begin by mixing together all the ingredients for the Chimichurri Butter. Mix thoroughly, then set in the fridge until ready to use. Season the outside of your short ribs with Coarse Kosher Salt thoroughly. Set to the side until ready to use.

(Optional): Boil some golden potatoes until softened. Once soft, use the bottom on a plate to "smash" the potatoes into flat "pancake" like discs. Set to the side until ready to cook.

Preheat your Breeo Y Series to medium heat for direct grilling (about 300F). Raise the grill grate higher if needed to keep that temperature.

Add your short ribs to slowly roast over the flames for about 25-35 minutes until 130-135F internal. As the ribs cook, heat up in a skillet your Oil Baste and bring to a low simmer. Flip your ribs over and baste the outside with the oil. Repeat this every 4-5 minutes making sure to flip your ribs over, baste and watch out for any burning. Once the ribs are done, pull off and let rest for 15 minutes.

If you boiled the potatoes, add the smashed potatoes to the grill and baste with the same basting oil. Cook for about 2 minutes per side until crispy, then pull off and let cool.

Gently heat up the chimichurri so it's a liquid. Slice up the ribs, serve with the potatoes and drizzle the Chimichurri Butter over top. Enjoy!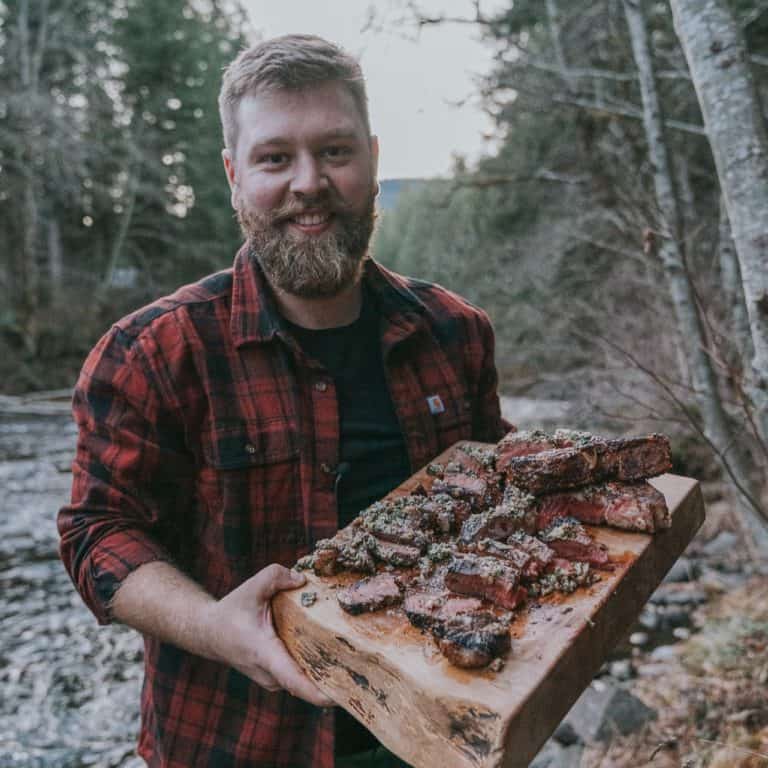 Derek is the driving force behind Over the Fire Cooking. He started cooking with live fire in 2016 and decided to start a social media page so his friends and family could follow the journey. Fast forward to today and Over the Fire Cooking has spread across multiple platforms with millions now following Derek's fire cooking journey. He's a southern fellow who enjoys everything from classic BBQ to Central and South American inspired dishes. Whatever he's cooking up, it's guaranteed to be so freakin' delicious!