Chimichurri and Cheese Stuffed Picanha for the perfect twist on one of my favorite proteins. I love topping picanha with some fresh chimichurri sauce, so how about throwing some cheese in the mix for a stuffed picanha? Let's freakin' gooooo! Set this guy on the smoker and finished with a quick sear for the ultimate dinner. Here's how it all went down.
Shimmy for the Chimi
Like any dish, fresh ingredients are the key to success. This is especially important for chimichurri because the base of this sauce is parsley. Grab a nice, fresh bundle of parsley and get to chopping. I also threw in some scallions along with freshly minced garlic. Salt, pepper, red wine vinegar and red chili flakes are also staples for my chimichurri, which is perfect basted over everything from this big cut of beef to my favorite loaded choripan sandwiches!. The only thing I changed for this Chimichurri and Cheese Stuffed Picanha recipe was the amount of olive oil. I typically add olive oil to my mixture until I find the sauce consistency I like. However, because this was going to be more of a stuffing instead of a sauce, I cut back on the amount of olive oil used. 
Next, grab your shredded mozzarella and place it in a large bowl. I decided to go with mozzarella for this recipe because it's easy to melt and the mild flavor doesn't clash with my other seasonings. If you prefer another cheese that's fine! Feel free to switch it up, but take caution in swapping for a cheese that's bold in flavor. It could overpower the other ingredients if you're not careful. Now, add the chimichurri to the cheese and mix it together thoroughly. Once all the ingredients are dispersed evenly we can turn our attention to the picanha.
Seasoned with my Gaucho Steakhouse Seasoning. Get yours here!
Like Stuffing a Turkey, but with Picanha and Cheese
Picanha is one of my favorite beef cuts to cook. It's unique look is always an attention grabber, and the buttery fat cap is a flavor knockout every time. The first thing we need to address for our picanha is creating the pocket for our stuffing. Take a knife and make a cut in the center of the meat. From the original slice, carefully work your way further back and around the sides of the meat. Remember, we're only creating a pocket here and not slicing all the way through.
Once you're happy with the meat pocket you've created grab the bowl of chimichurri and cheese stuffing. Handful by handful, generously fill the pocket with the mixture. Once you can't fit anymore into the pocket, reach for some toothpicks and (to the best of your ability) secure the opening with the toothpicks. You'll likely lose some filling during the cooking process, but that's okay! That is why we filled it so generously to begin with.
Serving Up this Chimichurri and Cheese Stuffed Picanha
After the picanha is stuffed and secured, place it on the smoker. Keep it here for 2-3 hours, or until it reaches an internal temperature of 125 degrees Fahrenheit. Once it reaches temperature pull it off the smoker. Then, clean off the grill grate and pull the coals up a couple levels within the smoker so that's it sitting closer to the grill grate. Close the lid to the smoker for a couple minutes, letting the grill grate get nice and hot. Then grab the picanha and place it fat side down for a minute or two, or until it gets a nice sear on the outside. Then flip it over and do the same.
Once you've seared both sides of the picanha, pull it off the grill and let it rest. This would also be a good time to remove the toothpicks that you originally used to seal the pocket. Finally, when it's finished resting you can slice into the picanha and serve it up! Best enjoyed with friends and family. Cheers!
Preorder my new cookbook Food X Fire today!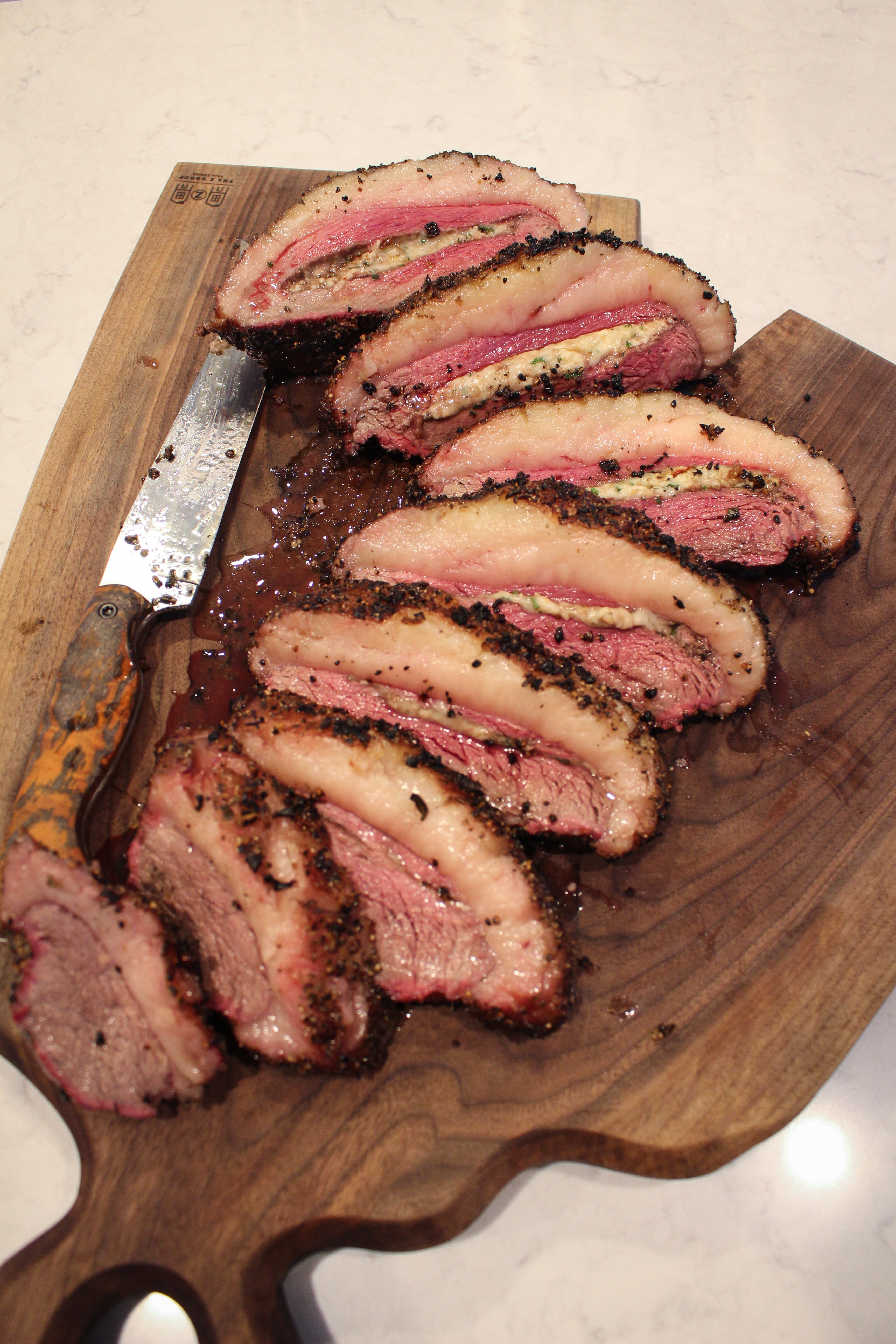 Chimichurri and Cheese Stuffed Picanha
I love topping picanha with some fresh chimichurri sauce, so how about throwing some cheese in the mix for a stuffed picanha? Well, I did it and it was delicious!
Ingredients
Picanha:
1

Whole Picanha

2

tbsp

of Gaucho Steakhouse or similar

1.5

cups

of Mozzarella Cheese

shredded
Chimichurri:
2

tbsp

of Parsley

chopped

1.5

tbsp

of Red Wine Vinegar

1.5

tbsp

of Olive Oil

1

tbsp

of Scallions

chopped

1

tsp

of Red Chili Flakes

1

tsp

of Kosher Salt

1

tsp

of Black Pepper

4

Garlic Cloves

minced
Instructions
Preheat a medium-low fire in your smoker (around 250F). Add some mesquite wood chunks for added smoke flavor if desired.

In a bowl, mix together the ingredients for the Chimichurri. Add that to a bowl with the shredded mozzarella and blend together thoroughly. Get out your picanha and make a pocket in the middle of the meat that goes all the way down to the point with 1/2 inch of meat as cushion on the sides. Stuff the picanha with the cheese & chimichurri mixture until there is no room left. Using toothpicks, seal the opening. Score the fat cap and lather the picanha in my Gaucho Steakhouse seasoning or similar. Set the picanha aside until ready to cook.

Add your picanha, fat side up, to the smoker and cook for about 2.5-3 hours or until the internal temperature is 125F. When done, pull it off and let it rest for 7-8 minutes.

Preheat another fire for direct grilling at high heat (around 400F).

Sear off the picanha with the fat cap side down first for 30 seconds, then flip and sear for another 30 seconds. Pull off when done.

Slice into the picanha, serve with more chimichurri if desired and enjoy!