Okay, yeah, you've had wings before. But have you ever had Colorado Golden BBQ Wings while camping? Didn't think so.
There are plenty of ways to enjoy chicken wings. But I feel like maybe you've never truly enjoyed chicken wings until you're sitting outside, looking at the mountains, and munching on made-from-scratch Colorado Golden BBQ Wings while RV camping in Colorado.
Okay, I take that back. These Colorado Golden BBQ chicken wings are delicious anywhere and anytime! I start by slathering these tender chicken wings in a ridiculously flavorful spice rub. Then I sear them to achieve a nice crust before frying them until they're golden-brown and crispy. The cherry on top is the golden BBQ Sauce.
This recipe will have chicken wing lovers everywhere drooling!
We had so much fun cooking with the Good Sam Rentals crew! Get a behind-the-scenes look at this recipe being made during our Colorado RV Trip with Good Sam Rentals here!
The Colorado Golden BBQ Wings
First things first, we have to season the meat. I seasoned the chicken wings with a simple spice rub made up of salt, pepper, garlic powder, onion powder, brown sugar, chipotle powder, and cumin.
If you love chicken wings, you should also check out my Bourbon Bacon Chicken Wings, Honey Gochujang BBQ Wings and Smoked Peanut Butter and Jelly Wings recipes!
The easiest way to do this is to place everything into a bowl together and then to use your hands to mix it up. Make sure the chicken is fully coated in the spice rub so you get that flavor in every bite. After that, let the wings sit while you make the sauce.
Once the chicken wings have had a little bit of time to soak in the flavors from the spices, it's time to cook it. We sear it first on the grill to lock in the flavor and moisture of the meat, then we fry it in a skillet with oil until golden-brown and crispy.
The Golden BBQ Wing Sauce
Considering all of the sweet, smoky, spicy flavors that went into the spice blend for the chicken, could this recipe get any more flavorful? Yes. Yes, it could. The golden BBQ sauce takes the chicken wings from good to great. I probably could have eaten this sauce out of a bowl on its own but I figured it would be better slathered over chicken wings. It was. Bonus: it's so easy to make.
You'll start by heating a cast-iron skillet on the grill. Once the skillet is heated, add in a light beer of your choice. Follow that up with apple cider vinegar, dijon mustard, garlic paste, Worcestershire sauce, hot sauce, honey, and brown sugar. Stir often while the mixture heats to get rid of any clumps that might form. You want the sauce to be smooth! Once the mixture has thickened and turned a golden, caramel-y color it's ready to be added to the chicken wings!
Want more BBQ sauce? Check out my Jalapeño Watermelon BBQ Ribs, BBQ Brisket Nachos and Smoked BBQ Pork Belly Recipe!
Make Your Colorado Golden BBQ Wings
Now, let's put it all together. Place the cooked wings in a large bowl and drizzle the sauce on top of the wings. I gave my wings a good toss to ensure each wing received a generous coating of that golden BBQ sauce!
I garnish the plate of chicken wings with a sprinkle of fresh parsley. This adds freshness and a little bit of color.
Next up: DIG IN!
For more delicious recipes, check out my cookbook Food X Fire!
Needing more spice in your life? My spice line can help with that. Check them out here.
Full Length Recipe Video on YouTube!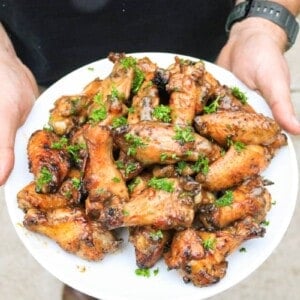 Colorado Golden BBQ Wings
Colorado Golden BBQ Wings
Ingredients
Wings:
2

lbs

Chicken Wings

2.5-3

cups

Frying Oil
BBQ Seasoning:
1.5

tbsp

Brown Sugar

1

tbsp

Black Pepper

1

tbsp

Kosher Salt

1.5

tsp

Chipotle Powder

1.5

tsp

Garlic Powder

1.5

tsp

Onion Powder

1

tsp

Ground Cumin

1

tbsp

Canola Oil
Golden BBQ Sauce:
12

oz

Light Beer

2.5

tbsp

Dijon Mustard

2

tbsp

Apple Cider Vinegar

2

tbsp

Brown Sugar

1.5

tsp

Honey

1

tbsp

Garlic Paste

½

tbsp

Worcestershire Sauce

2

tsp

Hot Sauce
Instructions
Preheat your grill to medium high heat (around 375F) for direct grilling.

Add a cast iron skillet to the grill to preheat for 2 minutes. Next, add all of your beer and let simmer until it's reduced by half (about 5-7 minutes). Next, add the rest of the ingredients for the Golden BBQ Sauce and let simmer until it has thickened (about 10-12 minutes). Make sure to stir frequently to prevent it from burning to the bottom!

Lather your chicken wing in canola oil. In a bowl, mix together your ingredients for the seasoning. Season your wings thoroughly with the seasoning. Set chicken in the fridge until ready to use.

Add your chicken wings to the grill and cook for about 7-8 minutes per side until they all reach 165F internal.

Next, add a large skillet to the fire and *carefully* add your frying oil. Heat frying oil until it reaches 350F. Once wings are done, pull them off and carefully add them to frying oil to cook for 1 minute per side. When the wings are crispy, pull off and let cool for 2 minutes.

Add the wings to a tossing bowl and cover in the Colorado Golden BBQ sauce. Toss until evenly coated, garnish with chopped parsley and serve. Enjoy!
Nutrition
Serving:
0.25
lbs Chicken Wings
|
Calories:
1609
kcal
|
Carbohydrates:
19
g
|
Protein:
24
g
|
Fat:
160
g
|
Saturated Fat:
27
g
|
Polyunsaturated Fat:
83
g
|
Monounsaturated Fat:
41
g
|
Trans Fat:
1
g
|
Cholesterol:
94
mg
|
Sodium:
2036
mg
|
Potassium:
342
mg
|
Fiber:
1
g
|
Sugar:
13
g
|
Vitamin A:
429
IU
|
Vitamin C:
4
mg
|
Calcium:
61
mg
|
Iron:
2
mg