My wife and I get asked all the time what we do with all the food we cook. There's only the two of us in our family, so it's a safe assumption that we can't eat ALL of the food we cook. Luckily, we have lots of extended family and friends that live close by that we share most of our food with! We also spend a lot of time turning one recipe into a different meal that can be enjoyed the following breakfast or lunch. That is where this recipe was born. From some of the leftover brisket we cooked up earlier this week, we have this BBQ Brisket Nachos recipe.
Versatile Protein
One thing that's super nice about the recipes I develop is that most of them are focused solely on the protein. This makes it easy to pair whatever the protein is with different sides to get the feel of a different meal. Whether that is tacos, breakfast skillet or more, we love to entice a second look at previously cooked dish. In this case, we cubed up the remaining brisket and made BBQ brisket nachos!
Of course, I still did this over the fire 1) because the kiss of smoke it gives to the nachos is delicious and 2) I just love cooking with fire. I kicked things off by firing up my Breeo and letting my cast iron preheat. Try to let your cast iron preheat as it will give a nice sear to anything you're cooking in it. From there, I let some butter melt in the pan and then tossed in the cubed brisket. I gave it a quick stir and then added in some pinto beans, chipotle purée and bbq sauce. I mixed all those together in the pan and continued to give it an occasional stir while letting everything heat up on the grill.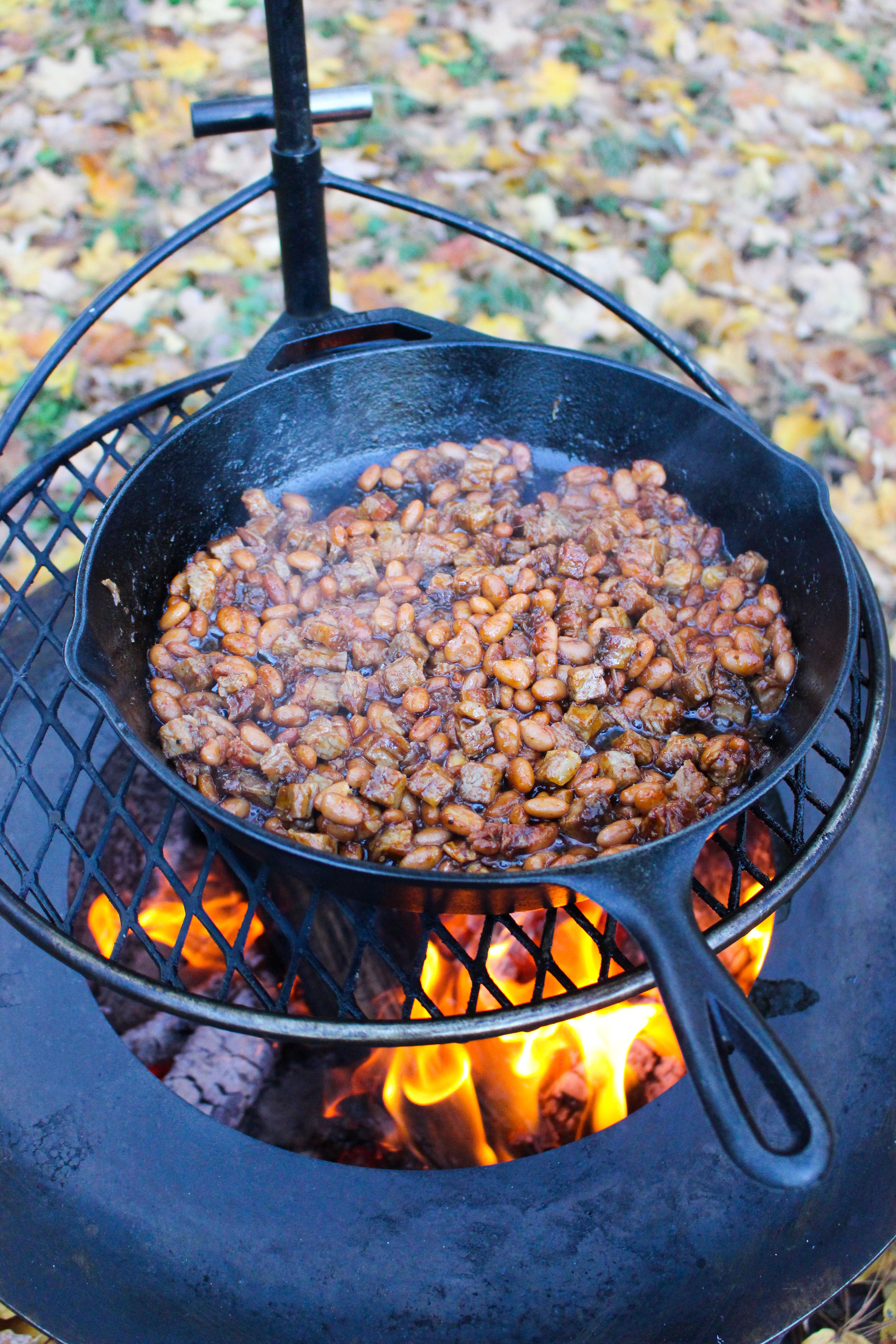 Nat-cho Average Assembly
Once the beans and brisket warmed up, move it to a separate bowl. Give the cast iron a quick wipe down, and get ready to build the BBQ Brisket Nachos. From there I added a layer of chips, brisket and cheese. I then do it all again because who doesn't love double layered nachos?
This is where I started to have some fun with this recipe! Finally, I covered the pan with aluminum foil for my "Cowboy Broil". Swiveling the grill grate over the top of the pan, I placed hot charcoal on the grate to cook the food top down. This allows the cheese to melt and warmed the foundation of my nachos.
My Dad Ate Half the BBQ Brisket Nachos, so I Guess They Were Good
Melt the cheese and then pull the nachos off the heat. We garnished with onion, jalapeños, BBQ sauce, mexican crema, cilantro, lime and guacamole. Like I mentioned before, I love sharing the food I've cooked! I shared this meal with my dad that night, and he even ate the majority of them. We had a great evening cooking this together, and I hope you will too!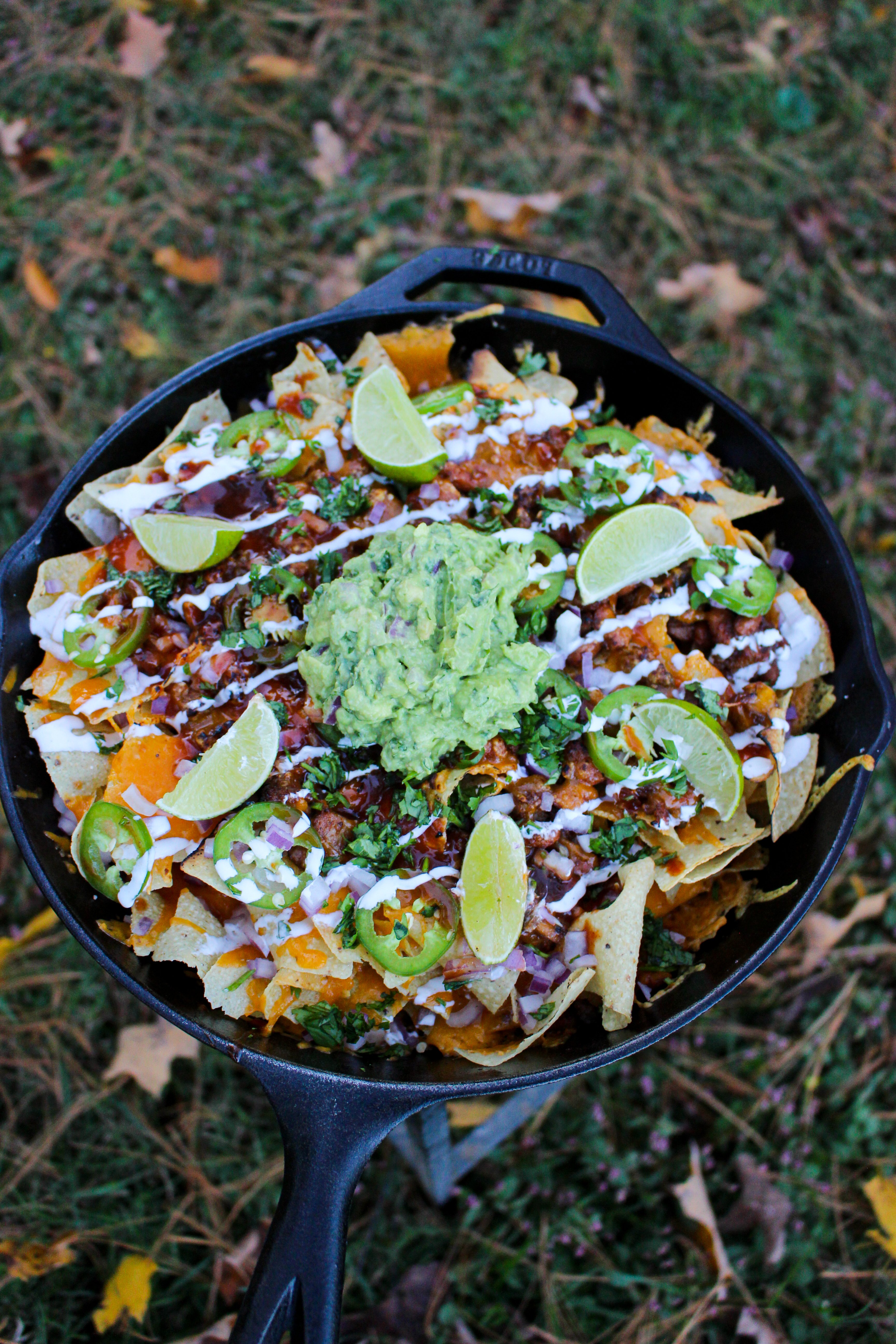 Print Recipe
BBQ Brisket Nachos
From some of the leftover brisket we cooked up earlier this week, we have these BBQ Brisket Nachos. Super easy and fun to put together so make sure to give it a try! 
Ingredients
Brisket & Beans Ingredients:
1.5

cups

of Cooked Brisket or Any Cooked Meat

cubed

1

tbsp

of Butter

unsalted

1

cup

of Pinto Beans

drained & washed

1.5

tbsp

of Chipotle Purée

2

tbsp

of your favorite BBQ Sauce
Nacho Ingredients:
3

cup

of Tortilla Chips

2

cups

of Sharp Cheddar Cheese

grated

2

tbsp

Red Onions

chopped

1

Jalapeño

thinly sliced

1.5

tbsp

of Mexican Crema or Sour Cream

1.5

tbsp

of your favorite BBQ sauce

Chopped Cilantro

for garnish

Lime Wedges

for garnish

Guacamole

for garnish
Instructions
Preheat your fire to a medium high heat (around 375F). Add your skillet & butter 1-2 minutes before cooking directly over the coals to preheat.

Add your cubed brisket or meat to the skillet to cook for 2-3 minutes. Once it begins to char & caramelize, add the pinto beans, chipotle puree and bbq sauce. Let that simmer over the heat for 3 minutes stirring often. When it is nice & warm, pull the skillet off the grill and add the brisket & beans to a different bowl. Clean out your skillet.

With a clean skillet, let's begin making the nachos. Add ⅔'s of your tortilla chips to the skillet. Cover them thoroughly with ⅔'s of your brisket & beans and the shredded cheese. Add the remaining chips, meat & cheese on top of the first layer for a second layer. Cover the skillet with one layer of aluminum foil.

Being creative with your fire/grill options, place the skillet down where there is little to no heat coming from underneath. Place a grill grate or something heat resistant above it, not touching the foil, and cover that with hot coals. Cook the nachos for 3-4 minutes under the coals or until the cheese has fully melted & is beginning to caramelize. Once done, pull it off and discard the foil.

Garnish the nachos with chopped red onions, sliced jalapenos, bbq sauce, mexican crema, chopped cilantro and lime wedges. Share & enjoy!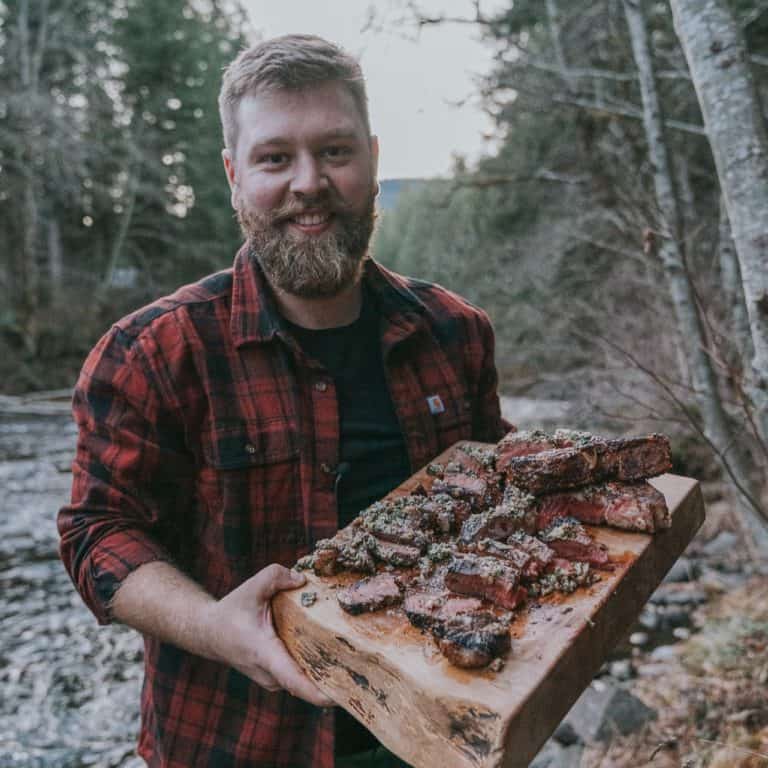 Derek is the driving force behind Over the Fire Cooking. He started cooking with live fire in 2016 and decided to start a social media page so his friends and family could follow the journey. Fast forward to today and Over the Fire Cooking has spread across multiple platforms with millions now following Derek's fire cooking journey. He's a southern fellow who enjoys everything from classic BBQ to Central and South American inspired dishes. Whatever he's cooking up, it's guaranteed to be so freakin' delicious!