There are few things that go together better than the Super Bowl and big bowl of chips and dip. The snacks chosen to feed your guests are almost as important as the game itself. One dish that is guaranteed to please every person huddled around your big screen is this Smoked Brisket Queso. This recipe is extremely easy to make and is packed to the rim with flavor.
Gotta Put Good In to Get Good Out
This recipe uses a couple of things that elevates the dip when compared to most other recipes.
First is fresh ingredients. Nothing from a can in this recipe which boosts the taste of this queso to the next level.
Secondly is quality white American cheese. This will likely need to come from your favorite deli as it will be a better quality than anything pre-sliced and packaged. I used Land O' Lakes which is much better than Velveeta.
The last item is leftover brisket. Hopefully you have a few packages in your freezer from a brisket you smoked previously, but if not, this is the perfect opportunity to smoke a brisket.
If you need a brisket recipe, we got them! Check out my Texas Smoked Brisket!
The Queso Prep Work
We're going to start this Smoked Brisket Queso recipe by seeding and dicing 4 fresh jalapeños. Since we are removing the seeds, I suggest dicing to about ¼" pieces. This will give you a great flavor and texture without too much heat.
You'll also dice up your roma tomatoes about the same size. The fresh tomatoes really help to cut the richness from the brisket and cheese.
Once you have your fresh veggies prepped, you'll want to shred the monterey Jack cheese, cube your American cheese and collect the remaining ingredients.
This recipe will feed a fair amount of people, so you'll want to be sure your using a large enough skillet to hold it all without bubbling over. I used a 12" cast iron skillet that is about 2" deep.
Smoking Brisket Queso
Preheat your smoker or oven to 250 degrees. When you are ready to cook simply assemble dip by placing each ingredient into the skillet. I save the spices and cream for last so I can more evenly spread them on the rest of the ingredients.
Place the skillet in your smoker, uncovered for about 45 minutes or until it starts to gently bubble around the edges. 
After roughly 45 mins, all the cheese should have melted enough for you to mix the Smoked Brisket Queso together. You'll need to mix for 2-3 minutes to fully incorporate the two cheeses and the cream until everything is one consistency.
After everything is well combined, place the skillet back in your smoker. Give it another 15 minutes or so until the edges begin to slowly bubble again.
For more cheese dips, check out Smoked Chorizo Queso, Nashville Hot Smoked Cream Cheese and Smoked Nashville Hot Chicken Queso.
Serving A Super Bowl of Smoked Brisket Queso
Give the one last stir and top fresh tomatoes and jalapenos or pico de gallo before serving.
This will thicken a lot as it cools but all you need to do is put the skillet over a low heat burner. Stir occasionally and it will bring it right back to life. I prefer to serve this with blue corn tortilla chips as it's a great color contrast to the Smoked Brisket Queso.
Now sit back and wait for the compliments to start rolling in. I guarantee they won't be in short supply.
Enjoy!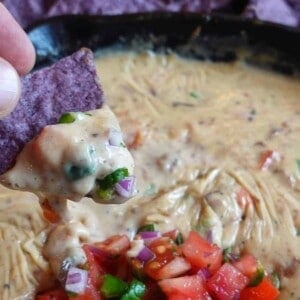 Smoked Brisket Queso
Smoked Brisket Queso for a delicious bowl of melty cheese and savory brisket.
Ingredients
4

fresh jalapenos

seeds removed and diced to about ¼"

1 ½

cups

roma tomatoes

diced to about ¼"

18

oz

good quality white American cheese

cubed

10

oz

monterey jack cheese

shredded

12

oz

chopped brisket

1

cup

heavy whipping cream

2

tsp

chili powder

½

tsp

cumin

1

tsp

granulated garlic

½

tsp

red pepper flake

½

tsp

kosher salt

1

tsp

fresh ground black pepper

Blue corn tortilla chips

Fresh jalapeno and tomato or pico de gallo for the topping
Instructions
Start by preheating your smoker to 250 degrees. While its preheating, all ingredients to a 12" cast iron skillet. I suggest adding the two different types of cheese, the jalapenos, tomato and brisket in their own pile in the skillet. Pour the cream and sprinkle the spices over the entire skillet.

Once your smoker is preheated, place the skillet in your smoker and let it go for about 45 minutes uncovered until the edges start to slowly bubble. Remove from the smoker and stir the ingredients together for 2-3 minutes to fully combine the two cheeses and the cream.

Place the skillet back in the smoker uncovered for another 15 minutes or until the edges start to bubble again. Remove the smoker, give one last stir and top with the fresh tomato and jalapeno or pico de gallo and serve with the blue corn tortilla chips.

Enjoy!
Nutrition
Calories:
440
kcal
|
Carbohydrates:
5
g
|
Protein:
24
g
|
Fat:
36
g
|
Saturated Fat:
21
g
|
Polyunsaturated Fat:
1
g
|
Monounsaturated Fat:
10
g
|
Trans Fat:
1
g
|
Cholesterol:
124
mg
|
Sodium:
1183
mg
|
Potassium:
341
mg
|
Fiber:
1
g
|
Sugar:
3
g
|
Vitamin A:
1557
IU
|
Vitamin C:
12
mg
|
Calcium:
770
mg
|
Iron:
2
mg