With the Super Bowl right around the corner, I have been craving some smoked meat over fire. There is not a lot that can beat the flavor of a tender and delicious brisket at my house, but sometimes I just don't have the patience to cook it for 12+ hours. I decided to try something new with the Hot and Fast Smoked Brisket method on some delicious Mishima Reserve American Wagyu Brisket!
What is Hot and Fast Smoked Brisket?
Most brisket is cooked using the low & slow method like beef ribs. This means that it is cooked at a low temperature around 225F for 12-18 hours. This is a tried and true method for crushing your backyard brisket cooks. The only thing is that most people don't have 12+ hours to cook a brisket. Most of the time it is hard to find 6-8 hours to dedicate to one cook.
Well when my friend Christie Vanover from Girls Can Grill told me about the Hot & Fast method, I got really curious. The idea is that you cook your brisket at an elevated heat level around 325F for 4.5-5 hours. This is much more manageable for me! To be honest, the Hot and Fast Smoked Brisket came out amazing too.
How Did It Turn Out?

It was super tender, full of flavor and absolutely delicious. It definitely helps when you cook using high quality meat like Mishima Reserve. I cooked it at 325F for about 4.5 hours until it probed at 207F internal. It passed the bend test and was full of a ton of juices. I will say there were a couple of tips that I learned along the way to help make my Hot and Fast Smoked Brisket epic.
My Tips for Hot and Fast Smoked Brisket:
Trim your brisket really well: Most brisket does not come trimmed, and this is the first step to making it delicious. Since I do not cook brisket on the regular, I followed this awesome tutorial that really helped out!
Let your seasoned brisket rest:

Once you have trimmed your brisket, it is important to let the seasoning sit on the meat for a while. This will help the seasoning from falling off once it is one the smoker. I recommend letting it rest overnight in your fridge!

Know where your fat side is:

Brisket has a ton of fat on it. I started with the fat side down so it was closer to the fire to melt. I then flipped it to fat side up when I placed it in the tin foil. This will help redistribute the moisture in the brisket before you ultimentally flip to fat side down for the last bit of the cook. Pay attention to this process on your Hot and Fast Smoked Brisket.

Add more moisture to the cook: Towards the end of the cook, I needed to add some moisture to the brisket so that it would stay juicy. I went with bourbon and vinegar because the bourbon will have sweet flavor and the vinegar will help cut through the fatty flavor. You can easily add beer, beef broth or just water. Depends on what flavor you'd like to achieve.
Let your cooked brisket rest:

Once you have achieved a tender brisket all around, let your brisket rest for at least one hour in a cooler or a cold oven. This will really help redistribute the juices and keep it super flavorful all over.

Make sure to use Mishima Reserve Brisket:

The final product can speak for itself, but if you want more information here it is: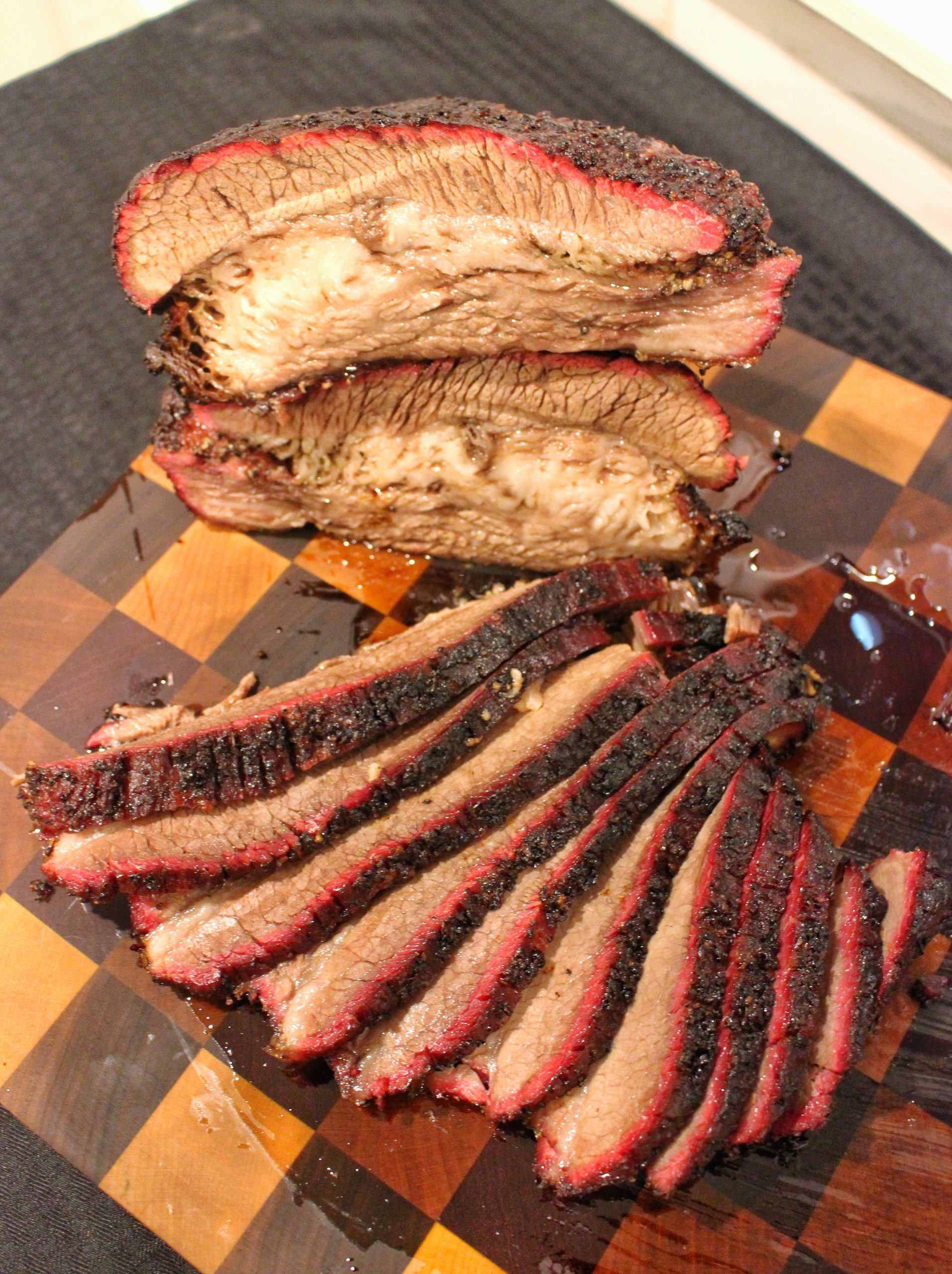 So what is Mishima Reserve?
Mishima Reserve is a high quality American producer of Japanese Heritage breed Wagyu beef of the Kuroge Washu Bloodlines. They are naturally raised with a focus on reducing their carbon footprint by maintaining high quality standards and practices. In the end, their beef is born & raised responsibly in the USA by the best ranchers across the Northwest & Rocky Mountains.
America makes Wagyu Beef Like Brisket?
Yes we do and it is amazing… Mishima Reserve is just one of many great producers of American Wagyu Beef. They, however, have had years of learning all the in's and out's to maintaining and evolving American Wagyu Beef—making wagyu more accessible (and more affordable). So try my new American Wagyu Beef Tenderloin with Red Wine Onions this Holiday Season. You won't regret it!
Discount Code!
Oh and use OVERTHEFIRECOOKING when checking out at Mishima Reserve for 15% off your sale!
Print Recipe
Hot & Fast Smoked Brisket
Try out some delicious Hot and Fast Smoked Brisket over the fire with American Wagyu. A recipe to remember for anytime of the year!
Ingredients
Brisket Ingredients:
1

Mishima Reserve American Wagyu Whole Brisket

trimmed

Fresh Cracked Pepper

Coarse Sea Salt

Avocado Oil
Additional Ingredients:
½

cup

of Bourbon

½

cup

of White Vinegar
Instructions
Trim your brisket, lather in oil and season using fresh cracked pepper and coarse sea salt. Let brisket rest in fridge for at least 2 hours but ideally overnight.

Build a fire in your smoker for indirect grilling at a consistent 325F.

Place your brisket, fat side down, on the smoker and let cook until the internal temperature reads 170F (around 2-2.5 hours).

Next pull brisket off, place it in tin foil fat side up and carefully wrap. Place brisket back on smoker with fat side up.

Once brisket has reached 195F internal (around 2 hours), carefully flip to have fat side back on bottom. Pour your bourbon and white vinegar over top of brisket and into the tin foil. Make sure to seal off tin foil to prevent losing the liquids. Smoke your brisket until the thermometer pushes into it like butter on all parts of the brisket (ideally around 207F internal).

Remove the brisket from smoker, take out of tin foil, wrap in a towel and place in a cooler or cold oven to let rest for at least 1 hour.

Once rested, slice against the grain and serve!
This article does contain affiliate links to products that we personally use and support. Purchasing an affiliate product does make us a small commission at no cost to you. This helps us continue creating for our website. All words and opinions are our own, and we appreciate your support!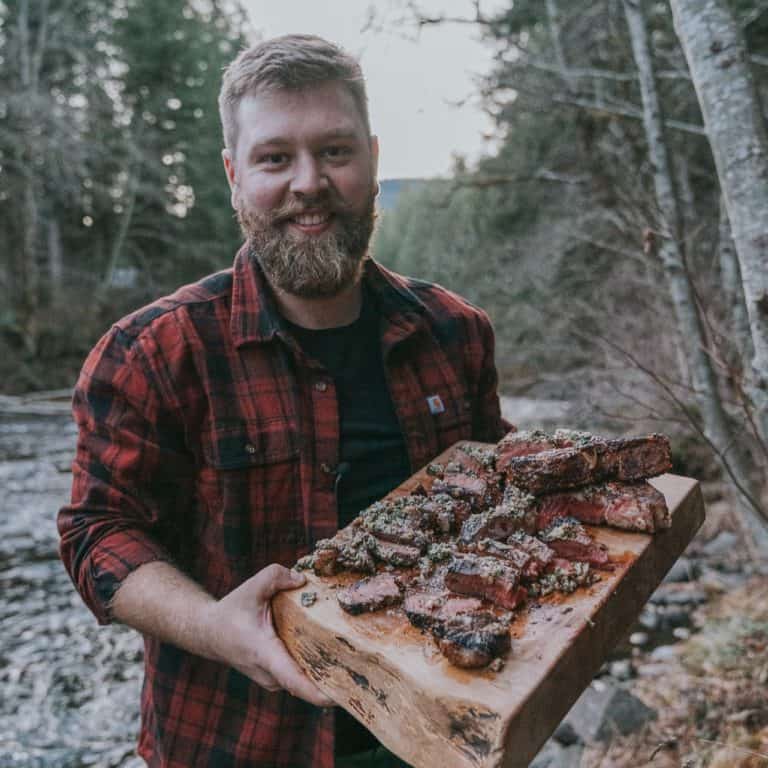 Derek is the driving force behind Over the Fire Cooking. He started cooking with live fire in 2016 and decided to start a social media page so his friends and family could follow the journey. Fast forward to today and Over the Fire Cooking has spread across multiple platforms with millions now following Derek's fire cooking journey. He's a southern fellow who enjoys everything from classic BBQ to Central and South American inspired dishes. Whatever he's cooking up, it's guaranteed to be so freakin' delicious!