Ever heard of smoked picanha? Picanha is one of my favorite cuts to cook over fire. Not only is it delicious, but it is unlike any other piece of meat on the cow. The fat cap on the outside of the meat really help it to stand out from the rest of the pack. If you want to know more about the specific cut then check out my in-depth What is Picanha article!
Post Sponsored by Hippie Cow Beef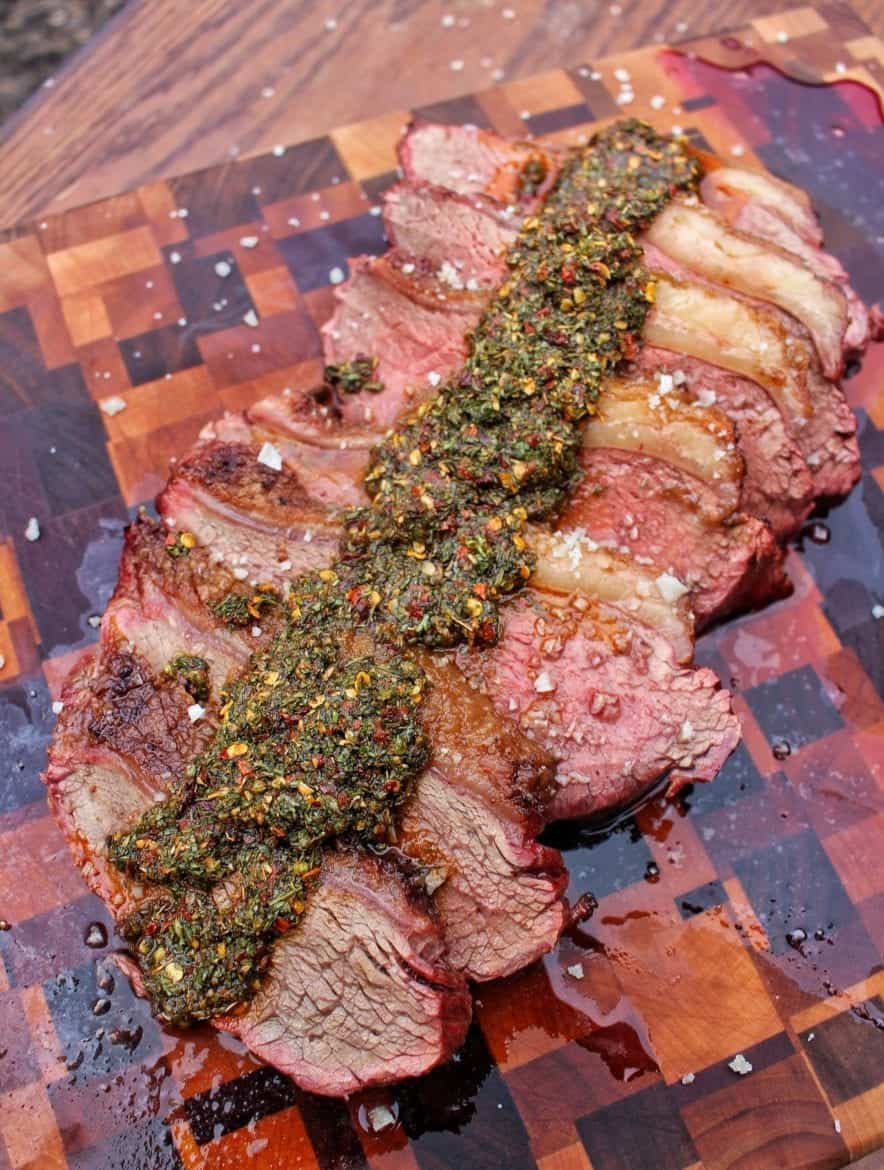 Who Wants Smoked Picanha?
Most people grill this beef over fire or on skewers. When I got some picanha from Hippie Cow Beef, I decided to do something different. One of my good Argentinian friends told me that his favorite way to cook it is by smoking picanha. This allow the fat cap to marinate into the meat while cooking. You get such intense flavors, especially when you have high quality beef like Hippie Cow Beef. All in all, this is an amazing Smoked Picanha recipe that is perfect for the holidays or Saturday night dinner!
MORE ABOUT HIPPIE COW BEEF
WHO IS HIPPIE COW BEEF?
Hippie Cow Beef is all about raising happy cows that equate to healthy beef. They want to simplify the beef industry into high quality meat, like with my Smoked Picanha, that is pasture born, pasture raised, non-GMO, non-feedlot, quality tasting animals. They are pushing towards the new standard for beef.
WHY SHOULD YOU CARE?
You should be aware of everything that you eat, especially meat. If you want the best for you health and for your fire cooking, then you should be eating the best that the meat industry has to offer. That is why I am working with Hippie Cow Beef to show off just how amazing their beef can taste in my Smoked Picanha recipe!
RELATED ARTICLE: Learn the keys to making a great steak!
Smoked Picanha
Try my smoky version of picanha with my Smoked Picanha recipe. Top it with chimichurri and you are in heaven.
Ingredients
1

Hippie Cow Beef Picanha

or Sirloin Cap

2

tbsp

of Sea salt

Olive Oil
Instructions
Build a medium-high heat fire for indirect grilling in a smoker of covered grill.

Score fat cap of picanha and lather with olive oil. Season with sea salt all over.

Add steak to indirect grill, fat cap side down, and smoke at a low temperature (250F) for just under 2 hours. After about 45 minutes, flip picanha so fat side is up. Cook until you reach your desired internal temperature (i.e. Medium Rare will be around 118F).

Pull steak off smoker, let rest for 15-20 minutes, slice, add more salt if desired and serve. Top with chimichurri for more flavor!
Notes
Equipment: Hippie Cow Beef Picanha, Cutting board, knife, charcoal and tongs.
This article does contain affiliate links to products that we personally use and support. Purchasing an affiliate product does make us a small commission at no cost to you. This helps us continue creating for our website. All words and opinions are our own, and we appreciate your support!