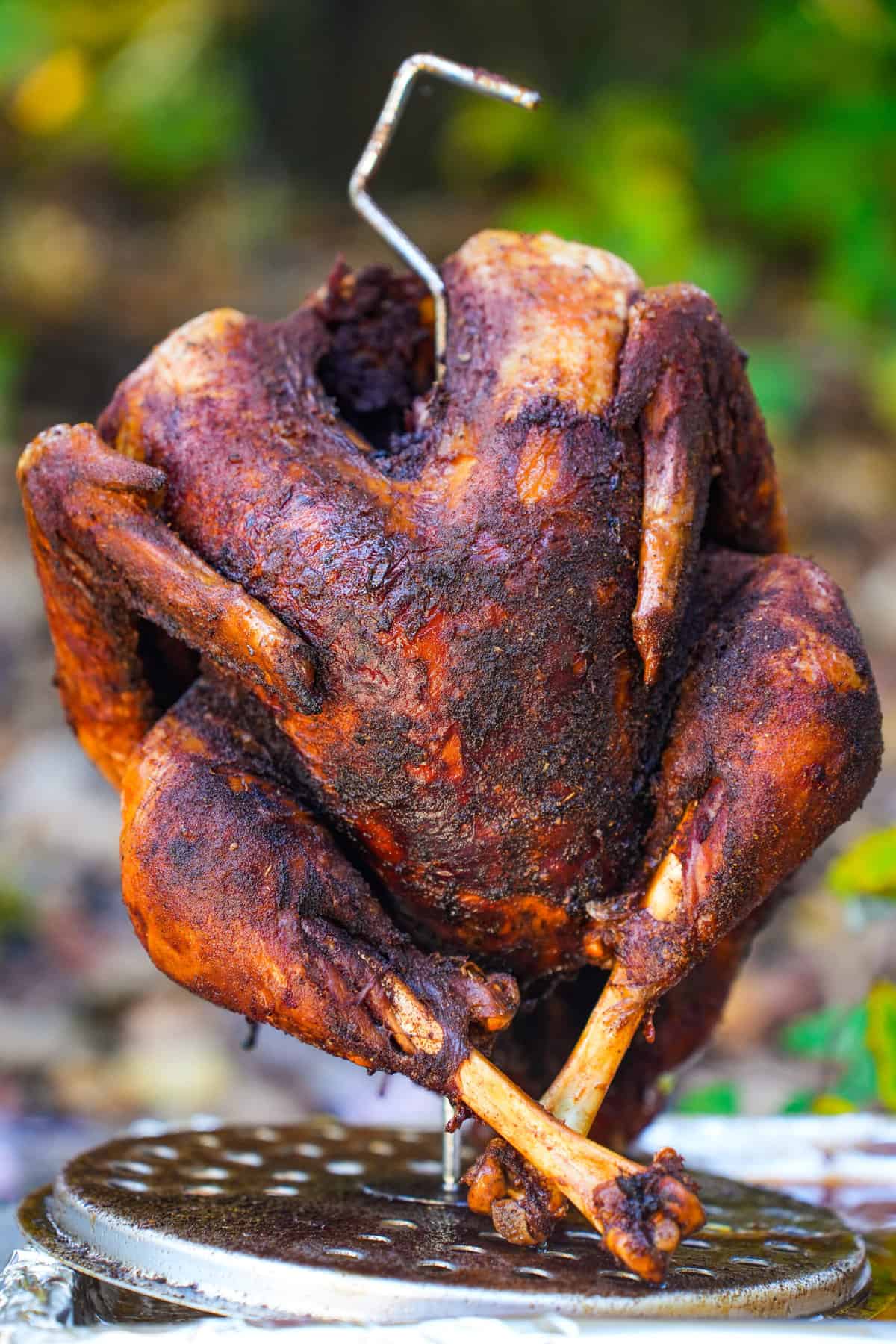 Once in a generation does a cultural icon transcend all nations and borders. The Office. Sliced Bread. The Smoke Fried Turkey. A dude on the internet is even quoted saying, "The Pilgrims at Plymouth Rock dreamed of a day when they could Smoke Fry their turkeys." This day is now. We're living in the delicious future our forefathers dreamt of.
Brine
Turkey is…. not the best thing ever. There I said it. I'm a known turkey hater. But that doesn't mean we can't make a great turkey; we can make turkey great again. It just takes care and attention to detail.
We're gonna start with a brine. Brines fall into two categories: Dry and Wet. They both have their own sets of pros and cons. But for us here today, we're going wet.
The big deciding factor for me is that I don't have an extra fridge to dry bring a huge bird in, so that obviously makes it a no go. A wet brine can be accomplished with a brine bag, a cooler, and a bag of ice. So that's what we're doing with this Smoke Fried Turkey.
The purpose of the wet brine is to help season the meat on a deeper level and break down the proteins on a molecular level. This will result in a more tender and juicy turkey.
Look, Thanksgiving is basically the Superbowl of cooking. We gotta show up the other neighborhood dads. Therefore, we gotta brine.
Smoke Fried Turkey
Smoking a turkey can result in great flavor, but usually has limp skin. Frying a turkey can have the most amazing crispy skin, but not much going on in the flavor department. So we're doing both! The classic Smoke Fry.
We'll start as the Smoked Fried Turkey as the title suggest, by smoking the turkey. This will imbibe the turkey with that amazing smoke flavor and help dry the turkey from the brining process.
Now don't fully cook the turkey, otherwise it'd be overcooked after the fry. I usually pull from the smoker 20-30 degrees below my target final temp.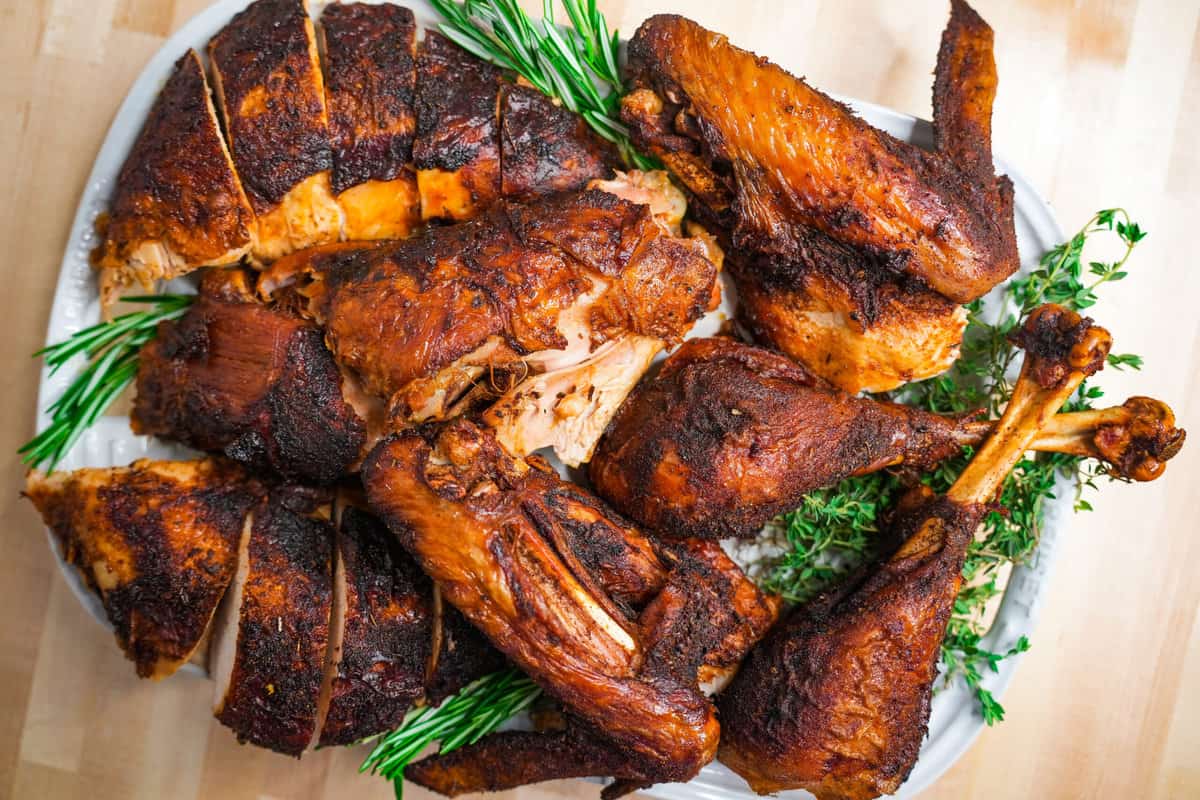 Then we fry. 350 degrees for 10-15 min. Just enough time to finish the cook and make the most amazing crispy skin.
Tender, flavorful, juicy, and crispy; all anyone could ask for.
Cajun
There're so many flavor profiles to choose from when cooking up a holiday bird. Garlic Herb, Texas Salt and Pepper, Lemon Pepper, and so many more. For our Smoke Fried Turkey, we're using Cajun. That beautifully blackened rub we all know and love.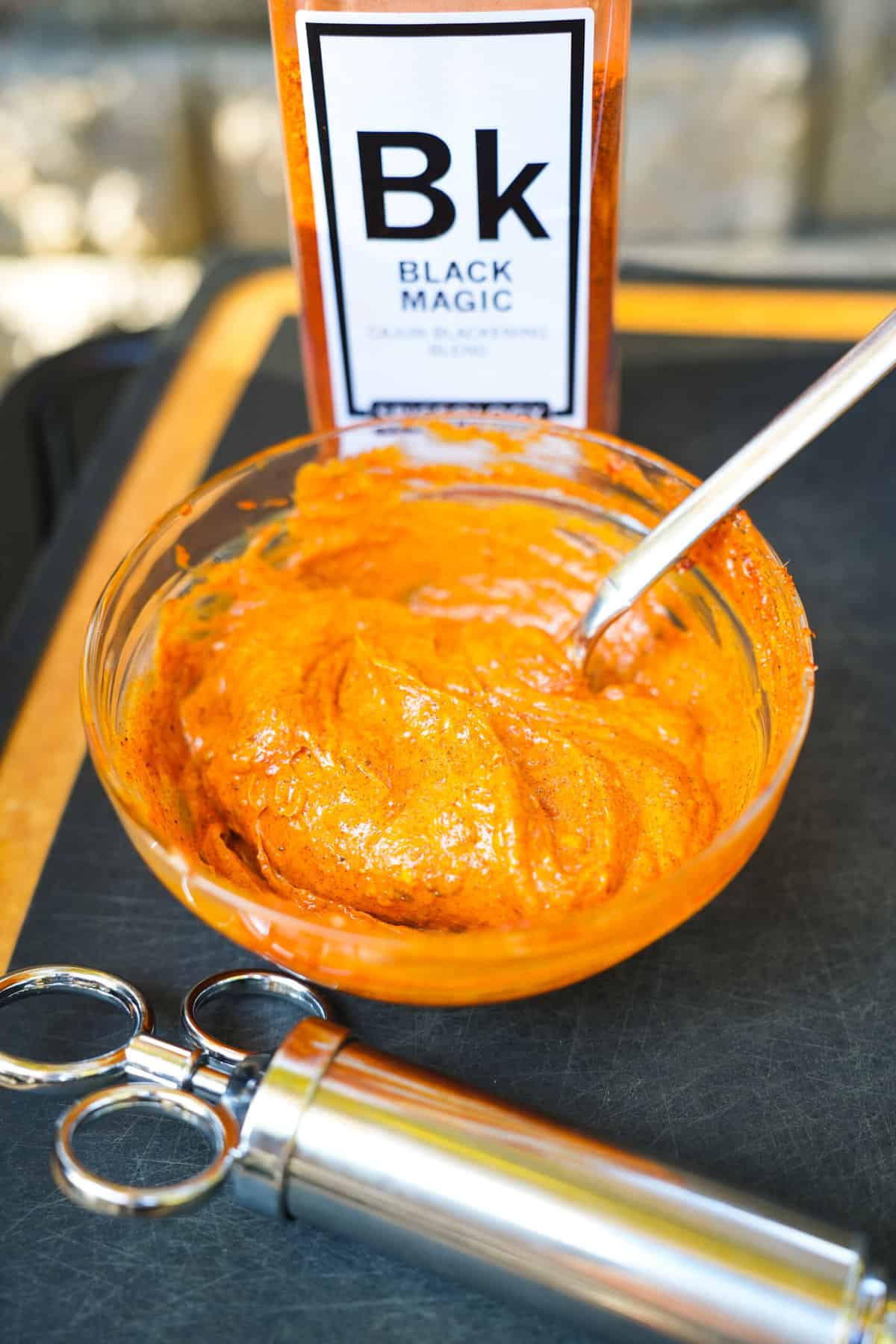 For more delicious recipes, check out my second cookbook Flavor X Fire or my first cookbook Food X Fire!
Needing more spice in your life? My spice line can help with that. Check them out here.
Print Recipe
Smoke Fried Turkey
The Smoke Fried Turkey for your most epic Thanksgiving yet!
Ingredients
10-12

Lb

Turkey

1

Cup

Kosher Salt

½

Cup

Brown Sugar

1

Tbsp

Peppercorns

1

Cup

Cajun Seasoning

4

oz

Butter
Instructions
The day before cooking; combine kosher salt, brown sugar, and peppercorns in a pot with 2 cups of water. Bring to a boil and mix thoroughly. Remove brine base from heat and cool with ice.

Place Turkey in a large brine bag with brine base, 1 gallon of water, and ½ cup of Cajun seasoning. Place turkey in a cooler with ice or refrigerator to brine overnight.

The next morning, pre heat smoker to 275 degrees.

Mix 4 oz of softened butter with ¼ cup of Cajun seasoning. Remove turkey from the brine bag and inject with Cajun butter, hitting all major muscle groups (breasts, thighs, legs, and wings). Season turkey generously with Cajun rub.

Smoke turkey at 275 degrees until 135 degrees at the breast. The size of the turkey will greatly affect this timing. While turkey is smoking prepare deep fryer and heat oil to 350 degrees.

Remove turkey from smoker and lower into the deep fryer. Use all safety precautions and proper safety gear. The deep fryer should be turned off during this part to avoid a grease fire.

Cook turkey in the deep fryer for 10-15min, until internal temp on the breast reads 165 degrees. Remove from fryer and rest for 10 min.

Carve turkey and take your rightful crown as the monarch of Thanksgiving!
Nutrition
Calories:
1017
kcal
|
Carbohydrates:
29
g
|
Protein:
119
g
|
Fat:
48
g
|
Saturated Fat:
18
g
|
Polyunsaturated Fat:
10
g
|
Monounsaturated Fat:
14
g
|
Trans Fat:
1
g
|
Cholesterol:
427
mg
|
Sodium:
19603
mg
|
Potassium:
1668
mg
|
Fiber:
7
g
|
Sugar:
20
g
|
Vitamin A:
9648
IU
|
Vitamin C:
0.2
mg
|
Calcium:
139
mg
|
Iron:
9
mg
Jeremy is a small business owner by day; a private chef to a wife and two kiddos by night and creator behind The Kitchen Whitelaw. Specializing in new American cooking, diner fare, country club cuisine, the classics you know and love. Exploring new recipes, creating new dishes, and teaching new techniques.