Once in a generation does a cultural icon transcend all nations and borders. The Office. Sliced Bread. The Smoke Fried Turkey. A dude on the internet is even quoted saying, "The Pilgrims at Plymouth Rock dreamed of a day when they could Smoke Fry their turkeys." This day is now. We're living in the delicious future our forefathers dreamt of.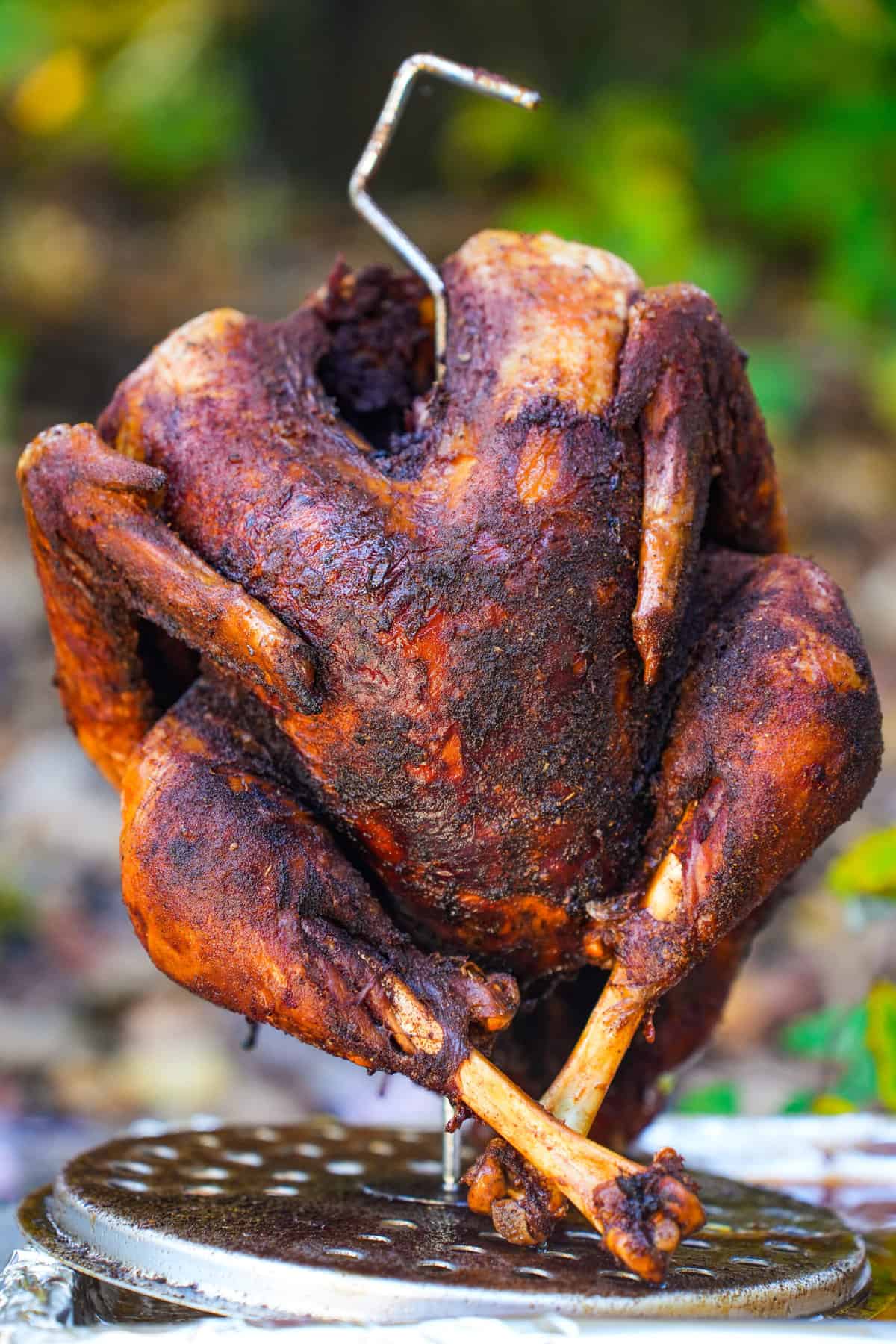 TURKEY BRINE
Turkey is…. not the best thing ever. There, I said it. I'm a known turkey hater. But that doesn't mean we can't make a great turkey; we can make turkey great again. It just takes care and attention to detail.
We're gonna start with a brine. Brines fall into two categories: Dry and Wet. They both have their own sets of pros and cons. But for today, we're going with the wet brine.
The big deciding factor for me is that I don't have an extra fridge to dry brine a huge bird in, so that obviously makes it a no-go. A wet brine can be accomplished with a brine bag, a cooler, and a bag of ice. So that's what we're doing with this Smoke Fried Turkey.
The purpose of the wet brine is to help season the meat on a deeper level and break down the proteins on a molecular level. This will result in a more tender and juicy turkey.
Look, Thanksgiving is basically the Superbowl of cooking. We gotta show up the other neighborhood dads. Therefore, we must brine.
Why you'll love this Smoke Fried Turkey
This recipe is the perfect way to kick off the holiday season with a flavorful wet brine and delicious cajun seasoning infused into every juicy bite. The deep frying method produces the most flavorful turkey meat that everyone will still be talking about come Christmastime.
Plus, frying a turkey takes less time than traditional roasting methods, which can take 3-4 hours, whereas this recipe takes around 2 hours of cooking time. And this no-fuss recipe is perfect for those who have taken on the responsibility of cooking the turkey for Thanksgiving.
It's simple, easy to follow, and won't leave you with a Christmas Vacation disaster. You know… that charred lifeless turkey that everyone reluctantly nibbles on, smiling through the pain and hoping not to break a tooth.
Smoke Fried Turkey Ingredients
Turkey – Find yourself a good 10-12 pound turkey for this deep-fried turkey recipe.
Kosher Salt
Brown Sugar – Adds a sweet flavor and allows the turkey skin to get super crispy.
Peppercorns
Cajun Seasoning – This spicy seasoning adds a nice kick to our fried turkey.
Butter – We're mixing this with the cajun seasoning and injecting it into the major muscle groups of the turkey for maximum flavor.
How to Make Fried Turkey
Smoking a turkey can result in great flavor, but it usually has limp skin. Frying a turkey can have the most amazing crispy skin, but not much going on in the flavor department. So we're doing both! The classic Smoke Fry.
We'll start with the Smoked Fried Turkey, as the title suggests, by smoking the turkey. This will imbibe the turkey with that amazing smoke flavor and help dry the turkey from the brining process.
Now, don't fully cook the turkey. Otherwise, it'd be overcooked after the fry. I usually pull from the smoker 20-30 degrees below my target final temp. You should aim for around 135F before pulling the turkey from the smoker.
The next step is deep frying the whole turkey in the hot oil. Put the smoked turkey into the fry basket and lower it carefully into the cooking oil. Then, fry for 10-15 min. Just enough time to finish the cook and make the most amazing golden brown crispy skin.
Tender, flavorful, juicy, and crispy turkey; all anyone could ask for.
Pro tip: Make sure to follow all manufacturer instructions and use extreme caution when using a deep fryer. Safety equipment is a must. Always keep a fire extinguisher on hand when cooking. Water will not put out grease fires.
For other turkey ideas, check out my Maple Bourbon Spatchcock Turkey, Honey Fire Rotisserie Turkey Legs, and Leftover Chipotle Turkey Empanadas.
Turkey Seasoning
There are so many flavor profiles to choose from when cooking up a holiday bird. Garlic Herb, Texas Salt and Pepper, Lemon Pepper, and so many more. For our Smoke Fried Turkey, we're using Cajun. That beautifully blackened dry rub we all know and love.
The key to any flavor profile is to introduce it at every step. Add it to the brine, inject it, season the outside, and sleep with the bottle of rub so it feels the love (that last one is optional).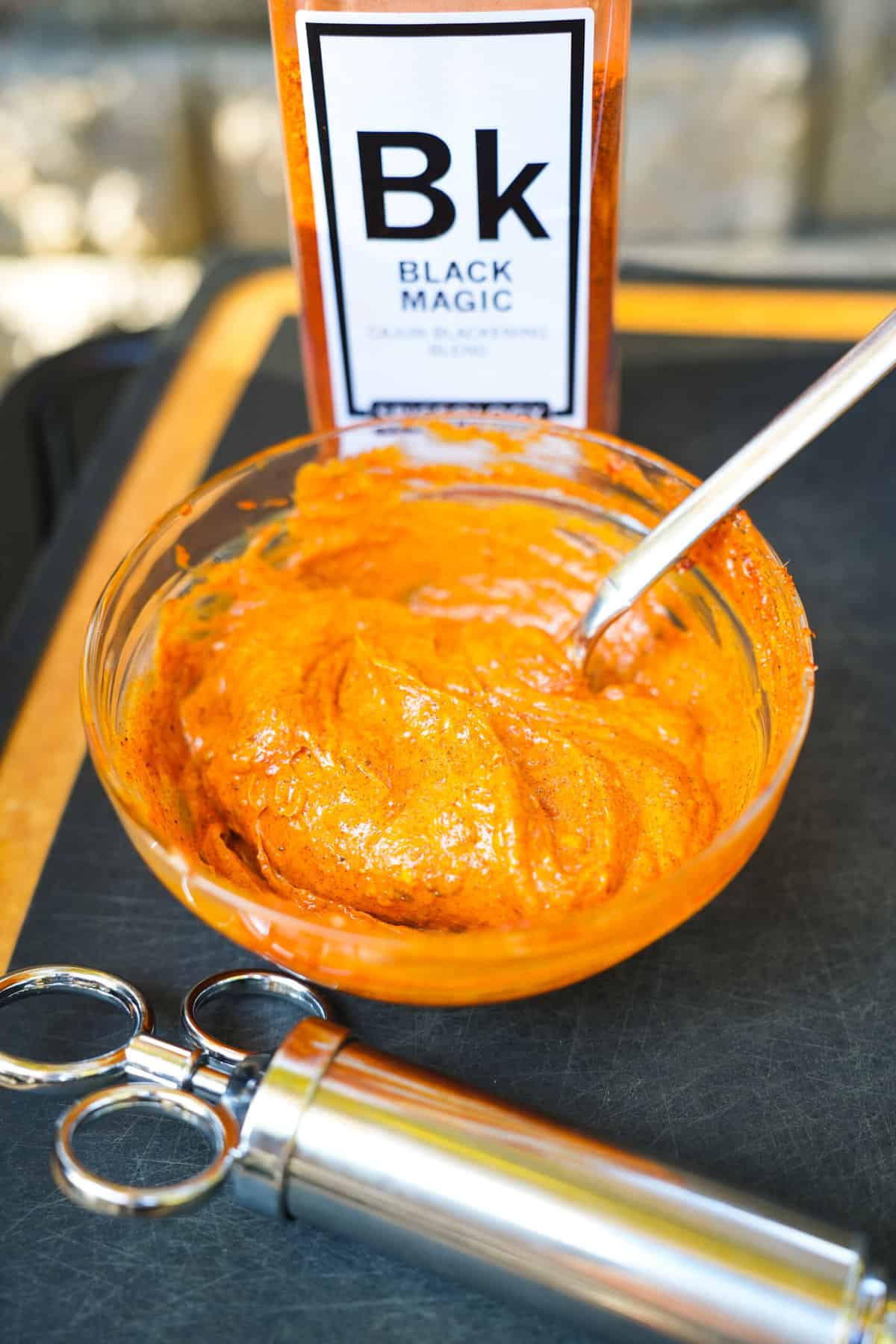 We're doing it all in this Smoke Fried Turkey recipe. This is no time to hold back. Poultry soaks up flavors in the best way, so we're taking full advantage of that!
For more with cajun, check out my Creamy Cajun Shrimp Alfredo, Cajun Rubbed Steak with Bourbon Street Sauce, Honey Cajun Smoked Lobster Tails, and Maple Cajun Salmon Pinwheels.
Tips
Insert a meat thermometer into the thickest part of the breast. The internal temperature of the turkey should reach at least 165F when you finish the whole cooking process.
Dry turkey with paper towels to remove excess moisture and ensure the crispiest skin.
Make sure your propane tank on your deep fryer has plenty of gas before frying.
How to Store Leftovers & Reheat
Store leftover turkey meat in airtight containers for 3-4 days. You can also freeze turkey meat for up to 6 months.
If reheating refrigerated turkey meat, let it come to room temperature. If using frozen turkey meat, let it thaw in the fridge overnight. Then, let it come to room temperature before cooking.
To reheat your turkey meat:
Turn on your oven to 300F.
Place turkey meat on a baking dish and add some chicken broth to keep the meat juicy.
Cover the dish with aluminum foil and bake for 20-30 minutes until the meat is warmed.
What to Serve With Fried Turkey
Since this is a Thanksgiving turkey recipe, serve up your bird with some cranberry sauce, sweet potato casserole, green beans, and some delicious gravy!
Any of your Thanksgiving favorites are fair game with this dish!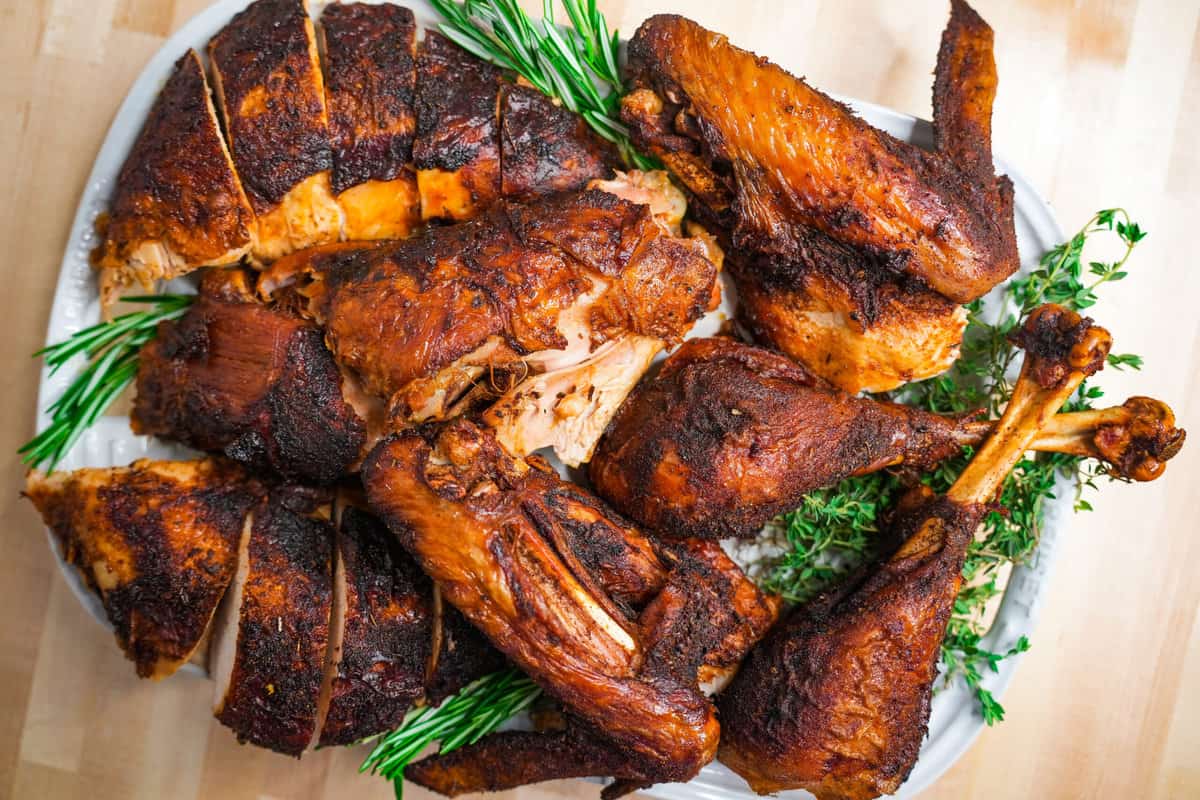 Recipe FAQs
What oil should I use for deep frying?
Choose an oil with a high smoke point, such as peanut oil, vegetable oil, or canola oil.
What should the temperature of the oil be for frying?
Make sure the oil temperature reads 350F for this deep-fried turkey recipe.
Do I have to brine the turkey before deep frying?
​I highly recommend it. I know it can be a bit of a hassle, but brining your turkey helps the bird to retain moisture and infuses the bird with flavor.

In addition, the sugar in the brine helps the skin to become super crispy when frying.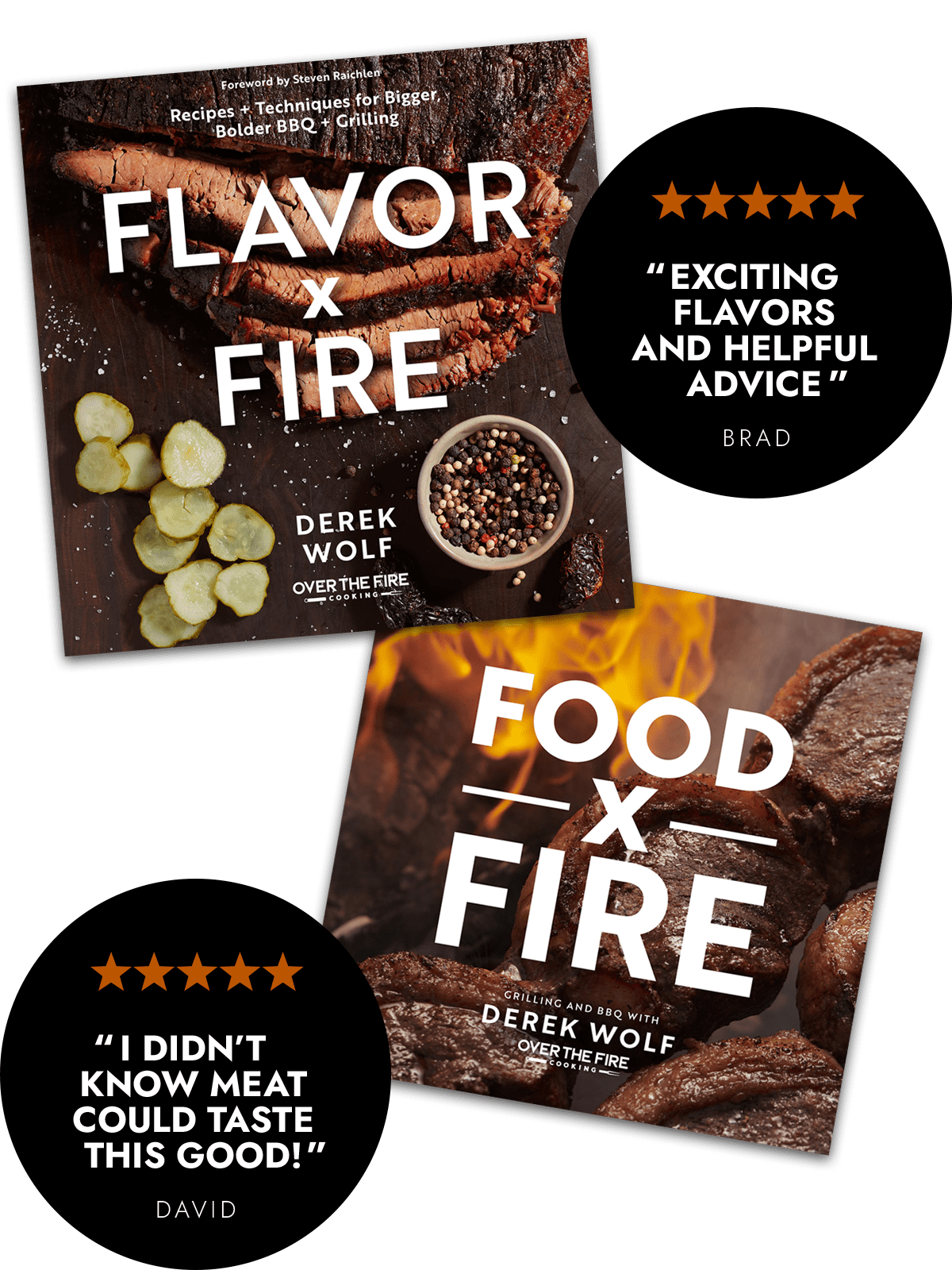 Get The Cookbooks!
Flavor X Fire & FOOD X Fire
All the major tastes—salty, sour, sweet, bitter, and umami—are explored in-depth, along with an investigation of other competent you should consider when it comes to flavors, such as aroma, heat, and texture.
Needing more spice in your life? My spice line can help with that. Check them out here.
Smoke Fried Turkey
The Smoke Fried Turkey for your most epic Thanksgiving yet!
Ingredients
10-12

Lb

Turkey

1

Cup

Kosher Salt

½

Cup

Brown Sugar

1

Tbsp

Peppercorns

1

Cup

Cajun Seasoning

4

oz

Butter
Instructions
The day before cooking; combine kosher salt, brown sugar, and peppercorns in a pot with 2 cups of water. Bring to a boil and mix thoroughly. Remove brine base from heat and cool with ice.

Place Turkey in a large brine bag with brine base, 1 gallon of water, and ½ cup of Cajun seasoning. Place turkey in a cooler with ice or refrigerator to brine overnight.

The next morning, pre heat smoker to 275 degrees.

Mix 4 oz of softened butter with ¼ cup of Cajun seasoning. Remove turkey from the brine bag and inject with Cajun butter, hitting all major muscle groups (breasts, thighs, legs, and wings). Season turkey generously with Cajun rub.

Smoke turkey at 275 degrees until 135 degrees at the breast. The size of the turkey will greatly affect this timing. While turkey is smoking prepare deep fryer and heat oil to 350 degrees.

Remove turkey from smoker and lower into the deep fryer. Use all safety precautions and proper safety gear. The deep fryer should be turned off during this part to avoid a grease fire.

Cook turkey in the deep fryer for 10-15min, until internal temp on the breast reads 165 degrees. Remove from fryer and rest for 10 min.

Carve turkey and take your rightful crown as the monarch of Thanksgiving!
Nutrition
Calories:
1017
kcal
|
Carbohydrates:
29
g
|
Protein:
119
g
|
Fat:
48
g
|
Saturated Fat:
18
g
|
Polyunsaturated Fat:
10
g
|
Monounsaturated Fat:
14
g
|
Trans Fat:
1
g
|
Cholesterol:
427
mg
|
Sodium:
19603
mg
|
Potassium:
1668
mg
|
Fiber:
7
g
|
Sugar:
20
g
|
Vitamin A:
9648
IU
|
Vitamin C:
0.2
mg
|
Calcium:
139
mg
|
Iron:
9
mg