I'm sure we've all heard of Nashville Hot Chicken. Well, now there's Nashville hot shrimp, Nashville hot catfish, Nashville hot queso, and more! For this recipe, we're taking those classic smoky and spicy flavors and lathering them all over tender and flaky salmon filets. That's right, we're making Nashville Hot Cast Iron Salmon, plus a homemade honey garlic butter.
Yep. This southern classic turned killer seafood meal is as good as it sounds!
Nashville Hot Seasoning for Cast Iron Salmon
Today we'll begin with a spice rub. You'll start with 3-4 salmon filets, depending on how many people you're serving and the appetites of said people. Rub each filet with oil and then follow that with generous amount of Nashville Hot Seasoning. Be sure to get that seasoning on all sides of the salmon because you're going to want that sweet, smoky, and spicy flavor in every bite. Believe me.
Once your filets are fully coated in seasoning, set them aside to give the seasoning a little time to work its way into the salmon.
For more with my Nashville Hot Seasoning, check out: Smoked Nashville Hot Chicken Queso, Nashville Hot Steak Frites, Nashville Hot Smoked Cream Cheese and Hot Honey Chicken Asado.
Honey Garlic Butter for Nashville Hot Cast Iron Salmon
Next, we'll put together the homemade honey garlic butter. This one is pretty self explanatory, as you've probably already guessed the three ingredients: unsalted butter, freshly minced garlic, and honey.
Start this Honey Garlic Butter making process by placing the butter in a hot skillet. Then add in the minced garlic and the honey. Give everything a good stir and allow the mixture to simmer for 90 seconds or so until. This will ensure everything is fully incorporated and allow the flavors to fuse together.
Pull the Honey Garlic Butter off of the grill and let it cool while you cook the salmon!
If you're a butter fan, you're going to want to check out my Grilled Garlic Butter Lobster, Honey Garlic Pork Belly Burnt Ends and Venison Rack with Wild Herb Butter.
Cook Your Nashville Hot Cast Iron Salmon
It's time to break out that cast iron skillet because that's how we will sear the salmon for this recipe. Cast iron has a magical ability to conduct heat really well so you end up with more evenly cooked meat and a better sear. If you've got it, it's the optimal choice.
First, preheat the cast iron skillet over the fire and then add a drizzle of canola oil. Next, put in the salmon filets with the skin side down. Cook first for 3-4 minutes, then flip and cook for another 2-2.5 minutes. Now, grab your prepared Honey Garlic Butter and drizzle it on top right before the Nashville Hot Cast Iron Salmon is finishes cooking.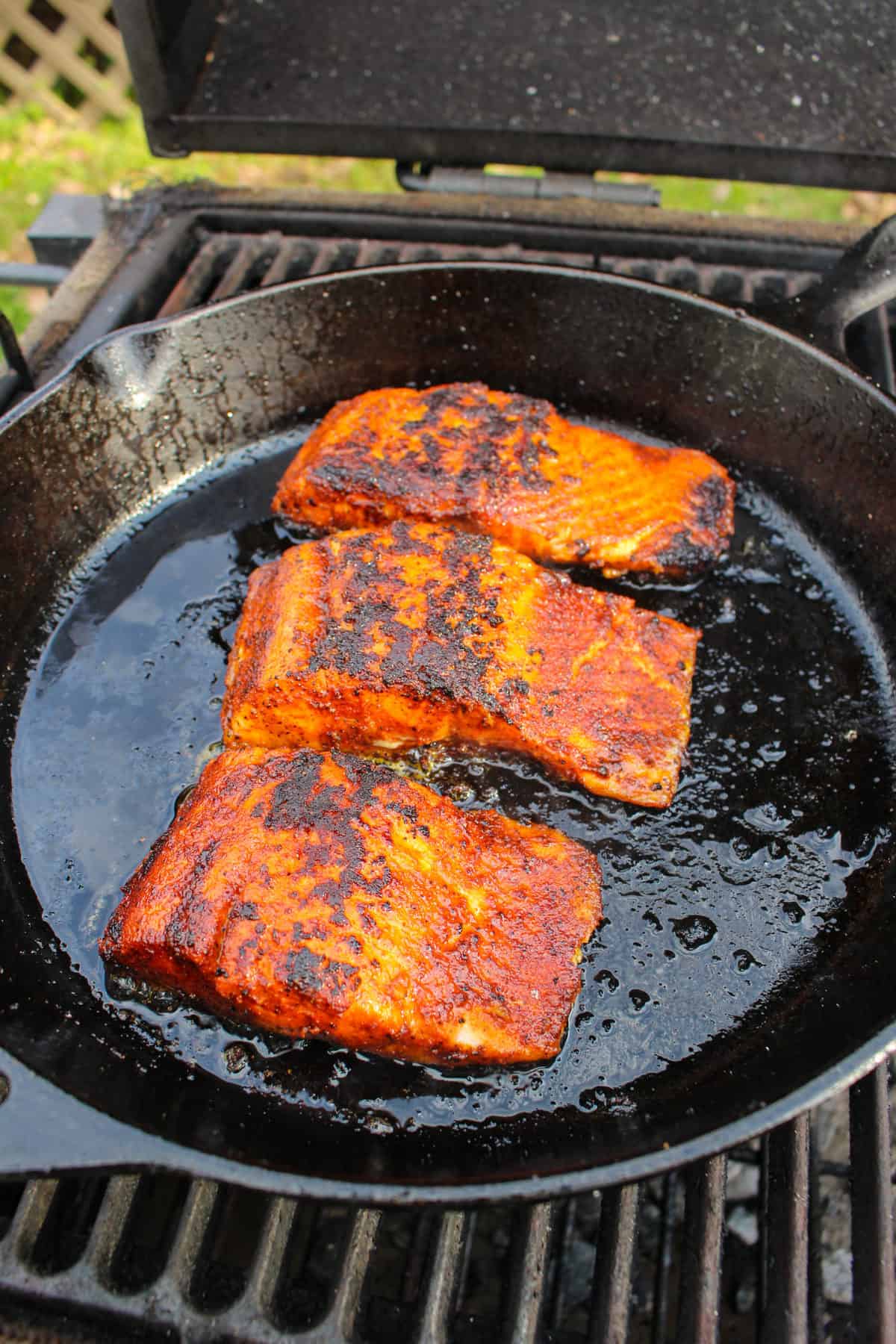 To finish, use a meat thermometer to double check that the internal temperature of the salmon is somewhere between 140-145ºF.
Once it's good to go, pull it off of the grill and let it cool slightly to give the flavor and moisture a little time to settle back into the salmon.
It's Time to Serve!
Lastly, and definitely most importantly, it's time to serve the salmon. Transfer the salmon to your serving dish and garnish with lemon slices, chopped parsley, and an extra sprinkle of Nashville Hot, because a little extra spice is never hurt anybody… or did it. Be advised.
Next step: dig in! This Nashville Hot Cast Iron Salmon is about to be your new favorite dinner! Or, if you want another amazing dish, try our lemon garlic cast iron skillet salmon recipe!
For more delicious recipes, check out my second cookbook Flavor X Fire or my first cookbook Food X Fire!
Needing more spice in your life? My spice line can help with that. Check them out here.
Full Length Recipe Video on Facebook!
Nashville Hot Cast Iron Salmon
Nashville Hot Cast Iron Salmon for a hot take on salmon.
Ingredients
Salmon:
3-4

Salmon Filets

scaled

2

tbsp

Nashville Hot Seasoning

Lemon Slices

for garnish

Chopped Parsley

for garnish

Canola Oil

as needed
Honey Garlic Butter:
3-4

tbsp

Butter

unsalted

1.5

tbsp

Minced Garlic

1.5

tbsp

Honey
Instructions
Begin by lathering your salmon filets with oil and generously seasoning with my Nashville Hot Chicken rub or your favorite Nashville Hot seasoning. Season all sides, then set aside until ready to cook.

Preheat your grill to medium-high heat direct cooking (around 350F).

We will first make the butter by preheating a small cast iron skillet over the flames for 2 minutes. Next, add the butter to the skillet and let it melt. Once fully melted, add your minced garlic and honey. Stir and let simmer for 90 seconds until everything is melded together. Pull off and let cool.

Preheat another cast iron skillet over the fire with some canola oil for 1 minute. Add your salmon in, skin side done, to cook for 3-4 minutes. Flip the salmon over to the skin side and cook for another 2-2.5 minutes or until the salmon is 140-145F internal. Right before the salmon is done, drizzle some of the Honey Garlic Butter over the top and let simmer for 30 seconds. Pull the skillet off and let the salmon cool.

Garnish your salmon with lemon slices, chopped parsley and a dusting of more Nashville Hot if you desire. Serve and enjoy!