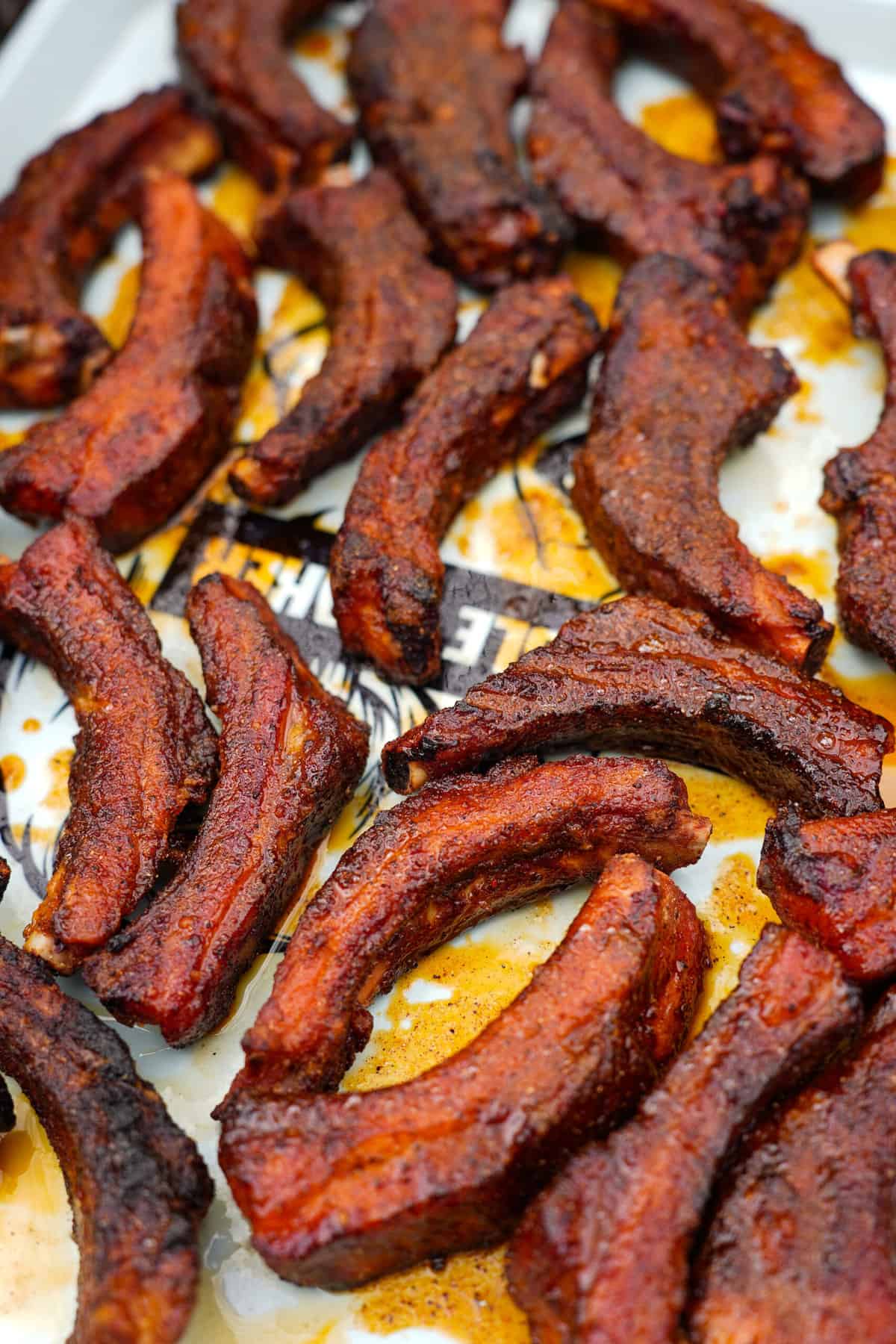 In our never-ending quest to Nashville Hot literally everything, we've made it to Nashville Hot Smoke Fried Ribs!
Baby back ribs with that amazing smoke flavor, crispy exterior from a quick fry, and that ever tantalizing Nashville Hot chili oil finish. At this point I'm pretty sure we could Nashville Hot a block of butter and it would be amazing. Let's get it!
Ribs, Ribs, Ribs – Nashville Hot Smoke Fried Ribs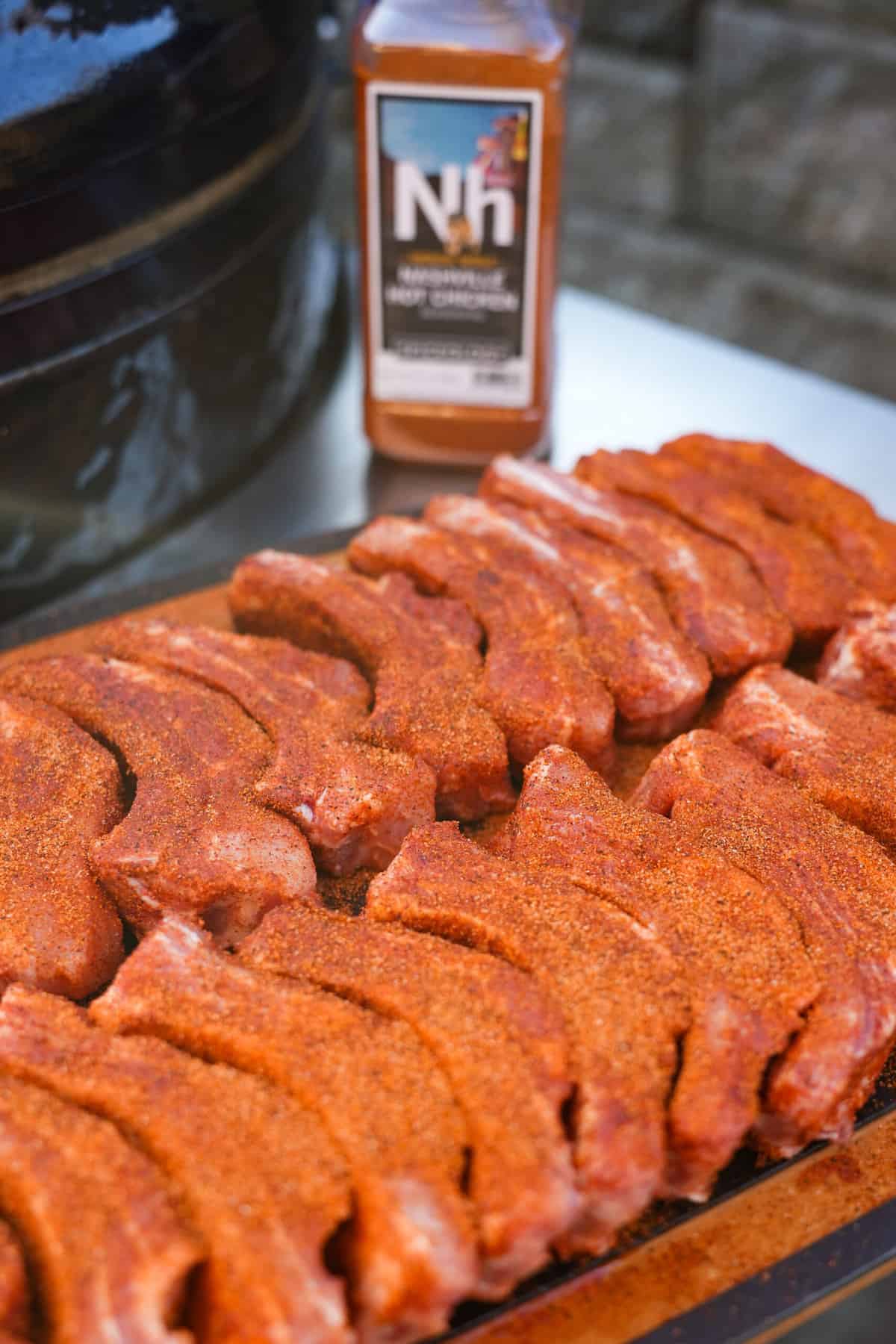 Ribs are one of the tastiest cuts on any animal. Beef ribs are colloquially called "brisket on a stick". I alone can slam an entire rack of pork spare ribs and then want more the next day. Shoot, I've even made some bomb venison ribs because ribs just don't quit!
Today we're using pork back ribs, aka baby back ribs, for this Nashville Hot Smoke Fried Ribs recipe. These are located higher on the back of the pig. They're much thicker and shorter then spare ribs. Being right next to the pork chops, the pork loin, they are leaner and more meaty.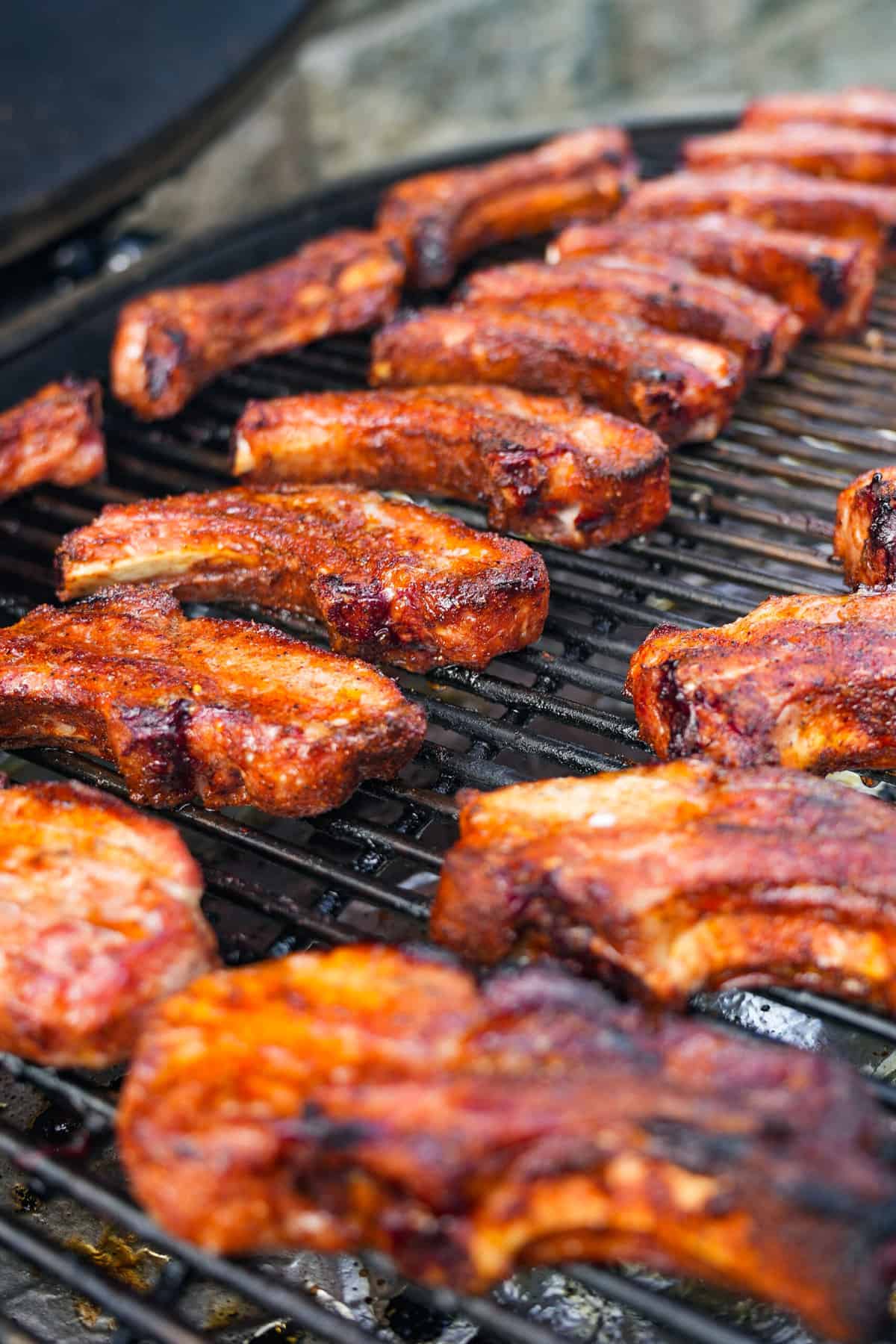 Opposed to spare ribs which come from lower down, near the belly (where we get bacon). Due to baby backs being thicker and having more meat on them, this makes them perfect for separating and cooking individually.
Plus, as a bonus, you get to sing the baby back rib song all day! "I want my baby back, baby back, baby back, baby back ribbbbbbbbsss"
For more ribs, check out Grilled Beef Short Ribs with Chimichurri Butter, Habanero Peach Smoked Ribs and Cherry Cola Spare Ribs.
Smoke Fried Ribs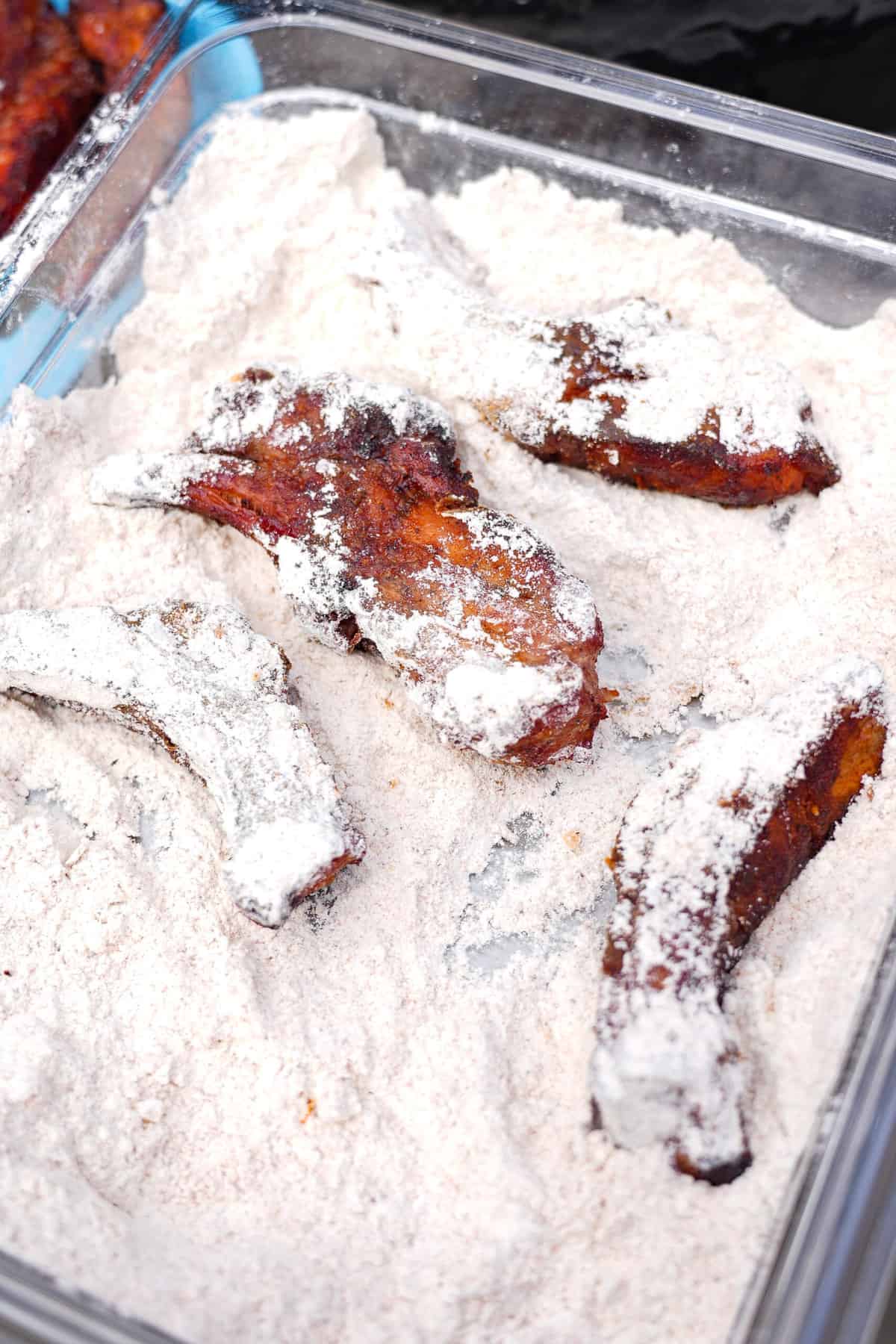 If this is your first time smoke frying, then you're in for a treat. We've visited it a few times already, like with our smoke fried prime rib. It's a great way to get that amazing smoky flavor in combo with a crispy crust. So it's truly the best of both worlds.
We start by cooking the ribs per usual. I like smoking at 275 degrees until they are probe tender, about 200 degrees internal. If you have a different method that gets you the same results, then go for it!
I would just recommend avoiding any technique that results in fall apart ribs, like a 3-2-1 method. While fall apart ribs are great for a McRib sandwich, they don't do great with deep frying.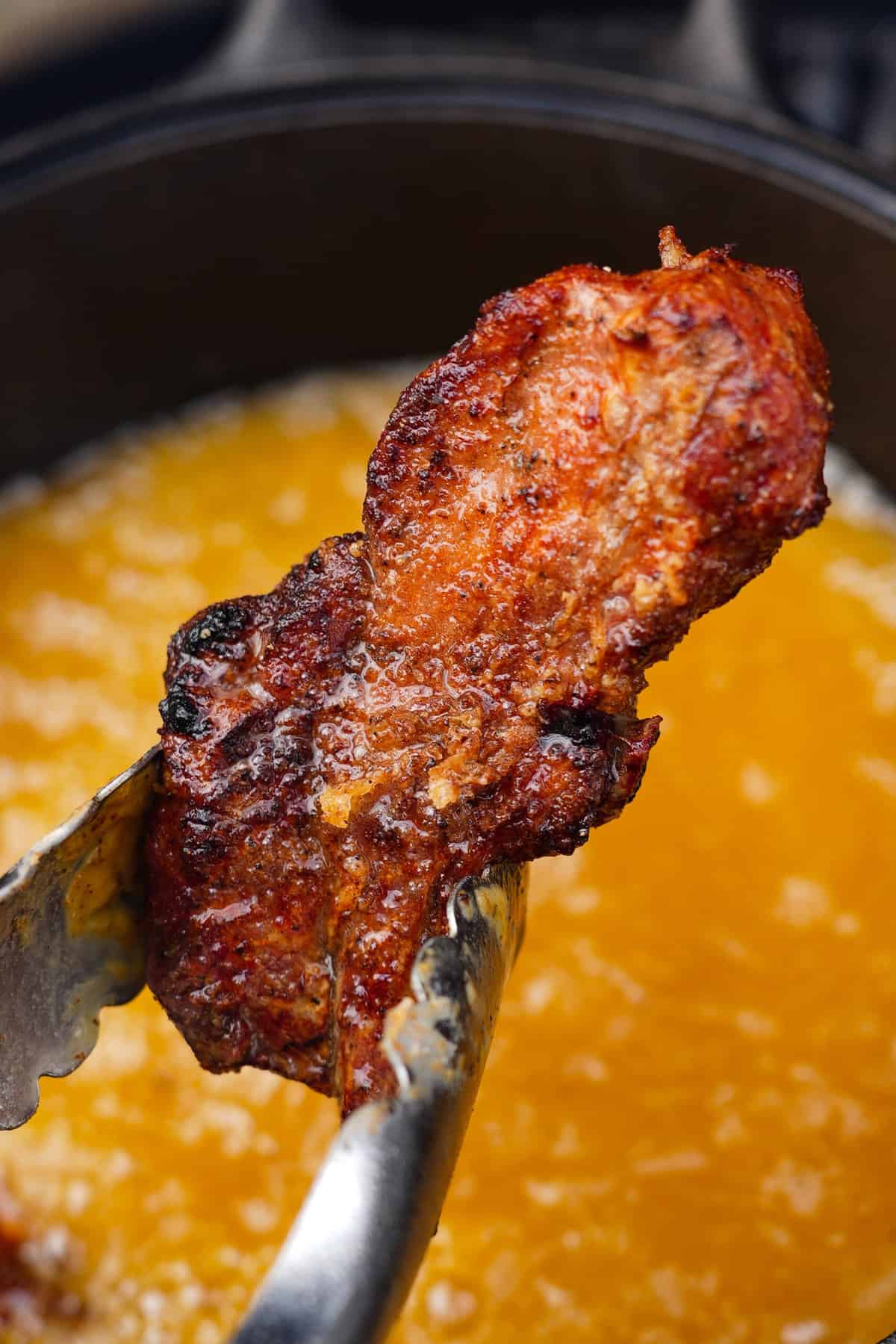 Next, we fry. The ribs are fully cooked and ready to eat, so we're just adding a nice crust to these Nashville Hot Smoke Fried Ribs. Deep frying in a dutch oven at 350 degrees. This only takes about 2 min because this is just a finish.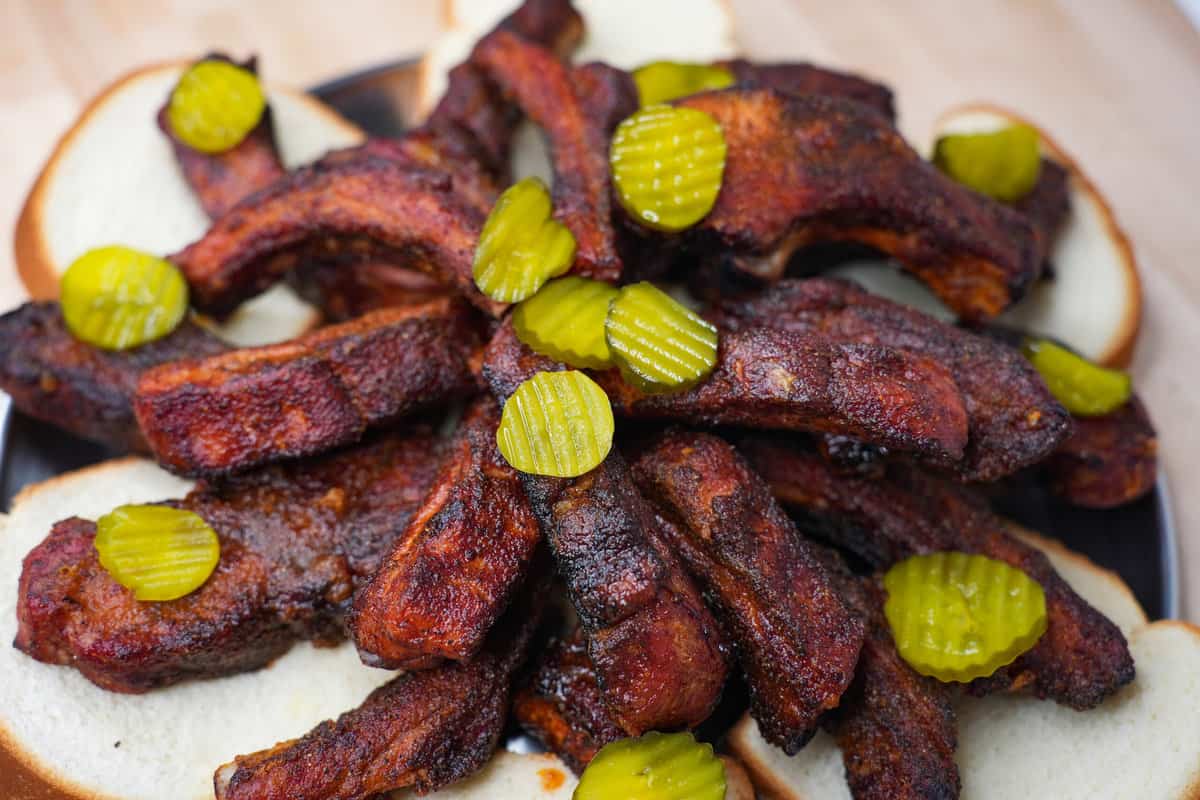 Make sure to take all safety precautions when deep frying. Do not over fill the Dutch oven and do not over crowd the pot. Safety First!
For more smoke fried things, check out Smoked and Fried Sticky Wings, Smoke Fried Turkey and even Smoked Fried Prime Rib.
Make It Hot in Here
Nashville Hot Smoke Fried Ribs are all about the heat. Right, who would have thought? Pretty sure that was a final Jeopardy question lol. But seriously, the heat. Nashville Hot Rub is the cornerstone of this cook. This rub is nicely balanced and isn't overwhelming. If you're a fiend for heat you can add some red pepper flakes or cayenne to the recipe to take it up a notch. But, of course, do this at your own risk!
For more with Nashville Hot, check out Nashville Hot Cast Iron Salmon, Nashville Hot Chicken Sliders and Nashville Hot Smoked Cream Cheese.
Nashville Hot Smoke Fried Ribs
Nashville Hot Smoke Fried Ribs for some pork ribs that pack a punch!
Ingredients
2

Racks of Pork Back Ribs

Baby Backs

2

Quarts

Fry Oil

3

Cups

Flour

White Bread

Pickles
Instructions
Pre heat smoker to 275 degrees.

Prepare ribs by separating the membrane from the back of the ribs and cutting the racks into individual ribs. Season the ribs generously on all sides with OTFC Nashville Hot.

Smoke ribs on the smoker at 275 degrees for 2-2.5 hours, or until they read 200 internal at the thickest point. Remove from heat and cover to keep warm.

Raise heat to high and place a deep Dutch oven over the fire. Pour in 2 quarts of fry oil and heat to 350 degrees.

Mix 3 cups of flour with ½ cup of OTFC Nashville Hot Rub. Toss Ribs in flour mixture.

Fry ribs for 2 min in batches of 4 or 5.

Once done frying all of the ribs, mix 1 cup of fry oil with ¼ cup of OTFC Nashville Hot rub. Brush chili oil mixture onto the ribs.

Arrange over white bread and top with pickles. Enjoy!
Nutrition
Calories:
3089
kcal
|
Carbohydrates:
48
g
|
Protein:
11
g
|
Fat:
322
g
|
Saturated Fat:
50
g
|
Polyunsaturated Fat:
182
g
|
Monounsaturated Fat:
74
g
|
Trans Fat:
2
g
|
Cholesterol:
21
mg
|
Sodium:
23
mg
|
Potassium:
131
mg
|
Fiber:
2
g
|
Sugar:
0.2
g
|
Calcium:
13
mg
|
Iron:
3
mg