Have you ever wanted to hold a Crunchwrap Supreme in each hand and see which one you could finish first? Of course not, that's just crazy…. until now! Mini Crunchwrap Supremes are half the size and twice the flavor.
These handhelds are perfect for tailgating or for a nice snack while out on a jog. Personally, I keep one in my back pocket at all times in case I get hungry!
We Got the Meats for These Minis
Like most dishes, the meat is front and center here!
In this Mini Crunchwrap Supreme recipe we're using steak and chicken, but don't let that limit you. Seafood or even leftover barbecue is a great filler.
Just use quality ingredients and you'll be in the clear.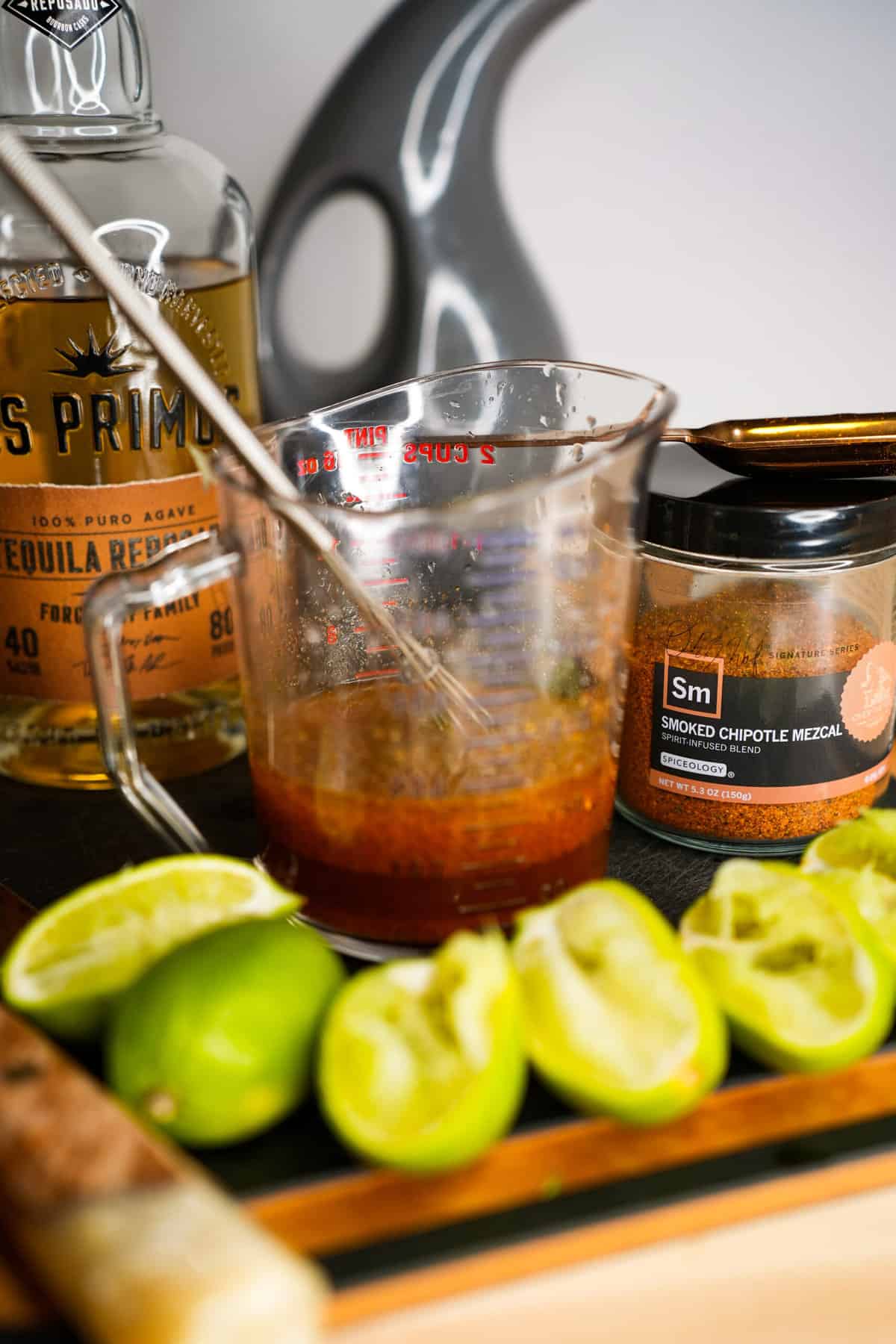 A huge flavor booster we used in this recipe is the marinade. A marinade needs to be applied 4 hours before cooking. However, it is even better if left overnight.
Marinades are magical. Opposed to just applying a rub, the marinade penetrates deep into the meat and flavors every single bite. This one was a basic tequila lime marinade, keeping with the theme of the dish.
This marinade isn't the only one that you could use. Just balance an acid with a fat and add lots of flavor; you can't go wrong.  

For more marinated proteins, check out my Bourbon Marinated Ribeyes, Garlic Soy Marinated Salmon, Marinated Steak with Thai Chili Sauce and Umami Whiskey Marinated Hanger Steaks.
Mini Crunchwrap Supremes and Taco Bread
Now, is it completely necessary to make your own tortillas for this recipe? No. But it'd be a lot cooler if you did.
This endeavor is low effort and high reward. This is something that takes less than an hour and yields better results then anything found in the store. 
The most important part of this Mini Crunchwrap Supreme recipe is the fat component. It's where all the flavor comes from.
In this recipe, I use Wagyu beef tallow (you can get some on Amazon, here). But really, any fat can be used or even shortening.
I've had great success, and flavor, with tallow and lard. Other rendered animal fats can also be used, such as duck fat. Get crazy, make some tortillas that are completely your own!
Mini Crunchwrap Supreme Toppings
The traditional toppings of a crunch wrap supreme are lettuce, tomatoes, and sour cream; along with the meat and cheese.
We went traditional in this Mini Crunchwrap Supreme recipe, but that doesn't mean that you have to. Jalapeño, onion, cilantro, avocado, or even some bacon are other crunch wrap additions one could make.
These would make for a great "Build your own Crunchwrap Supreme" night. We here at Over The Fire Cooking are looking to get "BYOCWSN" trademarked, so plan that party soon!
For other recipes that support the "Build your own" theme, check out my Chipotle Beer Steak Tacos Story, Cheese Stuffed Sausage Sandwich and Cheesy Onion Smash Burgers.
Also, don't forget the dips. These handhelds deserve your full dipping capacity.
We did a pico and a guacamole here, but don't let that limit you. I almost pulled the trigger and made a queso to go along with these.
Go big because your taste buds will thank you!
Mini Crunchwrap Supreme
Mini Crunchwrap Supremes are marinated chicken and steak, packed in a homemade tortilla and grilled to perfection!
Ingredients
Tortillas
2.5

Cups

AP Flour

1

Tsp

salt

1

Tsp

Baking Powder

4

Tbsp

Lard

1

Cup

Warm Water
Guacamole
2

Avocados

¼

Red Onion

1

Jalapeno

3

Limes

1

Tsp

Salt

1

Tsp

Pepper

1

Tsp

Garlic

1

Tsp

Chili Powder
Pico
4

Roma Tomatoes

½

Red Onion

1

Jalapeno

2

Limes

1

Tsp

Salt

1

Tsp

Pepper

1

Tsp

Garlic
Crunch Wraps
16 8

" Tortillas

½

Lb

Flat Iron Steak

½

Lb

Chicken Breast

8

oz

Shredded Cheddar Cheese

Tortilla Chips

Lettuce

2

Roma Tomato

Sour Cream
Instructions
Tortillas
Mix Flour, salt, and baking power in a bowl. Drop in tallow and mix with hands until evenly distribute. Add water to bowl and mix until a shaggy mass forms. Dump out on clean counter top and knead with lightly flowered hands until the dough comes together.

Divide dough into 16 evenly shaped balls. Coat with 1 Tsp of evoo and with cover plastic wrap on counter top. Let rest for 30 min.

Using a tortilla press or rolling pin, press out dough rounds into thin circles. It's important to get them as thin as possible. They should be about 8″ in diameter.

Once all dough rounds are pressed out, heat a large cast iron skillet over medium high heat. Keep the pan dry, no oil. Cook each tortilla for 30-60 sec per side, until lightly browned and tasty looking. Can be made a day ahead and stored in the fridge.
Guacamole
Combine avocados, diced red onion, diced jalapeno, lime juice, salt, pepper, garlic, and chili powder in a large bowl. Mash with a fork until desired smoothness is achieved.

Cover tightly with cling wrap and can be stored in fridge overnight. Just make sure the cling wrap is in contact with the guacamole, to avoid oxidation.
Pico De Gallo
Dice tomatoes, red onion, and jalapeno. Combine in a bowl with lime juice and seasoning, mix well. Cover and let rest in fridge overnight.
Crunch Wraps
The night before, mix together marinade ingredients. Divide marinade into 2 gallon storge bags. Place chicken in one bag and steak in the other. Avoid cross contamination.

Heat grill to high heat and cook meats to desired doneness. Steak to 130 degrees internal for medium rare. Chicken to 165 degrees.

Lay out tortillas to start building crunch wraps. Layer as follows: cheese, protein, cheese, tortilla chips, lettuce, tomato, and sour cream. Starting from one side, fold stuffed tortilla on itself. Place seam side down, so it doesn't open.

Heat a large skillet on grill over medium high heat. Toast crunch wraps seam side down until golden brown and seam is sealed. Flip and toast other side. Attempt to not eat a crunch wrap directly off the grill.

Serve with toppings and enjoy!
Nutrition
Serving:
1
Crunchwrap
|
Calories:
818
kcal
|
Carbohydrates:
91
g
|
Protein:
32
g
|
Fat:
36
g
|
Saturated Fat:
12
g
|
Polyunsaturated Fat:
5
g
|
Monounsaturated Fat:
15
g
|
Trans Fat:
0.1
g
|
Cholesterol:
65
mg
|
Sodium:
1790
mg
|
Potassium:
876
mg
|
Fiber:
12
g
|
Sugar:
7
g
|
Vitamin A:
1327
IU
|
Vitamin C:
34
mg
|
Calcium:
451
mg
|
Iron:
8
mg