Dip into some incredible Smoked Nashville Hot Chicken Queso! Slowly smoked and shredded, the fiery red chicken and melty cheese are topped with a punch of chopped pickles and jalapeños. Each dip is a flavor explosion in the mouth, one you must try.
Cheesy Smoked Nashville Hot Chicken Queso
Nashville Hot Chicken has been seen in many forms over the years, and that's because it's freaking delicious. Sandwiches, wraps, fried… and of course here we have it with queso. The design of this recipe keeps the process very simple with minimal prep. That gives you more time to eat and less to worry about.
Smoking the chicken and the queso together speeds up the process. Rather than using a whole chicken, boneless thighs are my choice for their higher fat content which provides more flavor, and significantly less cooking time. Did I mention this was easy?
For other cheesy chicken recipes, check out my Nashville Hot Smoked Cream Cheese, Cheesy Buffalo Chicken Sliders and Chicken Wing Skewers.
Tex-Mex Queso
Smoked queso is a special dish with many variations. This recipe has two base ingredients that keep it close to the classic Tex-Mex, creamy style: Velveeta and cream cheese. Adding in melty Monterey Jack and the sharp cheddar helps to build layers of flavor and richness. You can use this base recipe to make any type of queso you'd want, but I highly recommend you start here!

Layers of Nashville Hot Flavor for Our Smoked Nashville Hot Chicken Queso
One of the aspects that makes Nashville Hot so delicious are the multitude of layers with flavoring. This starts with a brine of pickle juice and hot sauce, allowing the chicken thighs to soak in and tenderize for a few hours before we smoke them.
After the marinade, season the chicken is generously with the Nashville Hot Seasoning before taking a wood-fired bath. Are you following? That's three layers of flavor right there. Yes, the queso is another layer, which we top with the chopped pickles and pickled jalapenos. If there's anything I've learned from eating copious amounts of the real Nashville Hot, it's that those pickle flavors really help everything come alive.
For another great queso recipe, check out this Skillet Choriqueso.
Keep it Simple, Smoke Nashville Hot Chicken Queso All at Once
Typically when you're smoking chicken there are many tips and tricks to nail the best skin, the juiciest flavors, and the most amount of smoke. Here, we are going to shred the chicken, which means that many of those elements are not important. Let's keep it simple with the process.
Use skinless, boneless chicken thighs. Marinate for at least 2 hours, season, and place them on a baking sheet lined with foil. Doing so will keep the chicken moist, also retaining the juices. You'll have plenty of smoke flavor, don't forget, that queso is also smoking alongside the chicken. Once the chicken is ready, just let it rest briefly before shredding and you're done. Grab a bag of chips and some ice-cold beers. It's time to dip!
For more delicious recipes, check out my second cookbook Flavor X Fire or my first cookbook Food X Fire!
Needing more spice in your life? My spice line can help with that. Check them out here.
Full Length Recipe Video on Facebook!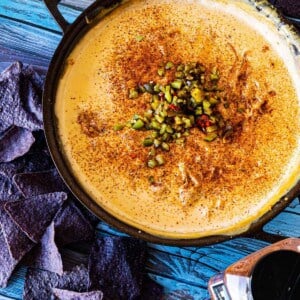 Smoked Nashville Hot Chicken Queso
Smoked Nashville Hot Chicken Queso for a delicious, savory and spicy cheese dip!
Ingredients
Queso:
1 1/2

cup

half and half

8

ounces

cream cheese

room temp

16

ounces

Velveeta queso blanco

cubed

1

cup

finely grated Monterey Jack cheese

1

cup

finely grated cheddar cheese

1

tablespoon

Nashville Hot Chicken Seasoning

Chopped pickles and pickled jalapeños for garnish
Instructions
Mix the chicken with hot sauce and pickle brine. Allow to marinate in the fridge covered for at least 2 hours, up to 6 hours.

Heat up the smoker for indirect cooking at 275°F.

Remove the chicken from the marinade and season generously with the Nashville Hot Chicken Seasoning. Set chicken on a baking sheet lined with foil, this will help keep the chicken moist for shredding later.

Prepare the queso. Add all of the ingredients to a skillet, topping with additional Nashville Hot Chicken Seasoning.

Place both the chicken and the queso in the smoker. After about 30 minutes, check on the queso and begin to stir it up, breaking up the cheeses and whisking together. You may need to do this a few times before it becomes completely smooth. If the queso happens to be done early, remove from the smoker and keep warm.

Continue to cook until the chicken is 165°F internal temperature. Remove the pan from the smoker and cover with foil for about 10 minutes to allow it to rest.

Shred the chicken and mix into the queso. Top with a combination of chopped pickles and pickled jalapenos. Serve with tortilla chips of your choosing.
Nutrition
Calories:
777
kcal
|
Carbohydrates:
15
g
|
Protein:
47
g
|
Fat:
59
g
|
Saturated Fat:
30
g
|
Polyunsaturated Fat:
5
g
|
Monounsaturated Fat:
16
g
|
Trans Fat:
1
g
|
Cholesterol:
238
mg
|
Sodium:
2492
mg
|
Potassium:
682
mg
|
Fiber:
1
g
|
Sugar:
11
g
|
Vitamin A:
1919
IU
|
Vitamin C:
16
mg
|
Calcium:
820
mg
|
Iron:
1
mg